by
posted on October 26, 2015
Support NRA American Rifleman
DONATE
Over the years, various gun manufacturers have teamed up with the National Rifle Association to offer special edition firearms licensed to wear the NRA logo and related insignia, often in limited runs. These offerings have had the benefit of raising funds for important NRA programs, drawing attention to the manufacturer's product lines and giving NRA supporters and gun collectors an enjoyable way to show their support for the 2nd Amendment. Although many of the licensed arms have been traditional sporting long guns, this year the NRA decided it was time to make a bold and timely statement by authorizing the first AR-15 pattern rifle to officially bear the NRA logo. These 2015 NRA Limited Edition semi-auto rifles are manufactured by Black Rain Ordnance with only 1,000 units each of the 5.56 NATO/.223 Rem and 7.62 NATO/.308 Win models to be made available for purchase. I was lucky enough to get my hands on number 0051/1000 of the .223 series for a closer examination and range test.



Incorporated in 2009, Black Rain is a young company that has grown rapidly and garnered a reputation for producing excellent precision platforms while remaining dedicated to using only materials, components and workers available here in the United States.
While President and CEO Justin Harvel was busy developing a competitive set of AR products in a tough market, he was also quietly pursuing a more personal goal. He grew up in a family of avid NRA supporters with several relatives (Justin included) holding Life memberships. So, what better way to show his support than with a limited edition of the rifle he worked so hard to create? "If other manufacturers' guns can be NRA special editions, then why not mine?"
A few years ago, the Black Rain team began discussions with NRA for a licensed rifle. It was certainly an interesting time for both the organization and the AR platform. The freshly re-elected Presidential administration was actively pursuing a variety of anti-gun regulations including bans on rifles like the AR. In response to this rhetoric, the American shooting public clearly demonstrated its desire to preserve their right to own and enjoy AR-style rifles by voting with their wallets, purchasing literally thousands of ARs in a short period of time. The fervor on both sides of the debate continues unabated as candidates vying for a position on the 2016 Presidential ticket continue to threaten more bans. This rifle could not have arrived at a better time for NRA supporters.



The Black Rain Ordnance 2015 NRA Limited Edition is a unique version of the company's gas impingement-operated Fallout 15 semi-auto model. The foundation of the rifle consists of a pair of receivers milled from aircraft grade 7075 T6 billet aluminum, as are the charging handle and extended Tac Latch. The flat-top upper arrives with a dust cover and forward assist in their usual locations. The bolt and bolt carrier assembly have received a nickel-boron finish for increased durability and lubricity.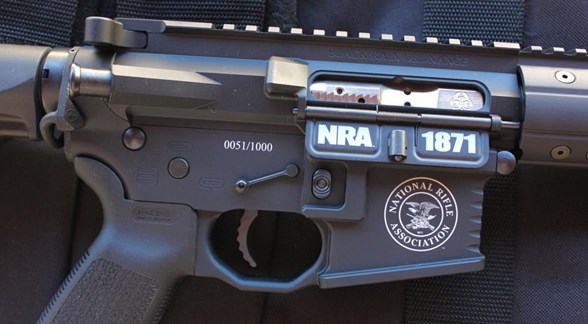 The lower receiver is configured in typical AR-15 fashion with the magazine release on the right side and the bolt catch and safety selector located on the left. The receivers show the most obvious limited edition markings to be found on the rifle (in white). These include Limited Edition 2015 printed on the left side of the upper receiver just under the sight rail, NRA 1871 inside the dust cover, the limited edition unit number (XXXX/1000) on the right side of the lower receiver just above the trigger housing and the full NRA logo on the right side of the magazine well.
But Black Rain's craftsmen didn't settle for just these few markings. Instead, they carefully created something of a treasure hunt by adding several more white or engraved markings all over the rifle, many in places one would not expect to find them. They include the Black Rain name and logo, NRA and Made in the USA. The one that really caught me by surprise was the company logo located on the face of the recoil buffer.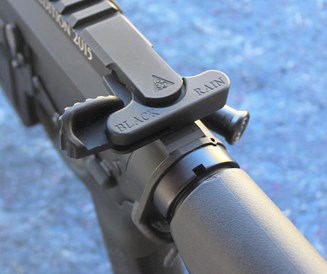 Inside the lower receiver is a Black Rain BRO-DIT single-stage trigger group which features a blue anodized housing and custom steel bow trigger. Secured firmly in place with a set of KNS Precision anti-rotation pins, this trigger is listed as shipping with a 3-lbs. 7-oz. trigger pull. However, the unit provided with this rifle exhibited a crisp, clean, well-tuned performance of just 2 lbs. 7 oz. according to a Lyman's digital trigger gauge. This made it a real pleasure to work with at the shooting range.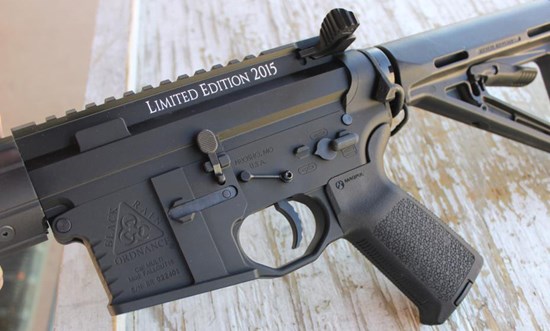 The buffer assembly is housed in a UTG buffer tube paired with a six-postion rubber padded MOE shoulder stock from Magpul. Where the tube joins the receiver a Magpul ASAP single-point sling mount has been installed. The comfortable textured pistol grip with storage compartment is also a Magpul MOE product.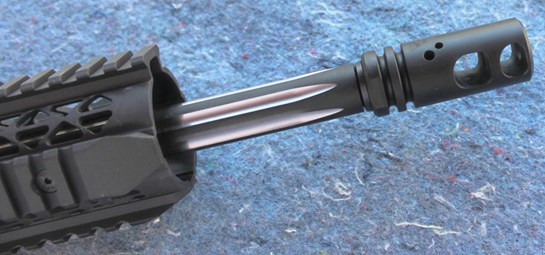 The custom 16" threaded barrel is constructed of 416r stainless steel with a Wylde chamber and modified throat for improved accuracy when using both 5.56 NATO and .223 Rem. cartridges. Six 6" flutes are added near the muzzle after the barrel has been treated with a matte black salt bath nitride to give the barrel a two-tone finish. The round stainless steel BRO Competition Compensator features two large side-facing ports with four more small ports along the top to reduce felt recoil.
A low profile gas block is employed to accommodate the 12" long customized free-float rail system. Made of extruded 6061 aluminum, the slim profile handguard is designed to be comfortable to hold with a smooth gripping surface and triangular cutouts to reduce the weight. The top rail has a cut out to provide space for a belled optic to be attached with low-mount rings should the operator choose to use one. Three removable 4.75" long aluminum accessory rails are attached at the 3, 6 and 9 o'clock positions at the muzzle end of the handguard. The rail system is secured to a proprietary, patent-pending collar and harness system using a total of eight screws instead of the typical four or six screws.
The rifle arrives with an American-made NRA logo padded soft case with magazine pouches attached along the outside, a quick detach single-point sling fitted with a wide elastic strap, and a single Magpul 30-round polymer PMAG magazine. No sights are provided.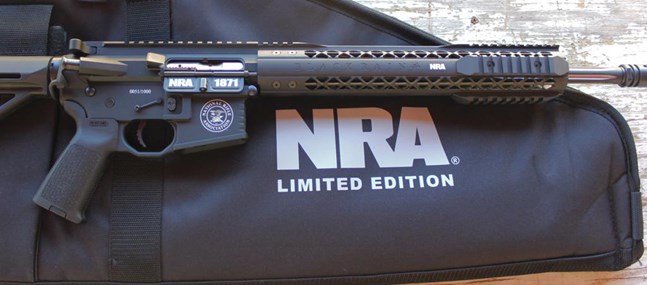 I wanted to test the rifle with a tactical optic that could keep up with this rifle's precision components and customized appearance. The excellent Vortex Viper PST 1-4x24 rifle scope with TMCQ MRAD reticle was the perfect fit at a fair price. Attached to the rifle using a Vortex Precision QR Extended Cantilever (Bobro) quick release mount, the Viper proved to be ideal for close and long range shots. The crisp and clear XR fully multi-coated lenses are supported by a one-piece 30 mm tube machined from a single solid billet of aircraft-grade 6061-T6 aluminum. Matching reticle and turret measurements made sighting in a quick process. The illuminated reticle has 10 levels of brightness with an OFF position in between each brightness level. It's a handy feature that eliminates the need to crank the dial around once an optimum brightness level is determined. Don't be surprised if you see this particular scope crop up in future rifle reviews.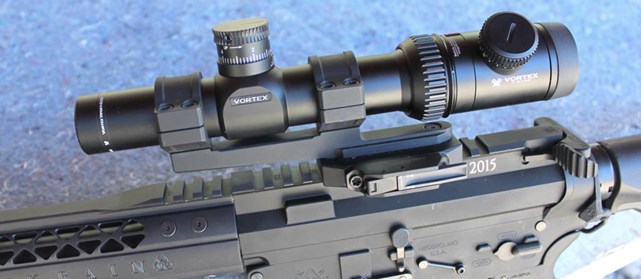 At the shooting range, the Fallout 15 proved to be reliable and accurate. Test ammunition consisted of bulk box practice rounds, hunting, defensive and target grade fodder. The rifle reliably digested everything it was fed. Test magazines included the Magpul PMAG the rifle arrived with and the aluminum Brownells GI, steel E-Lander, polymer Tapco Intrafus and polymer Troy BattleMag magazines. All of these magazines locked in properly and ran flawlessly with no malfunctions. The rifle's controls were a pleasure to operate, especially the light BRO-DIT single-stage trigger.  


The day I shot the Black Rain NRA rifle was warm and mostly sunny but with substantial winds that came and went unexpectedly. This is not an uncommon weather condition at that particular canyon shooting range but it's not terribly conducive to formal accuracy testing. Nevertheless, I pressed forward doing my best to fire five-shot groups at 100 yards in between gusts.
With off-the-shelf ARs I can usually produce 100-yard groups ranging from 1.25" to 1.75" using factory ammunition. The Fallout 15 measurably improved my down-range performance groups from 1.05" to 1.56" with an overall average of 1.37". Federal Premium .223 Rem. 69-gr. Sierra Match King hollow points turned in the best five group average of 1.24" followed by Black Hills .223 Rem. 60-gr. soft points at 1.37" and Winchester .223 Rem. PDX1 Defense 60-gr. split-core hollow points at 1.40". Although these results are far from disappointing, I'm convinced that on a less windy day (and with a better trigger operator) the groups would have been tighter.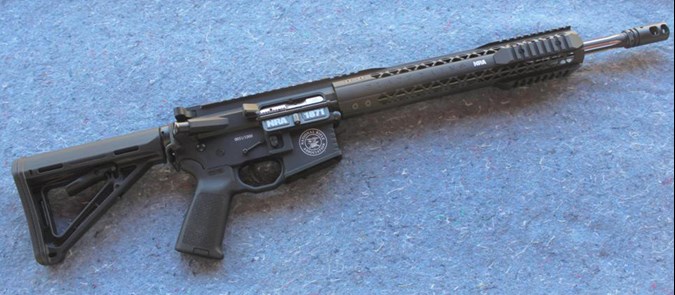 The Black Rain Ordnance 2015 NRA Limited Edition Fallout 15 rifle strikes me as having the perfect blend of features and history for the first AR-15 to officially wear the NRA logo. The company has built a rifle that proudly and tastefully exhibits its military background and tactical applications without any concern for "political correctness." Each and every component has been crafted carefully with an eye toward producing a unique rifle any NRA, 2nd Amendment or AR-15 enthusiast would be proud to own. This gun could be tucked away as a collector's item but it's been ruggedly built for use as a rough and ready precision rifle.
As of this writing, the 2015 limited edition rifles are still available for order (even if the website says, "sold out"). But a new year filled with fresh opportunities is just around the corner. Black Rain products are available through several distributors including Bass Pro Shops, Cabela's, Scheels All Sports and Brownells, or purchase items directly from the company via the new buyblackrain.com website.
Specifications
Manufacturer: Black Rain Ordnance
Model: BRO-NRA LTD
Action: Gas Impingement Semi-Automatic
Caliber: .223 Rem./5.56 NATO
Receivers: Milled Billet 7075 T6 Aluminum, Hard Anodized Finish
Barrel: 16.00" Custom 416r Stainless Steel 2-Tone Fluted
Muzzle Device: Removable Stainless Steel Competition Compensator, Nitride Finish
Bolt Carrier Group: Polished Nickel Boron Finish
Trigger: BRO-DIT Trigger Group
Front Sight: None
Rear Sight: None
Hand Guard: 12" Modular Aluminum Pistol Grip: Magpul MOE
Buffer Tube: Mil-Spec
Shoulder Stock: 6-position Magpul MOE
Sling Attachment: MagPul ASAP Single Point
Overall Length: 36.50" with Stock Extended
Length of Pull: 10.25" - 13.50"
Weight: 7 lbs.
Capacity: 30 Rounds
Twist: 1:8" RH
Rifle Grooves: 6
Accessories: NRA Logo Soft Case, Single-Point Sling, 1 PMAG Magazine, Owner's Manual
MSRP: $2,209

Optic: Vortex Viper PST 1-4x24 with TMCQ MRAD Reticle
MSRP: $599