Support NRA American Rifleman
DONATE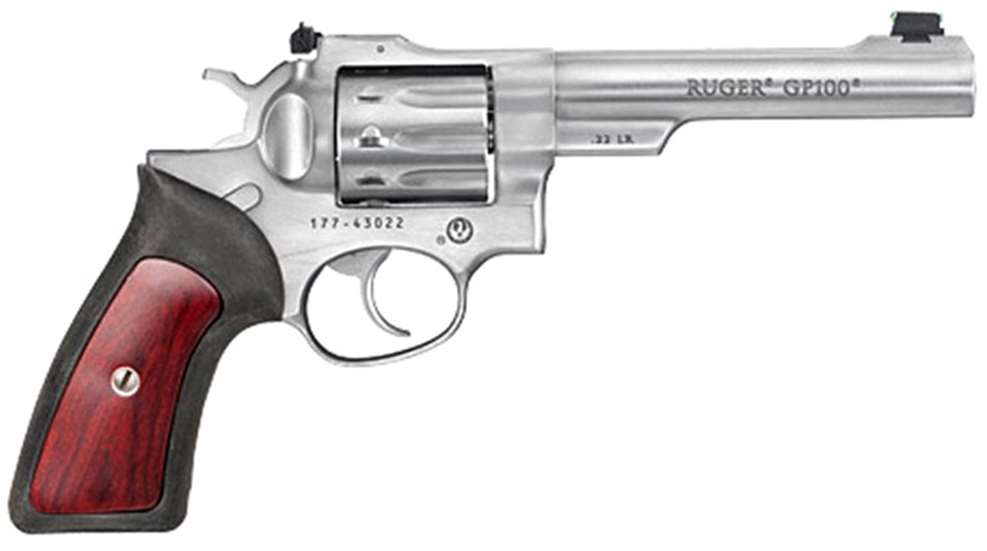 In 1985, Ruger introduced the company's next generation of duty-sized, double-action revolvers. Dubbed the GP100, this 6-shot .357 Mag./.38 Spl. soon replaced the Security Six and Speed Six models with a host of features that have kept it a popular option for over three decades.
But like a talented actor who is typecast to play a certain role again and again, the GP100 has spent the majority of its career as a .357-cal. 6-shot. While other revolver manufacturers have explored the potential of their medium-frame revolvers by releasing them in a variety of calibers, Ruger has kept the GP100 firmly seated in the .357 Mag. niche. It did have a brief stint as a 7-shot .327 Mag. back in 2010 but it was a short lived configuration that quickly vanished from the Ruger catalog.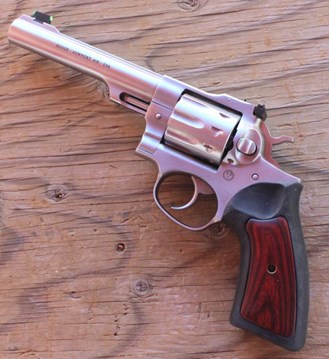 Over the last few years, thanks in part to continuing legislative attacks on the magazine capacity of semi-automatic pistols, double-action revolvers have been enjoying a well-deserved revival. Because of this uptick in sales, Ruger has dusted off the stalwart GP100 design to give it a few new twists. In 2014, we saw the first factory produced .357 Mag. competition model called the Match Champion. New for 2016, and in the history of the GP100 line, is a 10-shot rimfire model chambered in .22 LR.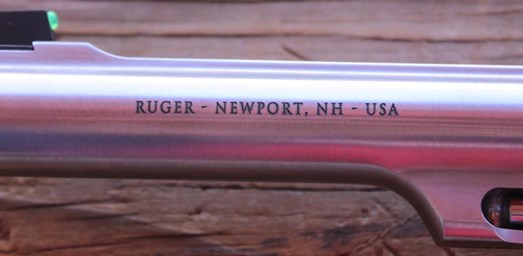 This new version of the GP100 is constructed of satin-finished stainless steel. The 5.5" rounded barrel breaks away from the traditional 3", 4.20" and 6" barrel lengths and lacks the full under lug found on most other current production models. Instead, there is just enough lug to act as a protective housing for the abbreviated ejector rod. This is a smart barrel design because it allows for a well-balanced revolver while squeezing a bit more performance out of .22 LR cartridges.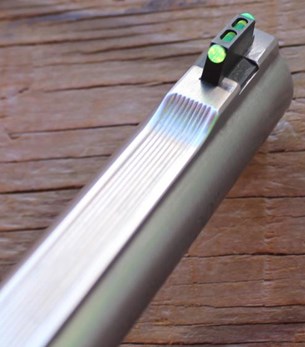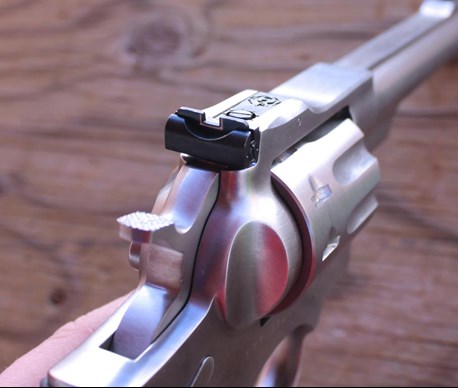 The top of the barrel is serrated to help reduce glare with a recessed crown for improved accuracy. The dovetail front sight is the same steel-housed fiber-optic version found on the Match Champion. It's paired with the company's fully adjustable white outline rear sight.
Considering that this revolver has one of the strongest frames available for .357 Mag. revolvers, it's going to take a lifetime of shooting to wear it out using .22 LR ammunition. This is due to its monolithic design. The straight post-shaped grip frame is wholly wrapped by the black Santoprene grip fitted with hardwood inserts. Many GP100s ship with a finger grooved Hogue grip these days, however, I'm glad to see the old-school Ruger grip back in action on this model. It's comfortable to hold, fits a wide variety of hand sizes and it has a unique appearance.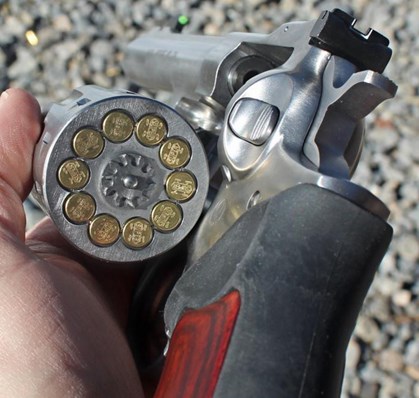 The rounded trigger guard houses a smooth faced bow trigger which cycles an exposed hammer that can be manually cocked for single-action fire. Even though the pressure levels produced by rimfire .22 loads are minute when compared to Magnum center-fire rounds, this GP100 still has the same features that provide added strength for the standard models. These include a triple-locking cylinder and cylinder notches off-set from the chambers.
The GP100 strolled through the usual set of bench checks without a hitch. The 10-shot cylinder swung out easily when the left-side release was pressed and spun freely in the open position. The trigger, hammer and ejector were all nice and smooth right out of the box. The double-action trigger pull weighed in at 12 lbs. with the single-action trigger breaking cleanly with 4 lbs 8 oz. of trigger pull.
Although compact and lightweight .22-cal. handguns certainly have their place on the firing line, I've found that duty-size wheelguns re-configured for rimfire like this one are a true pleasure to work with. The GP100s grip is hand filling and the controls are all familiar and easy to operate. It's well balanced and the sight system is clear and crisp for the quick shot placement needed for small game hunting. The revolver also lends itself nicely to casual plinking and bench-rest shooting. The revolver's 42 oz. weight soaked up the already mild levels of felt recoil produced by the .22 LR cartridges for a tame shooting session.
The new rimfire Ruger provided an excellent excuse to spend some quality informal testing time with the Target Factory Complete Target Frame ($129). The folding 3' by 3' A-frame and brightly colored bottles are constructed completely from of low-density polyethylene. Unlike some target systems which are restricted to .22 only, the Target factory system can withstand hundreds of bullet strikes of any caliber.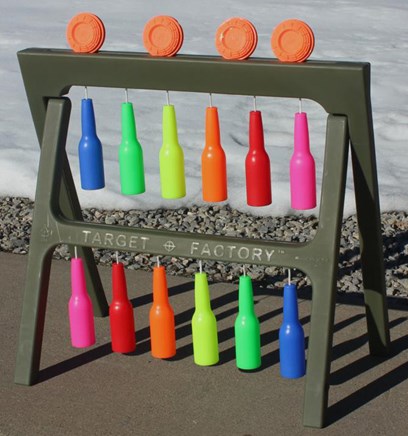 The system arrives with a single frame, six bottles and the cord necessary to hang the bottles so that they will swing when struck. An additional row of bottles ($39.99) can be hung from the lower crossbar. The top of the frame is flat with a groove down the middle. Balance bottles on top to knock them off one at a time or use the groove to balance clay pigeons. This is a terrific system for teaching new shooters or keeping the old salts entertained. I'm looking forward to working with it again in the future.  
The revolver successfully loaded, fired and ejected a variety of practice and hunting grade .22 LR ammunition including Standard, High and Hyper velocity rounds. There was never any need to slap or hit the ejector rod. The spent cases dropped free with only a modest amount of pressure to the ejector.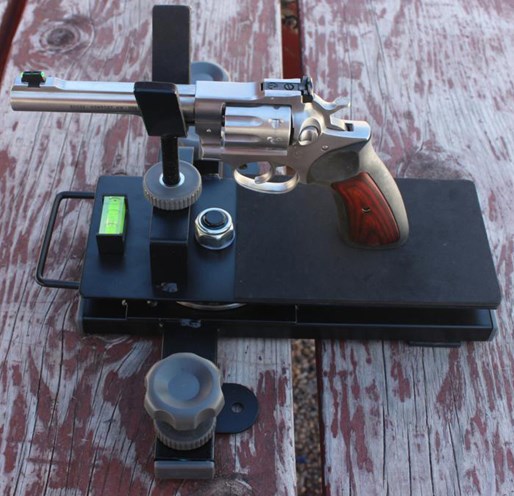 Formal accuracy testing consisted of five 5-shot groups fired at 25 yards from the bench using a Hyskore Swivel Pistol Rest (#30034) with the revolver in single-action mode. The tight groups produced at this distance exceeded my expectations. Wolf Performance Match Target 40-gr. Standard Velocity lead round nose turned in the best single group of 1.16" with the best average of 1.33". Winchester Varmint HE Hyper Velocity 37-gr. copper plated hollow points yielded a best group of 1.55" with an average of 1.74". Federal American Eagle High Velocity 38-gr. copper plated hollow points had a best group of 1.69" with an average of 1.88".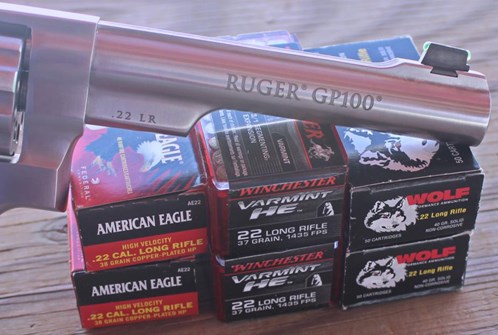 The new GP100 10-Shot .22 Long Rifle double-action revolver is a long overdue addition to Ruger's lineup. The designers went the extra mile to make this gun more than just an affordable understudy to the .357 Mag. models. The well-balanced 5.5" target crown barrel, adjustable sights and smooth action make it a top-notch choice for target shooting and small game hunting as well. I've got my fingers crossed for more center-fire variations of the GP100 to make their way to market but this rimfire model offers a fun new version of a tried-and-true design.
NRA Specifications
Manufacturer: Sturm, Ruger & Co.
Model: GP100, #1757
Action: Double-Action Revolver
Caliber: .22 LR
Finish: Stainless Steel
Grip: Black Santoprene with Hardwood Inserts
Front Sight: Fiber Optic
Rear Sight: Adjustable
Barrel Length: 5.50"
Overall Length: 11.30"
Cylinder Width: 1.55"
Weight: 42 oz.
Capacity: 10 Rounds
Twist: 1:16" RH
Rifle Grooves: 6
Accessories: Hard Case, Lock, Owner's Manual
MSRP: $829