Support NRA American Rifleman
DONATE
In 1986,
Ruger
introduced the rugged and reliable line of full-size, six-shot, double-action GP100 revolvers. The company quickly recognized there was a place in the market for another wheelgun that provided the same tank-like strength of the GP100 but in a more compact package. In 1989 the snub nose five-shot SP101 series was launched. Unlike the GP100, which has only been chambered for .357 Mag. and .38 Spl. so far, the SP101 has been manufactured in a variety of calibers. These include .22 Long Rifle, .32 H&R Mag. , 9 mm Parabellum, .38 Spl Only, .357 Mag./.38 Spl., and the recently revived .327 Fed. Mag.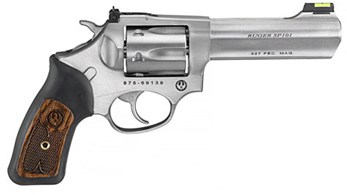 First released toward the end of 2007, the .327 Fed. Mag. was the result of a collaboration between Ruger and the Federal Cartridge Company. The goal was to create a revolver round with power levels similar to the .357 Mag. with a narrow enough profile to allow a five-shot cylinder to hold one more round. One of the first guns to market was a 3" barrel six-shot SP101, followed by similar models from other manufacturers including Smith & Wesson, Taurus and Charter Arms.
Unfortunately, the compact .327 revolvers did not inspire the level of enthusiasm Ruger and Federal had hoped for. Industry experts had plenty of good things to say about the performance of the six-shot SP101, but the shooting community was, for the most part, nonplussed. After a few years, this version of the SP101 was discontinued.
Fortunately, Ruger has not given up on the .327 just yet. Much like the 10 mm and .44 Spl., the .327 Fed. Mag. has garnered a cult following that is keeping the cartridge alive, if not shoving it into the main stream. Last year, this gunmaker teamed up with
Lipsey's
to release an
exclusive 7-shot version of the Single-Six
. This year the six-shot SP101 has been revived with a fresh twist.
Instead of bringing back the 3" barrel fixed-sight version for concealed carry, the new SP101 has been configured for use as a field and trail gun with a 4.20" barrel, a fiber optic front sight and an adjustable rear sight. At first glance, this configuration seems to be aimed squarely at outdoor enthusiasts looking for a compact, powerful wheel gun to pack in the wilderness. But in practice, the new SP101 is an exceptionally flexible platform capable of filling the just-one-gun rolls of trail gun, home defense and concealed carry.
Like its predecessor, this version of the SP101 is constructed wholly of satin-finished stainless steel. The single-piece frame is strong enough to handle magnum-level pressures on a regular basis. The 4.20" barrel is grooved along the top to reduce glare with a full under lug to help control felt recoil and shroud the ejector rod. The fiber optic in the front sight is firmly set into a rugged steel housing with a square face which neatly matches up with the notch cut into the adjustable white-outline rear sight.
When closed, the six-shot cylinder is locked into the frame at three points (front, rear and bottom) to ensure proper alignment with the barrel. Depressing the left-side cylinder release allows the cylinder to swing out smoothly and spin freely in the open position. The ejector rod was a little rough at first, but quickly smoothed and operated reliably throughout the test.   
The exposed hammer is checkered along the top for easier cocking. The rounded, plain-faced trigger felt smooth and grit-free right out of the box. Usually the double-action trigger pull of a revolver is too heavy to check with a Lyman's digital trigger gauge, which has an upper limit of 12-lb. But the long trigger pull of this SP101 was lighter than expected at 10-lb. 13-oz. Cocking the hammer for single-action shots dropped the pull weight to 4-lb. 8-oz.
The grip frame is shaped like a post instead of outlining the grip shape like other models. This means the grip frame is completely shrouded in rubber so that no steel comes in contact with the shooting hand. The design allows for a wide variety of grip shapes and sizes to be used. I've always found the factory SP101 rubber grips with black polymer side panels comfortable to work with, if not pretty to look at. Replacing the polymer with engraved hardwood for this model is a much appreciated improvement.   
Accessories for this version of the SP101 are not as diverse as those available for the five-shot snubby, but excellent add-ons are available. If you are looking to add a laser sight to the SP101 for self and home- defense,
Crimson Trace
offers the LG-303 laser grip. This grip is hand filling and comfortable, thanks to a checkered rubber overmold but not so large as to be difficult to conceal.
Simply Rugged Holsters
provides American-made, handcrafted leather rigs that are custom made for daily wheelgun carry. The Cattleman (right) is a simple open-top belt holster that's ideal for long walks in the woods. If you need a rig with a maximum level of flexibility, the Silver Dollar Pancake (left) is the way to go. This holster can ride on a belt strong side or cross draw, inside the waist band (with support straps added), or it can be converted into a chest holster using a Simply Rugged Chesty Puller rig. Customers can choose from a variety of finish and decoration options.
Speedloaders come in handy for self-defense, hunting and practice time on the range.
5 Star Firearms
specializes in providing high-quality CNC-machined aluminum speedloaders for less common revolver configurations. The R6-327 loaders used in this review fit perfectly and functioned flawlessly. 5 Star also offers the Bedside Block for easy storage.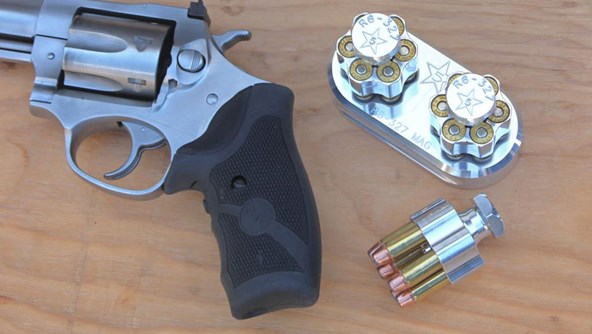 This version of the SP101 was a pleasure to shoot. As expected, the revolver's action and controls fulfilled all of their intended functions without any problems. The sights are crisp, bright and easy to adjust. All of the ammunition tested was provided by
Federal Premium
. The rounds loaded with 85-gr. bullets provided a moderate level of felt recoil on par with standard velocity .38 Spl. Cartridges topped with 100-gr. bullets felt more like .38 Spl. +p while the 115-gr. rounds felt like a light-bulleted .357 Mag. The SP101's accuracy was solid, with groups averaging around 3.25" at 25 yards.
I'm glad to see an SP101 chambered for the flexible .327 Fed. Mag. back in the Ruger catalog. Stretching the barrel and adding useful adjustable sights allows this compact double-action revolver to fill a multitude of roles. This gun will be just as much at home in a nightstand lock box as it will be on a wilderness hike. Its size, weight and grip shape make it comfortable for most hands. Load it down with softer shooting rounds for plinking, or fill it up with full power loads for defense against predators of the four-legged and two-legged varieties. Hopefully this new SP101 will catch on and stick around for a while.
SpecificationsManufacturer:
Ruger
Model:
SP101 (Model Number: 5773)
Action:
Double Action Revolver
Caliber:
.327 Fed. Mag.
Finish:
Satin Stainless Steel
Grips:
Rubber, Engraved Wood Inserts
Front Sight:
Fiber Optic
Rear Sight:
Fully Adjustable
Barrel Length:
4.20"
Overall Length:
9.12"
Cylinder Width:
1.35"
Weight:
29.50 ozs.
Capacity:
6 Rounds
Twist:
1:16" RH
Rifle Grooves:
6
Accessories:
Hard Case, Lock, Owner's Manual
Suggested Retail:
$719