One of the very first handguns that I ever saw up close was my dad's Belgian Baby Browning chambered in .25 ACP. I was fascinated by the fact that it was small enough to fit in the palm of his hand, and yet it was still a fully functional pistol. Once I was old enough to start buying handguns of my own, my enthusiasm for the smallest-of-the-small didn't waver.
In pursing this littlest handgun hobby of mine, I've enjoyed opportunities to evaluate a variety petite pistols ranging from 9 mm defensive-carry models to unique, rimfire "utility" guns. Whether you are looking for a more compact daily-carry pistol or something spiffy to add to your collection, here are a few of the smallest handguns currently on the market:
8. Taurus GX4 T.O.R.O.: Double-Stack Micro Nine
Although sub-subcompact, double-stack magazine 9 mm pistols have been available since 1995, it was the launch of the SIG Sauer P365 in 2018 that triggered the latest concealed-carry trend colloquially known as "micro nine pistols." These handguns are intended to fill the niche between the double-stack subcompact and single-stack 9 mm pocket pistols. Over the last few years, these semi-automatic guns have become a new standard in the concealed-carry market. In addition to their slim frames and 10- to 13-round magazine capacities, the micro nines are about as small as you can get while still retaining the option to configure the slide for a red-dot optic.


The GX4 sports useful upgrades often reserved for more expensive pistols, including metallic sights, front and rear cocking serrations and interchangeable grip backstraps.
Several micro nines are the right size for this slot, but I opted for a Taurus USA model that I've worked with more than some other guns. The Taurus GX4 is shown here with the T.O.R.O. optics-ready slide. While the SIG P365 set the standard for this category, the GX4 is sized to match, accepts 11-round flush-fit, or 13-round extended magazine, and it provides a useful set of features at a lower price point than most of its competition. MSRP starts at $399. TaurusUSA.com
7. Diamondback DB9: Single-Stack 9 mm Pocket Pistol
No matter how you slice it, modern single-stack 9 mm pistols designed for pocket carry are slimmer and lighter than the micro nines. Diamondback Firearms offers one of the smallest currently available. When I worked with the DB9 for the first time more than a decade ago, I was surprised to handle a 9 mm semi-auto pistol that was dimensionally similar to subcompact pistols chambered for the more diminutive .380 ACP cartridge. The fact that the DB9 could handle the more potent 9 mm cartridge in such a small package meant that had to purchase it when the evaluation timeframe was complete.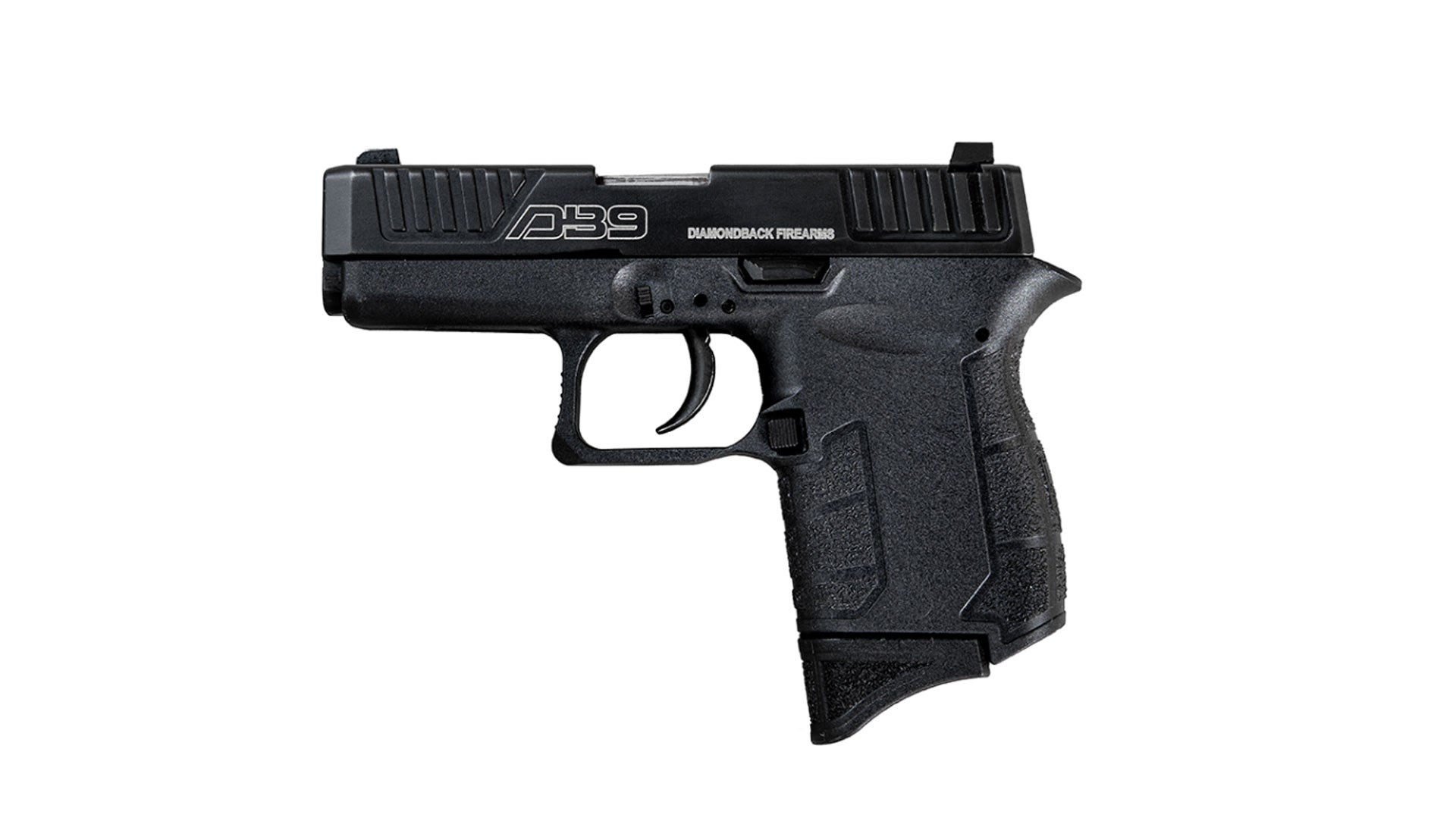 The DB9's small size makes it easy to carry but more challenging to master.
Today, single-stack 9 mm pocket pistols are fairly common in a variety of configurations and price points, but the DB9 remains as one of the smallest available. The pistol I have on hand tips the scale at 12.8 ozs., and that includes an empty magazine. The tradeoff for DB9's feathery effect is a stiff level of recoil when using standard-pressure 9 mm ammunition. It is manageable, though not exactly enjoyable. Recently, Diamondback released the Gen 4 version of the DB9 with updates to the slide's cosmetics and the grip's texturing. MSRP is $305. DiamondbackFirearms.com
6. Bond Arms Stinger Series: Double-Barrel Pocket Protection
Bond Arms' claim to fame is offering some of the smallest and most powerful handguns available. The company's stainless-steel, standard-frame guns live up to this boast with dual barrels chambered for cartridges including .357 Mag., 10 mm Auto, .44 Spl., .45 Colt and .410 bore shotshells. As small and potent as they are, the all-steel construction and big-bore, swing-up barrels can make these pistols a bit chunky for pocket carry.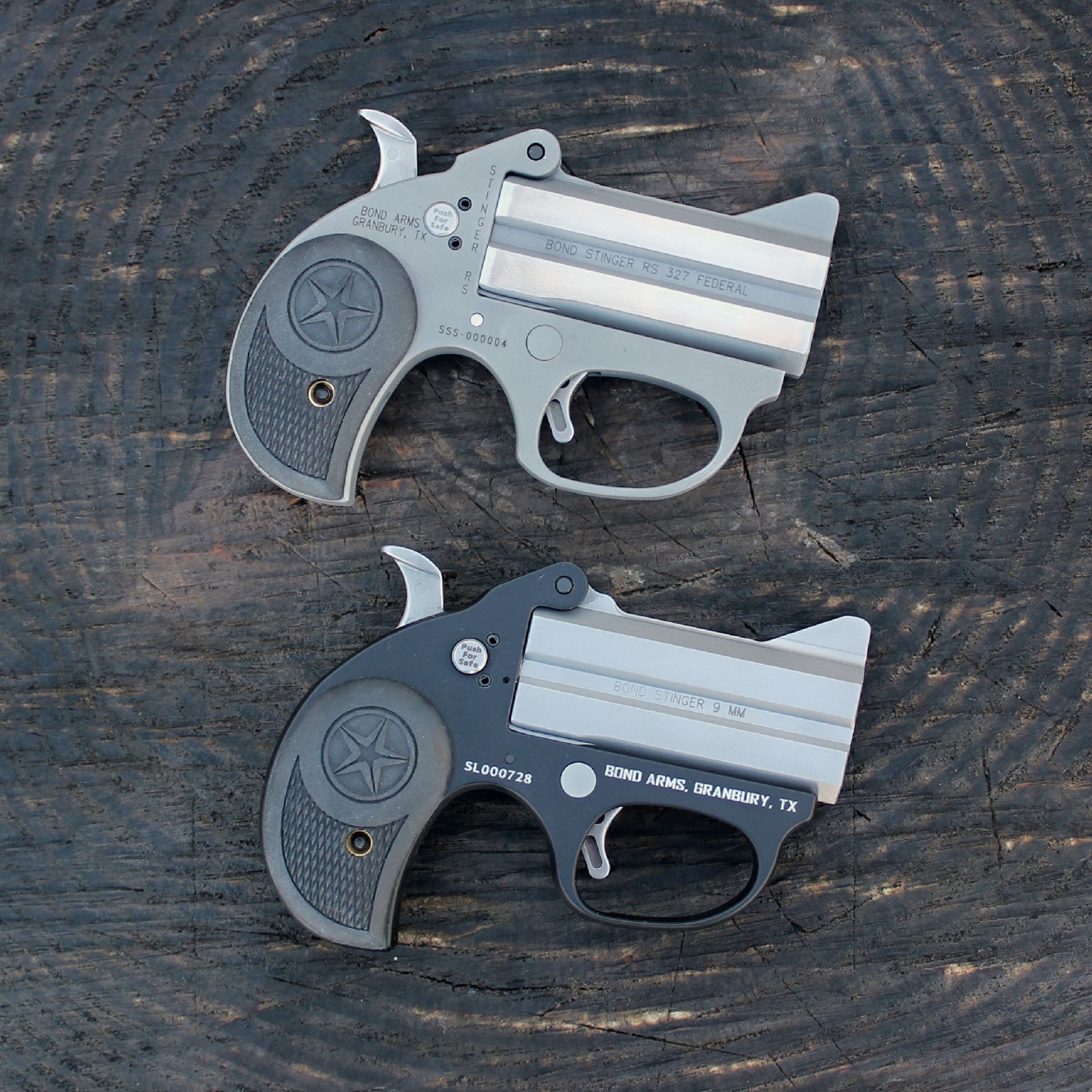 The Stingers were developed in answer to customer requests for a slimmer, lighter pistol.
The company has answered customer requests for a slimmer, lighter version of these tough little guns, 12 ozs., with the double-barrel Stinger series. Shown here are the new Stinger RS (Top) and the original aluminum-frame Stinger (Bottom) released in 2021. Fitted with a 3" barrel assembly, the Stinger RS, which stands for Rough Series, features stainless-steel construction but at about half the frame width of the standard version. This shaves the weight down to 16 ozs. Barrels are interchangeable, too, and Bond Arms offers versions in .380 ACP, 9 mm Luger and .38 Spl., and apparently a .327 Fed. Mag. option is coming. The pistols ship with a set of rubber grips, as well as ultra-thin polymer grips. MSRP starts at $279. BondArms.com
5. Ruger LCP Max: Double-Stack .380 ACP
In 2008, the launch of Ruger's Light Carry Pistol, or LCP, sparked an American sub-compact arms race, which set the standard for .380 ACP pocket pistols for years to come. But with a single-stack magazine and a capacity of six or seven rounds, some folks wanted a boost in performance. In 2011, the company launched the LC9, an upsized version of its LCP chambered for 9 mm Luger with more capacity. Though it was slightly larger and heavier, the LC9 retained a slim and trim profile for everyday carry. That wasn't enough, as folks always want more if they can get it. So, in 2021, Ruger presented the Max-9, a micro nine that accepts double-stack magazines.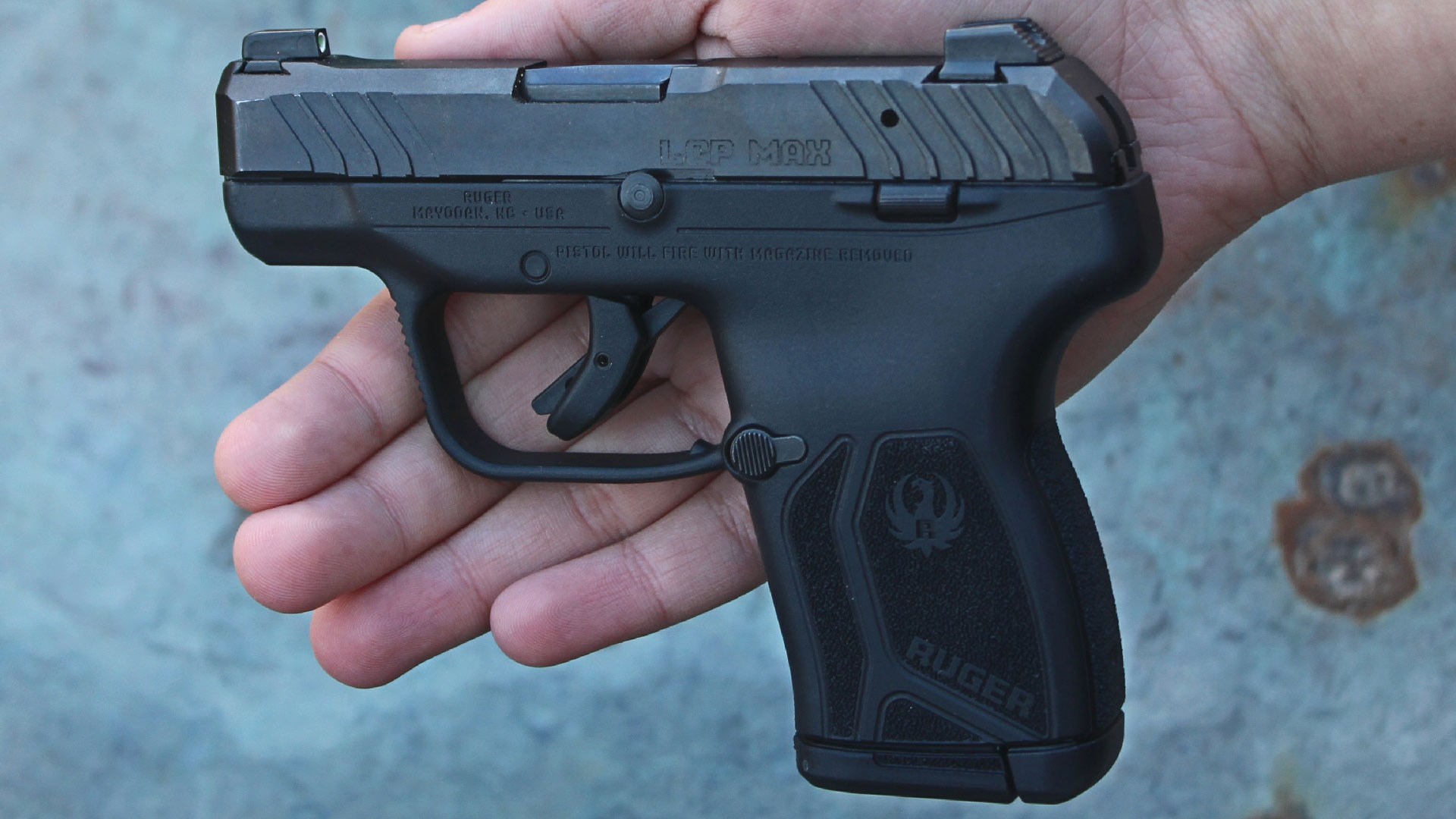 This version of the LCP can hold nearly double the rounds of the original version.
The company could have left off there, but it made sure that the LCP would not be left behind in the trend of double-stack upgrades. As such, 2021 also marked the arrival of the LCP Max chambered for .380 ACP. Just like its micro-nine compatriot, the most noteworthy change to the new LCP came in the form of a new frame for increased ammunition capacity with only a nominal change to the grip's width. It accepts a 10-round flush-fit, or 12-round extended magazine, which makes for a significant increase. The LCP Max sports a night sight with tritium and has a smooth and light trigger pull. MSRP is $479. Ruger.com
4. KelTec P32: Single-Stack .32 ACP Micro
Prior to the .380 ACP pocket-pistol rush of the late 2000s, there was the petite .32 ACP dust-up of the late 1990s. The .32-cal. contenders for American holster space at the time included the Seecamp LWS-32, Berretta 3032 Tomcat, North American Arms Guardian and the KelTec P32. At the time, the P32 was the odd man out. It had one of those "newfangled" lightweight, injection-molded polymer frames with an internal aluminum chassis instead of an all-stainless-steel or aluminum frame. With an unloaded weight of 6.6 ozs., it was the lightest and least-expensive model in the running.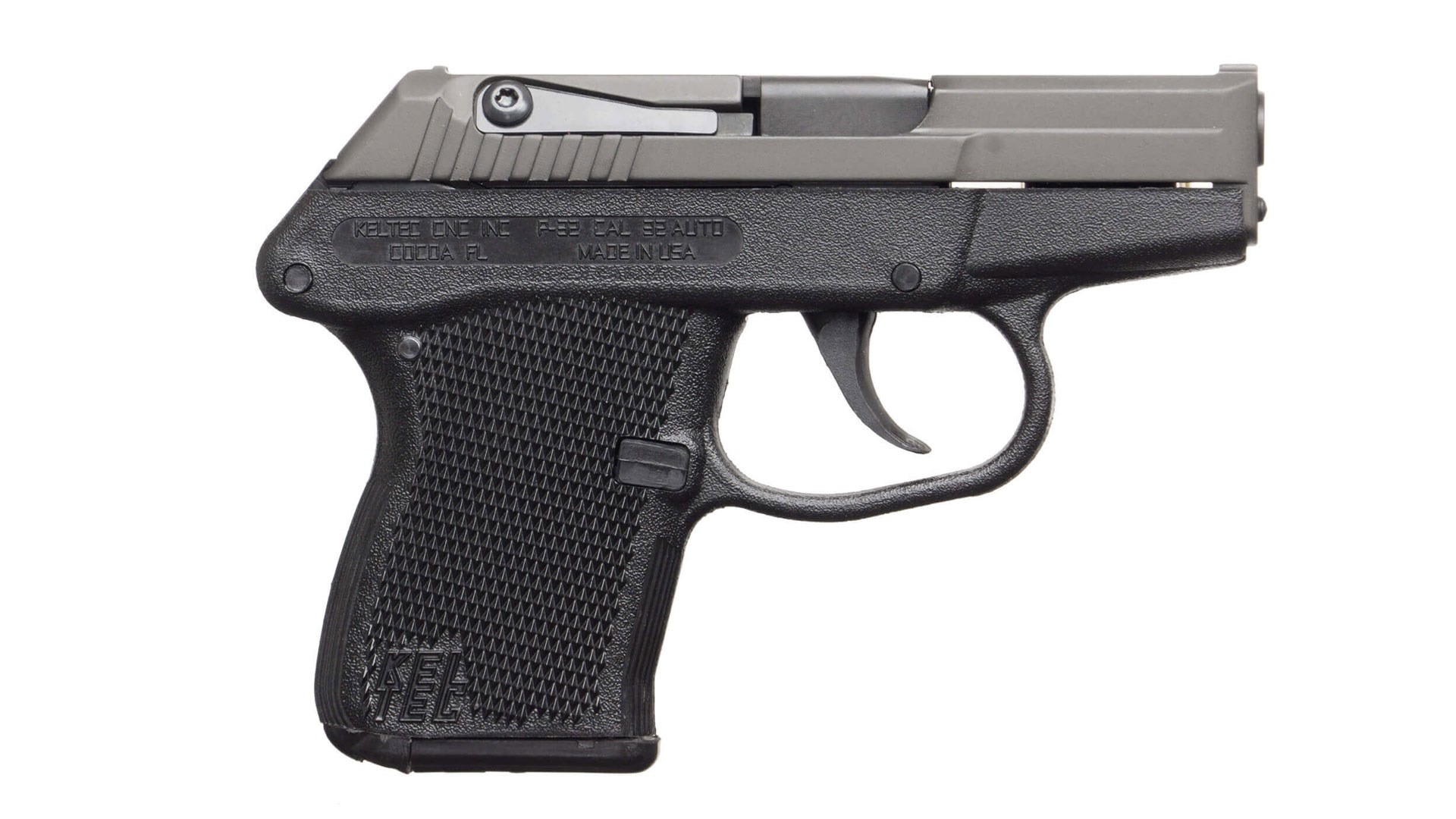 The P32 may be part of a dying breed, but it still offers a balance of size and performance that's tough to beat.
Still in production more than two decades later, the P32 fits right in with the today's defensive semi-automatic pistols with polymer frames. There's no question that the .380s are more powerful, but the P32 is surprisingly comfortable to shoot for its size. And when compared to the Ruger LCP II chambered in .22 LR, the P32 is slightly shorter, a bit thinner and weighs a noticeable, 4.2 ozs. lighter while also packing centerfire cartridges. Although the .32 ACP is no longer a hot topic, the P32 still comfortably fills a niche between the .380s and .22s. Who knows? The cartridge just might make a comeback. MSRP is $360. Keltec.com
3. Trailblazer Lifecard: Folding Single-Shot .22 WMR
Trailblazer Firearms offers what I would consider one of the smallest guns available today. The single-action LifeCard is a folding, single-shot utility pistol. Its unusual form factor makes it one of the easiest pistols to carry that I've worked with so far. The flat, squared-off folded profile is comparable in size to a tin of mints or a credit card holder. It can be tucked into just about any pocket, including the watch pocket of a pair of jeans.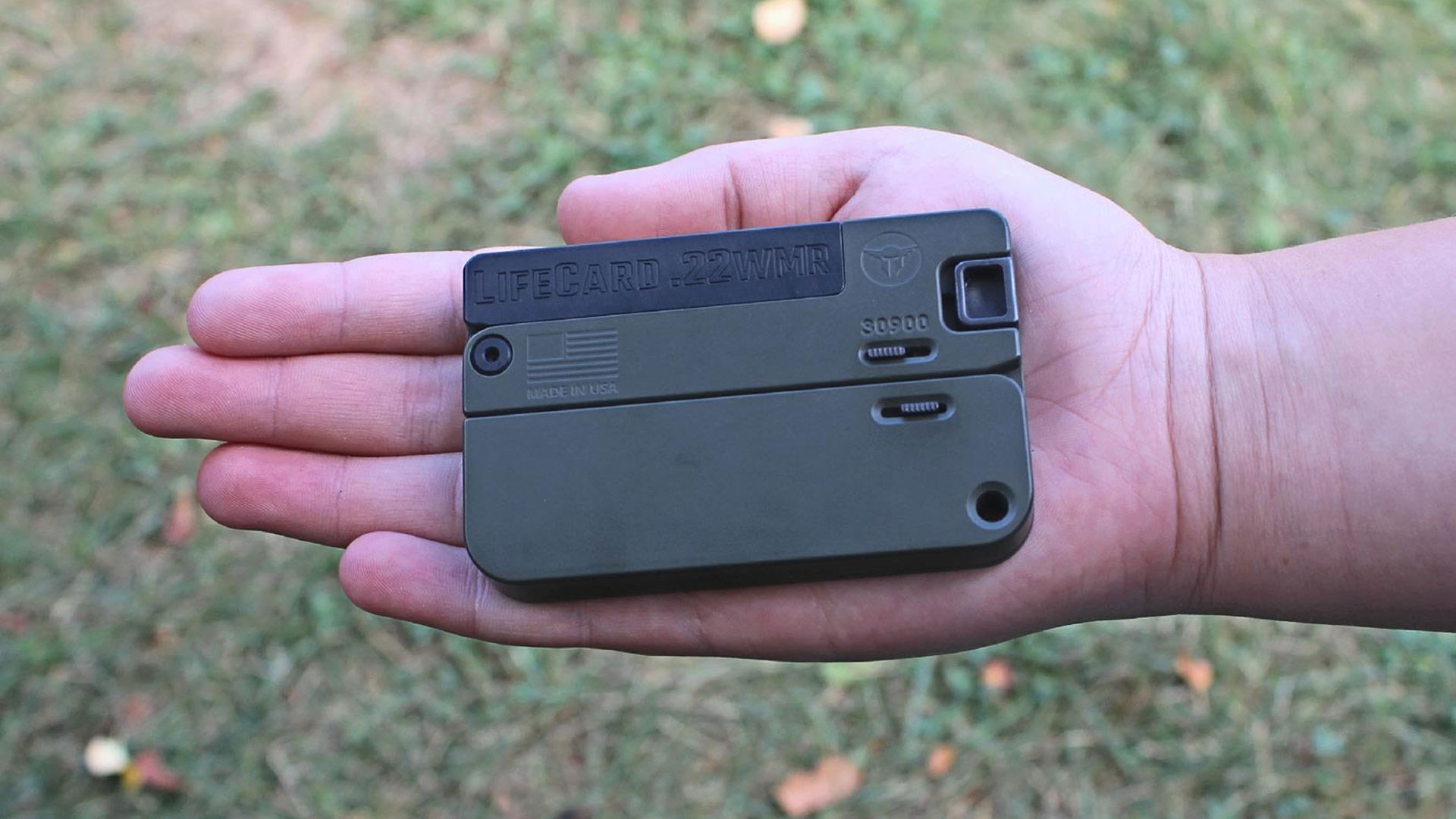 When folded, the Lifecard will fit comfortably in just about any pocket.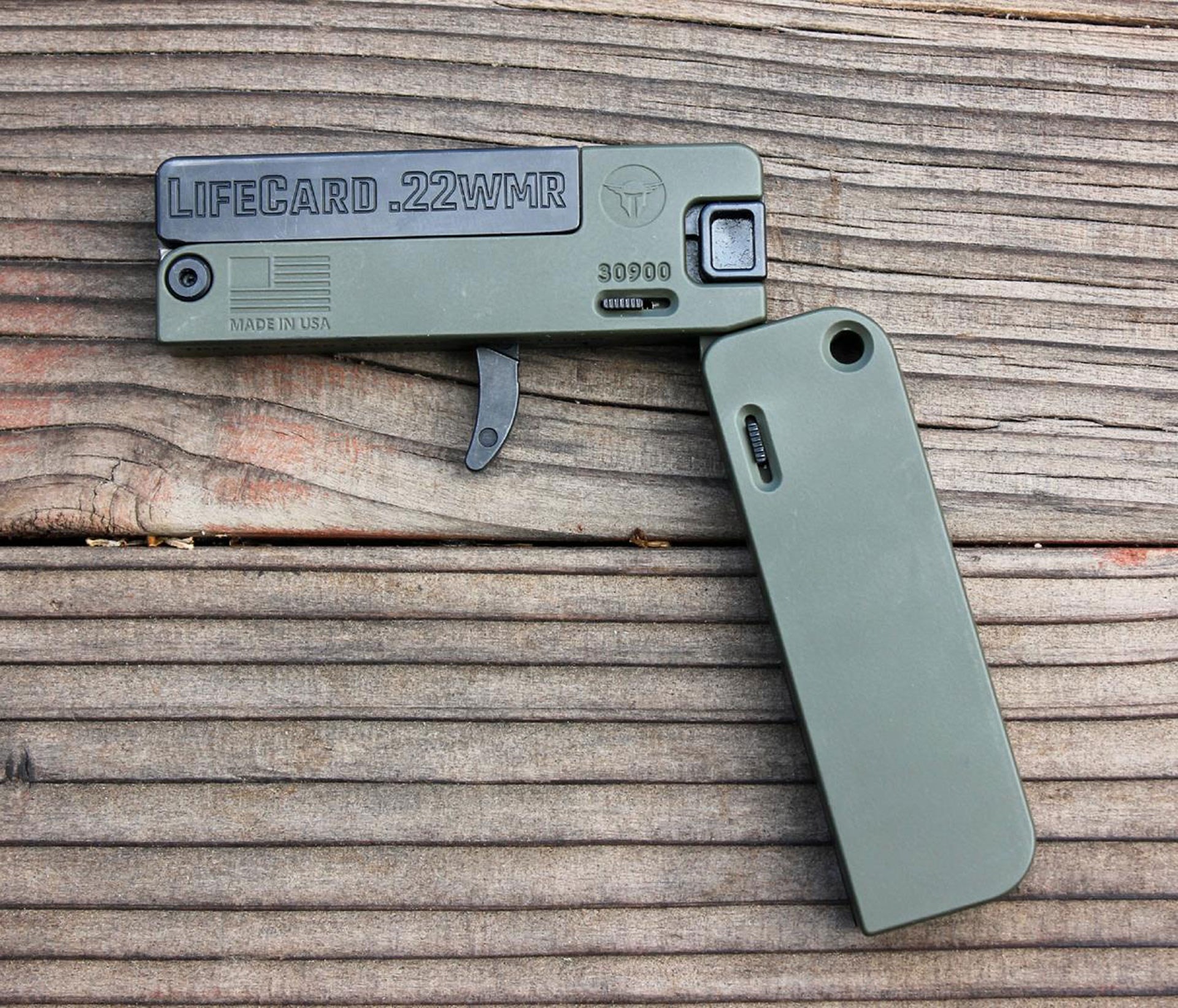 The .22 WMR (magnum) version of the Lifecard, with its steel and aluminum construction, weighs in at just 6.4 ozs., features a simple trench-sight system, a three-round ammunition compartment in the grip and is available in a variety of colors. The company also offers a .22 LR version with a polymer grip, which reduces the pistol's weight and cost. MSRP starts at $299. TrailblazerFirearms.com
2. Ruger LCP II: Single-Stack .22 LR
A few years ago, I penned a respectful eulogy for the small-caliber pocket pistols sometimes referred to as 'mouse guns'. However, in 2021, Ruger chose to breathe new life into the rimfire pocket pistol market. The LCP II Lite Rack chambered in .22 LR is based on the popular LCP II chambered in .380 ACP. It has the same external dimensions and trigger pull. But the slide is configured for ease of use. The magazine holds 10 rounds of .22 LR ,and this version of the LCP has a thumb safety lever on the left side.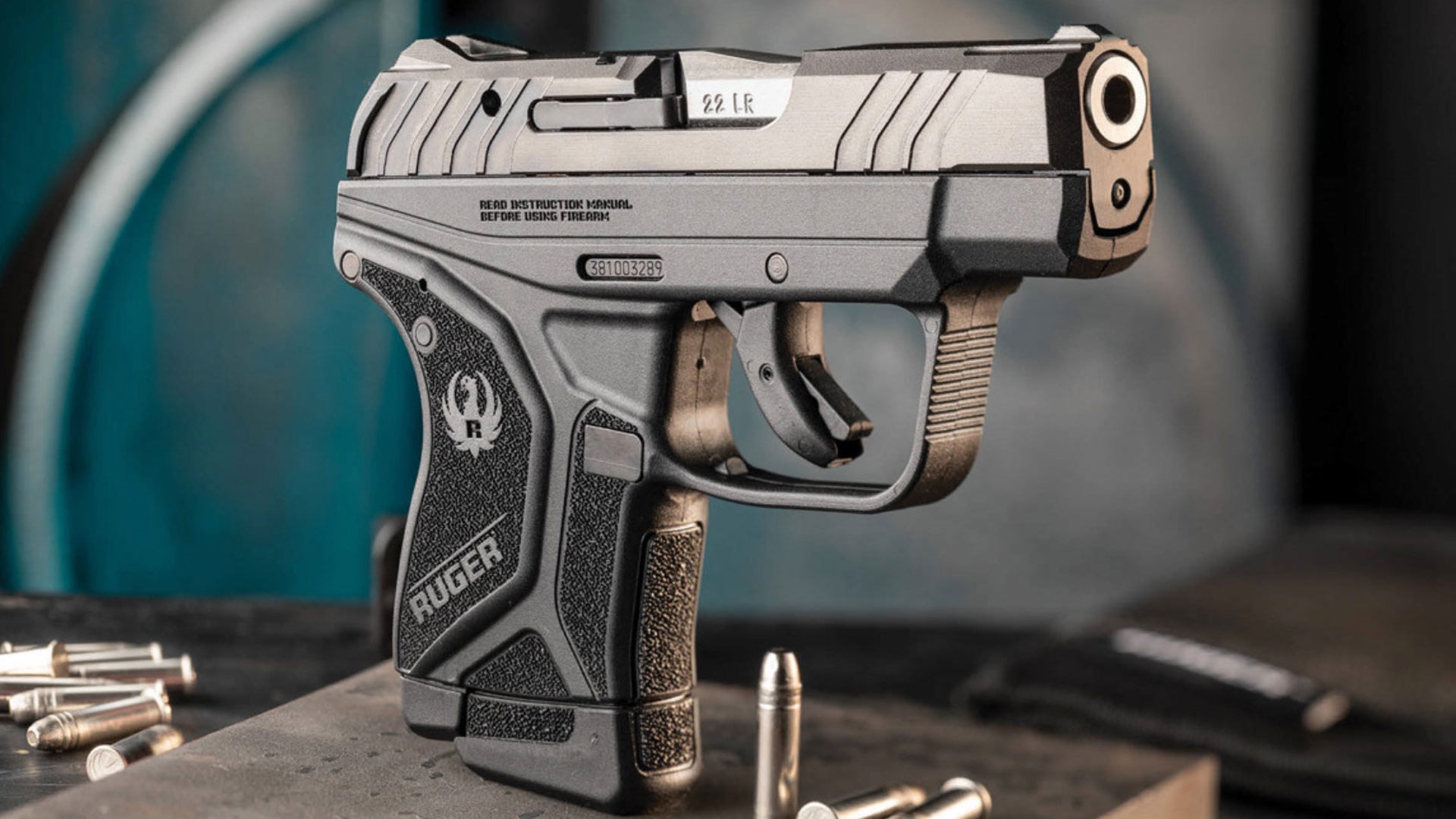 The LCP II is a modern, polymer-framed take on the classic 'mouse gun' pocket pistol.
A close contender for this slot is the Beretta 21A Bobcat, which is a well-made and reliable rimfire pocket pistol. The LCP is about 0.25" taller and 0.25" longer than the Beretta. However, the LCP weighs less, 10.9 ozs., has a thinner grip, 0.92" at the widest point, and holds up to 11 rounds of ammunition instead of 7+1. The LCP II also has a suggested retail price that is $40 less than the 21A Bobcat. For those who wish to shoot this pistol with a sound suppressor, Ruger offers a drop-in threaded barrel and recoil spring kit on the shopruger.com website. MSRP is $439. Ruger.com
1. North American Arms Mini Short: Single-Action .22 Short Revolver
North American Arms' (NAA) diverse series of mini single-action revolvers has represented the smallest multi-shot handguns available for quite some time. These delightfully tiny, stainless-steel revolvers are well-made with an attention to detail that shows this is a company that takes its products seriously. I've seen these revolvers put together at the factory in Provo, Utah, and I have to say, the process seems more like watchmaking than gun assembly.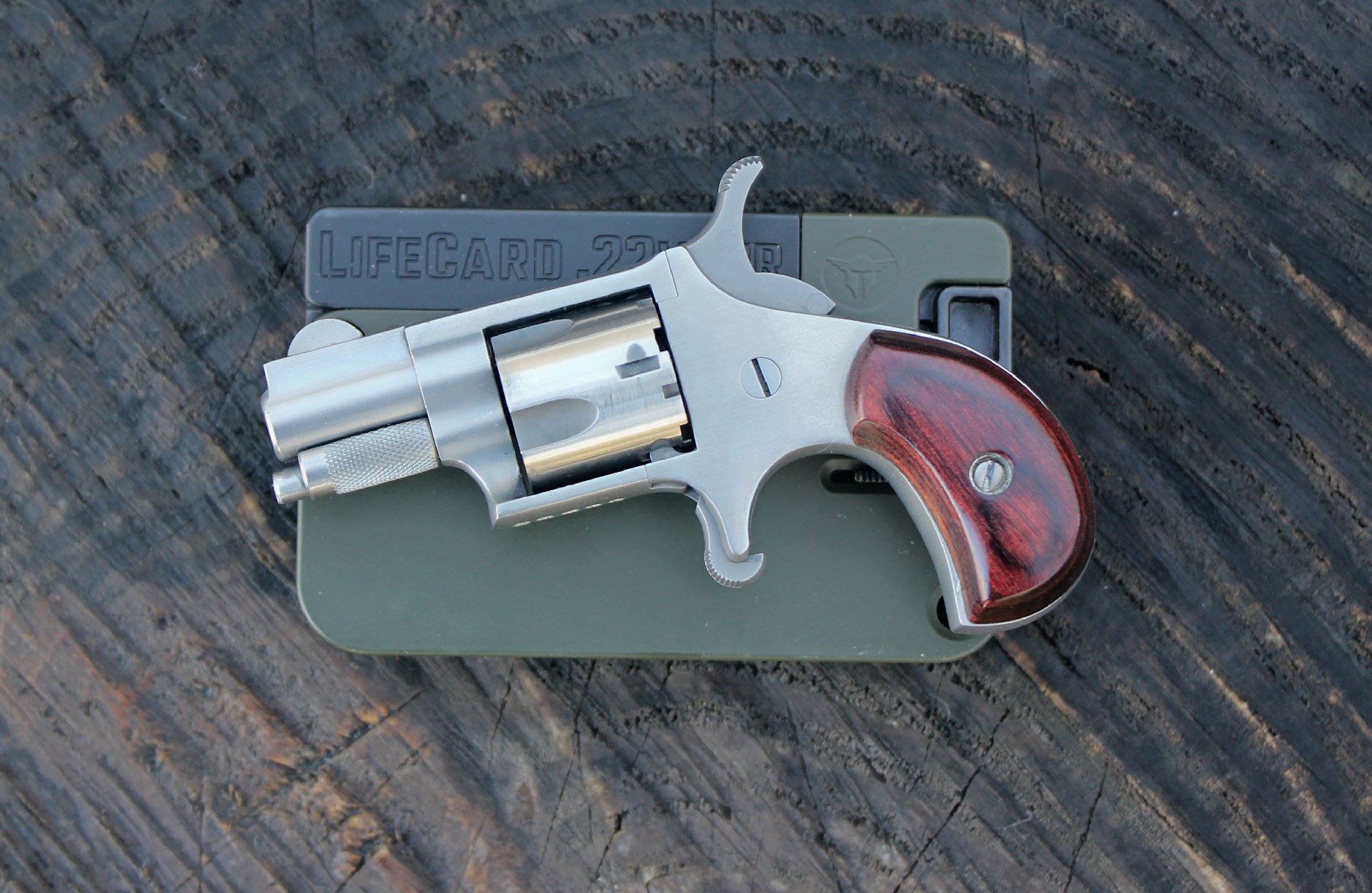 The Trailblazer Lifecard may be the size of a tin of mints, but the NAA Short can almost fit inside that tin.
The NAAs are available in three frame sizes, with the version chambered in .22 Short (NAA-22S) being the smallest of all. This revolver weighs in at 4.2 ozs. and has a profile that comfortably fits on top of a Trailblazer Lifecard. With its small grip, tiny controls and the mild recoil produced by the pill-sized .22 Short cartridges, this diminutive revolver provides an utterly unique shooting experience. However, the .22 Short-chambered Mini should be respected for what it is, a proof-of-concept handgun of which pushes the limits of size and shootability right to the edge of practicality. MSRP is $255. NorthAmericanArms.com