Support NRA American Rifleman
DONATE
This year I wanted to learn more about the long range shooting potential of the AR platform. Although there are some top-notch options for the AR-10, including the .308 Win. and 6.5 Creedmoor, the two cartridges that caught my eye were the AR-15-friendly low-recoil 6.5 Grendel and the freshly minted .224 Valkyrie. If a smaller, lighter rifle can get the job done without the punishing kick, then why not give it a try? To properly launch these cartridges I requested two factory assembled AR-15 uppers from Hardened Arms LLC. and Palmetto State Armory. In the course of preparing this review, I was introduced to a new, top-of-the line optic that went a long way to change my perspective of high-end riflescopes (all puns intended). Because optics play such an important role in 1000 yard + shooting endeavors, I didn't want to skip talking about it here.

A couple of years ago, when working with three mixed purpose uppers, I assembled a target-grade lower with a tuned trigger and a fully adjustable shoulder stock. When finished, this lower had a listed retail value just shy of $1000. However, that investment continues to pay for itself. Without any adjustments or upgrades, this lower was ready to use when these long-range uppers arrived.

6.5 Grendel: Hardened Arms 20" Barrel Upper
The 6.5 Grendel was developed and released by Alexander Arms in 2004. The 7.62×39mm cartridge case was necked down to accept 6.5 mm bullets in weights ranging from around 90 to 130 grs. This allows AR-15 platforms to be used for harvesting medium-size game at distances of 300 to 400 yards. But what folks were quick to recognize about this cartridge is its top-notch accuracy and performance potential at even greater distances. Sub-MOA groups at 100 yards are common with folks who handload their own ammunition with some reporting similar sized groups al the way out to 500 yards.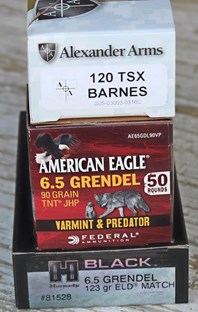 With a properly tuned load in an optimal barrel length, the 6.5 Grendel can produce supersonic bullet velocities to and past 1,200 yards. This makes it an ideal option for those who want to participate in long range shooting matches without the shoulder pounding recoil some larger caliber rifles produce. I've heard some gun writers say that the 6.5 Grendel cartridge has only been moderately successful by gun industry standards. But if we're honest about it, the idea of using AR-15s for extreme long-range shooting endeavors traditionally reserved for bolt-action rifles, is still a fairly new trend with the general shooting public (as is extreme long-range shooting as a hobby on the whole). Now that more folks are paying attention to it, it seems likely sales will increase.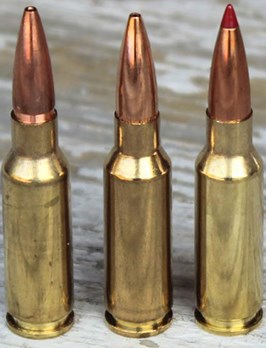 Today you can find 6.5 Grendel ammunition made by big American manufacturers such as Federal Premium and Hornady, boutique ammunition companies like Alexander Arms (naturally) and Underwood Ammo, along with overseas companies including Wolf Ammunition and Prvi Partizan. This cartridge is not only chambered in a variety of AR makes and models, it can also be found in bolt-action hunting rifles and some AK-47 pattern platforms. In other words, this cartridge may not be as easy to find as the .223 Rem. or 300 Blk., but it's not going to dry up or disappear any time soon.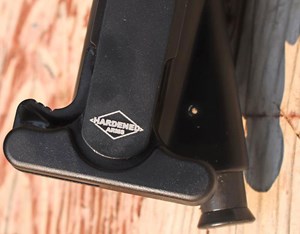 The Hardened Arms LLC. upper used to fire this round was fitted with a 20" HBAR profile barrel which was machined in-house from Mil-B Spec 4150CMV U.S. steel, air-gauged, stress-relieved and treated with a durable Melonite finish. The 15" Talon hand guard features a full-length Picatinny top rail, 3" Picatinny accessory rails at the 3-, 6- and 9-o'clock positions, four QD sling swivel ports and a series of M-Lok slots.

The threaded muzzle was fitted with a Pepper Pot flashhider with the 6-groove rifling button cut at a 1:8 twist rate. Hardened Arms' forged 7075 T6 Aluminum M4 flat-top upper receiver arrives fitted with a forward assist and dust cover. This upper was ordered with the company's BCG package, which includes a Mil-Spec charging handle, a complete Melonited 6.5 bolt carrier group (BCG) and one stainless steel Ammunition Storage Components (ASC) magazine. Hardened Arms kindly provided an additional selection of 5, 15 and 25-round ASC magazines for me to work with. The long, heavy profile barrel was ideal for bench work, making the rifle extra steady and easy to work with.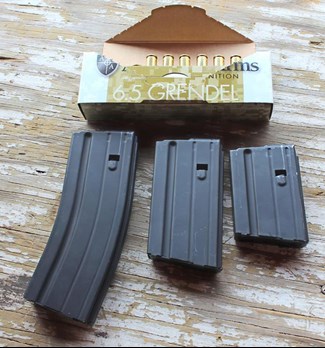 .224 Valkyrie: Palmetto State Armory (PSA) 18" Barrel Upper
Federal Premium's .224 Valkyrie cartridge was released just a few months ago to a good deal of fanfare. This cartridge uses a 6.8 SPC case necked down to 5.69 mm, or .224 cal. The .224 Valkyrie is topped with lighter bullets than the 6.5 Grendel with factory load weights currently ranging from 60 to 90 grs.
In addition to its performance potential at extended distances, the .224 Valkyrie has a few more qualities that will make it popular with long-range competitors and hobbyists. It produces modest levels of felt recoil, it feeds from relatively easy to find 6.8 SPC magazines and Federal's ammunition offerings include an inexpensive 75-gr. practice load, which can be found online for as little as $10.99 per 20-round box (as of this writing).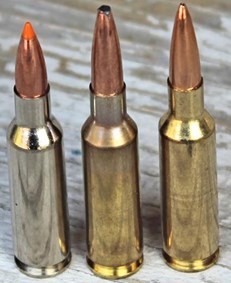 Available ammunition is currently limited to four loads available from Federal and one from Hornady. However, Palmetto State Armory is just one of several reputable AR manufacturers to quickly adopt this cartridge including, but not limited to, Ashbury Precision, CMMG, Mossberg, Savage Arms, Stag Arms and Wilson Combat. This rapid proliferation of complete AR-15 rifles and uppers, along with a fairly plentiful supply of Federal ammunition and dozens of positive reviews from the media, bodes well for this cartridge surviving past its infancy.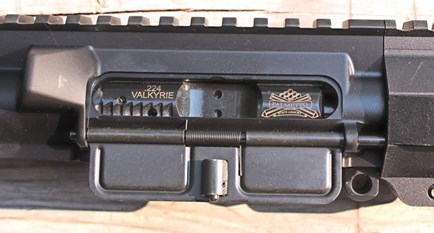 The Palmetto State Armory's .224 Valkyrie upper employs an 18" long A2 profile 416R stainless steel barrel with a 1:7 rifling twist rate and a threaded muzzle fitted with an A2 flashhider. The lightweight 15" handguard features a full-length Picatinny top rail, two QD sling swivel studs and the customer's choice of M-Lok or Key Mod (shown) accessory slots. The M4 type Flattop Forged 7075 T6 aluminum upper receiver is hardcoat anodized with a forward assist and dust cover installed at the factory.

This upper is sold as a reasonably priced complete package which includes a Mil-Spec charging handle, a full-auto profile bolt carrier group with a 9310 steel bolt and one top-quality stainless steel C-Products 25-round 6.8 SPC magazine. The shorter A2 profile barrel makes this upper close to 3 lbs. lighter than the 6.5 Grendel option, making it easier to swing off the bench and to carry in the field.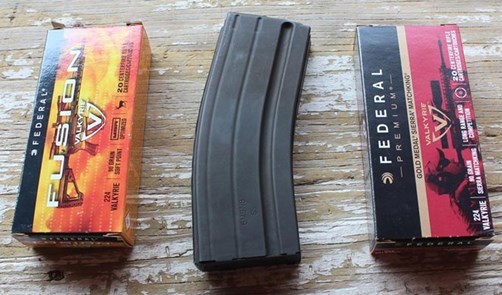 Bushnell XRS-IIi Long-Range Optic
As I've met with competitors and manufacturers involved with long range shooting endeavors, they've all mentioned the importance of selecting a quality optic when shooting out to or past 1000 yards. For hunting and recreational shooting, we tend to think of the platform as having three equally important parts: the gun, the ammunition and the optic. For extreme distances, I've heard it said that the optic is really half of the equation since the very best guns and ammunition won't get the job done without it.
I've enjoyed a good working relationship with Bushnell for years now but I was still a bit blown away when they sent me the new Elite Tactcial XRS II-i 4.5-30x50mm rifle scope to use for my long range tests this year. I have shot with terrific optics that have served me quite well, some with price tags circling the $1,500 mark. But this was the first time that I've hunkered down behind a scope with a suggested retail of $3,289.95. That is a jaw-dropping price for many of us (me included), but now that I've used it, I can understand why long-range shooters are willing to make the investment.

The top-of-the-line Elite Tactcial XRS II-i features a handsome gun-metal gray finish, an illuminated G3 reticle and Bushnell's EXO Barrier lens protection. The high quality ED Prime glass delivers crisp colors, resolution and contrast, even in low-light conditions, while the new EXO lens coating bonds with glass at the molecular level to prevent scratches and repel water, oil, dust and debris. The locking windage and elevation turrets are fitted with the RevLimite Zero Stop that will not turn past zero. This optic also features Argon-purged fog proofing with an IPX7 waterproof construction which keeps it dry inside for 30 minutes in up to 3 feet of water. The optic was mounted to the rifle with a set of heavy-duty, 6-screw Weaver 34mm tactical rings.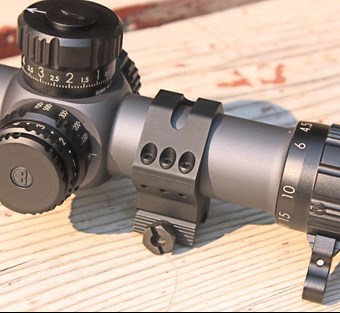 Range Results
Both uppers exhibited quality construction and craftsmanship throughout and ran flawlessly with all of the test ammunition with nary a malfunction between them. During the time that I had these uppers for testing, the long-range steel plates at my local range were closed due to potential wild fire risks. Yes, I agree that testing long-range uppers at just 100myards is about as exciting as driving a muscle car through a crowed parking lot. Nevertheless, I was able to generate a solid set of comparative data. The following table summarizes the performance results: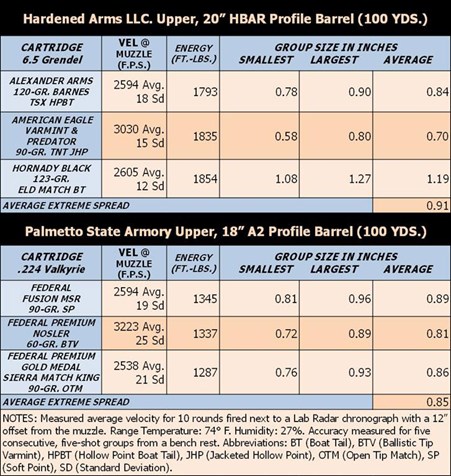 The 6.5 Grendel demonstrated its hunting heritage with energy levels suitable for harvesting medium-size game. The accuracy was rock solid with most 5-shot groups at or under an inch at 100 yards. Felt recoil was modestly moderate, which is to say on par with its 7.62x39mm parent case. This established (if not ubiquitous) round is enjoyable to shoot from AR-15 platforms and it can fill a variety of shooting roles.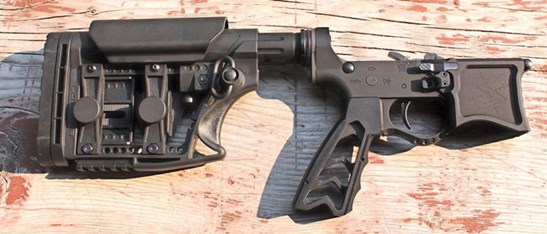 The brand-new .224 Valkyrie was clearly designed from the get go as a low recoil, long-range competition round, and it fills that role quite nicely. The bullet velocities were similar to the 6.5 Grendel using a 2" shorter, lighter profile barrel with all 5-shot groups under 1". It could be pressed into service as a varmint hunting load thanks to Federal's soft point and ballistic tip loads. However, the .224 Valkyrie loads generated muzzle engery levels that were around 500 ft-lbs. lower than the 6.5 Creedmoor. Simply stated, there are better cartridge options available for medium game. That being said, there are plenty of AR fans who are not interested in using their gun for hunting. If your primary goal is to reach out and ring steel at 500 yards or more, then this round looks like a promising option.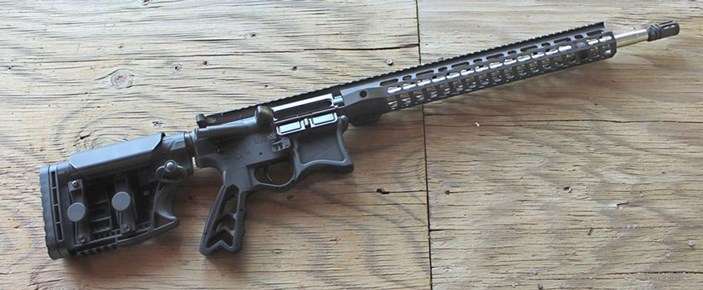 Specifications: 
Optic: Bushnell Elite Tactcial XRS II-i 4.5-30x50mm (ET46305GI) $3,289.95
Scope Mount: Weaver Tactical 34 mm High 6-Hole Picatinny Rings (99684) $109.95
Upper: Hardened Arms LLC.
Model: 20" 6.5 Grendel Melonited 15" Tac Quad Rail Upper with BCG Package
Action: Gas-Impingement Semi-automatic
Caliber: 6.5 Grendel
Upper Receiver: Hardened Arms M4 Type Flattop Forged 7075 T6 Aluminum
Ejection Port Cover: Yes
Forward Assist: Yes
Charging Handle: Mil-Spec
Complete Bolt Carrier Group (BCG): 6.5 Grendel, Melonited
Barrel: In-House 20" 4150CMV Steel, Nitrogen Stress Relieved, QPQ Finish
Barrel Profile: HBAR with M4 Extension
Rifling: 1:8" RH
Grooves: 6, Button Rifled
Muzzle Threading: 5/8x24 TPI
Muzzle Device: Pepper Pot Flash Hider (Upgrade) $44.99
Gas Block: .750 Low Profile
Gas Tube: Rifle Length
Handguard: 15" Talon Free-Float
Magazines: ASC 6.5 Grendel
Sights: None
Weight: 7 lbs 2 oz.
MSRP: $739.98 with BCG Package 
Upper: Palmetto State Armory
Model: PSA 18" Stainless with 15" Light Weight Handguard (5165448419)
Action: Gas-Impingement Semi-automatic
Caliber: .224 Valkyrie
Upper Receiver: M4 Type Flattop Forged 7075 T6 Aluminum
Ejection Port Cover: Yes
Forward Assist: Yes
Charging Handle: Mil-Spec
Complete Bolt Carrier Group (BCG): Full-Auto Profile with 9310 Steel Bolt
Barrel: 20" 416R Stainless Steel, A2 Profile
Rifling: 1:7" RH
Grooves: 6
Muzzle Threading: 1/2-28 TPI
Muzzle Device: A2 Flash Hider
Gas Block: .750 Low Profile
Gas Tube: Rifle Length
Handguard: PSA 15" Lightweight M-Lok Free Float
Magazines: 6.8 SPC Standard
Compatible Lower Assemblies: Mil-Spec
Sights: None
Weight: 4 lbs 8 oz.
MSRP: $569.99 
Custom Target Lower Assembly (At-Home Build)
Lower Receiver: Seekins Precision SP223 Gen 2 Billet with Adjustment Screws
Complete Lower Build Kit: CMMG 55CA6C
Trigger Group: HiperFire Hypertouch 24E
Trigger Pull: 2 lbs. 9 oz. Single Stage
Extended Magazine Release: Odin Works XMR 2 Black
Grip: Tyrant Designs CNC MOD Modular Grip
Buffer Tube: PWS Mod 2 Enhanced with QD Plate
Buffer: PWS Mod 2 H2
Shoulder Stock: Luth-AR MBA-3