by
posted on October 28, 2016
Support NRA American Rifleman
DONATE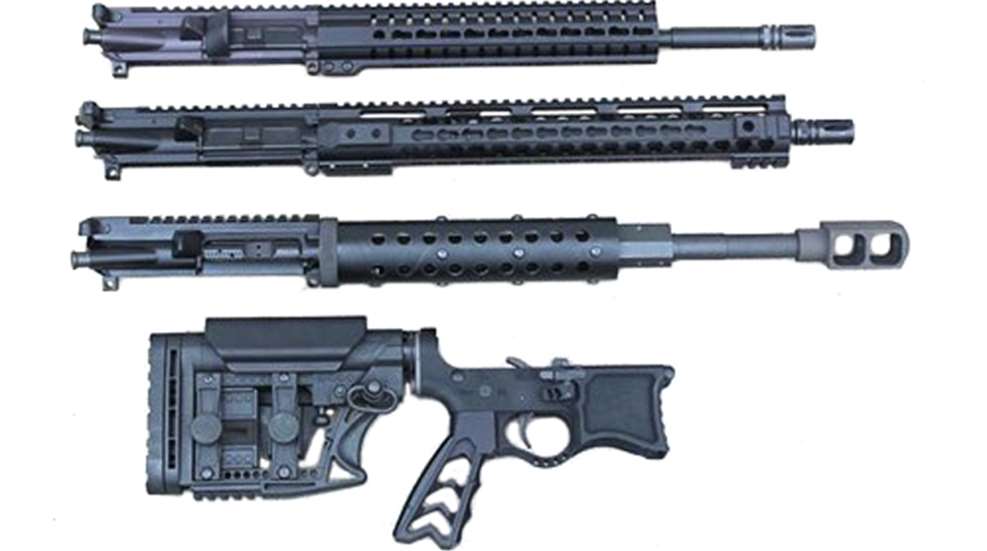 The purchase of a good AR-15 is a more auspicious occasion than some new gun owners might realize. This is because the AR platform has the uncommon ability to split into two distinctive and fully self-contained halves. All of the parts that determine the cartridge a particular rifle can fire are found in the top half of an AR-15, which is more commonly known as the "upper." The upper includes the barrel, handguard, upper receiver, charging handle and bolt carrier group (BCG). The bottom half, or "lower," contains all of the components needed to fire an AR-15. A serial numbered lower receiver hosts the trigger group, buffer assembly, shoulder stock and pistol grip.
The AR-15's split personality allows a single lower assembly that has a standard size lower receiver to be connected to different uppers chambered in a variety of calibers. Here's a closer look at how to make the most of a single lower and three quality uppers that span the small, medium and big-bore cartridge options for the AR platform.
One Lower to Rule Them All
What advantages are there to swapping out AR-15 uppers instead of purchasing a complete rifle in the caliber you want? The three "C"s that come to mind include cost, consistency and customization. If you're considering a factory assembled AR in the $800 to $1,500 price range, then complete compatible uppers can be found for anywhere from $300 to $900 depending on the desired caliber and features. 
For the sake of repeatable operator performance, or consistency, it's helpful to practice with the same trigger pull and stock configuration all of the time. Using one lower allows shooters to stick with a set of controls and adjustments they're familiar with in all the calibers they like.
If you already have a factory assembled lower that fits your style, then you're good to go. However, most folks who get into the AR groove soon find themselves looking for upgrades. There's nothing wrong with purchasing a factory assembled lower and swapping out a few parts to get it just right. However, if the plan is to keep trading out parts until the only original piece left is the lower receiver, you might as well invest in a minimal tool set and build the custom lower from scratch.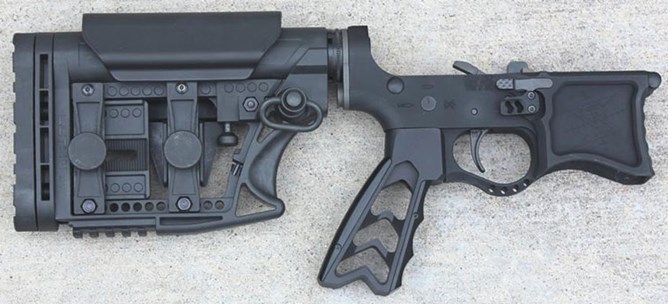 Because I wanted to give each of these uppers the best possible opportunity to shine, they were all tested with the same high quality home-built custom lower assembly. The Seekins Precision SP223 Gen 2 CNC-machined billet lower ships with a trigger set screw, an upper-to-lower tension screw (to ensure the upper assembly fits tightly in place) and a set screw to secure the takedown pin detent and spring (no need to wrestle with it when installing the buffer assembly). Other features include an enhanced bolt catch, an ambidextrous bolt stop assembly and an oversized trigger guard. It costs a couple of hundred dollars more than a mil-spec forged lower but it's worth every penny to the serious AR sharpshooter.
The Seekins lower was fitted with a CMMG 55CA6C5 lower parts kit, an Odin Works XMR 2 extended magazine release, a PWS Mod 2 Enhanced buffer tube with a QD end plate and a PWS Mod 2 H2 buffer. The fully adjustable six-postion shoulder stock is the Luth-AR MBA-3. It provides fine adjustments at key points without breaking the bank or weighing too much.
I needed to know the trigger would ignite a full range of primers, so I went with the adjustable HiperFire Hypertouch 24E with a traditional curved trigger. It comes with three sets of interchangeable springs. As configured for this build, the trigger exhibits a smooth, crisp single-stage trigger pull of 2 lbs. 9 oz. with half the creep and greater hammer strike energy than a mil-spec trigger. The build was capped off with a Tyrant Designs CNC MOD aluminum modular grip fitted with the company's finger grooved polymer composite frontstrap and chevron-textured backstrap. The finished result was a reliable multi-purpose precision lower that performed properly while looking cool.
All three uppers were properly lubricated and taken through a complete set of bench checks with this lower and their magazines before heading out to the shooting range.
CMMG Mk4 T Dedicated .22 Long Rifle Carbine



If you spend some time looking around the web for AR rimfire conversions or uppers, you'll see CMMG Inc. crop up time and again as one of the best options on the market. Because this review focuses on complete uppers, I set aside the CMMG 22BA6E1 .22LR (Bravo) conversion kit for another day and went to work instead with the Mk4 T upper. The MK4 T is a dedicated rimfire, meaning it cannot be converted to shoot 5.56 NATO.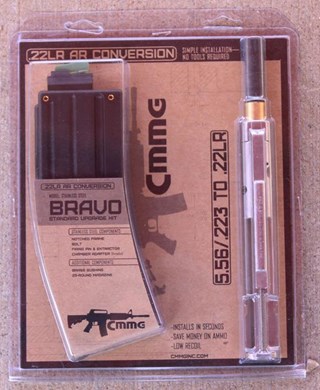 Although the blowback operated Mk4 T makes for a top-notch plinker and small game .22, it was not intended as a recreational rimfire. Instead, it's designed for use as a reduced-cost training tool. As such, the forged 7075-T6 aluminum M4-type flattop upper receiver and 11" CMMG RKM11 KeyMod handguard are fully compatible with AR-15 accessories. The 16" medium taper 4140 chromoly steel barrel's muzzle is threaded at ½-28 TPI with an A2 flash hider. Only two exterior features give away the fact that this is not a typical M4 upper. The charging handle is polymer instead of aluminum, and the chamber's dust cover door has been shortened to accommodate an extended polymer brass deflector.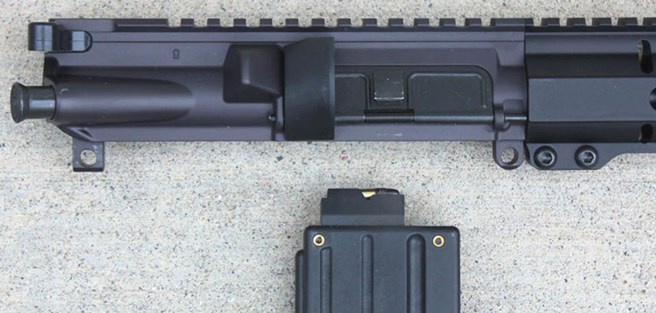 Removing the bolt carrier group reveals an assembly very much like the conversion kit and a barrel chamber that protrudes into the upper receiver in order to accommodate the much shorter .22 rimfire cartridge. The MK4 T is designed to feed from CMMG's proprietary 25-round AR profile polymer magazines. A tall, green follower protrudes from the top of the magazine. Although the lower's bolt catch does not engage this custom bolt assembly, the magazine follower holds the bolt open when the last shot is fired.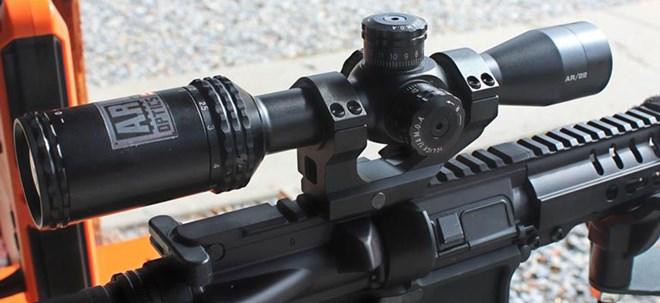 This upper was treated to a good dose of mixed .22 Long Rifle ammunition including bulk-box to target-grade loads. It liked them all with no ammunition malfunctions, jams or faulty primers to gum up the works. On and off the bench, the MK4 T's sighting system consisted of a Weaver Tactical single-piece base (48377) supporting a Bushnell AR Optics 2-7x32 mm (AR92732) scope designed for use with .22 rimfire ARs.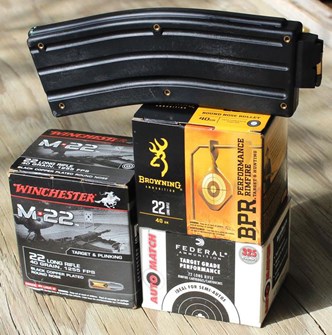 Formal accuracy was conducted at 50 yards with Browning BPR general purpose loads along with Federal Premium's Automatch target loads and Winchester's M-22, a .22 load made specifically for AR-15s. The five-shot groups averaged between 0.91" to 1.21", which brought the accuracy closer to a target-grade competition rifle than I had expected. The only problem I can see with purchasing this CMMG upper is that whatever .22 ammunition you happen to have on hand isn't going to last for long.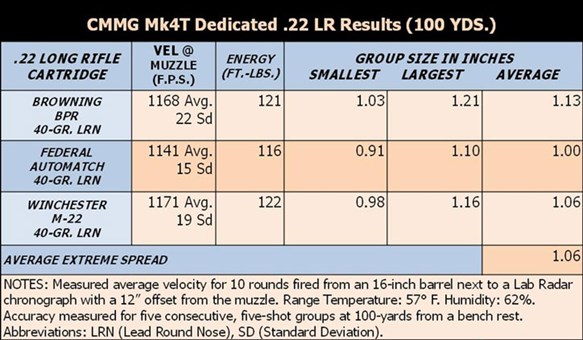 Ground Zero Precision (GZP) Ballistic Advantage .300 BLK



The .300 AAC Blackout (300 BLK) cartridge is continuing to gain in popularity and shows no signs of slowing down any time soon. It's a flexible .30-caliber cartridge that can fill a variety of niches. Lighter-bulleted high-velocity loads produce terminal ballistics comparable to 7.62x39 mm and .30-30 Win., making it a suitable option for hunting medium game and self-defense. Heavy bullet subsonic loads work nicely with sound suppressors. Because the 300 BLK cartridge case is a modified 5.56 NATO case, it can share the same bolt carrier group and magazines, which in turn makes it an even more affordable caliber conversion.



When looking for a 300 BLK upper to test, the 16" Ballistic Advantage barrel model from Ground Zero Precision (GZP) caught my eye. The forged 7075-T6 flat top upper receiver sports a forward assist and a dust cover. The 4150 Steel barrel features 1:7" right hand rifling, an M4 Feed Ramp and a QPQ corrosion resistant finish. The short, pistol-length gas tube is paired with a low-profile SLR Rifle Works Sentry adjustable gas block. Being able to increase or decrease the gas flow from the barrel to the bolt carrier group comes in handy with a 300 BLK because the pressure levels vary a good deal with different loads.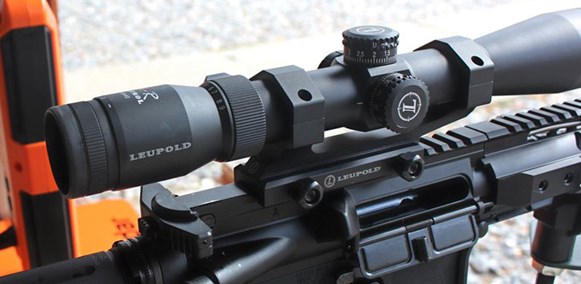 The 15" long GZP free-float Tac-Hunter-15 Keymod handguard provides a full-length top rail and three 1.25" accessory rails near the muzzle at the 3-, 6- and 9-o'clock positions. A 5/8x24 TPI threaded A2 flash hider is attached at the muzzle. Two upgrades to the stock assembly include a GZP nickel-boron finish Dead Bolt GEN II +P Premium M16 bolt carrier group and an Armageddon Tactical GMS-15 charging handle. The sight system consisted of a Leupold VX-R Patrol 3-9x40 Firedot TMR with a 30 mm tube and a Leupold Mark 2 IMS 30 mm Integral Mounting System.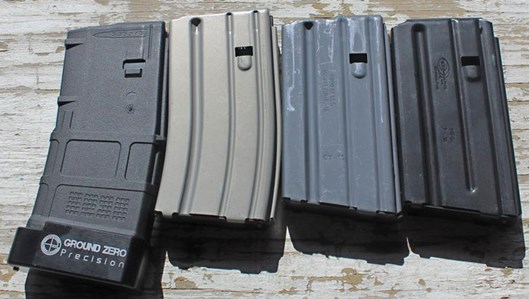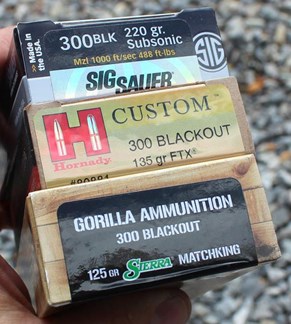 Mil-spec and commercial grade magazines were represented by options from Magpul, C Products Defense, Brownells and Surefeed. Test ammunition included high velocity and subsonic options from Gorilla Ammunition, Hornady and SIG Sauer. The upper stuttered a couple of times when I switched over from the high velocity loads to the subsonic rounds. But a quick twist to the adjustment nut of the SLR gas block alleviated the issue. Five-shot groups at 100 yards ranged from 0.78" to 1.20" in size.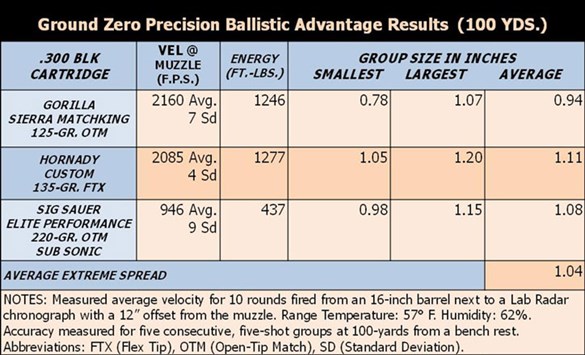 Alexander Arms Precision .50 Beowulf



Fans of big-game hunting and the AR-15 turn to uppers chambered in what are colloquially known as the "thumper" cartridges. Think of a big-bore round like the .45-70 Gov't. trimmed down to fit in AR profile magazines and you'll have the general idea. These hard-hitting calibers include the .450 Bushmaster, .458 SOCOM and the impressively sized .50 Beowulf.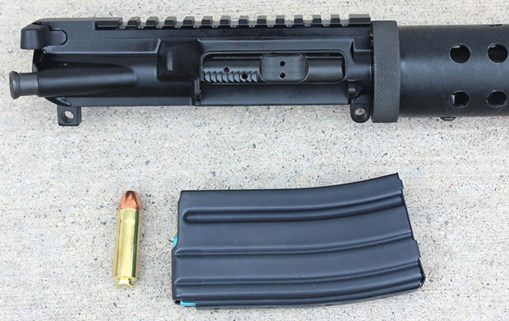 Developed by Bill Alexander and named after a mighty hero of ancient folklore, the .50 Beowulf is a proprietary cartridge of Alexander Arms. With a cartridge case based on the .50 Action Express, the company offers a variety of loads that launch .500-caliber bullets in weights ranging from 200 gr. to 400 gr. with listed velocities from 2,500-fps. to 1,800-fps. when fired from a 16" barrel. The bullet styles available include the Polycase ARX, Rainier full-metal jacket, Hornady XTP hollow points and Hawk soft points.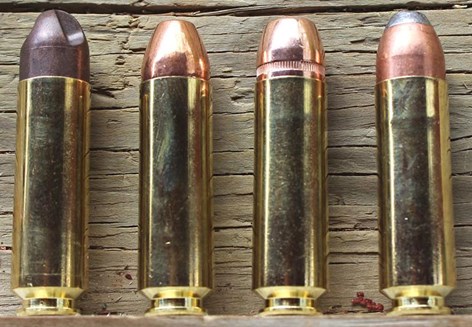 The upper requested for this review is the Alexander gas-impingement-operated Precision model with an M4 pattern flattop forged 7075 T6 aluminum upper receiver with a forward assist but no dust cover. The .50 Beowulf bolt carrier group is paired with a mil-spec charging handle. The fully Parkerized 16" chromoly steel barrel is fitted with a large, low-profile gas block and shrouded by a 10" free-float MK10 mid-length G10 composite handguard upgraded with vents and accessory rail screws.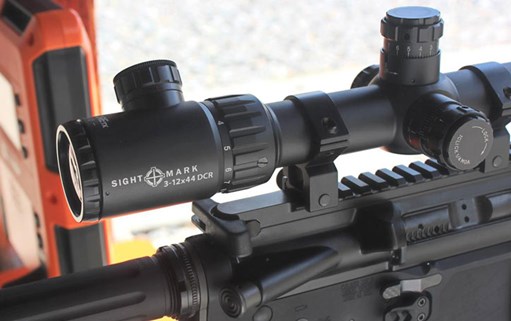 It should be noted here that Alexander Arms recommends the use of the company's specially designed .50 Beowulf magazines in order to guarantee proper feeding and function. Available in 4-, 7- and 10-round configurations, the upper arrived with one seven-round magazine. The upper ran properly with all the Alexander Arms test loads and without any malfunctions.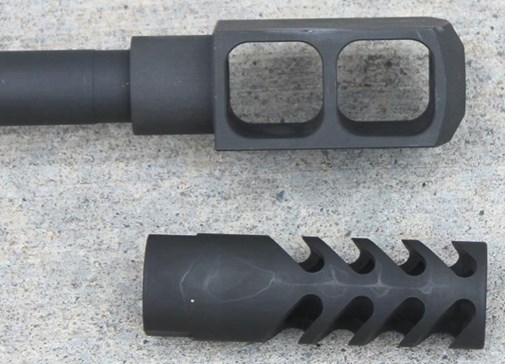 As one might imagine, the .50 Beowulf is not a subtle cartridge to work with when it comes to felt recoil. It's probably best left to more seasoned shooters. Felt recoil ranges from stout to intense levels depending on the load, so do yourself a favor and invest in one of the company's muzzle devices. The test upper arrived with a round Millennium Compensator and a boxy Tank Brake, both of which were cut with 49/54x20 RH threading to match the threaded muzzle of the barrel. I preferred the Tank Brake because it provided the best recoil reduction, so it was used for most of the informal and formal testing. Using a Sightmark Core TX 3-12x44 DCR rifle scope, which arrives with a set of rings, I was able to keep five-shot group sizes between 0.92" and 1.42" with averages right around 1.13" at 100 yards.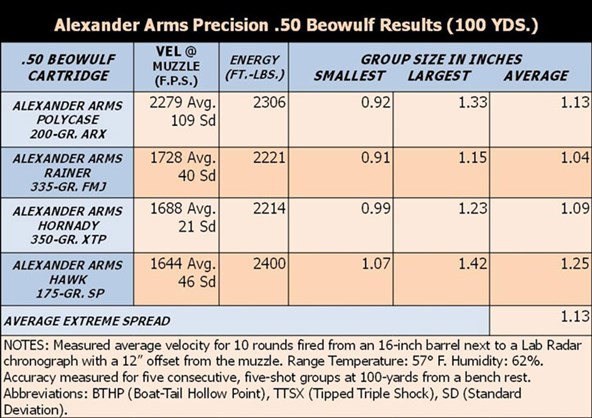 Lessons Learned



Although I've been shooting ARs for a while now, this was the first time I've worked with a 3-in-1 set up like this. I learned a few things that I'm glad to know. A complete AR-15 with two additional uppers only needs two rifles worth of gun safe storage space instead of three. That may not sound like much of a difference unless your safe is small or nearly full. All three of the scopes tested here were a great fit for the upper they were paired with. The dedicated .22 Long Rifle was particularly fun to work with.
But what I liked best was the consistency provided by using just one lower. The feel of the trigger, grip and shoulder stock never changed, so there was no learning curve to work through as the uppers were traded out like there would be if I had been shooting three different rifle models. Other than the obvious variations in felt recoil, this rifle had almost the exact same feel with all three uppers. The one exception to this was the difference in the handguard. If you use the straight arm, thumb-over-the-top support grip that 3-gunners prefer, then changing the length and diameter of the handguard is going to affect your grip. If you grip the magazine well with your support hand, then the dimensions of the handguard won't matter much.
Each of the companies involved in this three-upper test make solid, reliable and accurate components. I'm looking forward to working with each of them again in the future. 
Specifications
Custom Target Lower Assembly (Home Build)
Lower Receiver: Seekins Precision SP223 Gen 2 Billet with Adjustment Screws $259
Complete Lower Build Kit: CMMG 55CA6C5 $64.95
Trigger Group: HiperFire Hypertouch 24E $215
Extended Magazine Release: Odin Works XMR 2 Black $20
Grip: Tyrant Designs CNC MOD Modular Grip $115
Buffer Tube: PWS Mod 2 Enhanced with QD Plate $104.95
Buffer: PWS Mod 2 H2 $39.95
Shoulder Stock: Luth-AR MBA-3 $149.95
Total MSRP: $978.80
Upper: CMMG
Model: Mk4T (22B7CA4)
Action: Blowback-Operated Semi-automatic
Caliber: .22 Long Rifle
Upper Receiver: M4 Type Flattop Forged 7075 T6 Aluminum
Ejection Port Cover: Yes (Modified)
Forward Assist: Yes
Charging Handle: Polymer
Complete Bolt Assembly: CMMG Stainless Steel, Spring Operated
Barrel: 16" Nitrided 4140 Chrome-moly Steel, Medium Taper
Rifling: 1:16" RH
Grooves: 6
Muzzle Threading: 5/8x24 TPI
Muzzle Device: A2 Flash Hider
Gas Block: N/A
Gas Tube: N/A
Handguard: 11" Free Float CMMG RKM11
Handguard Rails: Integral Top Rail, Accepts Keymod Accessories
Magazines: CMMG 22ARC 10- or 25-Round $24.95 (Sold Separately)
Sights: None
Weight: 3 lbs 11.6 oz.
MSRP: $599.95
Optic: Truglo TRU-TEC 20 mm 2 MOA Red Dot Optic $221
5.56 to .22 Long Rifle Conversion Kit: CMMG 22BA6E1 .22LR (Bravo) $229.95
Upper: Ground Zero Precision (GZP) Carbine
Model: 16" Free Floated Ballistic Advantage 300 BLK (BA16TH153A)
Action: Gas-Impingement Semi-automatic
Caliber: 300 BLK
Upper Receiver: M4 Type Flattop Forged 7075 T6 Aluminum
Ejection Port Cover: Yes
Forward Assist: Yes
Charging Handle: GZP Extended Latch Charging Handle
Complete Bolt Carrier Group (BCG): GZP Nickel Boron Dead Bolt GEN II +P Premium M16
Barrel: Ballistic Advantage 16" 4150 Steel, M4 Feed Ramp, QPQ Corrosion Resistant Finish
Rifling: 1:7" RH
Grooves: 6
Muzzle Threading: 5/8x24 TPI
Muzzle Device: A2 Flash Hider
Gas Block: .750" SLR Rifle Works Sentry Adjustable, Low Profile
Gas Tube: Pistol Length
Handguard: Ground Zero Precision 15" Free-Float Tac-Hunter-15 Keymod
Magazines: Mil Spec or Commercial 5.56 Magazines
Sights: None
Weight: 4 lbs 12.7 oz.
MSRP: $635
Aftermarket Charging Handle: Armageddon Tactical GMS-15 $80 (Available from GZP)
Optic: Leupold VX-R Patrol 3-9x40 Firedot TMR (30 mm, 113771) $779.99
Optic Mount: Leupold Mark 2 IMS 30 mm Integral Mounting System $160
Upper: Alexander Arms
Model: .50 Beowulf Precision
Action: Gas-Impingement Semi-automatic
Caliber: .50 Beowulf
Upper Receiver: M4 Type Flattop Forged 7075 T6 Aluminum
Ejection Port Cover: Yes
Forward Assist: Yes
Charging Handle: Mil Spec
Complete Bolt Carrier Group: Alexander Arms .50 Beowulf
Barrel: 16" Chrome Moly Steel, Fully Parkerized (Black)
Muzzle Threading: 49/54x20 RH
Gas Block: Low Profile
Gas Tube: Rifle Length
Handguard: 10" Free Float MK10 Mid-Length, G10 Composite with Vents and Rail Screws
Handguard Rails: Arrives with Mounting Screws for Accessory Rails
Magazines: Ships with one seven-round magazine; Four and 10-Round Magazines Available
Sights: None
Weight: 4 lbs. 6.4 oz.
Twist: 1:20" RH
Grooves: 6
MSRP: $861 (As Tested)
Optional Muzzle Devices: Alexander Arms Millennium Compensator or Tank Brake $107.25
Optic: Sightmark Core TX 3-12x44 DCR Riflescope (SM13074DC) $299.99