by
posted on July 14, 2016
Support NRA American Rifleman
DONATE
Ever since posting Building a Custom AR-15 at Home a couple of years ago, the interest in do-it-yourself AR-15 projects has continued to grow. In particular, more folks are considering AR-15 pistols for recreational shooting, emergency preparedness and even self-defense. The good news is that, just like their carbine and rifle-sized compatriots, AR-15 pistols can easily be assembled at home in the comfort of your own workshop.
Technically speaking, building an AR pistol calls for the same resources, tool set and instructional information as building an AR rifle. Because the build process is thoroughly covered in the previous article, this project was started with a different set of goals in mind.
I wanted to learn more about the legal issues home builders need to be aware of before assembling a pistol. Next, I wanted to explore AR-15 component and kit price points. For the previous rifle build I focused on a custom target rifle with a relatively high price tag. This time I wanted to see how manufacturers providing low and middle-priced options would perform in comparison to a more expensive custom build. Finally, this was a great opportunity to test drive products from manufacturers I haven't worked with before.
A Few Legalities
It always has been, and ever will be, the responsibility of the consumer to understand and comply with federal and state regulations in the course of building a firearm. Products and features that are perfectly legal to own where I live may be restricted or banned where you live. Conducting your legal research before buying any components will go a long way in avoiding any unnecessary unpleasantness with law enforcement officials.
As of this writing, Federal statutes allow law-abiding individuals who are legally qualified to own a firearm (in this case it's a handgun) to assemble them at home without a Federal Firearms License (FFL) as long as the firearm is for personal use only. If you're going to build guns for the purpose of selling them you'll need to be licensed to do so. The AR-15 component that is legally considered the firearm is the lower receiver (where the trigger group is housed and the serial number is located). This means the lower receiver requires an FFL transfer with all of the same paperwork and fees as a complete gun. Every other common AR component, including pistol-length barrels and pistol buffer tubes, can be ordered online and shipped directly to your home.
The following information is by no means comprehensive but here are just a few things to remember:
A factory fresh AR lower receiver that has never been part of a firearm can be used to build a pistol, carbine or rifle. If a lower receiver is built into and registered as a pistol first, it can be stripped down and converted into a rifle in the future. If the receiver built into a carbine or rifle first, it must always remain part of a rifle and cannot ever be used to build a pistol.
It's not necessary to use a lower receiver stamped "Pistol" or one that is marked with the specific caliber of ammunition you plan to use when building an AR pistol. The markings are irrelevant just as long as the lower is brand new from the factory at the start of the build. Many companies are marking their lowers "Multi-Cal" these days in order to avoid confusion.
Attaching a shoulder stock to an AR-15 pistol changes its legal status from Handgun to a Short Barrel Rifle (SBR), which is a violation of BAFTE regulations. If you wish to build an SBR, ensure that all of the proper paperwork and tax stamps are in order before attaching a shoulder stock.
Attaching an AR-15 pistol upper assembly with a barrel shorter than 16" to a rifle lower is also considered an SBR and will get you in trouble without the proper tax stamps in place.
Although it's a common practice to attach a vertical grip to the handguards of AR rifles, attaching one to AR pistols changes their legal status from Handgun to Any Other Weapon (AOW), which requires a BAFTE tax stamp like an SBR.
At this point in time, it's legal to own and attach a stabilizing arm brace to an AR pistol, such as the the Sig Sauer SB-15 or the Shockwave Technologies Blade. However, the braces must be used according to their intended design. If you shoulder them like a rifle stock you're going to get in trouble. Theoretically it's OK to "cheek" the braces (rest them along your jaw line), but cheeking looks like shouldering from certain angles. Because of the legal status of the stabilizing arm braces being how they are used, I've opted not to include them in this review.

Exploring Price Points
This project originally began with a plan to assemble a full-custom, gas-impingement AR pistol chambered in 5.56 NATO/.223 Rem. However, there are plenty of folks who are looking for AR projects that won't cost them an arm and a leg. So, the project parameters were expanded to include a budget-friendly build as well.
This led to a conversation with Palmetto State Armory (PSA), a company known for solid, basic ARs and kits with some of the lowest prices on the market. Adding one of their builds to the lineup would pit a high end AR-15 pistol against a budget build at the shooting range for a much more informative venture than testing just one gun.
I thought the selection process was complete with two guns when I got a call from Ground Zero Precision (GZP) of Texas. In the course of that conversation (and some time online looking at the company catalog), I learned that GZP offers AR pistol kits with more bells and whistles at prices that free up cash for more aftermarket components. Now it was going to be a three-way competition at the range between a custom pistol, a budget kit and a mid-price build that would blend a kit with aftermarket upgrades.  
Here's how the pistols turned out (a complete list of specifications is shown at the end of the review):
The Full-Custom WMD Guns Beast Build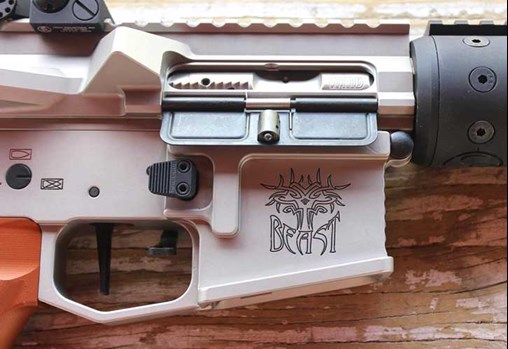 This build incorporates a host of custom features with a bit of over-the-top styling to keep things interesting. Every component was handpicked for the job. A set of WMD Guns Beast milled billet receivers and full-auto rated NIBXBCG-0001 bolt carrier group (BCG) form the foundation of this gun. All three WMD components are treated with the company's tough, corrosion-resistant NIB-X (nickel boron) coating. The receivers have a handsome non-reflective matte silver finish but the BCG is polished to a mirror shine. The 7.5" Wylde 416R Stainless barrel (custom polished to match the BCG), stainless low profile gas block and pistol length gas tube are from Ground Zero Precision.
The 7" free-float handguard is a Unique AR's Hex Hazard pattern with an optional proprietary aluminum 6.5" Picatinny sight rail on top and a 2.2" accessory rail attached below to support an ultra compact Mission First Tactical TBLW tactical white LED light. The folding iron sights consist of a Troy HK BattleSight in front and a Troy Di-Optic BattleSight in back.

Most of the smaller parts are produced by Windham Weaponry, including a complete lower parts kit, ejection port cover kit, forward-assist kit, QD sling-swivel buffer tube end plate and a QD swivel. The magazine release button is an extended Magpul Enhanced  MAG568. Phase 5 manufactures the Ambidextrous Battle Latch charging handle, the foam padded PBT-CA complete buffer assembly and the handy EBRv2 bolt release which extends down into the trigger guard for finger tip operation. The mil-spec trigger was replaced with a drop-in Timney Triggers AR Targa 2-Stage trigger group which provided a light 3 lbs. 6 oz. trigger pull according to a Lyman's digital trigger gauge.

The skeletonized milled-billet aluminum pistol grip is a sleek piece of industrial art from Naroh Arms sporting a burnt orange hard annodized finish. The threaded muzzle was fitted with a two-part recoil reduction system from Dead Air Armament. It consists of the three-chamber Keymount supporting the perforated, can-shaped Pyro Enhanced muzzle brake. The pistol is shown here with a silver finish C-Products Defense 20-Round aluminum magazine. In this configuration, the pistol has an overall length of 24.25" and an unloaded weight of 6 lbs. 2 oz. The total build cost was $2251.
The Budget Build with Palmetto State Armory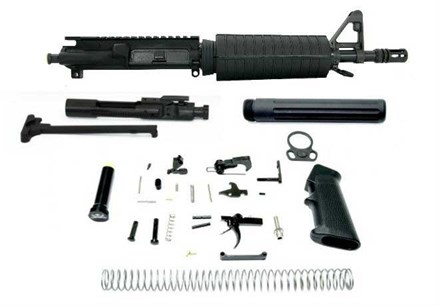 If the bottom line is your top priority when organizing an AR-15 build, then working with a pre-packaged component kit can save you time, reduce the number of tools needed to complete the work and trim down the shipping costs. This build was all about assembling a useful AR pistol with a price tag as close to $500 as possible. Palmetto State Armory's (PSA) 10.5" 5.56 NATO 1:7 Nitride Pistol Kit was a great fit.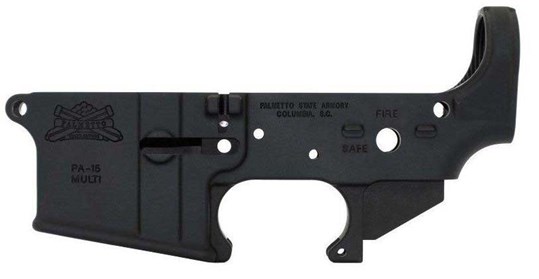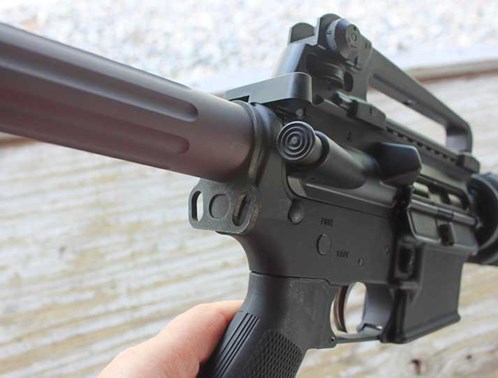 This PSA kit provides all of the components needed for a basic pistol with the exception of the lower receiver and rear sight. The upper arrives fully assembled with a forged flat top receiver and a complete PSA bolt carrier group which is checked for head spacing at the factory. The 10" black nitride barrel is fitted with an A2 flash hider, carbine-length gas system, an A2 front sight gas block and a mil-spec delta ring assembly. This configuration allows the PSA standard polymer handguard to be traded out for a variety of M4 style handguards. A nice touch is the buffer assembly's Tactical Latch end plate which supports hook type single-point sling connectors.




The pistol kit was rounded out with the addition of a PSA reduced price blemished forged lower, a Ground Zero Precision single-stage EFC trigger upgrade with a 6-lbs. 3-oz. trigger pull and a UTG Detachable A2 Rear Sight Carry Handle (MNT-950). This particular rear sight, along with a Brownells mil-spec AR-15/M16 20-round magazine, gave the finished build a profile reminiscent of vintage M-16s, albeit one that shrank in the wash. The overall length was 26.50" with an unloaded weight of 5 lbs. 12 oz. If all of the components had been purchased at suggested retail, the pistol would have cost $628.45. However, I was able to pick up the PSA kit and UTG sight on sale which dropped the final price to $543.47, which was close enough to the desired $500 price for me.
The Best of Both Build with Ground Zero Precision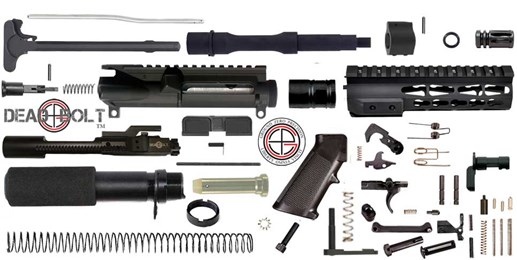 The two previous builds are positioned at opposite ends of the price and feature spectrum. However, many home builders are looking for a project that fits somewhere in between. Ground Zero Precision (GZP) offers dozens of affordable pistol kits with a variety of barrel lengths, calibers and handguard configurations that ship for free. Customers can choose between Quick Build (QB) kits with fully assembled uppers for an added charge or Standard kits with do-it-yourself uppers for less.
This pistol was built using a Ground Zero Precision DIY 7.5" Barrel Pistol Project Kit. It ships with a forged upper receiver, fully Parkerized 4140 steel barrel and a 7" long TAC-HUNTER KEYMOD free-float handguard. Some GZP kits provide minimal parts but this one arrives with everything needed except a lower receiver and sights. An Anderson Manufacturing forged 7075 T6 aluminum lower and a set of Diamondhead USA Polymer flip-up sights with NiteBrite illumination were added to the kit.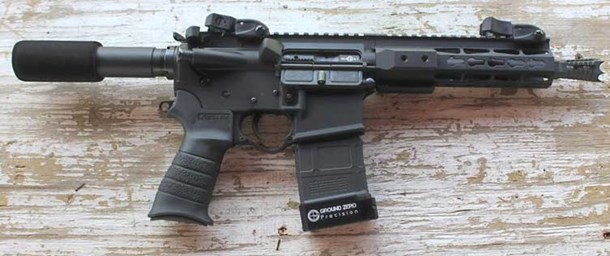 Upgrades to the pistol include a drop-in Rise Armament RA-140 single-stage trigger with a 4 lbs. 1 oz. trigger pull, Mech Armor TacOps-CQB charging handle, Stark AR grip with sling hook loop and battery storage plug, Yankee Hill Machine YHM-27-MB-A Annihilator muzzle brake, Blackhawk! oversized trigger guard, and a GZP milled aluminum Firepower Extension for Magpul PMAGs. The extension increases the ammunition capacity of the PMAG20 to 24-rounds (shown), the PMAG30 to 35 rounds and the PMAG40 to 46 rounds. The overall length of the finished GZP build was 23.75" with an unloaded weight of 5 lbs. 6 oz. and a total cost of $897.12.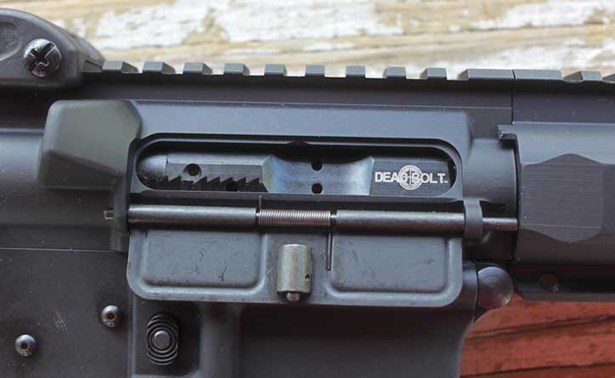 At the Range
Like other rifle-action pistols, AR pistols are easier to manage and shoot more accurately off-the-bench when used in conjunction with tactical single-point slings. Two braided paracord Sandstorm Custom Rifle Slings were used for this review, including a dedicated adjustable single-point sling with a standard hook mount (left) and a single-point/ two-point convertible model with dual QD sling mounts (right).
s
To level the playing field, all three pistols were put through their paces using the same lubricant, optic, ammunition, magazines and bench rest. Moving parts were treated just once with Breakthrough's Battle Born HP Pro high performance gun oil. The new compact Truglo TRU-TEC 20mm 2 MOA red dot optic with variable brightness was mounted to each pistol for formal 5-shot group accuracy testing using the provided high base to co-witness with the iron sights.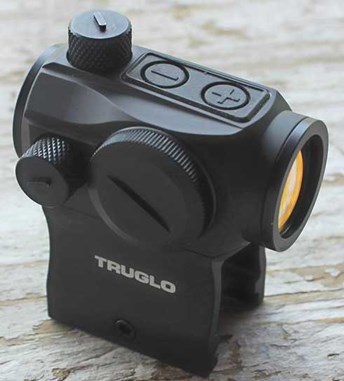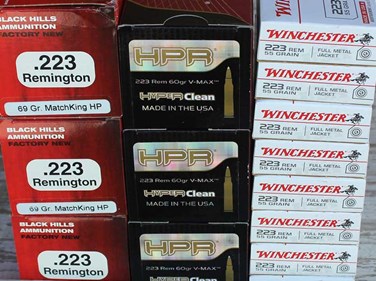 s
The .223 Rem. test ammunition included Black Hills 69-gr. Sierra Match King hollow points, HPR Hyperclean 60-gr. V-Max, and Winchester USA 55-gr. full-metal jacket loads. Test magazines included the Brownells mil-spec AR-15/M16 20-Round, C-Products Defense aluminum 20-Round, Magpul polymer PMAG20 20-round and Mission First Tactical polymer 10PM556 10-Round magazines. The pistols will accept standard 30-round AR magazines and drums if you prefer a larger ammunition capacity. Personally, I like the balance and handling qualities 10- and 20-round magazines provide for off-hand and sling supported shooting.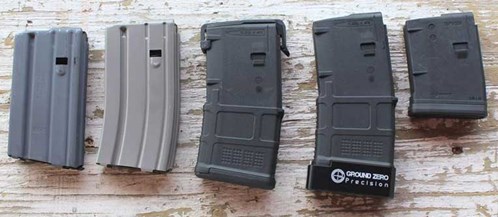 Each of the pistols proved to be reliable with every brand of ammunition and magazine used. I'll admit to a couple of user-induced failures to feed over the course of firing hundreds of rounds. In both cases, I had not fully seated the magazine. Otherwise, there were no mechanical problems or hang-ups with any of the builds.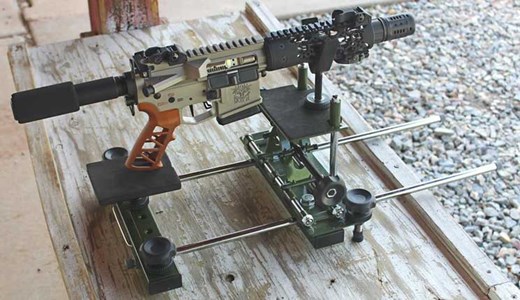 Bench rested 5-shot groups were fired at 25 yards using a convertible Hyskore #30207 Rapid Fire Precision Shooting Rest. The front assembly is connected to the rear by two rails that allow it to slide back to form a handgun rest, forward to steady long guns or, in this case, a point in between. Bullet velocity was measured using a Lab Radar chronograph.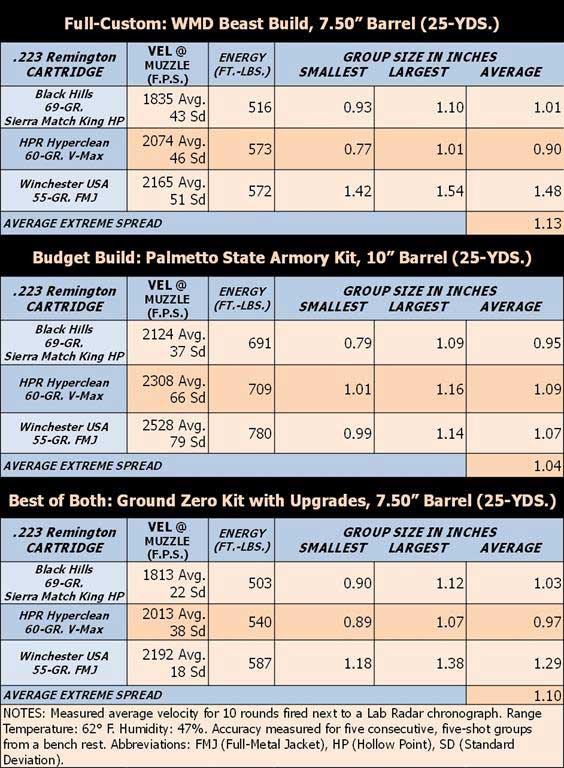 Despite the diversity of price points and features, all three pistols produced bench rested accuracy results that hovered right around the 1" mark at 25 yards. Although the PSA pistol's longer 10" barrel had the bullet velocity advantage, all three barrels demonstrated a substantial drop in velocity and energy when compared to carbine length barrels. The test loads shown here have nominal rifle velocities listed from 2850 to 3240 fps. with energy levels of 1229 to 1282 ft lbs. at the muzzle. The pistols yielded velocities between 1813 to 2528 fps. with energy levels from 503 to 780-ft lbs. at the muzzle. This change in performance is something to keep in mind when considering how to put your AR pistols to work.  
Final Thoughts
Now that I'm on the other side of building and testing these three AR pistols with various price points, I can honestly say that I found good reasons to like each of them.
The full-custom WMD Guns Beast has the cool factor and smooth operation I was striving for. The extended Phase 5 controls and light trigger were a treat to work with. The Dead Air Pyro muzzle break all but eliminated the felt recoil produced by the short 7.5" barrel. The trade-off was a muzzle blast that was uncomfortably loud. The system is terrific but it's moving to a long gun.
The PSA budget build was affordable but not cheap. Even though the plain-Jane features aren't going to win any beauty contests, the pistol ran just as reliably as the more expensive models. This pistol's solid construction, rugged sights and affordable price make it an ideal option for use as a recreational plinker, camp gun or trunk gun.
As for the Ground Zero Precision kit, this turned out to be a Goldilocks find in more ways than one. The diversity of kits and components GZP has to offer could keep any hobbyist building for years. I'm impressed with the company's commitment to providing quality components at a fair price without skimping on customer service. All three pistols ended up with at least a little bit of GZP product inside them because those parts were just right.
For more information about the components used in these builds, visit the Gallery: Field-Tested AR-15 Components. 
For more on building your own AR rifle, please enjoy Building a Custom AR-15 At Home.
NRA Specifications

The Full-Custom WMD Guns Beast Build
Manufacturer: N/A
Model: N/A
Action: Gas-Impingement Semi-automatic
Caliber: 5.56 NATO/.223 Rem.
Stripped Upper Receiver: WMD Guns Milled 7075 T6 Aluminum Billet, Matte NiB-X Finish
Ejection Port Cover Kit: Windham Weaponry P/N KIT-EPC
Forward Assist Kit: Windham Weaponry P/N 9349086
Charging Handle: Phase 5 Ambidextrous Battle Latch
Complete Bolt Carrier Group: WMD Guns Polished NIBXBCG-0001, Rated for Full-Auto Fire
Barrel:  Ground Zero Precision 7.5" Wylde 416R Stainless
Chamber:  Hybrid
Rifling: 1:7" RH
Grooves: 6
Muzzle Threading: 1/2x28 TPI
Gas Block:  Ground Zero Precision .750" Stainless Steel Low Profile Micro
Gas Tube: Ground Zero Precision Pistol Length (4")
Handguard:  Unique AR's 7" Hex Hazard with mounting hardware
Handguard Rails: Unique AR's 6.5" and 2.2" Aluminum Picatinny
Stripped Lower Receiver:  WMD Guns Multical Milled 7075 T6 Aluminum Billet, Matte NiB-X Finish
Complete Lower Parts Kit:  Windham Weaponry P/N KIT-LOWER-AR
Magazine Release Button: Magpul Enhanced  MAG568
Bolt Release: Phase 5 Extended EBRv2
Drop-In Trigger Group: Timney Triggers AR Targa Short Trigger ST#662S-ST
Trigger Pull: 3-lbs. 6-oz., Two-Stage
Pistol Grip: Naroh Arms Skeletonized Billet Aluminum AR Grip, Burnt Orange
Complete Buffer Assembly Kit: Phase 5 PBT-CA
QD Sling Swivel Endplate:  Windham Weaponry P/N QD-ENDPLATE
Front Flip-Up Sight: Troy HK BattleSight
Rear Flip-Up Sight:  Troy Di-Optic BattleSight
Muzzle Brake Mount:  Dead Air Keymount
Muzzle Brake:  Dead Air Pyro Enhanced
Tactical Light: Mission First Tactical TBLW White Light
QD Swivel: Windham Weaponry P/N QD-SLING-SWIVEL
Magazine: Shown with C-Products Defense 20-Round Aluminum, Silver Finish
Overall Length:  24.25"
Weight: 6 lbs. 2 oz. Unloaded, No Magazine
Suggested Retail:  $2251 (excluding taxes, shipping, labor and magazines) 
The Budget Build with Palmetto State Armory
Manufacturer: Palmetto State Armory (PSA)
Action: Gas-Impingement Semi-automatic
Caliber: 5.56 NATO/.223 Rem.
Pistol Kit: PSA 10.5" 5.56 NATO 1:7 Nitride Pistol Kit - 507629
PSA Complete Upper Assembly: Arrives Fully Assembled, Head Spacing Checked At Fact
Upper Receiver: PSA Forged 7075-T6 Aluminum
Ejection Port Cover: Yes
Forward Assist: Yes
Complete Bolt Carrier Group: PSA, Black Nitride Finish
Barrel: 10.5" Black Nitride Finish
Chamber: 5.56 NATO
Rifling: 1:7" RH
Grooves: 6
Muzzle Threading: 1/2x28 TPI
Muzzle Device:  A2 Flash Hider
Gas Block:  A2 Front Sight Gas Block with Bayonet Lug and Sling Mount
Gas Tube:  Carbine Length (7")
Handguard: Standard Polymer with Heat Shields
Handguard Rails: N/A
PSA Classic Pistol Lower Build Kit: Assembly Required
  Classic Complete Lower Parts Kit with A2 Polymer Pistol Grip
  Pistol Buffer Tube
  Pistol Tactical Latch Plate (For Single-Point Slings)
  Carbine Buffer Spring
  PSA Carbine Buffer
Stripped Lower Receiver: Blemished PSA Forged 7075-T6 Aluminum
Trigger Upgrade: Ground Zero Precision Enhanced Fire Control Group (EFC)
Trigger Pull: 6l bs. 3 oz., Single-Stage
Rear Sight: UTG Detachable A2 Rear Sight Carry Handle MNT-950
Magazine: Shown with Brownells AR-15/M16 20-Round
Overall Length: 26.50"
Weight: 5 lbs. 12 oz. Unloaded, No Magazine
MSRP: $628.45 (excluding taxes, shipping, labor and magazines)
The Best of Both Build with Ground Zero Precision 
Manufacturer: Ground Zero Precision (GZP)
Action: Gas-Impingement Semi-automatic
Caliber: 5.56 NATO/.223 Rem.
Pistol Kit: DIY 7.5" Pistol Project Kit with TAC-HUNTER Handguard 
Stripped Upper Receiver: Forged 7075 T6 Aluminum
Ejection Port Cover: Yes
Forward Assist: Yes
Charging Handle: Mil-Spec
Complete Bolt Carrier Group: Dead Bolt Gen II +P
Barrel: 7.5" 4140 Steel Modern Contour, Fully Parkerized (Black)
Chamber: 5.56 NATO
Rifling: 1:7" RH
Grooves: 6
Muzzle Threading: 1/2x28 TPI
Muzzle Device: A2 Flash Hider
Gas Block: .750" 4140 Steel Micro Low Profile
Gas Tube: Pistol Length (4")
Handguard: 7" TAC-HUNTER Free-Float
Handguard Rails: Integral Sight Rail, Accepts Keymod Accessories
Complete Lower Parts Kit: Mil-Spec
Pistol Grip: A2 Polymer
Complete Buffer Assembly Kit: Pistol Buffer Assembly with Foam Pad
Stripped Lower Receiver: Anderson Manufacturing Forged 7075 T6 Aluminum
Drop-In Trigger Upgrade: Rise Armament RA-140 (Available from GZP)
Trigger Pull: 4 lbs. 1 oz., Single-Stage
Charging Handle Upgrade:  Mech Armor TacOps-CQB
Grip Upgrade: Stark Rifle Grips AR Grip with Sling Hook Loop
Muzzle Device Upgrade: Yankee Hill Machine YHM-27-MB-A Annihilator Muzzle Brake
Flip-Up Sight Set: Diamondhead USA Polymer with NiteBrite
Trigger Guard Upgrade: Blackhawk! Oversized Trigger Guard
Magazine Base: GZP Aluminum Firepower PMAG Extension
Magazine: Shown with Magpul PMAG20
Overall Length:  23.75"
Weight: 5 lbs. 6 oz. Unloaded, No Magazine
MSRP: $897.12 (excluding taxes, shipping, labor and magazines)
Optic: Truglo TRU-TEC 20mm 2 MOA Red Dot Optic $221
10-Round Magazine: Mission First Tactical 10PM556