by
posted on October 11, 2019
Support NRA American Rifleman
DONATE
Semi-automatic rifle enthusiasts have argued for years over which is better, the AK-47 or the AR-15. The AK-47 is a tough gun that fires the larger 7.62x39 mm cartridge but it is, generally speaking, less accurate and lacks much in the way of modularity. While the AR-15 tends to print tighter groups and easy-to-swap components are available by the truck load, the most common type of AR-15 fires the smaller 5.56 NATO/.223 Rem. cartridge.

Palmetto State Armory (PSA) offers a best-of-both-worlds option with the KS-47 Gen2 rifle, which is an AR-15 platform redesigned to fire the 7.62x39mm cartridge using easy to find AK-type magazines. This isn't an original configuration idea on PSA's part but the KS-47 Gen2 costs significantly less than the competition. This review takes a closer look at the second generation version of this PSA platform which features noteworthy improvements to the original design.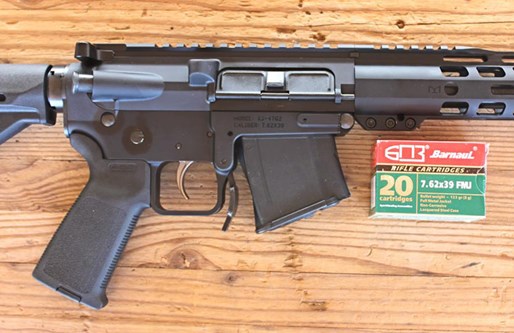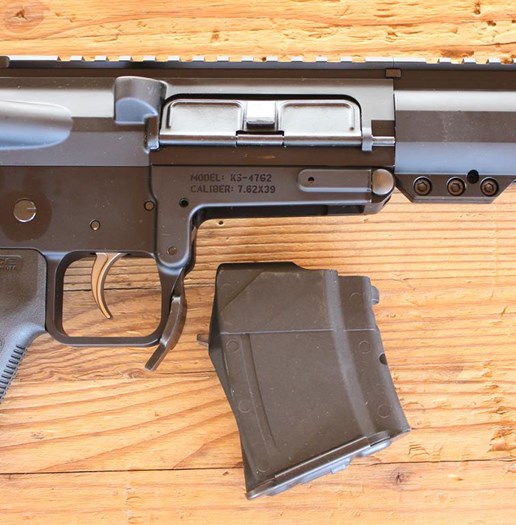 The PSA KS-47 employs an AR-type gas impingement operated semi-automatic action with a rotating bolt. The majority of the components are interchangeable with Mil-Spec AR-15 parts including the handguard, pistol grip, shoulder stock and trigger group. The key AK changes are found primarily in the lower receiver with its modified magazine well and magazine release.

The flattop upper receiver is forged 7075-T6 aluminum with a Mil-Spec hard-coat anodized finish. An ejection port cover and forward assist are installed at the factory. The charging handle is also Mil-Spec. The PSA Hybrid semi-automatic profile bolt carrier is nitride treated 8620 steel. The Gen2 bolt, made from 9130 Steel, has two lugs that have been reshaped to ensure a positive feed from AK magazines.

The 16" mid-weight barrel is constructed from 4150 Steel, cut with 1:10" right-handed rifling and treated with a black nitride finish. The carbine-length gas tube is paired with a .750" low-profile gas block and the muzzle is fitted with a removable A2-type flash hider. The hand guard is PSA's aluminum 13.5" Lightweight free float model. The weight has been reduced with cooling vents and plenty of M-Lok accessory rail slots on all four sides. The top sports front and rear 7-slot Picatinny rails with QD sling swivel ports located near the receiver on the left and right sides. This rifle ships without a sight system installed.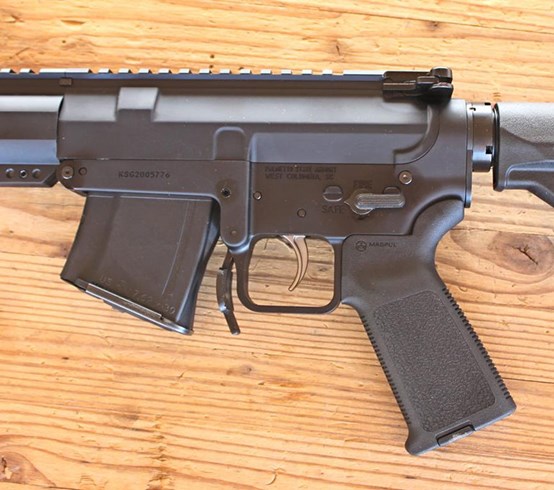 The KS-47 Gen2 lower receiver is forged from 7075 T6 aluminum and finished in the same manner as the upper receiver. The magazine well has been modified to accept AK magazines and the push-button magazine release replaced with an ambidextrous lever mounted in front of the trigger guard, AK style. The trigger group and left-side safety selector are both AR-15 type controls. The polymer pistol grip is the popular Magpul MOE model with a removable cover that converts the hollow of the grip into a storage compartment.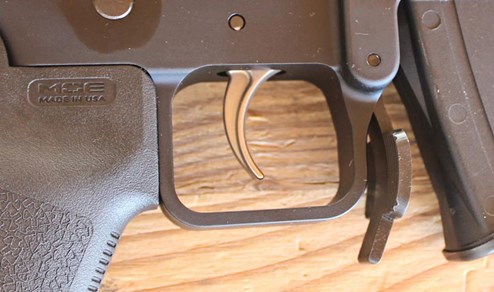 The M4 6-position buffer tube contains a heavy buffer (marked with an H) and spring to slow down the bolt assembly when firing the larger 7.62x39mm cartridge. The buffer tube is outfitted with a Magpul MOE adjustable shoulder stock that's capped off with a 0.25" thick rubber buttpad. This rifle ships with one 30-round Magpul MOE magazine (where state regulations allow).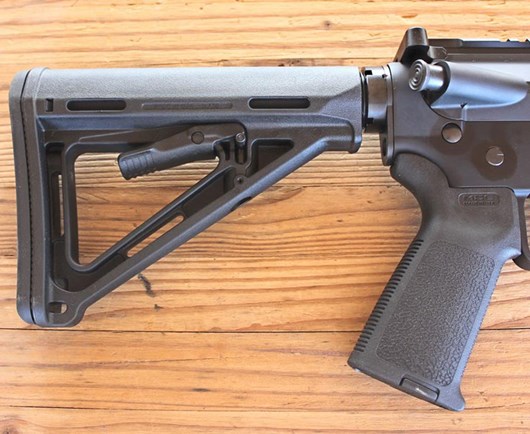 The KS-47 Gen2 is a good looking AR with proper fit and finish throughout. Although it has a budget friendly price tag, the M-Lok hanguard and Magpul furniture nicely elevate its appearance. PSA's stainless steel EPT single-stage trigger is polished to provide a solid step up from typical factory installed Mil-Spec triggers. It has a smooth, clean break at 5 lbs. 13 oz. of trigger pull making it a good multi-purpose trigger for use on the range or in the field.



This rifle will accept a variety of AK-type magazines, but not all of them. It hummed right along with the FAB Defense, PMAG and Arsenal Inc. magazines that passed the bench checks. However, the TAPCO mags I had on hand (which work nicely in AKs) wouldn't lock into the lower receiver. PSA lists several compatible magazines on its website, including Magpul options along with surplus drums and banana magazines made in Romania, Yugoslavia and Hungary to name just a few. So, you many need to test your magazines right alongside with your ammunition.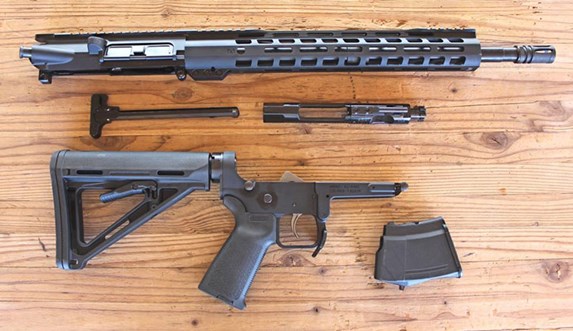 At the range all of the formal and informal testing was conducted using a Crimson Trace CTS-1100 3.5x Battlesight with a fully illuminated hybrid BDC reticle.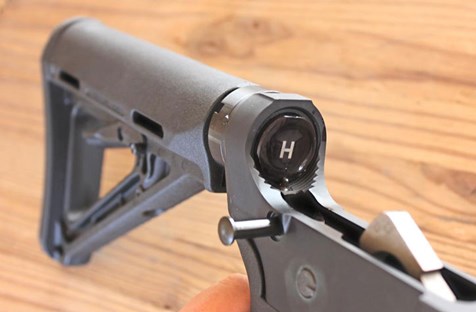 The KS-47 Gen2 felt nicely balanced and handy just like any other AR-15 carbine. However, there were a few notable changes in its operation. First, 5.56 fans are going to think the charging handle feels mighty stiff. This is not a malfunction. The handle is harder to pull because of the heavier buffer spring. Next, the AK magazines rock-n-lock into place, from front to back, instead of traveling straight up into the magazine well. The trigger-guard mounted magazine release is smooth and easy to operate but will take a bit of practice if you're used to a right-side button release. Finally, this light weight rifle generates a noticeable increase in felt recoil compared to 5.56. It's not uncomfortable or difficult to manage but it is a change in behavior folks should be aware of.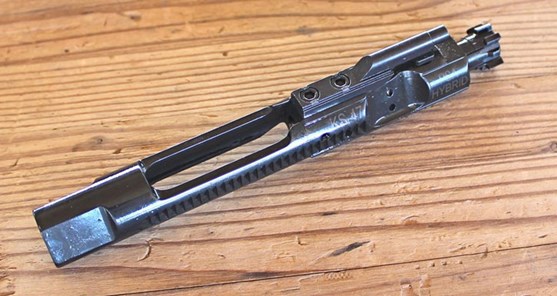 If you're going to convince American enthusiasts to invest in a 7.62x39 mm platform, then it has to reliably feed cheap, steel-cased ammunition. This rifle successfully fed steel and brass cases, bulk and premium-grade, without any ammunition related malfunctions. After giving the rifle an enjoyable warm up session, formal bench-rested accuracy testing was conducted at 100 yards. Five 5-shot groups were fired for each load with an additional 10 rounds fired next to a Lab Radar chronograph to measure bullet velocity.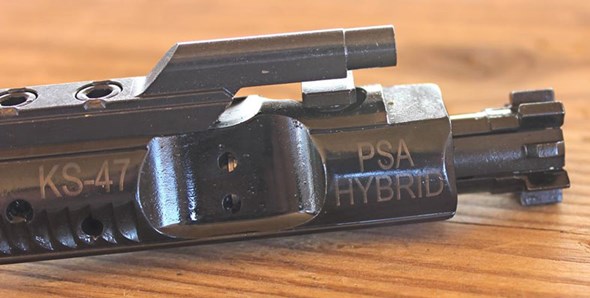 The Tulammo 122-gr. jacketed hollow point is an affordably priced polymer-coated steel case load imported from Russia. This round produced an average muzzle velocity of 2450 f.p.s. for 1626 ft.-lbs. of muzzle energy. It shot a best 5-shot group of 2.56" with a five-group average of 2.71". Hornady offers a Black label hunting load featuring a brass case topped with a 123-gr. SST ballistic tip bullet. The velocity average was 2347 f.p.s. for a muzzle energy of 1505 ft.-lbs. It yielded a best group of 2.11" with an average of 2.30". The round that produced the tightest groups was Barnaul Ammunition's lacquered steel case 123-gr. full-metal jacket load which is also manufactured in Russia. With a muzzle velocity of 2388 f.p.s. and energy of 1558 ft.-lbs., it tapped out a best single group of 1.82" with an average of 1.93".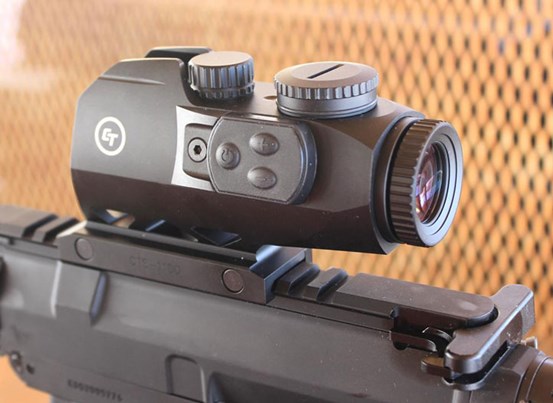 The AR-15 has been available in a wide variety of caliber options for quite some time. But it seems like the demand for platforms that pack more of a punch, especially for hunting, have become more of a customer priority over the last few years. More companies are embracing thumper cartridges, like the .450 Bushmaster, while others are developing brand new rounds such as the Winchester .350 Legend.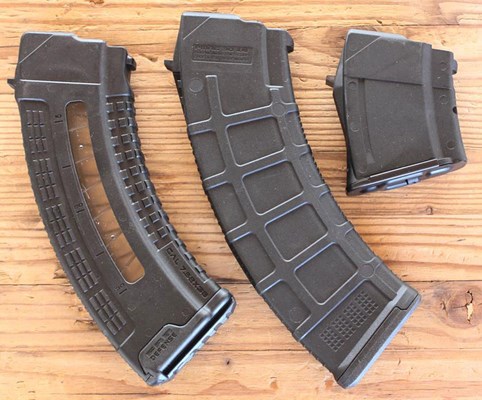 However, switching to a specialized AR and ammunition combination can come with its own set of challenges, several of which can be a financial drain. The unique magazines can be expensive, hard to find and sometimes less than reliable. The ammunition too may be more costly which will reduce practice time and probably eliminate casual plinking sessions. Finally, the guns themselves often cost more than comparable models chambered for 5.56 NATO/.223 Rem.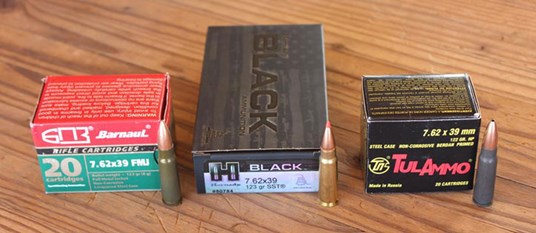 Palmetto State Armory neatly addresses these issues with the KS-47 Gen2 rifle. AK banana magazines are plentiful, relatively inexpensive, easy to find and available in capacities ranging from 5 to 40 rounds. The performance of the 7.62x39 mm cartridge is on par with the .30-30 Win., which has been used to harvest game animals ranging from Coyotes to Black Bears. Its effectiveness as a personal protection round is well documented. Along with being enough cartridge for a variety of shooting endeavors, it's a common cartridge with practice-grade loads available in bulk at affordable prices.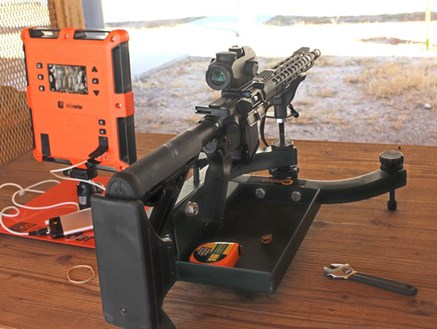 As for the price of the KS-47 Gen2 itself, it is available in a variety of configurations for less than what the competition has to offer. The rifle I tested was listed for $919.99 at the time of this writing. It has, at times, been marked down to sale prices of around $700 on the PSA website (these sales come and go quickly). If you buy a similar rifle from another company, the cost is going to set you back somewhere between $1,500 to $2,000. Not only is the PSA offering affordable, it's an enjoyable and comfortable rifle to shoot with enough power to get the job done.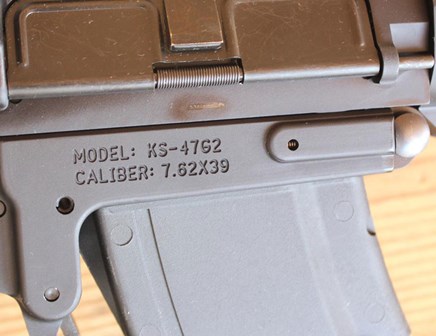 Specifications: 
Manufacturer: Palmetto State Armory (PSA)
Model: KS-47 Gen2 (#5165450163)
Action: Gas-Impingement Semi-automatic
Caliber: 7.62x39mm
Upper Receiver: Forged 7075-T6 Aluminum, Mil-Spec Hard-Coat Anodized
Ejection Port Cover: Yes
Forward Assist: Yes
Charging Handle: Mil-Spec
Bolt Carrier Group (BCG): PSA Hybrid, Nitride Treated 8620 Steel, Semi-Auto Profile
Bolt: Nitride Treated 9130 Steel, Compatible with Most AK Magazine types
Barrel: 16" Mid-Weight, 4150 Steel with Black Nitride Finish
Barrel Extension: KS47 Gen2 Single-Large Feed Ramp
Rifling: 1:10" RH
Grooves: 6
Muzzle Threading: 5/8-24 TPI
Muzzle Device: A2 Flash Hider
Gas Block: .750" Low Profile
Gas Tube: Carbine
Handguard: PSA 13.5" Lightweight Free Float
Handguard Slots: M-Lok
Sights: None
Lower Receiver: KS-47, Forged 7075 T6 Aluminum
Lower Parts: PSA Mil-Spec
Trigger: PSA Enhanced Polished Trigger (EPT)
Trigger Pull: 5 lbs. 13 oz. (As Tested)
Pistol Grip: Magpul MOE, Black
Buffer Tube: M4 6-Position
Shoulder Stock: Magpul MOE, Black
Magazine Type: AK-47
Magazine: Magpul PMAG MOE
Capacity: 30+1 Rounds
Overall Length: 32.50" - 35.75"
Length of Pull: 10.50" - 13.75"
Weight: 6-lbs. 10-oz. (No Magazine)
Accessories: None
MSRP: $919.99 
Optic: Crimson Trace CTS-1100 Illuminated 3.5x Battle Sight, BDC Reticle: $549