by
posted on October 9, 2018
Support NRA American Rifleman
DONATE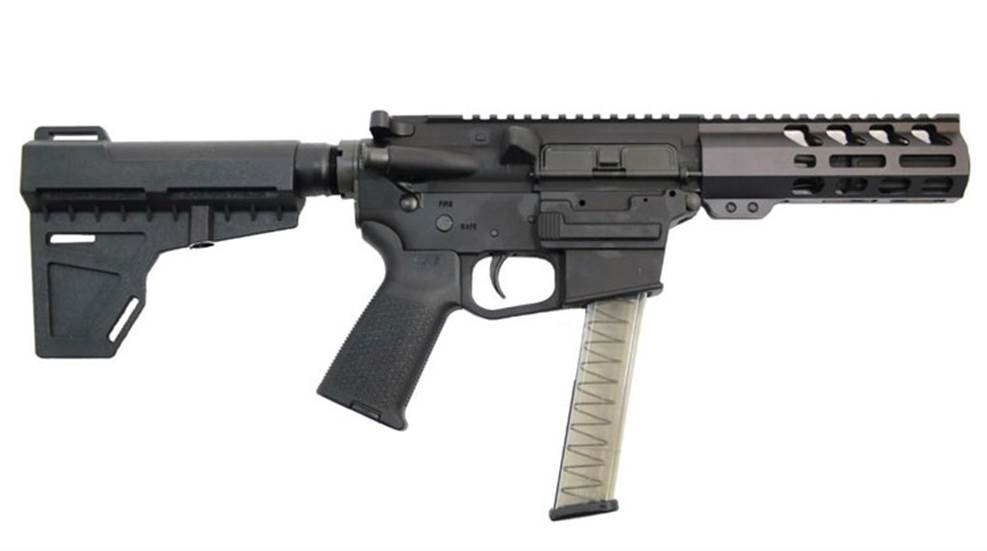 To understand my recently discovered enthusiasm for Palmetto State Armory's (PSA) PG-9 Shockwave, it's helpful to take a look back at some previous endeavors that lead up to this point in my gun-testing process.
About two years ago, in AR-15 Pistols for Home Defense? I hashed out the pluses and minuses of rifle-caliber AR-15 pistols in defensive roles. In short, pistols of this type provide most of the same advantages of an AR-15 carbine. However, removing the shoulder stocks from these rifle-action handguns makes them unwieldy when compared to traditional handguns or long guns. Cheeking the buffer tube or adding a sling helps, but it's not quite the same.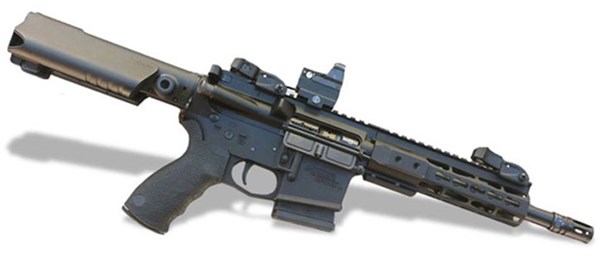 What about using a stabilizing wrist brace like a shoulder stock? At that point in time the wording of the ATF letters regarding these braces made it sound as if the act of shouldering a brace legally constituted a "redesign" of the firearm making it subject to NFA regulations. The legal language was particularly disturbing because previously adopted NFA regulations focused on tangible, measurable physical modifications made to a firearm (cutting, grinding, swapping out components), not the manner in which they are held or pressed against the body.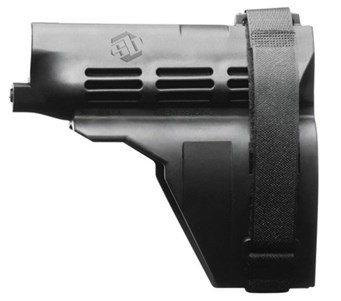 One subject that I didn't touch on with the rifle-caliber pistols is the bright, concussive muzzle flash they produce. Powder charges intended to reach their ballistic potential in 16" to 20" barrels fired from 7.5" to 10" barrels will really blow your hair back, especially in a 3-ft.-wide hallway in the middle of the night. Am I back peddling and saying that rifle-caliber pistols are a bad choice for home defense? No, I'm merely pointing out that, like every other defensive option, the rifle-caliber AR pistols have certain trade-offs of which consumers should be aware.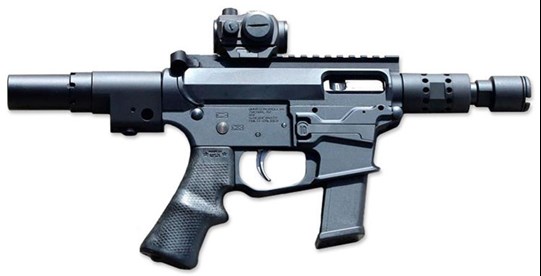 A few months later I tackled an experimental project called Building an Exotic Compact 9 mm AR-15 Pistol. This stumpy 9 mm AR pistol (a.k.a "The Phaser") proved to be enjoyable to shoot with positive qualities that I really liked. It was blowback operated, making it about as mechanically robust as an AR pistol can be. The 9 mm cartridge was far less concussive because it was launching from one of its native barrel lengths. The addition of a gas-forward muzzle device reduced the impact to the operator even more. And don't forget, 9 mm is cheaper to practice with. The pistol accepts Glock-type magazines which are fairly inexpensive and easy to find.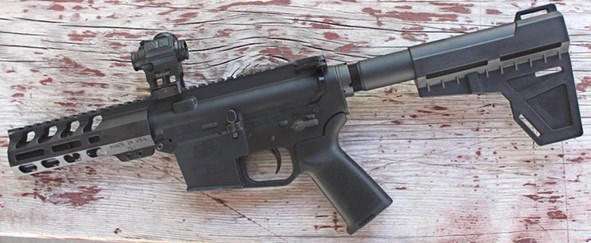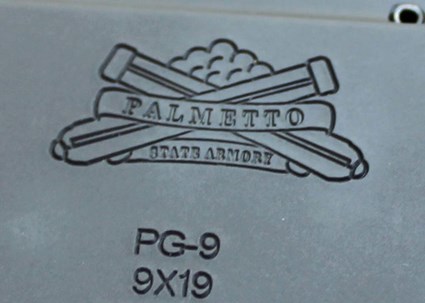 As much as I enjoy shooting The Phaser as it is now (and it could be pressed into service if needed), I recognize that there are a few modifications which would make it more effective in a defensive role. The 3" barrel is a bit too short. Adding just another inch or so would increase the 9 mm ammunition's velocity. A handguard would be useful for adding iron sights and proper support hand indexing. And last, but not least, it would be awfully nice to have a device on the buffer tube to help stabilize it. A 9 mm AR pistol with those features would be pretty slick to work with.

Ladies and Gentlemen, may I introduce the PSA PG-9 Shockwave? It provides the more practical-defensive features mentioned above, it ships fully assembled from the factory and it costs about half the price of the exotic 9 mm that I built myself.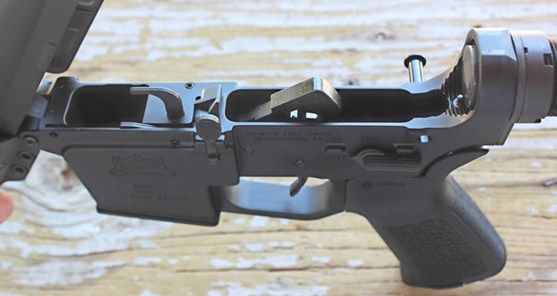 The PG-9 Shockwave is a 4"-barrel blowback-operated 9 mm AR-15 pistol built around PSA's dedicated 9 mm lower designed for use with Glock pistol magazines. Most of the lower's controls, including the bolt catch, safety selector and trigger group, are Mil-Spec. The one exception is the right-side mounted, square button magazine release lever. The trigger guard is integral to the lower and the magazine well has been lightly beveled to aide in quick reloads. The Magpul MOE pistol grip is, as always, comfortable to use with just the right amount of texturing.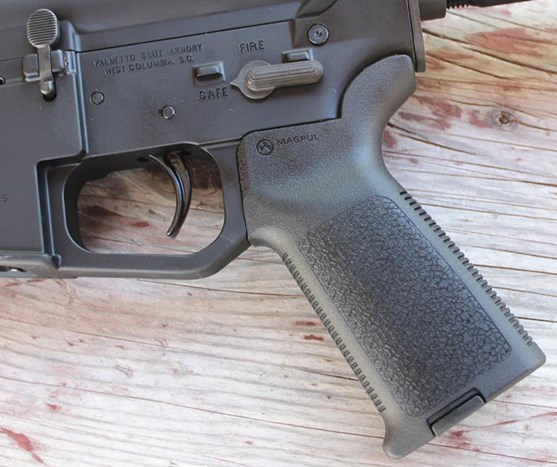 Both receivers are forged 7075-T6 Aluminum with a Mil-Spec hard-coat anodized finish. The M4 flat-top upper receiver features a 6.25" Picatinny optics rail and arrives with a Mil-Spec charging handle, dust cover and forward assist already installed. The bolt carrier group is a PSA Hybrid model with an 8620 steel bolt. The heavy profile 4" 4150V Chrome Moly Steel barrel is outfitted with PSA's 2.75" fluted aluminum 9 mm flash can. This can does a great job of taming muzzle blast, it extends just past the end of the 6" PSA lightweight handguard, and it looks cool too. The flash can is easy to remove for those who want to install a sound suppressor in its place.

That brings us to the Shockwave buffer assembly consisting of a modified aluminum KAK Industries Shockwave pistol buffer tube and Shockwave Technologies' polymer Blade pistol stabilizer. The Blade is a hard polymer ambidextrous extension which hangs down from the buffer tube in order to engage the interior surface of the operator's shooting hand forearm. Not all humans are the same length so the Blade has an adjustment screw that can be tightened into one of the twelve dimples along the bottom edge of the buffer tube allowing for about 3.5" of length adjustment. This configuration also prevents the Blade from twisting around the tube like the early rubber cuff-type braces do.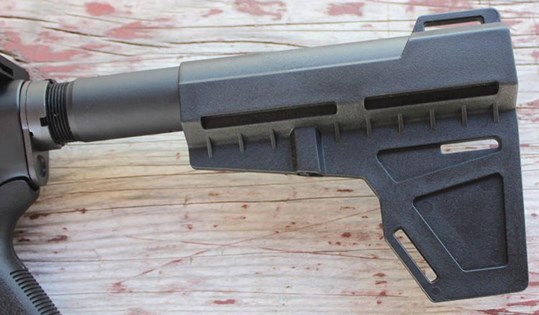 The ATF's most recent statement regarding the use of stabilizing braces was sent in a letter dated March 21, 2017, to SB Tactical who requested that the agency reconsider the position taken in 2015. In the letter it states:
            "... situational 'use' of an arm-brace (in its original approved configuration) equipped firearm from a firing position at or near the shoulder was sufficient to constitute 'redesign,' such interpretations are incorrect and not consistent with ATF's interpretation of the statute or the manner in which it has historically been enforced."      
One of the key phrases there is "in its original approved configuration." If you add stuff to the brace, grind away pieces of it, glue or mechanically alter it in order to make it more "stock-like," that's when the NFA regulations kick in, not if it touches your shoulder in the course of firing it.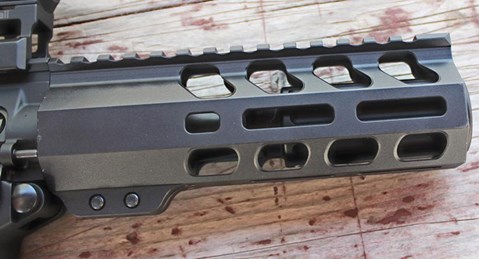 Thus, in the process of wringing out the PG-9, both during a recent PSA writer's event and during the range testing conducted for this write-up, I tried using the Blade stabilizer off the bench in three different ways. First, I used a two-handed shooting grip (both hands around the pistol grip) with the Blade pressed along the inside of my forearm. This works quite well without the somewhat awkward process of strapping into a rubber cuff. Next I tried cheeking the brace, just like a bare AR-15 pistol buffer tube or the Thordsen Custom AR/AK Enhanced Pistol Cheek Rest tested with the rifle-caliber pistols. The Blade's extension drops down just enough to contact the top of the shoulder area providing a useful index point.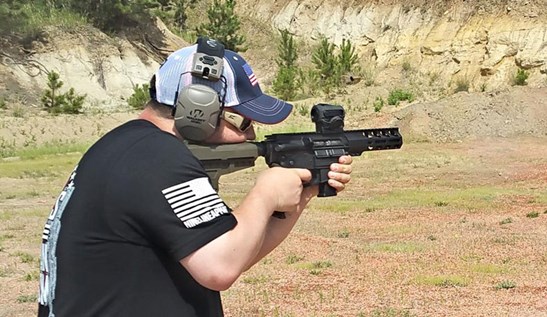 Finally, I just went ahead and couched the critter against my shoulder. This device is not a shoulder stock, and it does not feel like a shoulder stock, but the indexing and support it provides are similar enough that my AR-related muscle memory doesn't care. That close enough feel, combined with the reduced weight and low recoil, makes this one fast and handy AR pistol. With only 6" worth of barrel assembly out in front of the receiver to maneuver, it was a blast to run on the steel plate challenges.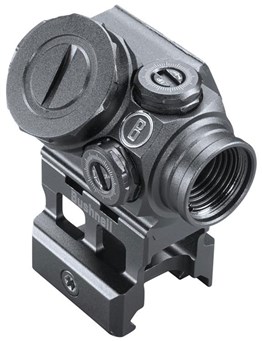 In keeping with the relatively compact nature of this gun, I opted to run it with Bushnell's new ultra compact Tac Optics Lil P Prism red-dot sight. This multi-coated lens optic is just 2.5" long and weighs 8 oz., making it the smallest prism sight currently available. The quarter-sized battery housing on the top right side almost overwhelms the rest of the aluminum chassis. It's surprising to see how the Lil P's housing seems to disappear around the bright red-dot when pointed downrange. Other features include O-ring sealed water proofing, nitrogen-purged fog proofing and a shock resistant construction. Lil P arrives with a tall see-though base (shown), a short base and the tools needed to install it on a Picatinny-type optics rail.

Test magazines included Glock, Elite Tactical Systems (ETS) and Magpul PMAG models with capacities ranging from 10 to 31 rounds. The magazines and all of the test ammunition functioned flawlessly throughout the testing process. Benchrested, five-shot group accuracy testing was conducted at 25 yards due to this pistol's 4" barrel. However, this gun's weight and fixed barrel design contributed to tighter shot patterns than those usually produced by duty-size 9 mm semi-automatics which often run between 3" to 3.5" at this distance. I believe upgrading the typical 6-lbs. 15-oz. single-stage Mil-Spec trigger the pistol ships with would tighten the groups up even more.
Gorilla Ammunition's Silverback Defense 115-gr. all-copper hollow points tapped out a best five-shot group of 1.30" with an average of 1.60". DoubleTap's Colt Defense 124-gr. jacketed hollow point printed a best group of 1.16" with an average of 1.38". Federal Premium's Hydra-Shok Deep 135-gr. jacketed hollow point yielded the tightest results of the test set with a best group of 1.17" and an average of 1.35".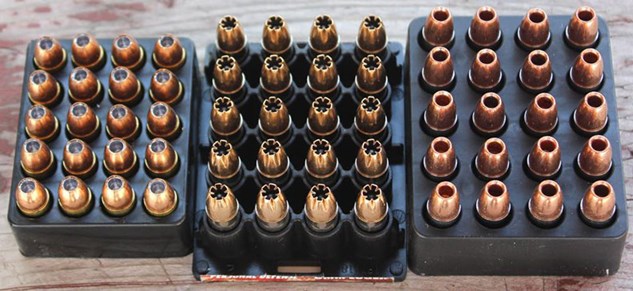 At the risk of ruffling some feathers, the Palmetto State Armory PG-9 Shockwave may be an ideal AR pistol for home defense. In the time since I addressed the topic in 2016, stabilizing wrist brace options have evolved, the ATF has straightened out the concerns about shouldering and I've shot more AR's chambered in pistol calibers. 
The PG-9 is handier than a 16" barrel AR carbine with mild levels of felt recoil, low muzzle flash and a reliable blowback action. Rifle-caliber pistols may be more powerful but 9 mm is less expensive and, due to its world-wide popularity, it is available in a variety of power levels and bullet configurations. All of these qualities, along with the Shockwave stabilizing brace, make this AR-15 pistol much more accessible to smaller-framed, recoil-sensitive and less-experienced shooters. It's also helpful to know that the performance of 9 mm ammunition when fired from duty-size pistol barrels that are around 4" in length is probably one of the most thoroughly researched topics in modern ballistics history. That means it's much easier to find out what to expect from the ammunition you select.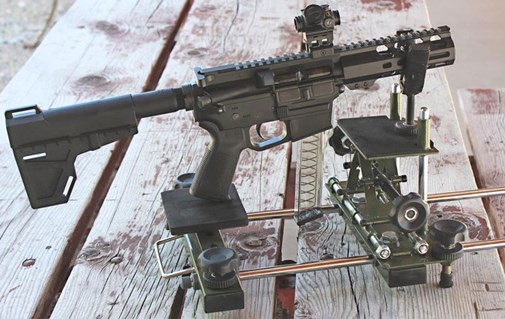 If you like the features of the PG-9 pistol but would prefer a different chambering, PSA offers affordably priced Shockwave stabilized AR-15 pistols in a variety of furniture colors, caliber options and a choice of factory finished guns or do-it-yourself kits.
Specifications:
Manufacturer: Palmetto State Armory
Model: PG-9 Shockwave Pistol (5165447607)
Action: Blowback Operated Semi-automatic
Caliber: 9 mm
Upper Receiver: M4 Forged 7075-T6 Aluminum, Mil-Spec Hard-Coat Anodized
Ejection Port Cover: Yes
Forward Assist: Yes
Charging Handle: Mil-Spec
Bolt Carrier Group (BCG): 9 mm Hybrid
Bolt Steel: 8620
Barrel: 4" 4150V Chrome Moly Steel, Heavy Profile with Nitride Finish
Barrel Extension: Blowback
Rifling: 1:10" RH
Grooves: 6
Muzzle Threading: 1/2x36 TPI
Muzzle Device: PSA 2.75" Fluted 9 mm Flash Can, Hard Anodized Aluminum
Handguard: PSA 6" Lightweight, Integral Picatinny Optics Rail
Handguard Slots: MLOCK
Lower Receiver: PG-9 9x19 PS9G Forged 7075-T6 Aluminum, Mil-Spec Hard-Coat Anodized
Magazine Type: Glock 9 mm
Lower Parts: Mil-Spec
Trigger: Mil-Spec Single Stage
Trigger Pull: 6 lbs. 15 oz.
Pistol Grip: Magpul MOE
Buffer Tube: Shockwave Pistol, 7075 T6 Aluminum
Buffer Tube Length: 6" (Smooth Portion)
Pistol Brace: KAK Industries Shockwave Pistol Stabilizing Blade, Black
Pistol Brace Adjustment Range: 3.5"
Sights: None
Magazine: 31-Round ETS Clear Magazine
Capacity: 10 to 30 Rounds
Overall Length: 20.5"
Weight: 5 lbs. 4 oz. with Empty 31-Round Magazine
Accessories: One Magazine, Lock, Owner's Manual
MSRP: $749.99 
Optic: Bushnell Tac Optics Lil P Prism Sight (BT71XPS) $359.95