by
posted on August 16, 2016
Support NRA American Rifleman
DONATE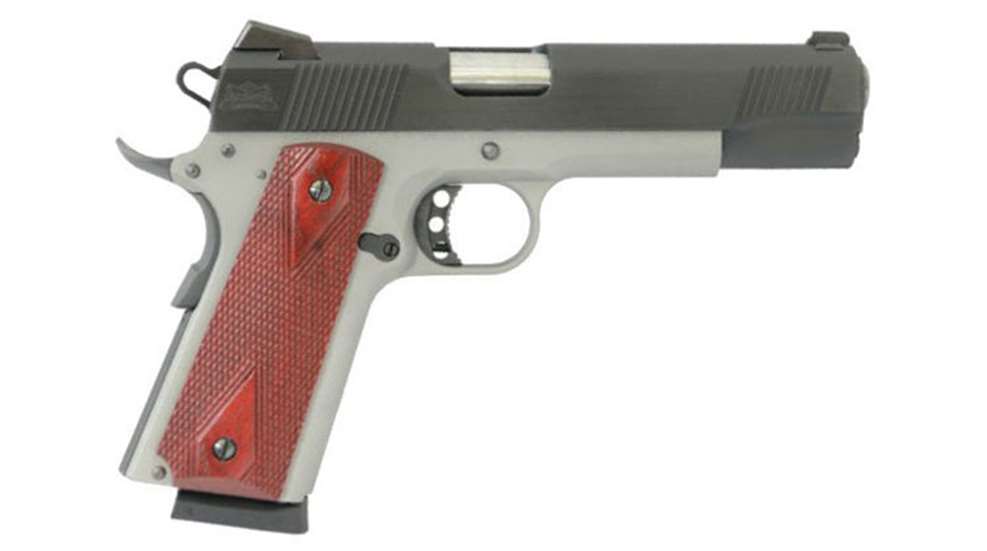 Palmetto State Armory (PSA) is an excellent example of how the American dream is still alive and kicking. It all started in 2008 when a veteran named Jamin McCallum launched an online ammunition store out of his garage. Eight years later the company has more than 300 employees, five store fronts in South Carolina, and an online store that offers shooting products ranging from tactical clothing to gunsmithing tools. 
In 2010, the company began manufacturing its own firearms and accessories. PSA is best known for its series of PA-15-branded AR-15 semi-automatic rifles and build kits. Although the AR business is booming these days, the company continues to expand its in-house offerings. Last year marked the arrival of PSA's line-up of American-made AK-47 pattern rifles. This year, the company is launching a brand new line of PSA Premium full-size .45-ACP 1911 pistols in four different finish options. This review takes a closer look at the Two-Tone option.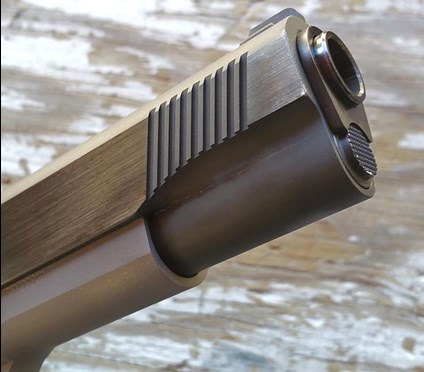 The PSA 1911 Premium Two-Tone is a full size .45 ACP semi-automatic patterned after the much beloved Government models. The Premium in the name refers to the tight tolerances and upgraded features including the sights, hammer, grip safety and trigger. The forged 4140 carbon steel slide features a matte blued finish with polished flats, a rounded top, an enlarged ejection port and gripping serrations at the front and rear. 

The Novak-type three dot sight system consists of a dovetailed steel front sight and a dovetailed low-profile rear sight. The 5" long 416 stainless steel linked barrel features a traditional profile with 6-groove 1:16" right-hand rifling. It's held in place at the muzzle with the familiar removable barrel bushing. The recoil assembly consists of a G.I.-style short guide rod, a single round wire recoil spring and a checkered recoil spring plug.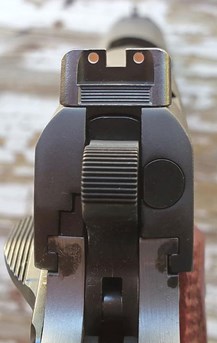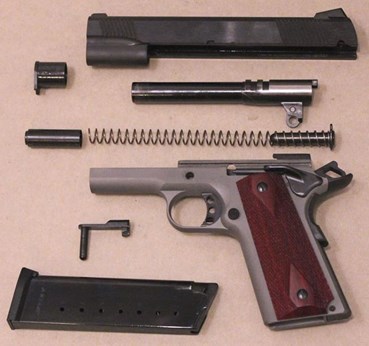 The frame is constructed of matte finished stainless steel with a rounded dust cover, traditional rounded trigger guard and a smooth front strap. The appointments and controls have a matte blued finish that matches the slide. The controls are all located and operated in traditional 1911 fashion with the slide catch, thumb safety and round magazine release button located on the left side of the frame.

The blued steel trigger is skeletonized with three round cut outs to reduce its weight and fitted with an over-travel adjustment screw. The curved surface has been cut with non-slip straight line texturing that is effective and comfortable for the tip of the trigger finger. The trigger exhibited a very slight take up before breaking cleanly with 5 lbs. 5 oz. of trigger pull. It was so smooth I would have guessed it was about half a pound to a pound lighter than the Lyman's digital trigger gauge indicated.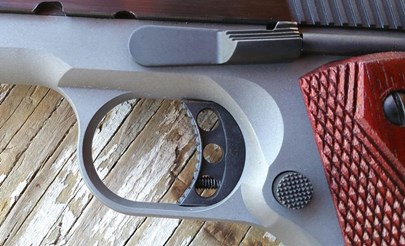 The thumb safety is extended with a rounded outer edge which lends itself to comfortable carry on the hip or in the waistband. A combat style hammer which is serrated and skeletonized is paired with an extended beaver tail grip safety that has a memory bump to ensure reliable function. The straight mainspring housing is serrated for improved grip purchase. Solid hardwood grip panels feature diamond pattern checkering and are attached to the frame using standard blued grip screws. This pistol arrived with a single blued Mec-Gar 8-round magazine with a polymer base plate.

If you know and like Government-size 1911s, then the PSA interpretation of the platform will feel right at home in your hands. At the range, all of the controls and features functioned properly and reliably. The slide was tightly fitted and cycled smoothly without any "G.I. wiggle" to it. I've had good luck with the Italian-made Mec-Gar magazines, which have a reputation for quality, and the magazine shipped with this pistol was no exception.

It's not uncommon for manufacturers of all-steel semi-automatic pistols to recommend a break in period of 200 rounds or so in order to allow the gun's components to settle in and smooth out. The PSA 1911 falls into this category. The company purposefully manufactures these pistols at tolerances that are just a smidge too tight when they leave the factory. As a result, the slide hesitated when moving forward to chamber a fresh round several times during the first 100 rounds fired. 

The pistol would go bang, the slide would hang open for a count of "1-Mississippi," and then it would slam back into battery just like it's supposed to. This hesitation did not cause any jams or affect down range accuracy. It just slowed the rate of fire until about 175 rounds had been fired. By 200 rounds the pistol was purring right along. With the break-in and informal testing completed, formal accuracy testing was conducted from the bench using a Hyskore #30034 Swivel Pistol Rest and the pistol's factory iron sights.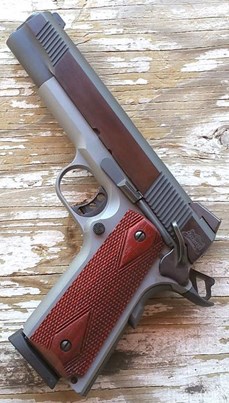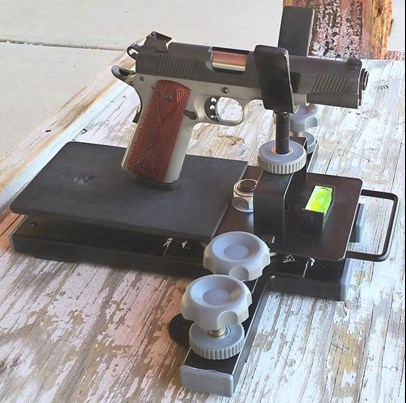 This was one of my first opportunities to work with the new Federal American Eagle Syntech total synthetic jacket (TSJ) practice loads which are currently available with 230-gr. round nose bullets in .45 ACP. This round ran smoothly with a low level of felt recoil (for a .45 ACP.) and turned in a best single five-shot group of 2.89" with a five-group average of 3.03". Barnes Tac-XPD 185-gr. +P all-copper hollow points yielded a best single group of 2.73" with an average of 2.91". Hornady's Custom 200-gr. XTP produced the best accuracy of the test with the tightest single group of 2.51" and an average of 2.73".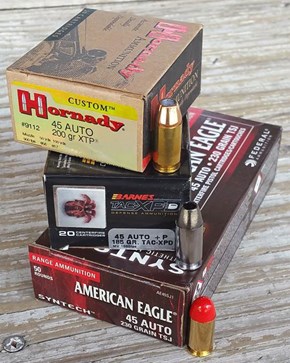 Based on what I've seen of its products from my own tests, Palmetto State Armory is striving to give its customers products that provide a balance of desirable features at a fair price. With a suggested retail price of $799.99, it's safe to say that the new line of PSA 1911 Premium pistols is living up to that goal. The PSA 1911s are tightly fitted with desirable features that will give other models at this price point a run for their money.

NRA Specifications
Manufacturer: Palmetto State Armory 
Model: PSA 1911 Stainless Two-Tone Premium (7780981)
Action: Single-Action Semi-Automatic
Caliber: .45 ACP
Slide: Forged 4140 Steel, Blued with Polished Flats  
Frame: Matte Stainless Steel
Grip Panels: Diamond Checkered Hardwood
Sights: Low Profile 3-Dot Novak Pattern
Barrel: 416 Stainless Steel, Linked
Guide Rod: G.I. (Short)
Trigger: Tactical, Adjustable Stop
Thumb Safety: Extended
Grip Safety: Extended Beavertail
Barrel Length: 5.00"
Overall Length: 8.30"
Height: 5.10"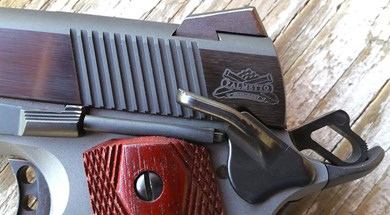 Width: 1.25"
Weight: 37 oz.
Capacity: 8 Rounds
Twist: 1:16" RH
Rifle Grooves: 6
Accessories: One Magazine, Hard Case, Lock, Owner's Manual
MSRP: $799.99