Support NRA American Rifleman
DONATE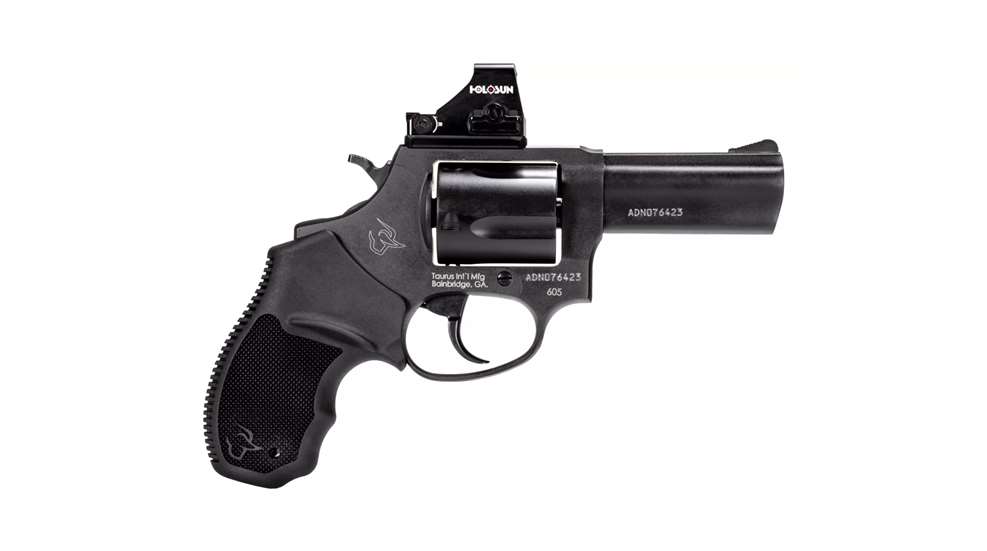 The incorporation of a popular feature into all possible products happens in the shooting sports marketplace from time to time. Some of these trends come and go. But over the last 25 years, we've watched some features go from being niche, or new, to becoming industry standards, including polymer frames for pistols, handgun accessory rails, the M-Lok accessory-mounting system and the rise of the 6.5 mm Creedmoor rifle cartridge.
Right now, it's possible that we are witnessing another historic feature shift. In the past, rifles, pistols, shotguns and revolvers have each used platform-specific sighting systems. But today, we are seeing a shooting technology convergence. Now all four major types of shooting platforms can be fitted with what might be the first universal sighting system, namely, micro red-dot optics. Although electronic red-dot sights of various types have been used for sport shooting for decades, they are now broaching the final defensive firearm frontier with the recent release of optics-ready combat shotguns and concealed carry revolvers. In some cases, if a customer is determined to do so, all four platforms can be outfitted with the exact same make and model of optic.
Is the micro red-dot sight (MRD) on the verge of becoming the universal sighting system? Let's take a high-level view of how this type of sighting system is evolving across these firearm designs and delve into the advantages this type of sight may, or may not, bring to each.
Red-Dot Rifle Sights
The technologies that contributed to the development of today's red dots can be traced all the way back to 1900 when Sir Howard Grubb was the first to mount a reflector, or "reflex," sight to a firearm. The sighting system saw advancements during World War II with the battery-powered Giese electric gunsight (c. 1947). In 1975, Aimpoint AB of Sweden launched the first electronic red-dot optic, designed by John Arne Ingemund Ekstrand, which paired a light-emitting diode (LED) with a reflecting curved mirror. Although it was far from svelte by today's standards, the Aimpoint's closed-tube chassis allowed this optic to be mounted to long guns, much like a magnified riflescope. Mercury batteries allowed it to be a self-contained unit and provided illumination for up to 3000 hours.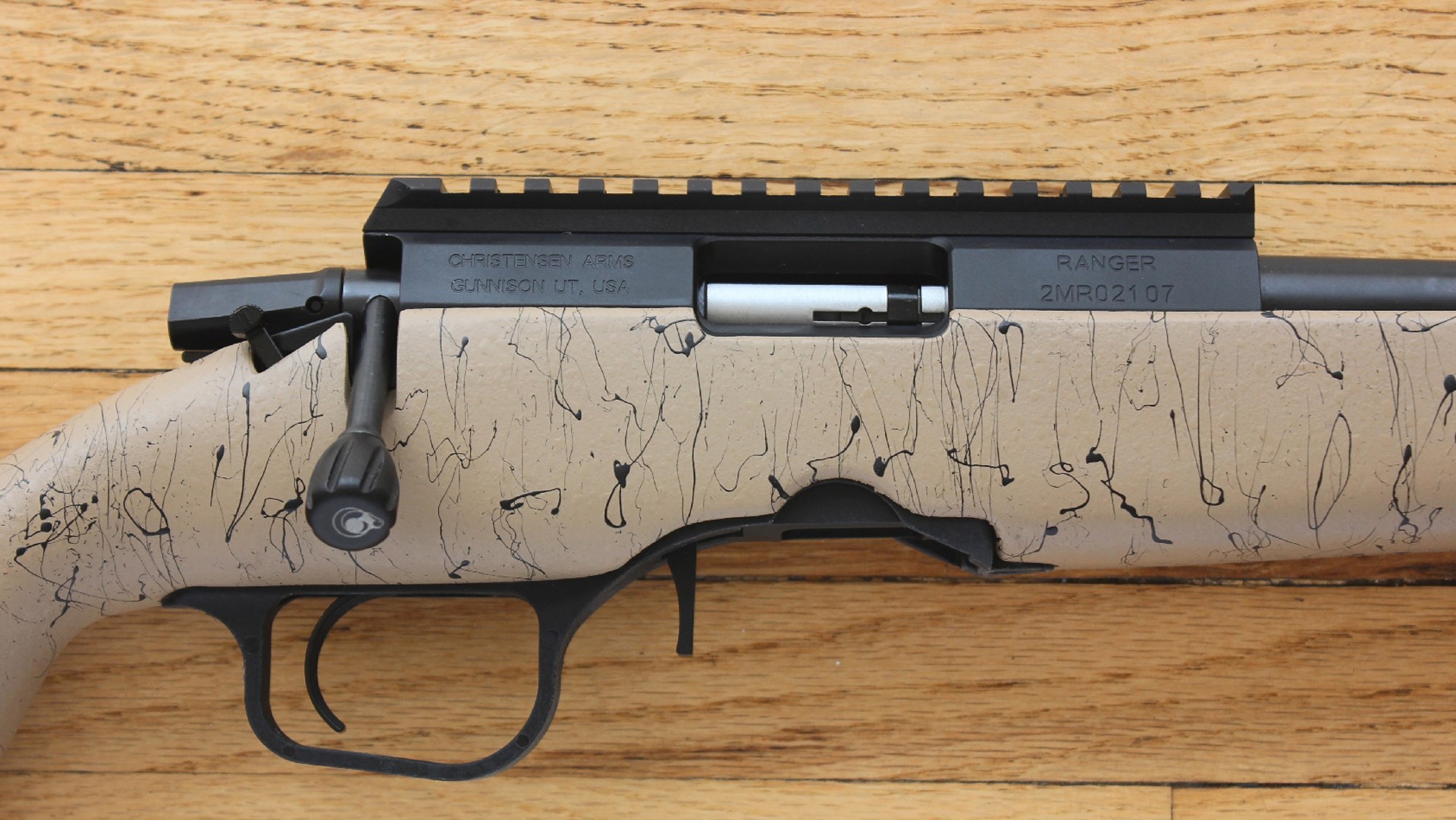 Modern long guns are available with an M1913 Picatinny rail, which support a variety of red-dot optic sizes.
Following Aimpoint's revelation, over the next 25 years, many other manufacturers joined the red-dot market with a wide variety of types and models. In 2000, the U.S. military adopted the Aimpoint CompM2, dubbed the M68 Close Combat Optic, for use in the field. And is often the case, when the military adopts a shooting technology for soldiers to use, there is a trickle-down effect into the law enforcement and civilian self-defense communities. Today's red dots designed for rifles still use a closed-tube chassis, but they are much lighter and more compact than their predecessors.

Flattop AR-15s in a variety of calibers are ready-made for red dots.
Pick up just about any modern bolt-action, lever-action, semi-automatic (and even some pump-actions), and it's more than likely that it can be topped off with a red-dot optic. The receiver just needs to be drilled and tapped for an optics rail or have an integral rail in place from the factory. When it comes to shooting rifles at longer distances, red dots cannot compete with magnified scopes for more accurate shot placement. It's at distances of around 100 yards or less where red dots really shine. Of course effective distance is affected by a variety of factors including environmental conditions, caliber options, dot size and that the shooter's level of experience.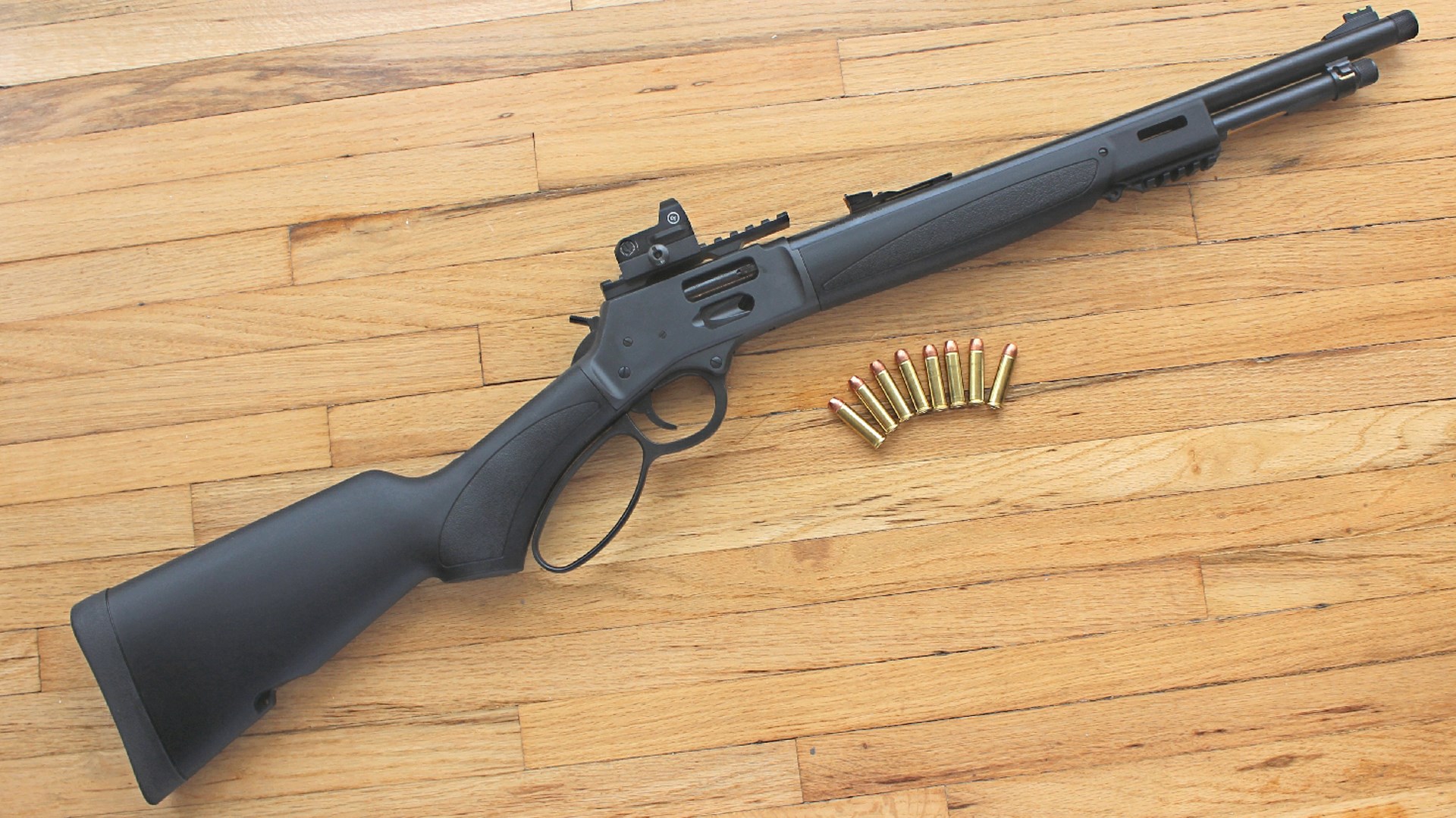 The Henry Repeating Arms X Model lever-actions are drilled and tapped for mounting optic rails, including red-dot-compatible options.
In close-quarter defensive situations, red-dot optics are ideal because of their light weight and compactness, providing operators with a quick-to-acquire sight picture. The aiming dots are easy to see in a broad range of lighting conditions, too. And they have a distinct tactical advantage in that they can be used with both eyes open without clogging peripheral views.
Optic-Ready Pistol Slides
The use of red-dot optics for competitive pistol shooting began to pick up speed in the 1970s and 1980s. Their advantages made them a good fit for open class pistol divisions, despite their drawbacks. They were big, clumsy, less than reliable and required special holsters. But it was the drive to improve competitive red dots that contributed significantly to reducing their size and increasing their reliability.
Semi-automatic pistols with optic-ready slides are now available for myriad makes and models.
Although several companies contributed to developing better options, a real game-changer that inspired the move of red dots from competition to personal protection was the Trijicon RMR (Ruggedized Miniature Reflex), which was released in 2009. It was a battery-powered sight that was small enough to comfortably fit onto a semi-automatic pistol while being durable enough to withstand the rigors of being slammed back and forth by the slide cycling. Since then, pistols outfitted with optic-ready slides have shifted from being a niche competition feature to a standard offering available from most manufacturers.
The two most common slide cutout profiles available these days are those sized for optics with the larger RMR-pattern footprint and the Shield Sight's RMSc (Reflex MINI Sight Compact) pattern cutouts, which are for the smallest optics currently available. A pistol with an RMR cutout and a set of optic mounting plates can typically accommodate both footprint sizes. Those with Shield-size cutouts usually only have enough space for smaller options.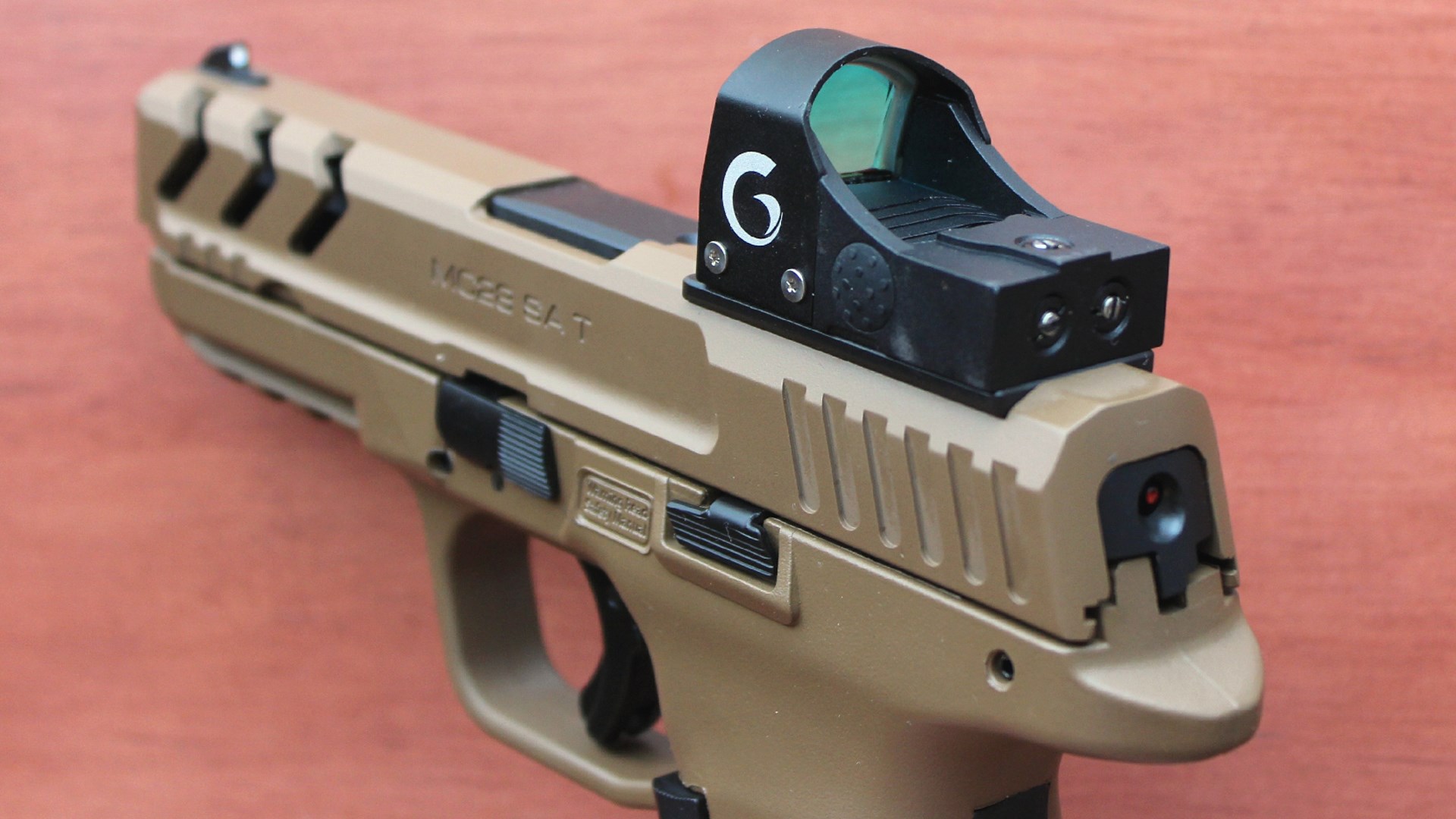 Some manufacturers, including Girsan, offer factory-installed red-dot-optic and pistol packages.
Although I like red dots on a variety of platforms, semi-automatic pistols are among my favorites. These optics simplify a pistol's sight picture. Instead of juggling the rear sight, front sight and the target, you just line up the dot with the target and shoot. Generally I've found that when firing a pistol at 25 yards with a red dot, instead of iron sights, I can comfortably shave around 0.5" off of the five-shot group sizes. Red dots are also a great fit for folks who use corrective lenses, since the primary visual focus is the target instead of the front sight.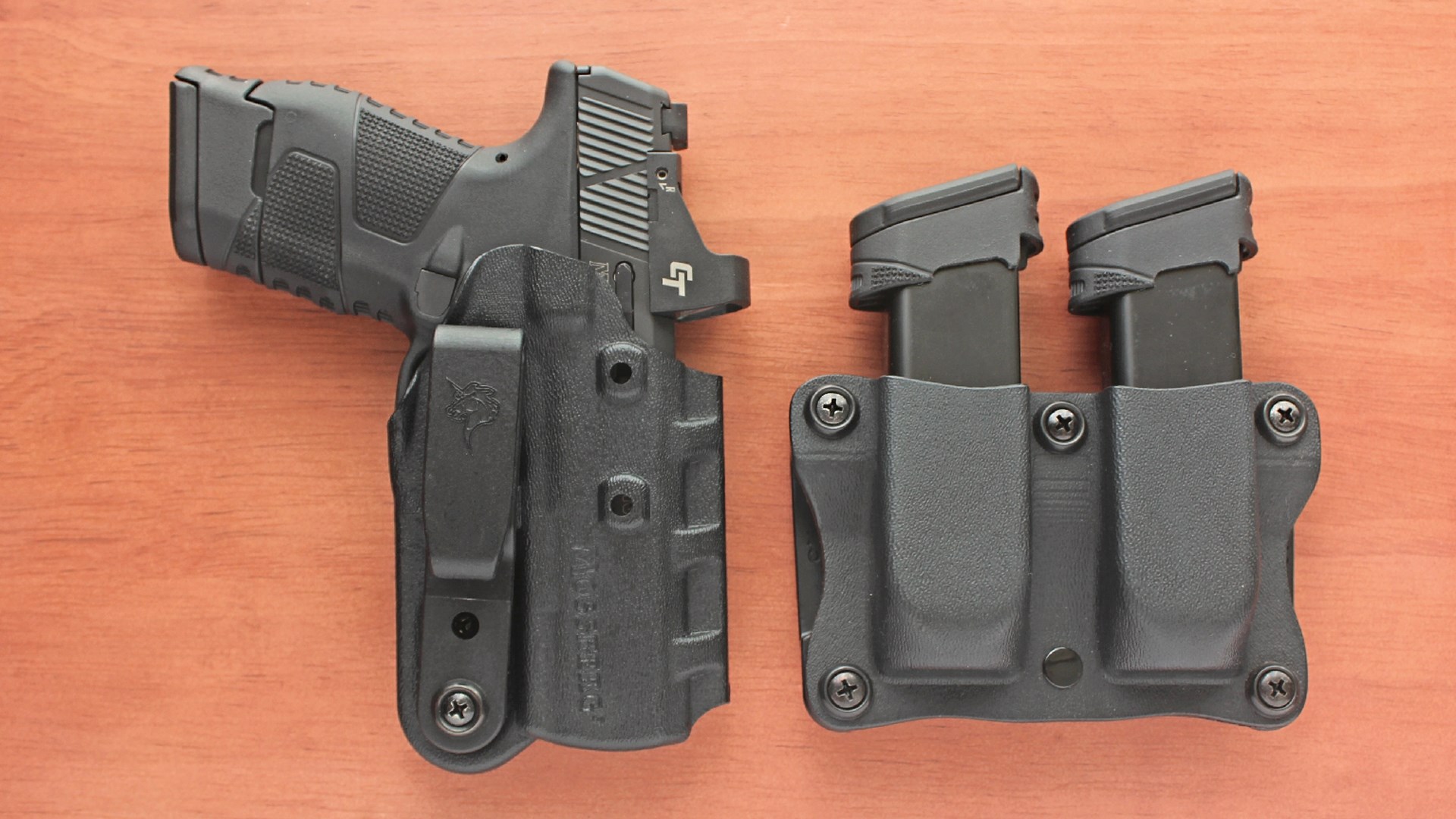 Holster Manufacturers like DeSantis have caught up with the demand for optics-compatible, concealed-carry holsters.
However, there are some drawbacks to topping a defensive pistol with a red-dot optic. You'll need a specialized holster, which is not as challenging as it was a few years ago. Holster makers have caught up, so there are more options to choose from today than yesteryear. However, it is important to note that by installing an optic, you are adding another layer to your pistol-maintenance routine. The optic needs to be kept clean, the batteries should be replaced from time to time, and it must be sighted in. When possible, a defensive handgun with an electro optic should also sport a set of iron sights that can be used in case the optic winks out at an inopportune time.
Red Dots For Combat Shotguns
Much like rifles, any shotgun with a receiver drilled and tapped for an optics rail can be paired with a red-dot optic. That's nothing new. But in 2022, Mossberg took optics-ready for combat shotguns in a fresh direction with the release of the semi-automatic 940 Pro Tactical. In this case, the receiver has a slot milled into the receiver at the rear, much like an optics-ready pistol slide. In 2021, along with several other media members, I had the opportunity to work with a prototype of this configuration during a shooting event at the Gunsite Academy. I had serious doubts about it until I found myself ringing steel plates with slugs at 100 yards with ease. Needless to say, I was sold on the concept.

The Mossberg 940 Pro is available with or without a factory installed micro red-dot optic.
The production model 940 Pro Security, shown here, is fitted with a Crimson Trace CTS-1550 3.0 MOA optic. Because this sight was originally designed to replace the rear sight of a pistol, the housing has a square rear-sight notch. This notch allows the shotgun's front fiber-optic sight to be viewed through the lens of the optic, thus preserving the iron sight back-up. Mounting the micro red-dot optic directly to the receiver in this manner brings it down nice and low to preserve sight picture and operator-to-gun fitment; it's a comfortable and effective arrangement to work with.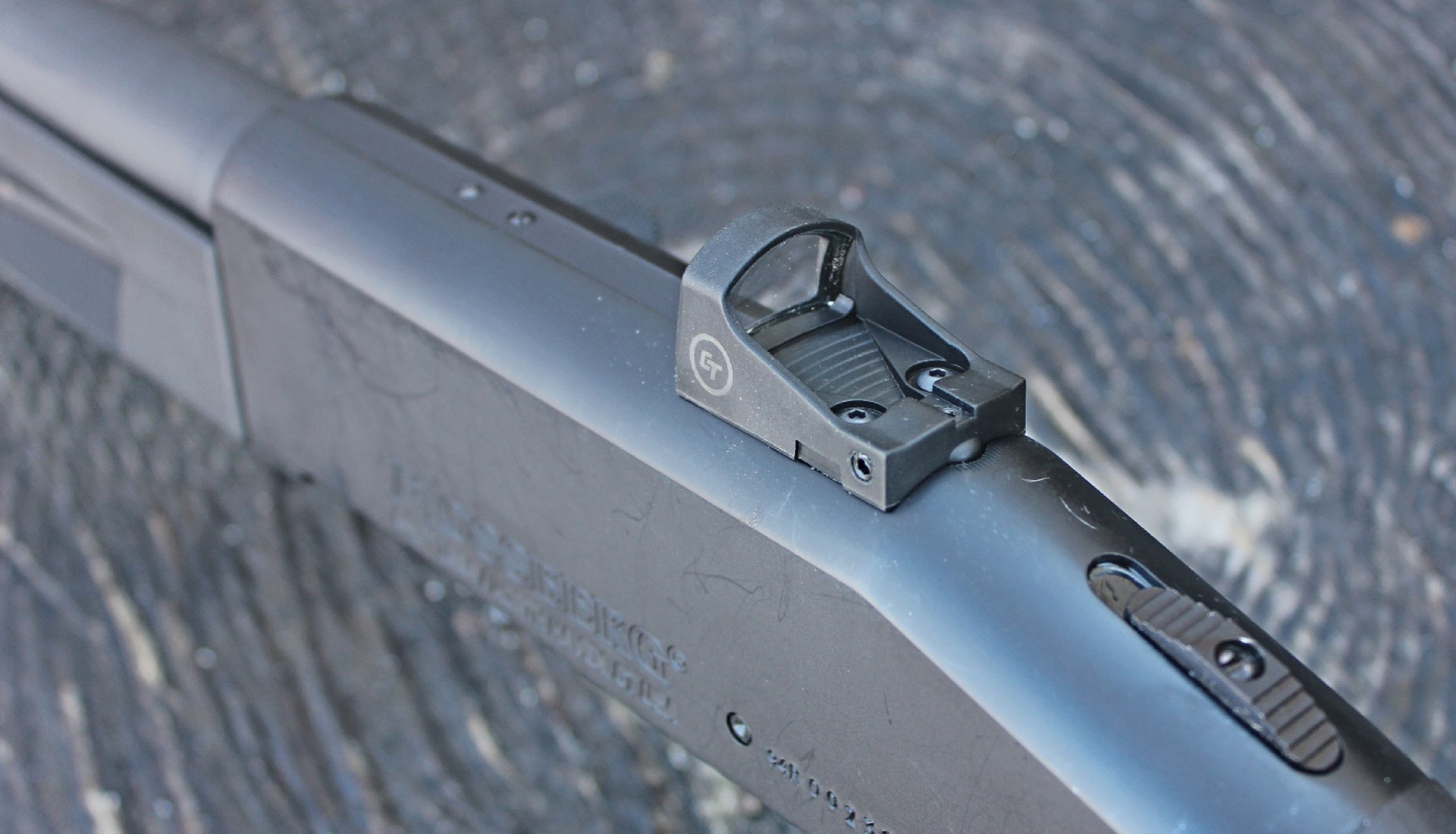 Mounting the red dot directly to the receiver provides a sight picture compatible with the native bead-sight system.
Is the installation of a red-dot optic an improvement to a combat shotgun? I agree with other folks in the community who say it depends on shooting distances. At ranges of 50 to 100 yards, a red dot can tighten up shot placement noticeably. But at home-defense distances of 25 yards or less, it doesn't provide much of an advantage over that of typical bead or ghost-ring sight systems for those who are already familiar with them. However, I've heard reports of shooters who are new to defensive shotguns taking to red-dot optics right off the bat. Because the red dot is more intuitive, and sometimes more familiar, it builds confidence and shortens the learning curve. It will be interesting to see if red dots for combat shotguns continue to gain traction over the next few years.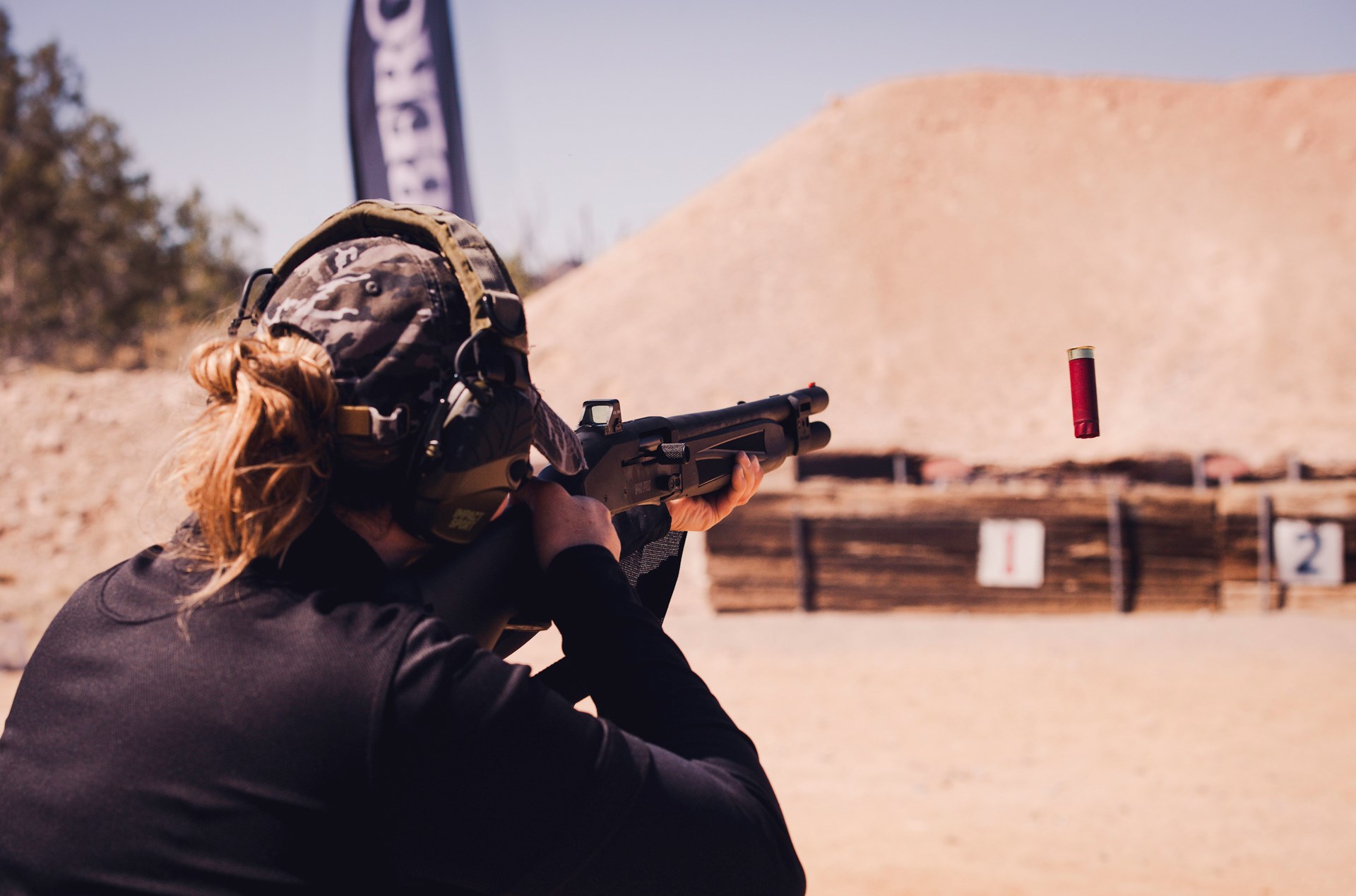 Red-dot optics can be a more intuitive option for shooters who are new to defensive shotguns.
Defensive Double-Action Revolvers
The last platform to join the defensive micro red-dot optic revolution is the double-action revolver. I know that the sportsmen in the crowd will be quick to point out that aftermarket optics rails for revolvers have been available for revolvers for decades. That's true, and I've used them myself with hunting handguns, like the Magnum Research, Inc. BFR, to support both magnified and red-dot optics. Taurus USA made using optics on hunting handguns easier in 2019 with the Raging Hunter line-up of big-bore wheelguns, which sport integral optic rails along the tops of their barrels. Heritage Manufacturing, which is owned by Taurus, offers a version of the popular Rough Rider .22 LR single-action revolver, aptly named the Tactical Cowboy, with a receiver-mounted six-slot Picatinny rail intended for mounting an optic.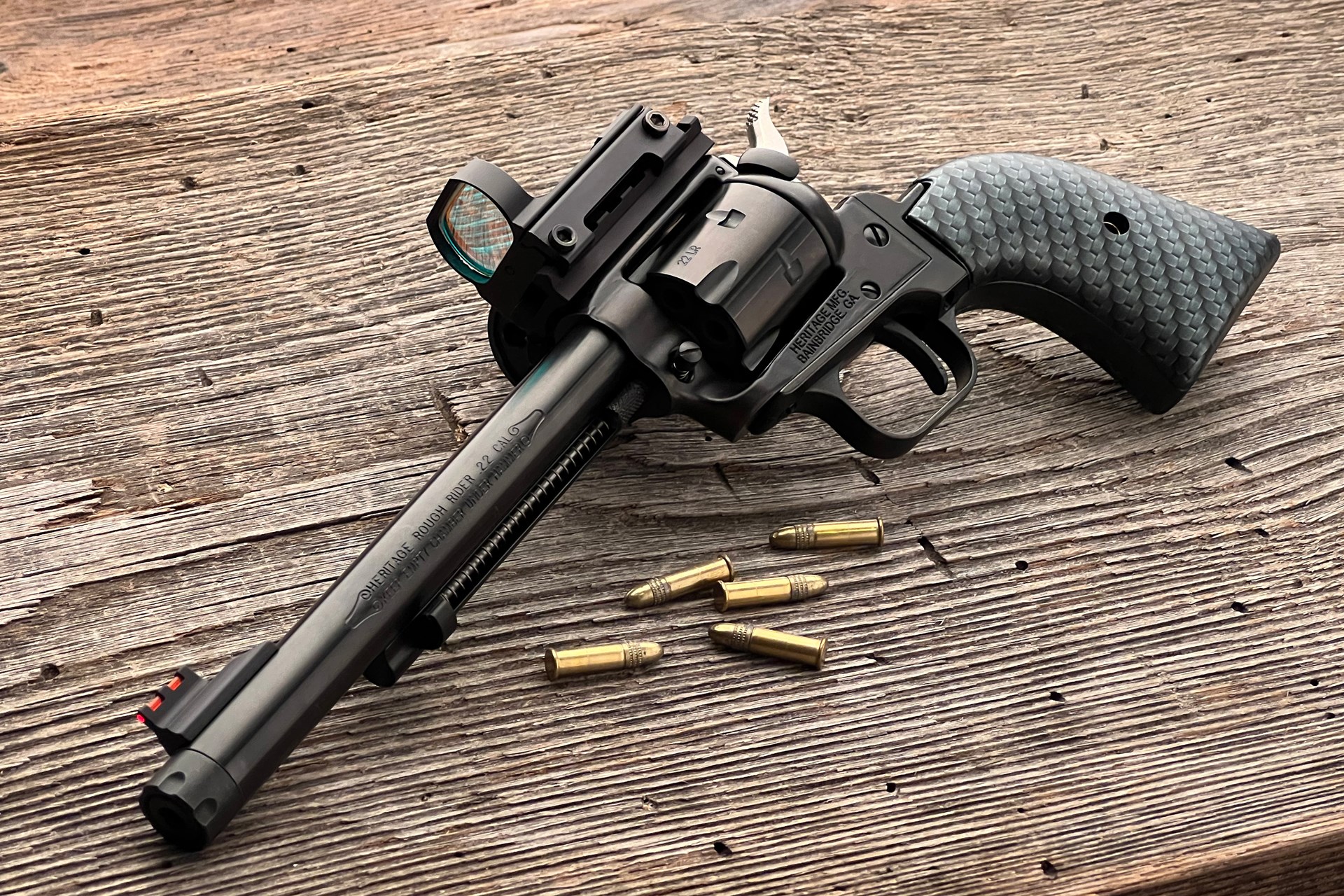 The Heritage Rough Rider Tactical Cowboy arrives with an optic rail installed.
So, it's no surprise that Taurus would take the lead and plow new ground for defensive revolvers by releasing the small-frame Model 605 in .357 Mag. and the larger Model 856 .38 Spl., both double-action revolvers that feature a new take on the Taurus Optic Ready Option (T.O.R.O.) system. Instead of adding a rail or milling a slot for optics, the company drilled and tapped threaded holes into the revolvers' top straps. One is located just in front of the rear sight and the other rests near the center of the strap down in the sight groove. With no optic installed the factory sight picture is the typical serrated front sight paired with a fixed rear square notch.
The Taurus T.O.R.O. series of concealed carry revolvers are configured specifically for micro red-dot optics.
The T.O.R.O. revolvers ship with hardware and a single mounting plate sized for the Holosun K footprint, which will also support optics with Shield RMSc-pattern footprints. It should be noted that with an optic in place the factory sights are blocked from view. Since this is a brand-new configuration, compatible holsters are still in process. As for the advantages and disadvantages of using red-dot optics with these defensive revolvers, they seem to be right in line with those of optics-ready semi-automatic pistols. But until more range tests are conducted with this new system, we won't know for certain.
There is one other red-dot-ready revolver supposedly out there, which I saw at the 2023 SHOT Show. This one was the latest version of the SAR USA SR-38 where the top strap appeared to be milled flat and fitted with a removable plate to support an adjustable rear sight. But we are still awaiting news of when this model will be available to consumers and what optics it might support. Stay tuned.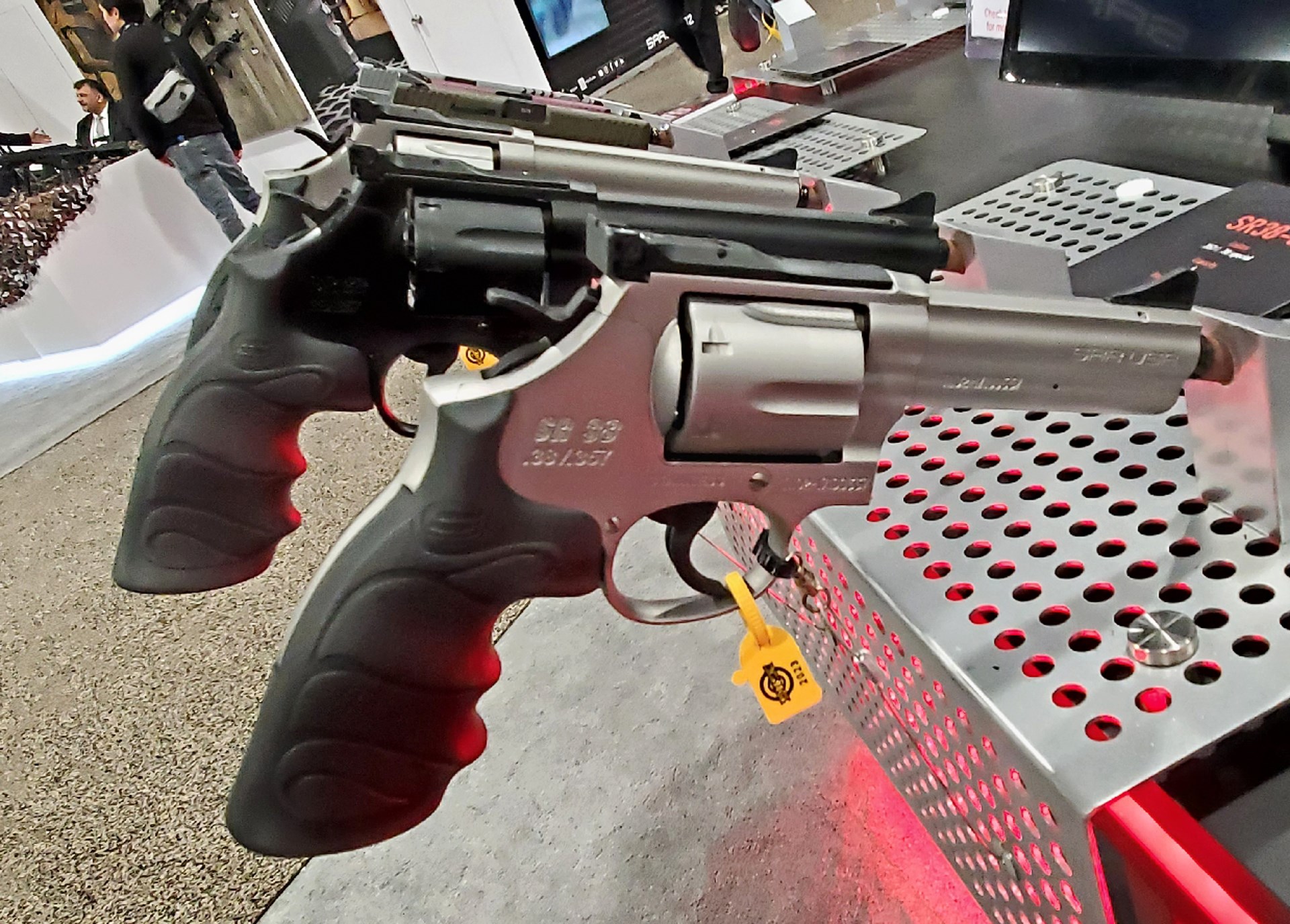 SAR USA's new SR-18 series are another new optics-ready revolver option.
Parting Shots
Do red-dot optics represent a universal sighting system for all types of firearm platforms? Are they bringing home the 'bacon,' or is it just the sizzle of the latest trend? As is often the case with shooting accessories, it's not a simple yes or no answer. From my sampling it is apparent that red-dot optics definitely aid shooters for specific tasks when paired with rifles, pistols, shotguns and revolvers. And within those roles, they work exceptionally well. But whether or not adding this type of sighting system is useful for a particular gun or situation will remain a matter of personal preferences, individual needs and budget constraints. If the sighting systems you already have on hand are working for you, then there's no need to replace them. But if a red-dot optic is just what you're looking for, it's good to know that they can be put to work on just about any gun type you have in mind. And they aren't going away anytime soon.