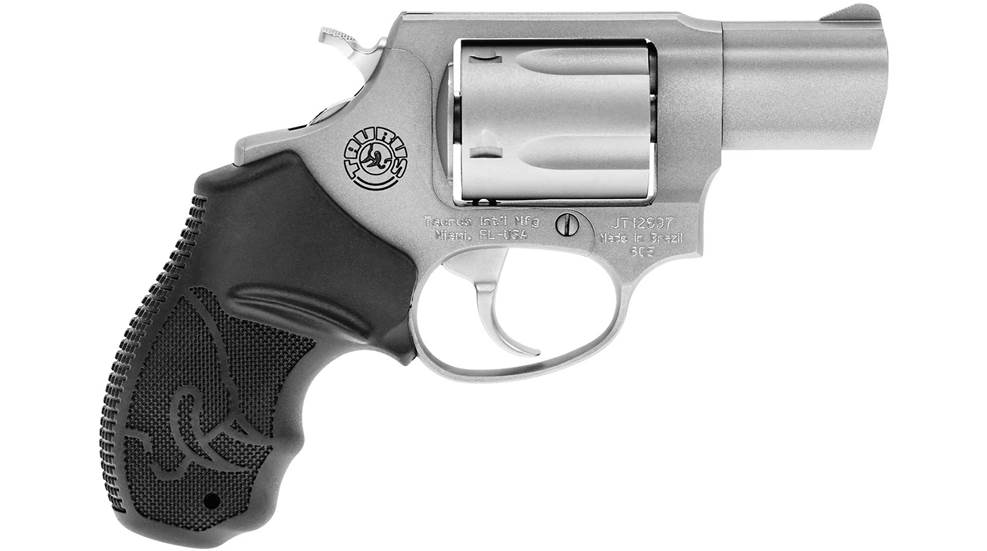 With its 2" barrel, .357 Mag. chambering and 24-ozs. weight the Taurus 605 revolver is made for carry. The double action/single action can digest .38 Spl. to make practice a pleasant experience, but when loaded with the heavier-hitting cartridge it packs enough power to stop a felonious assault with authority.
Capacity is five cartridges and the frame, cylinder and barrel are made from stainless steel with a pleasant-to-the-eyes matte finish. A soft, rubberized black grip does a nice job of soaking recoil. Sights are fixed with a ramp up front and a groove to the rear.
A transfer bar safety prevents the gun from touching off a round without pulling the hammer back fully. The gun also comes with the Taurus Security System. Turning its lock, which is built into the frame and located below the hammer, renders the firearm inoperable. The feature is often cited as an asset for anyone who needs to prevent unauthorized access—those with small ones in the house, etc.  Two keys to operate the device are included with the revolver.
The gun's heft doesn't place it among lightest carry revolvers, although the weight is a welcome addition when shooting heavy-recoiling loads. The rest of the gun, however, features the sleek sides and rounded edges needed to minimize clothing snag during presentation—a real concern when under stress.  
Overall length of the Taurus 605, which was introduced in 1995 and continues to be a good seller for the company, measures 6.5". Width comes in at 1.4" and height at 4.4". The firm's trademarked raging bull on the grips give it a look distinctive enough to stand out from much of the competition.
MSRP for the Brazilian-made revolver, which is imported by Taurus USA, is $406. Its solid performance, price and straightforward design have made it a popular choice among enthusiasts for more than a quarter century.