by
posted on January 13, 2023
Support NRA American Rifleman
DONATE
Topping the list of consumer requests for Taurus USA was an optics-ready, small-frame revolver. For 2023, Taurus answered those calls with the release of two Taurus Optic Ready Option (T.O.R.O.) revolvers, the 856 and the 605. These two revolvers are sized for concealed-carry and are based on the popular Defender Series, which incorporates a number of must-have features for defensive use.
The Taurus 856 is a six-shot, steel-frame revolver chambered for .38 Spl., and all-black or stainless-steel models are available. The unique feature of the 856 T.O.R.O. is the inclusion of a milled topstrap that accepts micro red-dots (MRDs) of the Holosun K footprint, which is similar to the popular Shield RMSc footprint. The Taurus 605 T.O.R.O. incorporates the same optics footprint, and like the 856, is equipped with a 3" barrel and offered in black and stainless-steel finishes. However, the 605 is chambered for .357 Mag. and has a five-shot cylinder.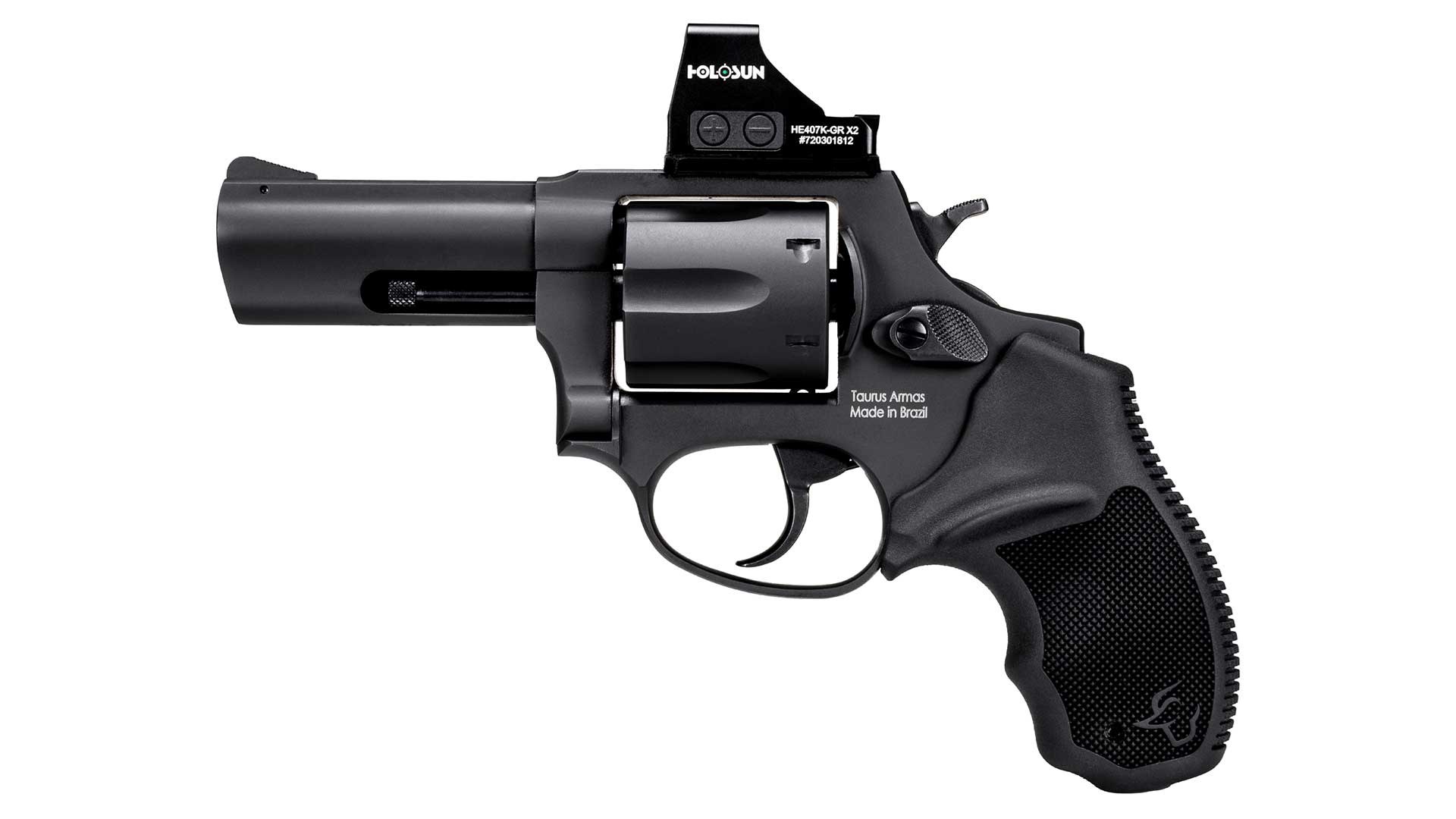 The Taurus 856 revolver shown above is chambered in .38 Spl. and has a capacity of six rounds.
Adding a micro red-dot to the top of a revolver like the 856 or 605 provides several benefits. Of course, many people are able to pick up a red dot easier, which helps them to quickly acquire a target and get shots off accurately. However, an additional benefit of adding an MRD to a revolver with fixed sights is that optics can be sighted for specific loads and distances, which is difficult to adjust on a gun with fixed open sights.
Each Taurus T.O.R.O. revolver uses a double-action/single-action operating system with an external hammer, and the guns include compact rubber grips, as well as a replaceable front sight. Suggested retail pricing on the Taurus 856 T.O.R.O. starts at $446 for the all-black model, while the stainless-steel model retails for $461. The all-black and stainless-steel models of the Taurus 605 T.O.R.O. retail for $451 and $471, respectively. For more information, visit taurususa.com.