by
posted on November 12, 2018
Support NRA American Rifleman
DONATE
Crimson Trace, well known for high-quality touch-activated laser-sight pistol grips, continues to move in new directions. Two years ago, the company released the wireless LinQ system for ARs and AKs. This year, the company has released a receiver mounted laser sight for the popular Mossberg 590 pump-action 12 ga., an all-new red-dot optics line-up and weapon-mounted flashlights for long guns. Here is a closer look at these latest offerings:
LS-250 Lasersaddle for Mossberg 500 & 590
The impact of the Mossberg 590 Shockwave and similar non-NFA short-barrel pump-actions and semi-automatics can be clearly seen in the new gun models for 2019, and additions to purpose-built accessory sets. Although adding activation buttons and electronics to the grips of pistols works just fine, it's not the best choice for the Shockwave. The Raptor grip takes a pounding due to the recoil produced by 12-ga. shotshells, and the shooting hand can slide around a bit, resulting in a grip-mounted activation switch getting bumped on and off in the course of fire. The new Crimson Trace LS-250 Lasersaddle solves this problem by moving the sighting system and its controls up off of the grip and on to the receiver. The polymer housing wraps around the top edge of the receiver with the red or green laser diode, three activation switches, battery housing, and master on/off switch resting on the right side just behind the ejection port.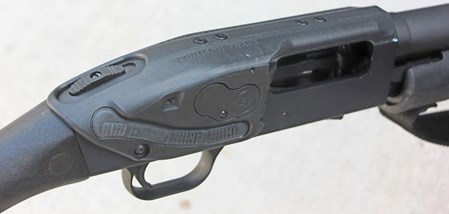 My number one concern about the Lasersaddle when I first heard of it during a phone conversation (no photos yet were available), was that this sight system would get in the way of attaching a left-side shell holder to the receiver. Those concerns proved to be unfounded. The sight housing stretches out along top of the receiver from where the barrel joins all the way back past the tang-mounted safety slider (there is a cut-out for it). The sight is then anchored to the receiver using four screws fitted into the threaded optics base holes. No part of it touches the left side, leaving that part of the receiver available for a shell holder.
This sight has a total of three textured rubber activation points. The first is up by the safety slider and can be activated with the shooting-hand thumb. This one is the most accessible to Lefties. The second sits above the trigger, with the third just in front of the trigger.  Both of these switches can be depressed using the trigger finger. For those who prefer ham-fisted, no-fine-motor-skills-required solutions (like I do), it's easy to just choke up on the Shockwave's Raptor grip, and use a whole-handed squeeze to mash the button closest to the safety. It's quick, easy and doesn't take much practice to master.




I've heard that my early experiences with the Mossberg Shockwave, namely the tendency to aim high when shooting from chest level, is a common problem. The bright red or green laser dot of the Lasersaddle provides a clearly visible indicator of where the shotgun is pointed. This makes it a very useful training aid at the range and a useful sight in a defensive situation. This product will fit most 12-ga. Mossberg 590 and 500 shotguns, but it will not fit 20-ga. or .410 Bore models. The new Lasersaddle is available with a red diode (LS-250) suitable for low light situations for $169, or a green diode (LS-250G) which produces a laser dot also visible in daylight conditions for $219.
CTS-1300 Rifle and Shotgun Red Dot Sight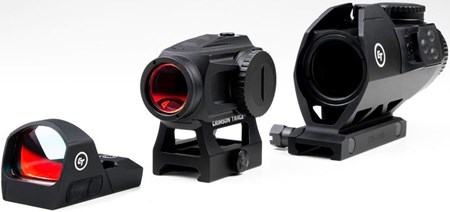 Crimson Trace has introduced a new line of red-dot sights, with models intended for defensive, competition and hunting applications. Sights are available for handguns and long guns, with a selection of field-of-view and reticle options. They utilize existing industry standards and installation features to ensure after-market compatibility with a variety of firearms and mount systems. These new optics are covered under the company's Free Batteries for Life program, just like their laser grips.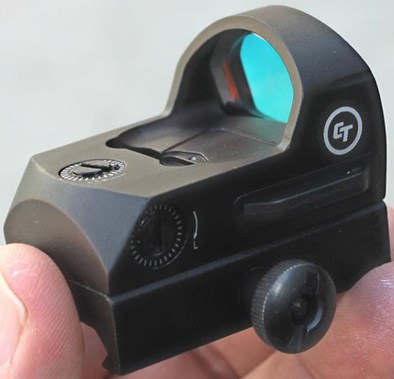 The first red-dots out the door include five different models. I've already started working with the CTS-1300 (shown), which is a compact, open red-dot sight suitable for long guns including rifles and shotguns. Built using a tough water-resistant aluminum housing, the 3.5 MOA aiming reticle is visible through a fully multi-coated lens with a wide field of view. An advanced notch filter improves clarity even more. This optic is adjustable for windage and height, with adjustable brightness levels.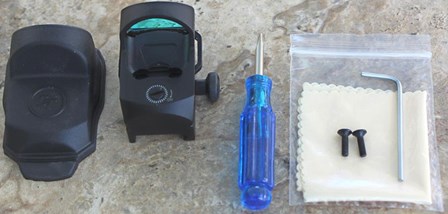 Some micro red-dots have to be removed from their bases in order to replace the battery, which usually requires that they be zeroed at the range again. The CTS-1300 has a handy little "drawer" handle on the right side that allows for single CR2032 battery swaps without dismounting the optic. This sight arrives ready to use with a Picatinny-rail base, mounting hardware, hex wrench, screwdriver, cleaning cloth and protective rubber cover (which some companies make you buy separately as an accessory). MSRP: CTS-1300 $299
CWL-102 and CWL-202 Weapon-Mounted Lights





Although Crimson Trace has been offering handgun-mounted lights and combination light/laser modules for a while now, the new CWL-102 and CWL-202 represent the first dedicated lights for long guns that can also serve double-duty as hand-held flashlights. Both of these models have several features in common, including durable all-aluminum housings with a black anodized finish and high output Cree XPL LEDs. These lights are waterproof and impact resistant for up to one meter.
The lights are easily converted between gun-mounted and hand-held configurations without the need for tools. The rail mount can be loosened or tightened using a built-in thumb screw. This also allows for some front-to-back adjustment when attaching the light to a gun. The Instant Activation Tap-On/Tap-Off hand-held flashlight tail caps simply twist off for battery removal and replacement. This means the tail caps is easily traded out for the provided remote activation pad and extension cord cap for use when mounted to a rifle or shotgun.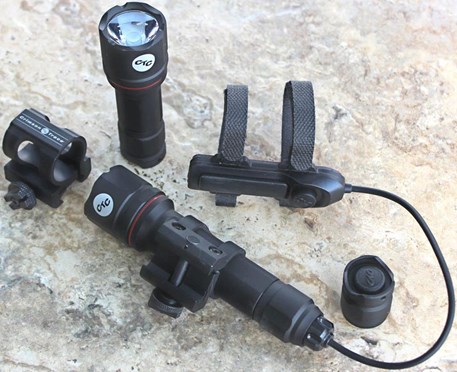 The primary differences between the CWL-102 and CWL-202 are the handle length and brightness levels. The CWL-102 holds a single CR123 battery for 500-lumens of white LED brightness, while the CWL-202 holds two batteries for up to 900-lumens. These lights ship with two removable mounting systems, including one for most M1913 Picatinny rails and another for M-LOK/Keymod accessory slots. MSRP: CWL-102 $79.99, CWL-202 $99.99