by
Mark A. Keefe, IV, Editorial Director
posted on May 23, 2014
Support NRA American Rifleman
DONATE
We have another Snapshots winner! Chris Lee took home first prize in "When Taxidermy Attacks" with the following submission:
"Yikes, apparently, they also eat in the woods!"
Chris, we'll be in touch. Now, without further ado, we offer you "Definitely Not Legal For Sale In California. OK, probably not."
Okay, it is an antique and no one would be crazy to enough to make one today, and it a blackpowder percussion revolver with a patent date of 1855. So maybe it would be legal in California. From an August 1993 "Q&A" we present here the Enouy 48-Shooter.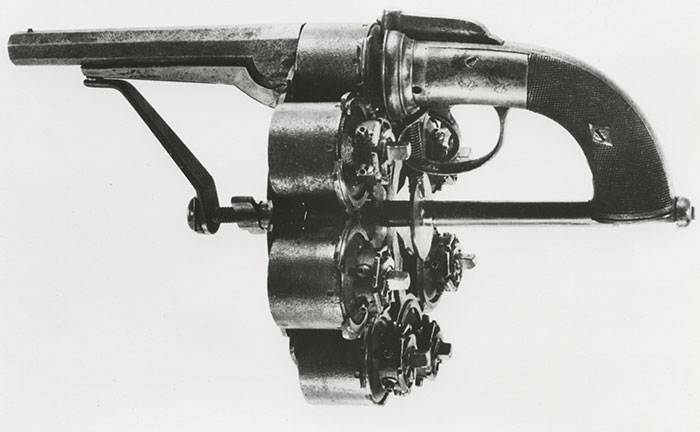 Keep it clean. Bloomberg probably pays an intern minimum wage to read this blog. Entries will be subjectively judged by staff editors between takes of the TV show, testing guns and making authors seem literate. The winner and others we deem worthy will be printed here. All judgments final. No returns. Winner will receive a random item from a box under Mark Keefe's desk the manufacturer did not want back, yet marginally valuable enough to not throw away. Sometime lower drawers of other staffers will be pillaged upon request. This week, we present a genuine hand-tooled, bridle leather coaster bearing the NRA Seal. And it's not just any coaster; it has resided in American Rifleman's Art department for some time. If only this coaster could talk. We have no idea where it came from. And it is definitely used. Coaster is in unmodified condition with scuffing from a succession of art department staffers coffee mugs and Monster cans. We are pretty sure this is an unlicensed product not currently in bootleg production.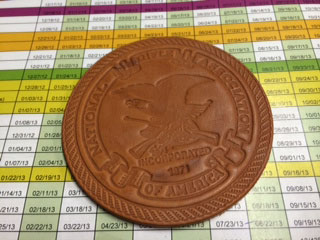 Official Snapshots Rules:
• Caption submissions must be made in the comments section of this blog, or on the corresponding Facebook post.
• One winner will be chosen, selected by Mark Keefe or a randomly selected guest judge.
• Keep it clean, folks.
Next Week: Not What Orville and Wilbur Had in Mind.