Support NRA American Rifleman
DONATE
First off, congratulations to the winner of the inaugural edition of Snapshots, Joe Neuburger. Joe took home first prize with the following submission:
"Joe Biden says if that big shiney thing gets any closer, we're to fire two warning shots, but not to hurt it with our bayonets."
Joe, we'll be in touch. Now, without further ado, we offer you "When Taxidermy Attacks."
From The pages of American Rifleman's predecessor, Arms & the Man, Art Director David Labrozzi found this gem. Before Photoshop, it was hard to create dramatic  action photos with wild animals. As evidenced here, it was apparently really hard. The original caption read: "A Chance for Backwoods Surgery." Good, very good. But we think you can do better.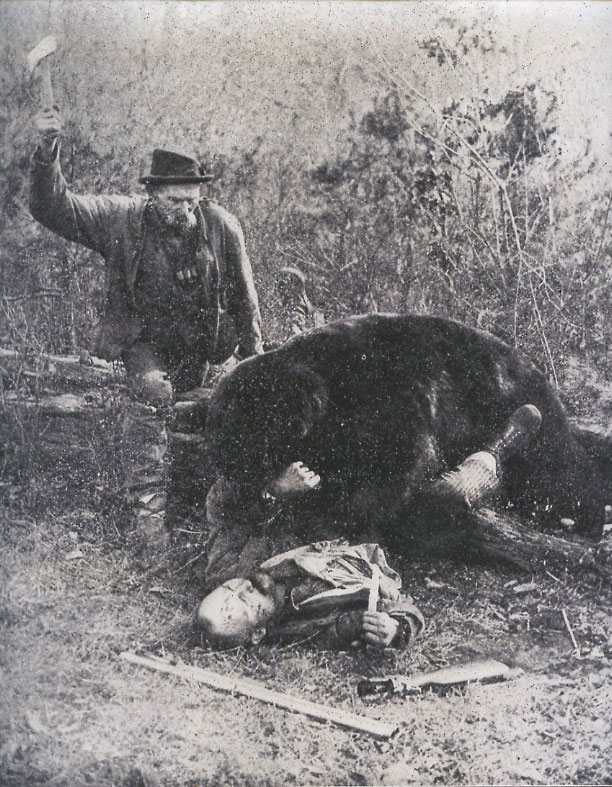 Keep it clean. Bloomberg probably pays an intern minimum wage to read this blog. Entries will be subjectively judged by staff editors between takes of the TV show, testing guns and making authors seem literate. The winner and others we deem worthy will be printed here. All judgments final. No returns. This week's special guest judge is Art David Director David Labrozzi, who contributed this week's no doubt highly sought after prize. No need to hit the box under my desk this week. We offer the snarkiest writer the scarce and desirable NRA "shot" glass. The gun depicted on this object d'art appears to have the back half of a Derringer and two malformed barrels of a LeMat in the front. It's possible the artisan was drinking when he or she created this. At one time, someone over at the NRA store thought this was a really, really good idea. Object is in fair condition with light staining. No idea what liquid may have been in there at one time, but vestiges of it remain. Object is given away "as is" with original patina. We have no idea of whether it is dishwasher safe or not.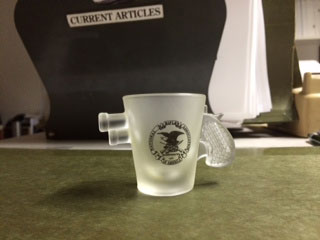 Official Snapshots Rules:
• Caption submissions must be made in the comments section of this blog, or on the corresponding Facebook post.
• One winner will be chosen, selected by Mark Keefe or a randomly selected guest judge.
• Keep it clean, folks.
Next Week: Definitely Not Legal For Sale In California, Okay Probably Not