Support NRA American Rifleman
DONATE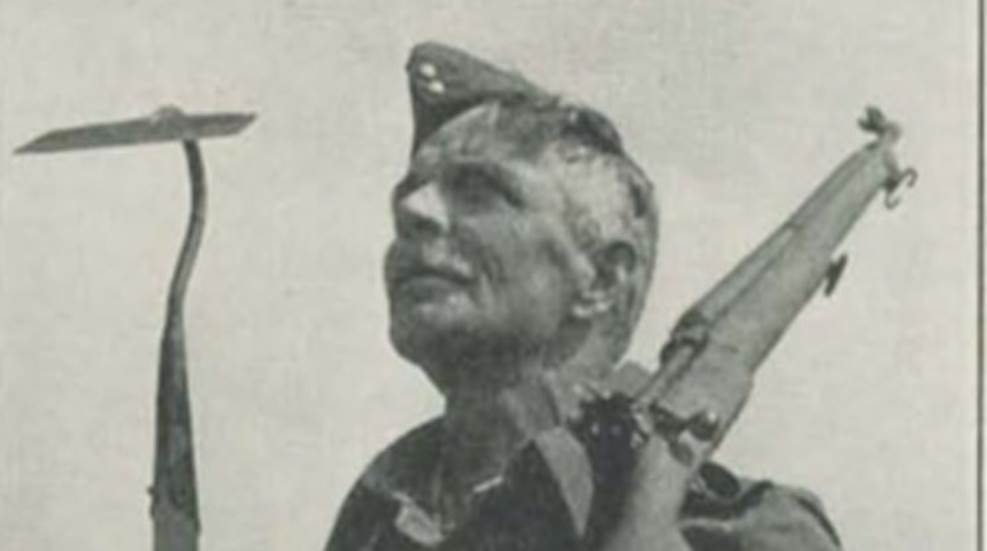 Hi Hoe, Hi Hoe ... "It's off to war we go. With my P'14 and my trustee hoe, hi ho, hi ho, hi ho, hi ho." OK, with apologies to both the Home Guard and all seven dwarves, we bring you the first in the new season of Snapshots, AmericanRifleman.org's non-award-winning caption contest.
For more than a year, after the Miracle of Dunkirk and the fall of France, Great Britain and its empire stood alone against Nazi tyranny. During those dark days, the British faced the constant threat of Nazi invasion, including German
Fallschirmjagers
falling from the sky, which our friend here appears to be on the lookout. Or he could be gardening. Hard to tell.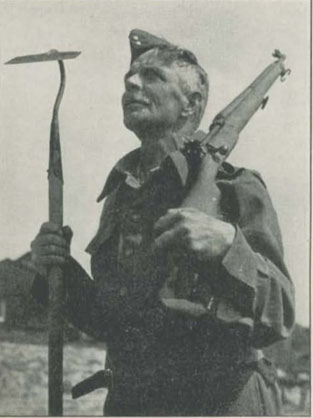 Short on combat troops, Great Britain formed the Home Guard, made up of men not fit for active service. This guardsman, likely a veteran of the Great War, is armed with an obsolescent British Pattern 14 rifle chambered in .303 British. Were it a "Lend-Lease" U.S.
M1917
in .30-'06 Sprg., it would have been painted with red bands around the buttstock and fore-end to let its recipient know it was not in .303.
The article from which this image was taken,
"British Lion at Bay,"
appeared in our April 1942 issue with the following captions: "Reminiscent of Millet's 'man with hoe' is this study of a British home guard shouldering a Pattern 14 rifle."
Keep it clean. Bloomberg probably pays an intern minimum wage to read this blog. Entries will be subjectively judged by staff editors between takes of the TV show, testing guns and making authors seem literate. The winner and others we deem worthy will be printed here. All judgements final. No returns. Winner will receive a random item from a box under Mark Keefe's desk, which the manufacturer did not want back yet was marginally valuable enough to not throw away. 
This week's lucky winner is entitled to his or her choice from a selection of
Winchester Ammunition
ballcaps, the floor sweepings of that firm's marketing closet, kindly sent to us. We have all shapes and sizes. Well, at least those depicted in the accompanying photo. OK, two.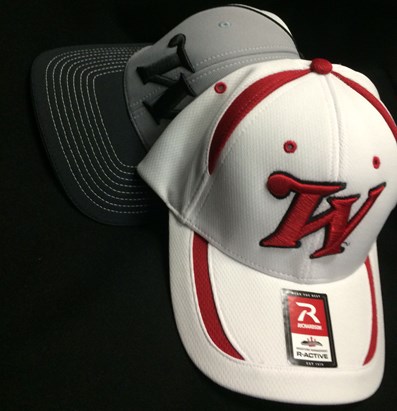 Not sure what size they are, actually. One of our Information Services guys got really excited when he saw them. It seems the Washington Nationals are doing pretty well here in D.C. Caution: these are not Nats ballcaps. It is a vastly different "W" typographically. One has serifs, the other swooshes. They are Major League Winchester. You could wear one to a Nats game, though. We can't stop you.
Official Snapshots Rules:
• Caption submissions must be made in the comments section of this blog, or on the corresponding Facebook post.
• One winner will be chosen, selected by Mark Keefe or a randomly selected guest judge.
• Keep it clean, folks.