Support NRA American Rifleman
DONATE
We have a winner for "Not What Wilbur & Orville Had in Mind … and Bacon." Donald Nix Facebook submitted: "Young Si and Phil Robertson test Si's latest invention, a flying duck blind/rotisserie." You, sir, have earned yourself a can of Tactical Bacon. And speaking of the Robertsons …
When you have magazines dating back to 1885, you end up flipping through pages and chuckling at times over what you find. Although American Rifleman is the world's oldest and largest firearms authority, it doesn't mean we can't have a little fun. And we're willing to share that fun with our readers. Here's a gem from our predecessor Arms & The Man.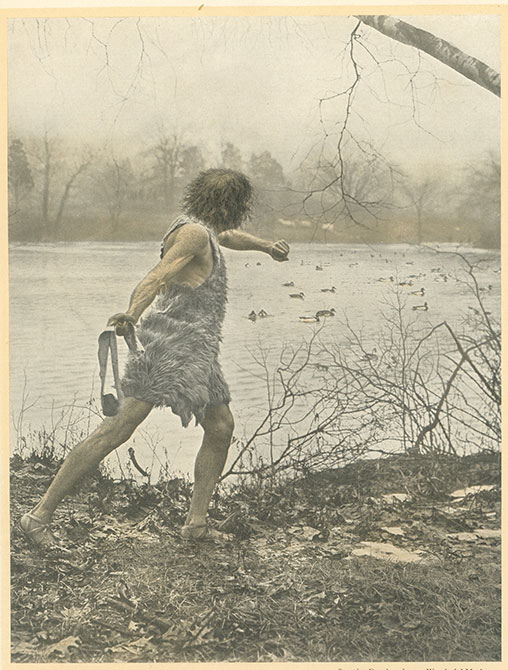 That's right before shotguns and duck calls, duck hunting was, uh, a rocky proposition. And it appears our pre-gunpowder friend here is not a pre-Robertson as he has an
appalling lack of facial hair. Curiously, he apparently is attired in a faux goatskin seat cover that eventually made it onto the driver's seat of an editor's 1977 Datsun.
Keep it clean. Bloomberg probably pays an intern minimum wage to read this blog. Entries will be subjectively judged by staff editors between takes of the TV show, testing guns and making authors seem literate. The winner and others we deem worthy will be printed here. All judgements final. No returns. Winner will receive a random item from a box under Mark Keefe's desk the manufacturer did not want back, yet was marginally valuable enough to not throw away.
This week, we have a special treat, snared from the very abyss of the HQ dumpster. What with it being summertime and all, a time to grill steak and sweet corn, we thought it the ideal time for the flawed NRA steak branding iron. We call it the limited-edition "Backward N" NRA brander. Frankly, we probably don't BBQ enough, because until this baby came into our possession, we didn't even know you could brand your steaks. Object is unused-not clean-but unused. Handle is of porous wood, really unfinished, and it comes complete with leather thong. A 10-inch steel shaft terminates in a head emblazoned with the letters "NRA"-although the "N" is, indeed, backward. We think we may have lost a marketing buyer over this one. Device not approved for use on corn.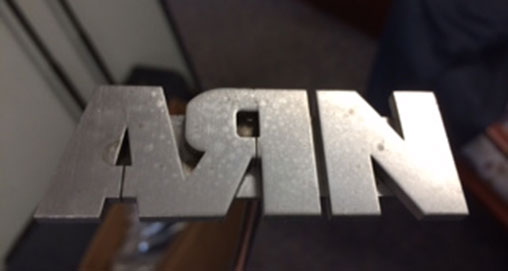 Official Snapshots Rules:
• Caption submissions must be made in the comments section of this blog, or on the corresponding Facebook post.
• One winner will be chosen, selected by Mark Keefe or a randomly selected guest judge.
• Keep it clean, folks.