Support NRA American Rifleman
DONATE
Congratulations to David A. for his winning entry submitted to AmericanRifleman.org for "Snap Shots: Week 8-Where the Buffalo Roam.. and Unclaimed Bacon."  David A. takes the prize for his quip, "Jeanne Claude, having failed to keep his powder dry, resorts to taking buffalo with his wicked slapshot."
It was the slapshot reference that really got us. Please, please contact us, David, so we can be rid of this can of Tactical Bacon. Otherwise it will go back in the prize box.
Speaking of bacon, Back when we were Shooting & Fishing, some wacky stuff appeared, including this image of a would-be Robin Hood trying to make bacon one sharpened stick at a time. Nice old school longbow and even better tights, dude. While they were probably
 trying to pull off Errol Flynn, it looks a little more Mel Brooks to me. And I have no idea what they paid male models before the turn of the 20th century, but if you ask me it wasn't enough.
Keep it clean. Bloomberg probably pays an intern minimum wage to read this blog. Entries will be subjectively judged by staff editors between takes of the TV show, testing guns and making authors seem literate. The winner we deem worthy will be printed here. All judgments final. No returns. Winner will receive a random item from a box under Mark Keefe's desk the manufacturer did not want back, yet was marginally valuable enough to throw away.
This week's prize is a pre-production LaserLyte LT-LR .22 laser trainer that will work in just about any .22 firearm. Don't let the great ammo shortage of 2014 cut into your training time. At least we think it still works. We really don't know. The unit is unmarked, used (we messed with it so much we wore the battery out during a series of agonizing conference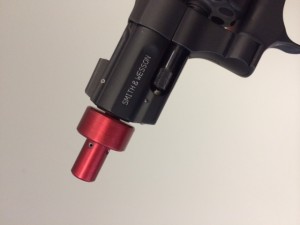 calls) and we are having difficulty getting the battery compartment open. There is a battery in there but it is very, very dead. As a door nail. We might have a spare. We'll look. Battery, not door nail. We don't have any door nails. But the unit will be shipped with a dead battery for sure.
Official Snapshots Rules:
• Caption submissions must be made in the comments section of this blog, or on the corresponding Facebook post.
• One winner will be chosen, selected by Mark Keefe or a randomly selected guest judge.
• Keep it clean, folks.