Support NRA American Rifleman
DONATE
Lady Liberty's Steel II—Fires of Perseverance, a one-of-a-kind 16 ¾" Damascus dagger by the world's first woman American Bladesmith Society Master Smith, Audra Draper, will be auctioned off at the 10th Annual Women's Leadership Forum Luncheon and Auction during the 2016 NRA Annual Meetings & Exhibits.

The knife marks the second time that such a work has been donated to the cause by the Knife Rights organization, with last year's bringing in $19,500. The NRA Women's Leadership Forum is the only philanthropic society of its kind and the fastest-growing community in the NRA. It reflects that fact that more women are picking up firearms than ever before and is working to ensure that, with so much at stake in our country, women everywhere stand up and take an active role in preserving our cherished freedoms.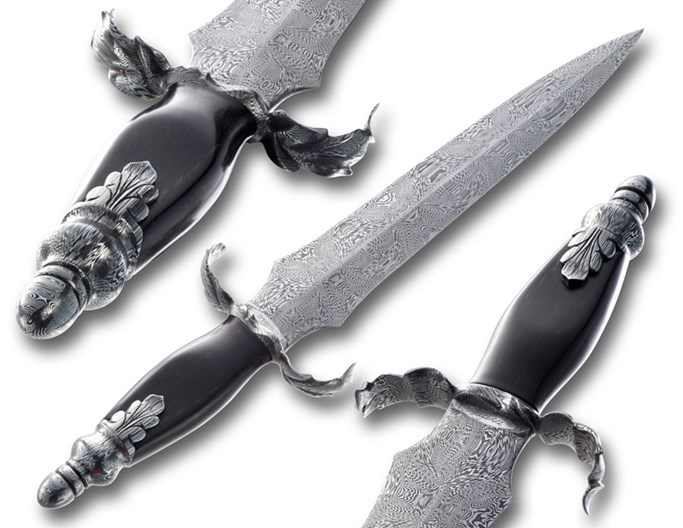 "Lady Liberty's Steel II—Fires of Perseverance was conceived and sponsored by Knife Rights expressly for the NRA's Women's Leadership Forum Auction," said Doug Ritter, Knife Rights chairman and founder. "Knife Rights and the NRA have a close relationship, both organizations fighting to defend our Second Amendment Rights. Knife Rights has for the past five years donated an extraordinary custom knife to support NRA-ILA, raising almost $100,000 for NRA. When my wife Sue got involved in the NRA Women's Leadership Forum, we expanded our contribution to support the WLF's efforts to engage more women in our fight for freedom. We are indebted to Master Smith Audra Draper for her time, talents and creativity, which turned our inspiration for Lady Liberty's Steel into an extraordinary dagger." 
Draper, recalling how her fight to bring the knife into being required the same kind of perseverance necessary to preserve our Second Amendment, said, "[The knife] was stubborn from the start. She caused me to cuss, scream, dance, bleed and burn." She said that the knife became twisted early on in the forging process. "I tossed her on the bench and began all over again. This second time I attacked the task with an attitude that I was going to 'persevere' to get her done." As it turns out, such an attitude is exactly what is required when forging a Damascus blade, which is a difficult endeavor that involves metallurgy, art and a bit of luck.
For Draper, it meant forging two billets of 31 layers each joined together with "2,400 degrees, pressure of over 30 tons and 22 years of experience, blood, sweat and tears." Draper said of the steel that emerged, "This gave me enough to forge a bigger blade and still have plenty to make the guard and pommel from the same piece of Damascus so it would all be of one, as I had envisioned it." In all, after the abortive first start it took a month of effort for Draper to forge and grind the 11 1/4" double-edged blade into its distinctive shape, that she said symbolizes courage and daring, and then carefully carve the Damascus guard and pommel and the rare African Blackwood handle. Draper's trademark leaves of the guard and pommel symbolize the celebration and promise of new life. The carved Damascus leaves surround and embrace the blade and handle as we all protect and embrace our freedoms. The span of the guard is 4", and the knife's overall length is 16¾".
The knife will be presented in a custom-built walnut display case by master craftsman Michael Zieba of Brooklyn, New York. It features glass on four sides and the top and a composite concrete and brass base.
Draper's passage t
o knifemaking began in 1992 when she hired on as a ranch hand working for Ed Fowler, a renowned Master Bladesmith. It wasn't until she had been working for Fowler for months, however, that she realized that he made knives. Her interest was piqued, but when she asked him to teach her how to make knives, he responded, "Girls can't make knives!" In hindsight, she notes, "Ed did have a degree in psychology, I think he was baiting me." In any case, she persisted, proving she had one of the critical qualities needed to becoming a bladesmith—tenacity. Later in 1992 Draper applied for, and was awarded a Wyoming Workforce sponsored grant for "Women in a Non-Traditional Role" that paid Draper to study knifemaking with Fowler, enabling her to focus more of her time at perfecting her craft. After serving her apprenticeship, in 1996 she attained the Journeyman Smith rating from the American Bladesmith Society. She then rented a shop in town and she began forging Damascus knives in earnest. A year later Draper and her husband bought land outside of Riverton and began building a shop, followed by a house. In 2000, she passed the demanding Master Smith test, breaking the all-male barrier that had existed since the ABS' founding. There are today only 111 Master Smiths in the ABS, and only four women, including Draper, among them. Today, she works as a registered nurse with the disabled at a state facility and continues to make knives in the evenings and on her days off. Along with her husband, she teaches bladesmithing classes a couple times a year. Most of the students are women, but men are allowed. Draper has 14 grandchildren, including the latest, Addyson, who arrived in March delivered by Grandma Audra!
Draper first became an NRA member at about the same time she achieved her Master Smith rating and enjoys the lifestyle that comes with living in rural Wyoming, where you can walk through town with a pistol on your hip and a knife in your pocket and the only question you will get is, "whatcha packin?"
Purchase tickets to the NRA Women's Leadership Forum Luncheon and Auction here.

For more on this knife and the Knife Rights organization, please visit KnifeRights.org/LadyLibertysSteel.