Support NRA American Rifleman
DONATE
A visually stunning custom knife borne of artistic collaboration and dubbed "Freedom's Steel V—The Liberty's Heritage Bowie" is set to raise not only eyebrows but significant funds for the National Rifle Association. The work was conceived of, and sponsored by, Knife Rights, a knife advocacy organization similar in purpose to NRA. Expressly made to benefit NRA's Institute For Legislative Action, the 22"-long mosaic-Damascus blade Bowie-style knife will be auctioned off at the NRA-ILA Annual Dinner & Auction during the NRA Annual Meetings & Exhibits in Louisville, Ky., May 20-22. The one-of-a-kind creation is principally the work of acclaimed American Bladesmith Society Mastersmith Kyle Royer of Clever, Mo., and is adorned by Jim Small Engraving of Madison, Ga. It will mark the fifth consecutive year that Knife Rights has donated a Freedom's Steel knife to NRA, with funds from the previous four years totaling nearly $100,000.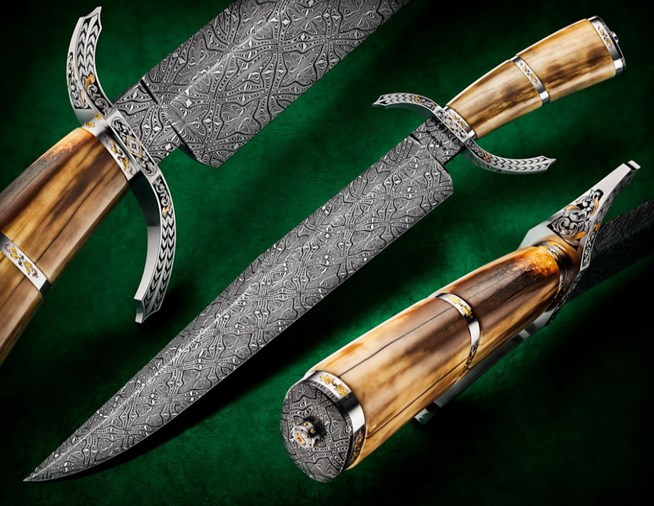 Knife Rights has been endorsed as "the second front in defense of the Second Amendment" by none other than NRA Executive Vice President Wayne LaPierre. It was formed in 2006 by its chairman, Doug Ritter, as a grassroots organization dedicated to preserving the rights of America's knife owners. It has helped give voice to knife owners across the country so that they can influence public policy, and, in the past six years alone, has had a hand in the passage of legislation that repealed knife bans in 15 states, stopped anti-knife legislation in seven others and defeated ivory and mammoth ivory bans in 18 more. Knife Rights also leads a federal civil rights lawsuit against New York City and the New York District Attorney over their persecution of knife owners.
"Knife Rights and the NRA have a common interest in protecting our civil rights and specifically the right to own and use tools appropriate for self-defense," Ritter said. "At a time when our Second Amendments rights are under unprecedented assault, we are proud to assist NRA in protecting these rights." He added, "We are sincerely grateful for the support provided to us by NRA-ILA as we fight the Second Front in Defense of the Second Amendment."
NRA-ILA Executive Director Chris W. Cox said of the organization, "Since 1871, the NRA has fought to defend the rights of law-abiding Americans. We are truly grateful for the support of our friends at Knife Rights and their continued contributions to our ongoing efforts to preserve our freedom."
NRA-ILA is the lobbying arm of the NRA. Established in 1975, ILA is committed to preserving the right of all law-abiding individuals to purchase, possess and use firearms for legitimate purposes as guaranteed by the Second Amendment to the U.S. Constitution. While NRA is a single-issue organization, ILA is involved in any issue that directly or indirectly affects firearms ownership and use. ILA is also involved in educating the public about the facts concerning the many facets of firearms ownership in America.
Ritter praised all those who gave to the latest Freedom's Steel project, noting, "We are indebted to these incredibly talented artisans and companies who contributed their valuable time, talents and materials to support Knife Rights by creating this extraordinary knife. Each craftsman's efforts and every component of Freedom's Steel V was donated to Knife Rights to support its efforts to defend and enhance our right to own and carry knives as tools used daily by millions of Americans and, at times, wielded as an "arm" in self-defense."
Royer's hand-forged, mosaic-Damascus pattern, which he refers to as Cross Point, is a geometric progression produced with alternating layers of 15N20 and 1084 high carbon steel. Measuring 22" from finial to tip, its 15 1/2"-long, 3/16"-thick blade is capable of cutting through a hanging 3"-thick hemp rope with a single blow. It will chop through a 2"x10" board and remain sharp enough to shave hair. And while it is more likely to be exhibited as an exquisitely beautiful example of American craftsmanship, it is still a perfectly functional tool handcrafted to do any job a Bowie knife might be asked to do.
At just 25, Royer's extraordinary talent has made his knives among the most desirable by discerning collectors around the world. At just 16, Royer built his own forging press to make his signature intricate Damascus patterns. He forges every blade to shape by hand on a 400-lb. anvil. "Every new knife I make is an opportunity to take a step forward, to stretch my limits, be it in design, materials, or the forging of the blade itself," said Royer. "If it isn't better in some respect than the last, then what's the point? Life's too short to not push to excel, whether it's forging a knife or being a better person. God has given me all the opportunities and teachers that I've had, and I thank him for giving me the ability to do something I love."



The knife's handle is carved from exhibition-grade 10,000-year-old fossil walrus ivory from Native Americans in Alaska. The stainless fittings and forged "S" guard are heavily engraved by Master Engraver Jim Small. Small has highlighted his exquisite engraving with inlays of Green Gold, Rose Gold and 24K Gold. Small was one of the first members of The Knifemakers Guild. He started making knives in 1968 and continues to do so, but on a limited basis. In the late 70's he taught himself to engrave and found that he could make a better living in a shorter amount of time by scratching designs in metal. He has since made knives and engraved work for four U.S. presidents, all of which are displayed in their libraries.
Freedom's Steel V will be presented in a custom-built walnut display case by knifemaker Michael Zieba of Brooklyn, N.Y. The case will feature glass on four sides and the top and a composite concrete and brass base.
Freedom's Steel V—Liberty's Heritage Bowie will be a featured item at the NRA-ILA Dinner & Auction set for Friday, May 20, 2016 at 6 p.m. in the Galt House Hotel Grand Ballroom. For event information, visit nraila.org/auction. To learn more about all of the activities planned for the 145th NRA Annual Meetings & Exhibits, visit nraam.org.
Photos courtesy of Caleb Royer