Support NRA American Rifleman
DONATE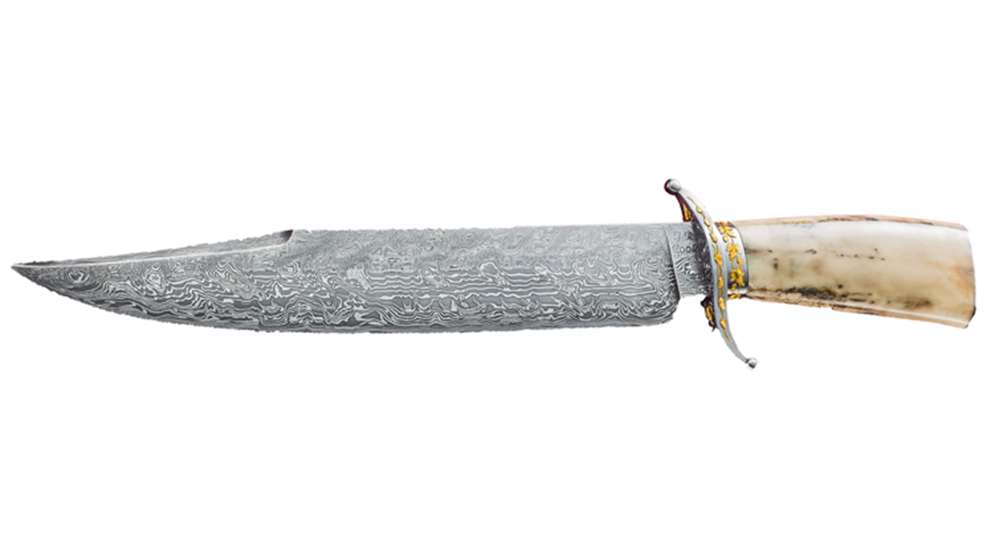 (photos courtesy Jim Cooper)

A gorgeous custom knife, the collaboration of some of the craft's most acclaimed bladesmiths and engravers, will be auctioned off during the NRA's 146th Annual Meetings & Exhibits in Atlanta, Ga., April 27-30, with all proceeds benefiting the Association's Institute For Legislative Action (ILA). The unique Bowie knife, dubbed "Freedom's Steel VI – Victory's Edge," was conceived of, and sponsored by, Knife Rights, a knife advocacy organization similar in purpose to NRA. As the name suggests, this is the sixth consecutive year that Knife Rights has donated a Freedom's Steel knife to NRA for the sake of fundraising, and these contributions have generated more than $120,000 for NRA-ILA during that time.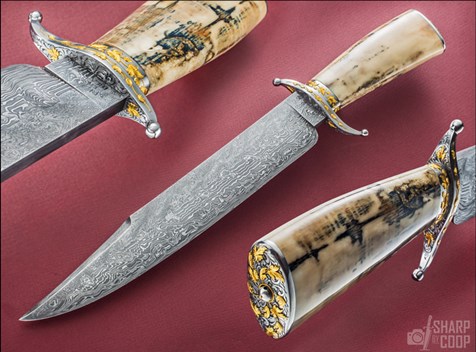 Called "the second front in defense of the Second Amendment" by NRA Executive Vice President Wayne LaPierre, Knife Rights was formed in 2006 by Doug Ritter as a grassroots organization dedicated to preserving the rights of America's knife owners. Since then, Knife Rights has played a substantial role in influencing public policy regarding knives, working successfully to repeal knife bans in 15 states, overturn ivory bans in 18 states and defeat anti-knife legislation in seven more.
"Last year's election represented the greatest threat to the Second Amendment in the history of this great nation. Credit is due to NRA-ILA for ensuring the results on November 8th will serve to preserve the Second Amendment for generations to come," said Ritter. "Knife Rights and the NRA have a common interest in protecting our civil rights and specifically the right to own and use tools appropriate for self-defense. Knife Rights is proud to assist NRA in protecting these rights."
NRA-ILA was established in 1975 as the lobbying arm of the NRA, and has been active ever since working to preserve the right of law-abiding Americans to purchase, possess and use firearms for legitimate purposes as guaranteed by the Bill of Rights. Chris W. Cox, executive director of NRA-ILA, expressed appreciation for the assistance that Knife Rights has provided NRA through the commissioning and donation of the Freedom's Steel line of custom blades.
"Since 1871, the NRA has fought to defend the rights of law-abiding Americans. We are truly grateful for the support of our friends at Knife Rights and their continued contributions to our ongoing efforts to preserve our freedom," he said.
An Arkansas Bowie, Victory's Edge stands 15¼" tall from finial to tip, with a 10¼"-long and 9/32"-thick Damascus steel blade. Forged from alternating layers of 1084 and 15N20 high-carbon steels, Master Blade Smith J.R. Cook's striking pattern transitions from 1,000 layers thick at the blade's spine to only 400 layers thick at its edge. Victory's Edge features an S-curved guard with ball ends, 416 stainless steel fittings and a custom tang of Cook's own design, and the fitted handle of exhibition-grade fossil walrus ivory swells at the butt for a comfortable grip.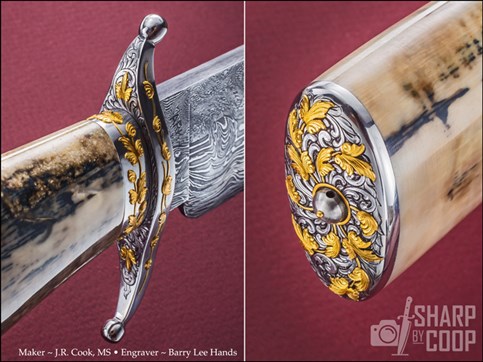 Victory's Edge also features engraving by Master Engraver Barry Lee Hands, in the form of 24k gold "Renaissance Leaf" overlays and inlays on the guard, spacer and pommel. In total there are 44 leaves on the knife, each painstakingly individually created. Also on the guard and pommel is high-polish, intricate scrollwork.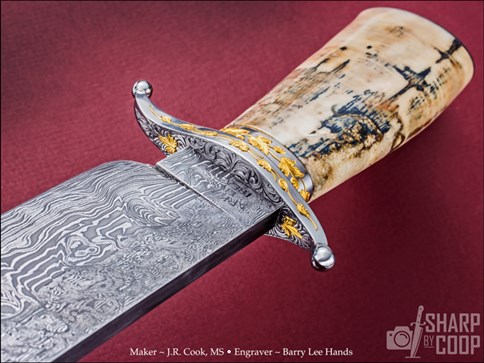 "We are indebted to these incredibly talented artisans who contribute their valuable time, talents and materials to support Knife Rights by creating this extraordinary knife," Ritter said.

Freedom's Steel VI – Victory's Edge will be a featured item at the NRA-ILA Annual Dinner & Auction to be held Friday, April 28, 2017, at the Omni Atlanta Hotel. For event information, visit nraila.org/auction. To learn more about all of the activities planned for the 146th NRA Annual Meetings & Exhibits, visit nraam.org.