For six consecutive years, Knife Rights, a knife advocacy organization similar in purpose to the NRA, has donated a gorgeous custom knife to the Association's Institute for Legislative Action (NRA-ILA) for the purpose of fundraising, and this year's donation garnered an incredible $120,000—equal to the amount generated by the five previous knives combined. The action took place last Friday at NRA-ILA's annual dinner and auction, as part of the NRA's 146th Annual Meetings & Exhibits in Atlanta, Ga. In total, the event netted about $1.2 million in contributions, money that will help the Institute carry on its mission of preserving the right of law-abiding Americans to purchase, possess and use firearms for legitimate purposes as guaranteed by the Bill of Rights.



That amount was reached following a frenzied bout of bidding that drew gasps and applause from the audience as the auctioneer hailed the ultimate high bid from a long-time NRA supporter. The blade, "Freedom's Steel VI — Victory's Edge," named in recognition of President Donald Trump's November election victory, is an Arkansas Bowie crafted by Master Blade Smith J. R. Cook and engraved by Master Engraver Barry Lee Hands. It features a 10¼" Damascus steel blade forged of alternating layers of 1084 and 15N20 steels, and is embellished with a fossil walrus ivory handle, 24k gold leaves and intricate scrollwork.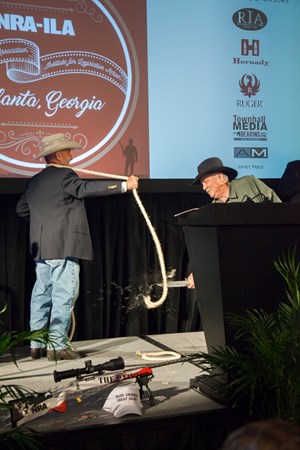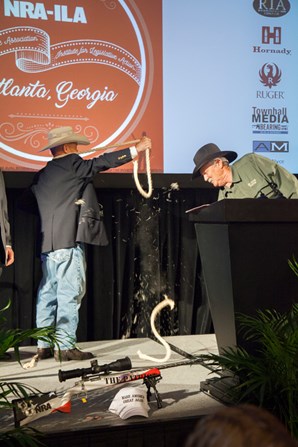 Doug Ritter, founder and chairman of Knife Rights, revealed he was thrilled to have the opportunity to reaffirm the NRA-ILA's commitment to preserving the Second Amendment. He called the knife's $120,000 haul, "Not too bad for a slightly used knife"—referencing the rope-cutting demonstration just prior to the start of the auction. According to Mark Zalesky, editor of Knife Magazine, the occasion marks the all-time record price for a hand-made knife at a private auction. For more information regarding NRA-ILA, visit nraila.org.