Support NRA American Rifleman
DONATE
It seems like, every year, there are a few useful and budget-friendly guns that are overlooked by the shooting media at large. Sometimes these under-the-radar models are variations of established models or brand new products that just didn't quite grab the spotlight. In this case, I rounded up three handy trunk guns that deserve a closer look than they've received so far.
Henry Mare's Leg .22 Mag

The very first Henry Repeating Arms model I reviewed back in 2012 was the H001ML Mare's Leg. It's the .22 Long Rifle option in Henry's series of lever-action pistols based on the company's popular rimfire rifles. Compared to the center-fire, revolver-caliber models built around Big Boy rifle receivers, this handy little .22 is exceptionally light in the weight and recoil departments.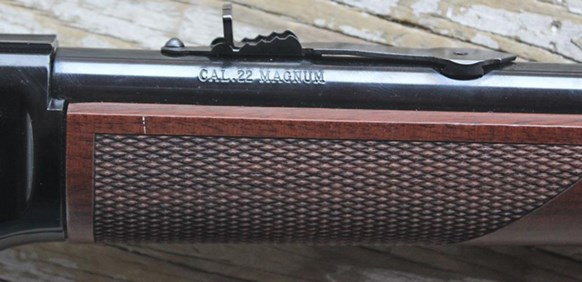 As much as I enjoyed shooting the .22 LR, I couldn't help thinking how much more useful and flexible the pistol would be if it were chambered in .22 WMR, or as it's more commonly known, .22 Mag. Some folks make the mistake of thinking .22 Mag. is essentially .22 LR +P, which is not the case.            
Typical 40-gr. bullet .22 LR loads will launch at somewhere around 1000 to 1260 fps. from rifle-length barrels for between 89  to 141 ft.-lbs. of energy at the muzzle. When .22 Mag. cartridges are topped with 40-gr. bullets, they tend to scoot right along at around 1500  to 1800 fps with muzzle energies in the neighborhood of 200  to 288 ft.-lbs. when fired from rifles. In addition to higher performance levels, .22 Mag. is available with a much more diverse bullet selection than .22 LR, including full metal jacket, soft point, jacketed hollow points and ballistic tip options. It's also a convenient cartridge to carry in the field because two 50-round boxes weigh about 1 lb. with a footprint similar to two decks of playing cards.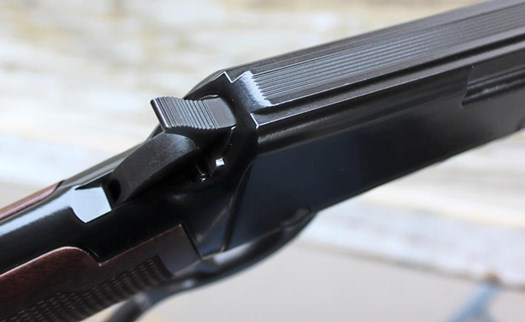 But what about barrel length? Rimfire performance can drop dramatically when fired from pistols or revolvers because of their significantly shorter barrels. However, the Henry Mare's Leg provides a closed chamber (no pressure loss due to action movements or cylinder gap) paired with a 12.5" barrel. This means the pistol has the potential, with the right ammunition, to yield performance levels close to or on par with typical rifles and carbines since some rimfire loads can reach their ballistic potential in as little as 10" of barrel length.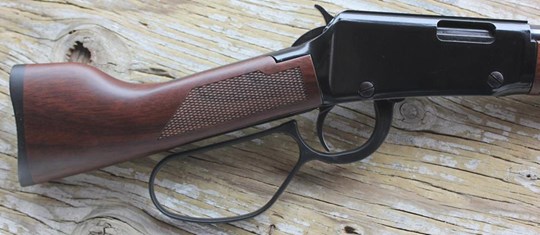 Other Henry customers must have had the same thought I did because in 2015 a .22 Mag. Mare's leg arrived. I looked for the big brass band to announce its arrival but the players must have had another gig that day. So, even though it's taken a while for me to get to it, I'm tooting a horn for this pistol today because it performed just like I hoped it would at the range.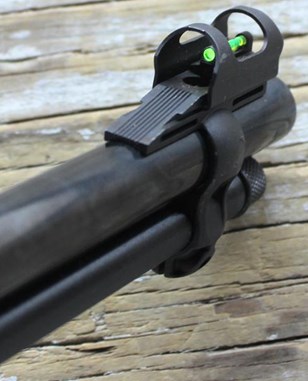 This Mare's leg has a blacked aluminum frame with saddle ring, a blued round-profile barrel and checkered American walnut furniture. The lever loop is over sized for gloved hands and cycles oh-so smoothly. The exposed hammer can be placed in a half-cocked position to prevent the pistol from firing until the hammer is fully cocked. The 8-round tubular magazine is fitted with a liner that's fully removed from the magazine for loading. This pistol ships with a hooded front sight blade and a fully adjustable rear sight. I had the front sight replaced with the Hi Viz fiber optic sight Henry offers as an upgrade.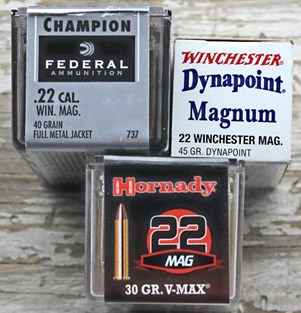 As I suspected would be the case, the lighter-bulleted high-velocity rounds, intended for varmint hunting, lost some velocity when fired from this pistol's 12.5" barrel. The faster burning powders need more barrel length in order to have enough time to develop properly. Hornady's top-notch 30-gr. V-MAX Varmint Express flex tip averaged 1.37" (for five 5-shot groups fired from a rest at 25 yards) while flying along at an average of 2074 fps. for 10 shots fired next to a Lab Radar chronograph. This is 126 fps. slower than the manufacturer's listed rifle velocity. However, the heavier 40- to 45-gr. bulleted loads were spot on in the velocity department. Winchester Dynapoint 45-gr. copper-plated lead hollow points had an average group sized of 1.52" with a velocity of 1536 fps, which was only 14 fps shy of list velocity. The fastest and most accurate load of the day was Federal Ammunition's Champion 40-gr. full metal jacket. It yielded an average group size of 1.26" at a velocity of 1826 fps., or 16 fps. faster than the listed velocity.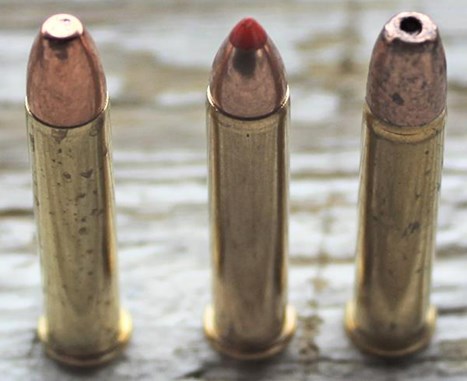 While bench-rested accuracy testing provides useful information, it doesn't necessarily reflect how guns will handle in the field. Off the bench in a standing position, while using the iron sights and cheeking the nubbin of stock left at the end of the grip, I kept 6" steel plates swinging back and forth at 50 yards. This level of accuracy successfully splits the difference between a much larger carbine and a typical semi-auto pistol or revolver.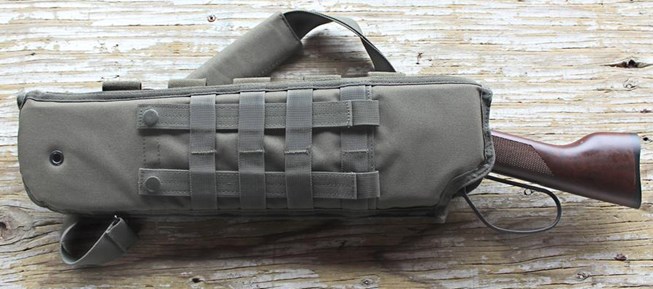 If you're primary goal for towing a Henry rimfire Mare's leg in your trunk is to knock over soup cans and punch paper targets, then go with the less expensive to shoot .22 LR version. If you are looking for increased rimfire performance for hunting, survival and (in a pinch) personal-protection applications, the .22 Mag. Mare's Leg is the way to go. MSRP: $450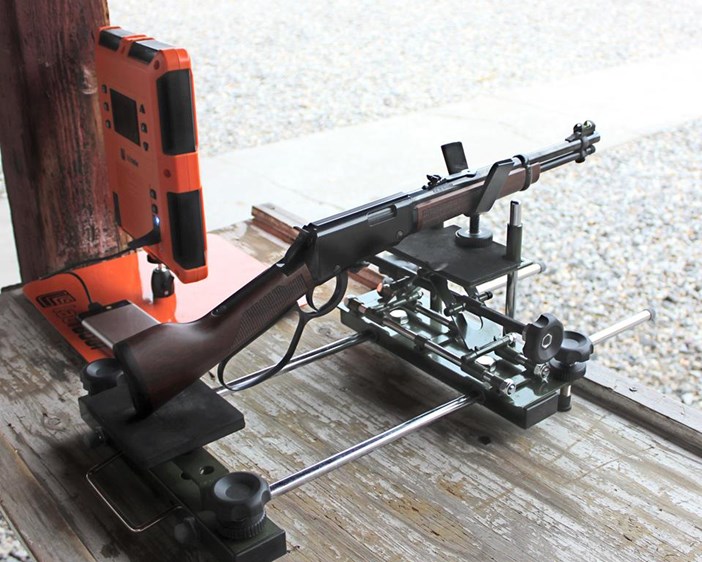 Iver Johnson Arms IJ700 Folding Single Shot .410 Bore

Iver Johnson Arms imports a variety of budget-friendly firearms including Series 70 type 1911 pistols and shotguns in pump-action, semi-automatic, over-under and single-shot configurations. Last year I had an opportunity to work with one of the company's IJ700 shotguns, a single-shot .410 which folds neatly in half for convenient transport and storage.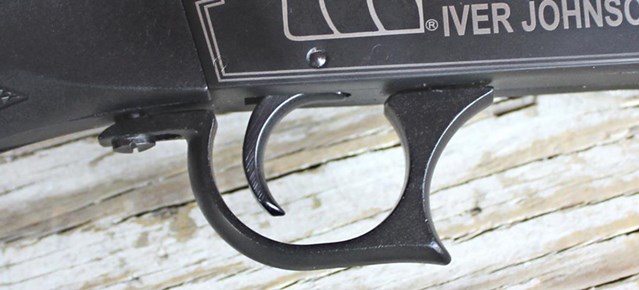 I liked the model I worked with, which had a black barrel, silver receiver and hardwood furniture, but it wasn't quite trunk-gun material in that particular configuration. What it needed for the work I had in mind was a ding-and-scratch-resistant lightweight polymer shoulder stock.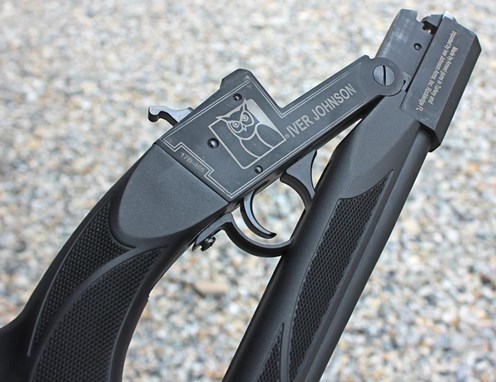 This year Iver Johnson fulfilled my hopes with the new model IJ700S-18. The S stands for synthetic stocks and the 18 indicates an 18" fixed full-choke. The receiver and round profile barrel are both treated with a matte black chrome finish that complements the matte black of the stocks. The sliding trigger guard serves as the hinged action's release lever when pressed back towards the shoulder stock. As the action swings open, the shell extractor cams out away from the chamber about a quarter of an inch so that spent shell casings can be manually removed from the chamber. The hinge pin has an adjustable screw on the right side that can be used to tighten or loosen the swing of the barrel to suit the owner's preferences.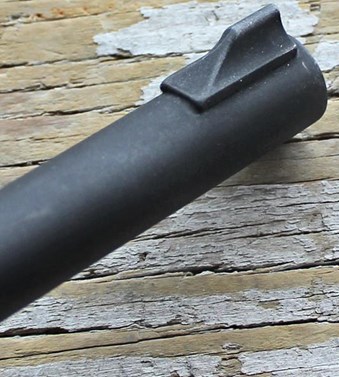 Instead of the more common muzzle-mounted brass bead, this shotgun's sight system consists of a fixed rifle type front blade sight paired with a shallow U-notch milled into the aluminum receiver. The front sight is tall enough that the rear notch can be ignored when swinging the gun up to shoot with bird shot or used to form a more precise sight picture when shooting slugs.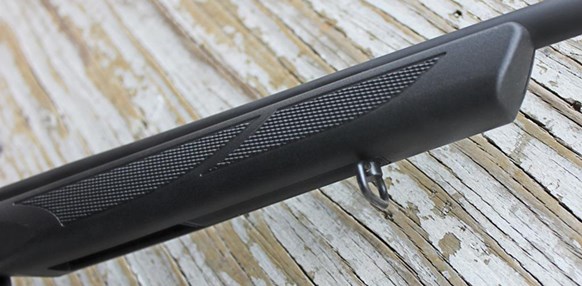 Iver Johnson could have settled for plain, smooth and rather boring utilitarian stocks. Instead, the company chose to give the molded polymer components clean, classical likes with an effective raised diamond pattern checkering along the sides of the forend and pistol grip. A pair of sling swivels have been installed at the factory.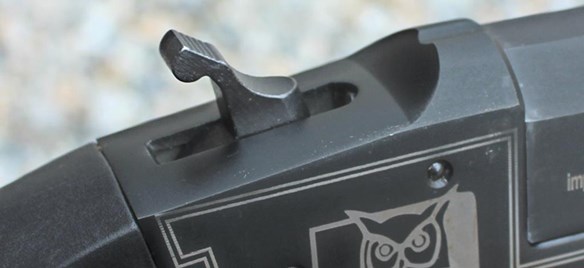 The IJ700 series of shotguns employ a true single-action trigger with an exposed hammer that must be cocked for each shot. The rebounding hammer is fitted with an internal firing pin block safety and rests in a half-cocked position. This hammer setting also disengages the trigger until the hammer is thumbed back into the fully cocked position. There are no other external safety levers or buttons to manipulate. Firing the shotgun conveniently resets the safeties. The hammer and trigger are both smooth to operate but the trigger pull is a bit on the heavy side at 6 lbs. 8 oz. However, considering that this shotgun is likely to be operated by younger or less experienced shooters, a little extra weight on the trigger acts as another safety feature.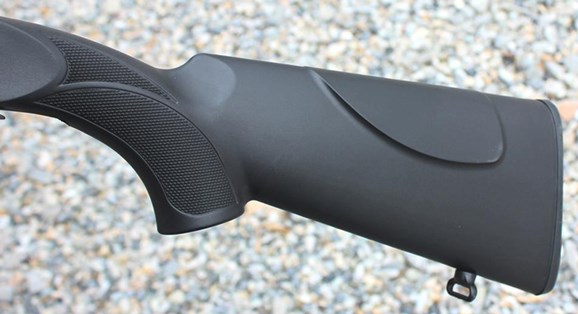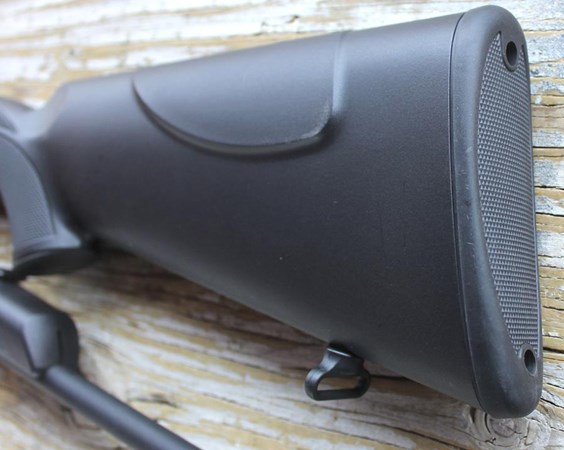 I know that some long-gun purists don't care for the feel of hollow polymer stocks since they want more weight at the shoulder. My suggestion is to put that empty space to work as a container for an emergency survival kit. The textured rubber recoil pad is secured by two Philip's head screws that can be removed to reveal an open space inside the stock that provides just enough room for a simple set of supplies. Iver Johnson offers a dual-zipper soft case for the 18" IJ700 models which expands its survival gun potential even more by providing additional storage space.
Today's .410 bore shotguns can be stoked with shells containing an impressive variety of payloads thanks in part to the popularity of .45 Colt/.410 bore handguns. Shooters can enjoy the flexibility of firing rifled slugs, birdshot, buckshot and mixed payload rounds that blend different types of projectiles. The IJ700 can safely chamber 2½" or 3" .410 shot shells.

Winchester's Super Speed Xtra 2½" long ½ oz. #6 lead birdshot loaded to 1275 fps. printed an  8" pattern (excluding one stray pellet that would push the size out to 10.5") at 7 yards. Federal Premium's  410 Handgun 3" long shell filled with five pellets of copper-plated 000 buckshot loaded to 775 fps yielded a tight 0.85" group at the same distance. The Winchester PDX1 Defender 3" long shell (which I lovingly refer to as the Black Mamba) is packed with four copper plated defense discs and 16 pieces of copper-platted BB size shot pellet for a total payload weight of 410 gr. (~15/16 oz.) traveling at 750 fps. The four discs formed a 1" group with the 16 BB pellets spreading out to 4.5" when fired from this fully choked 18" barrel.  
The Iver Johnson Arms IJ700S-18 .410 bore single shot is a really likable little shotgun that exemplifies the trunk gun concept. It's simple, rugged, reliable and fun to shoot at a price that's hard to beat. Best of all, just a press of the trigger guard is all that's required to fold it in half without any tools or small parts to drop and lose in the dirt.  The IJ700 series also includes .410 models with 24" barrels, hardwood stocks and 20-ga. options. MSRP: $165
Stevens 301 Single-Shot Compact 20 Gauge

Back in the 1920s, Savage Arms (best known today for offering less expensive bolt-action and rimfire rifle lines) purchased Stevens shotguns. Savage continued to manufacture shotguns under the Stevens moniker until they were discontinued in 1991. Since 1999 Savage has been slowly restoring the Steven's brand to its former glory with a variety of Model 320 pump-actions, the Model 555 over-under and the top-of-the-line Fox A Grade side-by-side. For those shooters looking for a simpler, less expensive shotgun platform, Savage recently reintroduced the classic Stevens 301 with sporting style polymer stocks.

Manufactured by Sun City Machinery Co. in China, the Stevens 301 is currently available in five configurations: three 26" barrel adult-size models chambered in 12 ga., 20 ga. and .410 bore and two 22" barrel Compact models chambered in 20 ga. and .410 bore. When considering one for trunk gun use, I opted to work with the 20-ga. Compact version. The shorter barrel is easier to stow and the 20-ga. shell (especially the 3" Magnums) offer a significant boost in performance compared to a .410 bore with less felt recoil than the 12-ga. It's a well balanced option that fits a wide variety of body sizes and skill levels.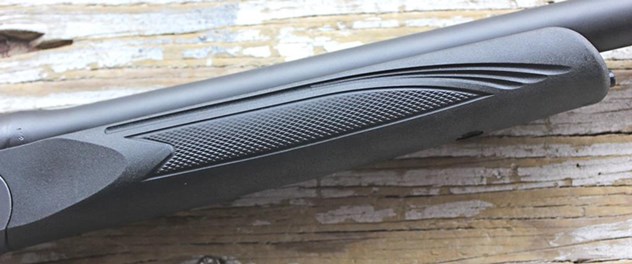 I was pleasantly surprised to see that Savage includes some useful upgrades for the 301s that are usually reserved for more expensive models. Instead of securing the forend to the barrel with a screw, it has a quick-release button located under the barrel. Depressing and holding this button allows the forend to be lifted off the barrel and away from the receiver without the need for any tools. Then the action can be opened and the barrel lifted out of the receiver. Snap the forend back on to the barrel and the two halves of the 301 are ready to store or transport.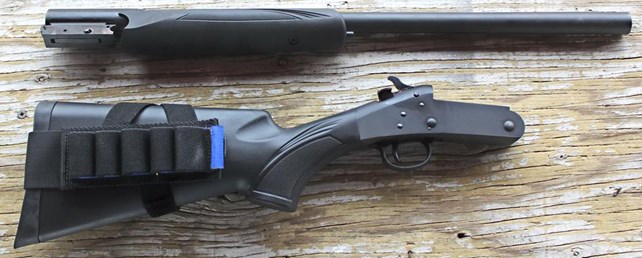 At the muzzle end of the barrel you'll find a simple, traditional brass bead sight and a removable Modified choke with a WinChoke thread pattern. A choke wrench is provided with the shotgun. At the chamber end of the barrel is an honest to goodness ejector instead of an extractor. Extractors lift spent shells out of the chamber just far enough to be grasped and pulled out manually. The 301's spring loaded ejector throws spent shell casing out and over the shoulder of the shooter, just like a more expensive Over/Under or side-by-side. It speeds up the reloading process considerably.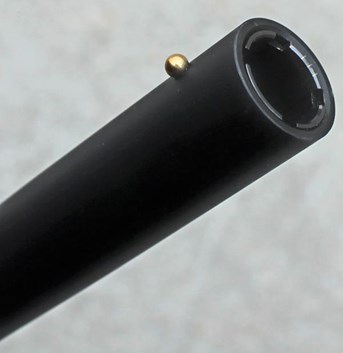 Like most of the single-shots I've worked with, the 301 has a single-action trigger with an exposed hammer that must be manually cocked for each shot. The trigger and hammer felt clean and smooth with the trigger breaking at 4 lbs. 11 oz. of trigger pull. The break-action barrel release lever is conveniently located to the right side of the hammer which is another feature that aids in faster reloading speeds. The hammer sports a transfer bar safety which makes this shotgun safe to carry with a round in the chamber.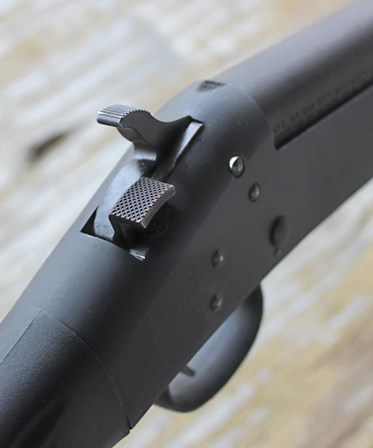 In addition to the transfer-bar safety, an external safety lever is mounted to the left side of the matte black steel receiver. When this safety is pointed down in the 6 o'clock position, with the red dot exposed, the shotgun is ready to fire. This lever can only be moved to the Safe position when the hammer is fully cocked. This combination of safeties gives the shooter the option of carrying the gun with the hammer forward on a loaded chamber so that it must be cocked to fire, or cocked-and-locked with the hammer fully cocked and the safety lever engaged. Both options are quick to operate so it's a matter of personal preference when in the field.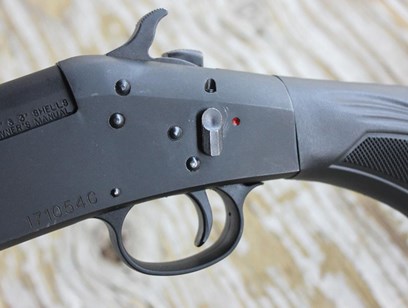 Although many 20-ga. loads generate a good deal less recoil than 12-ga. shells, it is by no means a powder-puff load. Thankfully the 301 arrives with a 0.75" thick, soft synthetic recoil pad. The pad can be removed from the stock by loosening two screws with a Philips screwdriver. The interior space of the hollow stock is partitioned into three sections for added support. The  center section is about 5.5" x 2" x 1.5" in size which offers some space for emergency supplies if you're willing to be a little creative when packing them. Attaching a shell carrier, like the Mossberg Stock-Mounted Shell Carrier (MSBRG007-BLK) shown here, provides an easy way to keep five spare shells at hand.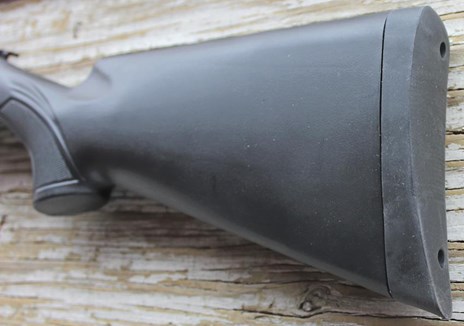 I usually run long guns with at least three different loads. But on the day I took the 301 20-ga. to the range I only had two loads on hand that I knew for certain were safe to fire through the removable Modified choke. Federal Ammunition's Game Load 2¾ " shell with 7/8 oz. of #7½  lead birdshot traveling at 1210-fps. printed a 5.5" pattern at 7-yards. The Federal Premium Personal Defense 2¾ " shell launches 24 pellets of copper-plated lead #4 buckshot at 1100 fps. This round yielded a 7.5" pattern with a moderate level of felt recoil.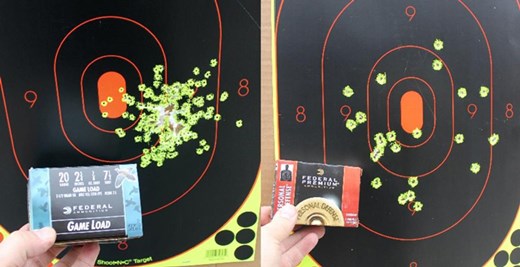 The new Stevens 301 Compact 20 ga. may have the looks of a plain-Jane single shot but it handles and shoots like a much more expensive model. The removable choke, checkered stocks, quick release forend, thick recoil pad and intuitive barrel release working in conjunction with the smooth action and trigger elevates the shooting experience this simple shotgun provides. MSRP: $173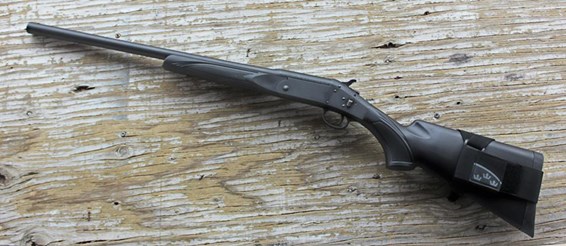 Specifications:
Manufacturer: Henry Repeating Arms
Model: H001MML
Action: Lever-action pistol with single-action trigger, exposed hammer
Caliber: .22 WMR
Receiver: Blacked auminum with 3/8" grooved optics base
Barrel: 12.5" Round profile, blued steel
Magazine: 8-round with removable liner
Stocks: Checkered American Walnut, black plastic buttplate
Sights: Fully adjustable rear sight, hooded front sight
Lever: Large loop
Trigger Pull: 3 lbs. 3 oz. (as tested)
Overall Length: 24.5"
Weight:  4 lbs. 7 oz.
Twist: 1:16" RH
Rifle Grooves: 6
Accessories: Owner's manual
MSRP: $450
Henry Hi Viz Front Sight Set: $39.95
Scabbard: Voodoo Tactical Breacher's Shotgun Scabbard (20-8916) $29.95
 
Importer: Iver Johnson Arms
Manufacturer: Armed Guns, Turkey
Model: IJ700S-18
Action: Break Action with single-action trigger, exposed hammer
Caliber: .410 bore
Chamber: 3"
Receiver: Matte black chromed steel
Barrel: 18" matte bBlack chromed steel with shell extractor
Bore: Smooth
Choke: Fixed Full Choke
Front Sight: Fixed blade
Rear Sight: Receiver notch
Fore-end: Checkered black polymer
Stock: Checkered black polymer with rubber recoil pPad
Sling Swivels: Yes
Trigger Pull: 6 lbs. 8 oz. (as tested)
Overall Length: 33.75"
Folded Length: 20.5"
Length of Pull (LOP): 14.25"
Weight:  4 lbs. 6 oz.
Capacity: 1 Round
Accessories: Owner's manual
MSRP: $165
IJ700 Soft Carrying Case: $27
Importer: Savage Arms
Manufacturer: Sun City Machinery Co., China
Model: Stevens 301 Single Shot Compact (22559)
Action: Break action with single-action trigger, exposed hammer
Caliber: 20-ga.
Chamber: 3"
Receiver: Matte black carbon steel
Barrel: 22"Matte black carbon steel with shell ejector
Bore: Smooth
Choke: Threaded for removable WinChoke tubes
Sight: Brass Bead
Fore-end: Quick Release, checkered back polymer
Stock: Checkered black polymer with rubber recoil pad
Trigger Pull: 4 lbs. 11 oz. (as tested)
Overall Length: 36"
Length of Pull (LOP): 13"
Weight:  5 lbs. 6 oz.
Capacity: 1 Round
Accessories: One removable modified choke, owner's manual
MSRP: $173