by
posted on September 15, 2016
Support NRA American Rifleman
DONATE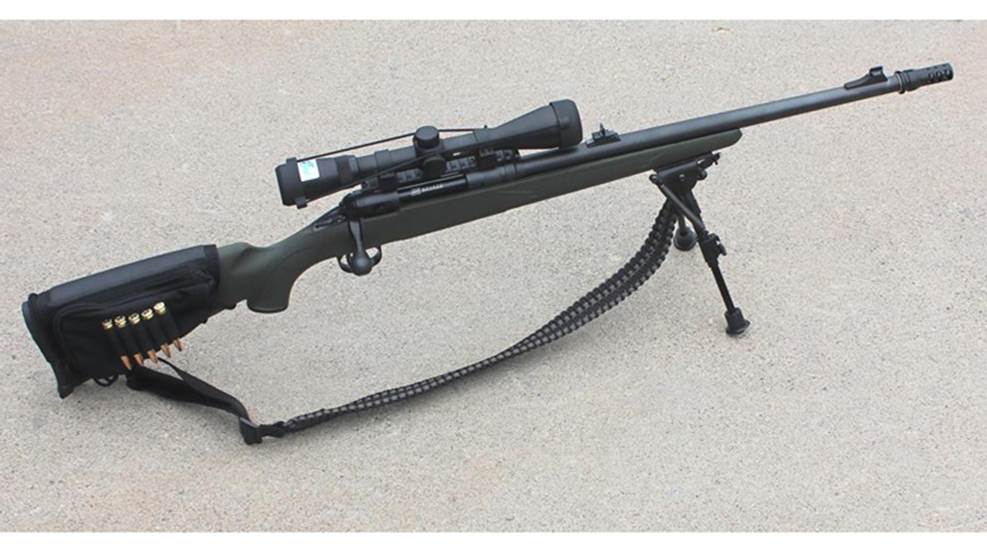 Not too long ago I read the book "Showdown: The Looming Crisis Over Gun Control" (2014), written by firearms attorney and Second Amendment expert Lenden A. Eakin. In this volume, he covers a broad range of important topics such as anti-gun and pro-gun mindset, the evolution of modern gun control policies and the important role citizen soldiers have played throughout the history of the United States.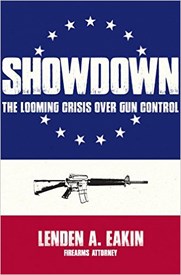 Over the years, Eakin has been approached by new gun owners, and those who have yet to own a gun, with the age-old question: What gun should I buy? He acknowledges that the "best" personal-protection gun for any given individual depends on a variety of factors, among the most important being if it will be employed for self-defense inside or outside of the home.

To narrow the multitude of gun purchase possibilities down to a reasonable few, Eakin discusses a particular platform in the last chapter of the book that new or less-experienced gun owners can use in an emergency situation outside the home. He says, "A responsible citizen who wants to prepare for defending his or her community should purchase and become proficient with a bolt-action rifle."
I was intrigued by this proposal. With the plethora of semi-automatic wonder guns on the market today, why would a firearm attorney, especially one who also holds a Class 3 dealer's license, suggest the humble bolt-action? He goes on to make several valid points in support of his answer, including:
The bolt-action platform is simple to operate for new and less experienced gun owners.
It's an excellent starting point for learning the fundamentals of shooting.
Bolt-actions have a proven history of accuracy and reliability in harsh conditions.
Bolt-actions are legal to own in all 50 states.

The author continues with his laundry list of features to look for in an emergency rifle. Those features, in summary, include:
Select a dependable American-manufactured gun, such as Browning, Mossberg, Remington, Ruger, Savage, Winchester, etc.
The stock and action should have a non-reflective matte finish.
Ideal caliber options include the .308 Win. (7.62 NATO), for extended range and penetration, and the .223 Rem. (5.56 NATO) for reduced recoil. Both calibers are common civilian rounds and military standards which makes finding ammunition easier and more affordable.
Look for rifles with irons sights as well as the means to attach a scope.
The stock should have sling swivel studs for a shoulder sling and/or bipod.     
A shock absorbing recoil pad is a plus.

As I finished reading this list of features, the rifle that sprang to mind was the Savage Arms Model 11/111 Hog Hunter. It matches the author's description point for point with a few extras thrown in at a reasonable price. I've wanted to work with this particular model for some time now and, after reading the book, I was eager to see how it worked out as both a hunting and an emergency rifle.

Despite its rather specific name, the Savage Hog Hunter is a lightweight, right-handed bolt-action brush gun that can fill a variety of hunting and outdoor roles when chambered in .308 Win. The 20" long medium contour barrel is constructed of matte black carbon steel and has a threaded muzzle that's fitted with a knurled thread protector at the factory. This model ships with a set of iron sights, which is not the case with most modern hunting rifles. A drift adjustable brass bead rides up front with a fully adjustable V-notch sight at the rear. Both sights are tall enough to be seen over the top of a scope base when the optic and rings are removed.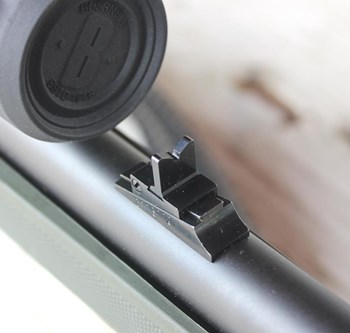 The receiver is drilled and tapped to accept a Weaver style sight base. On the right side, just behind the ejection port, is a lever-like cocking indicator. It moves up to let the shooter know the bolt is cocked and ready to fire and then drops down when the trigger is pulled to indicate that the bolt needs to be cycled for the next shot. The thumb operated 3-position safety is located directly behind the bolt assembly. The sliding button has the expected safety-on and safety-off positions. The middle position allows the bolt to be cycled while blocking the trigger for safer unloading.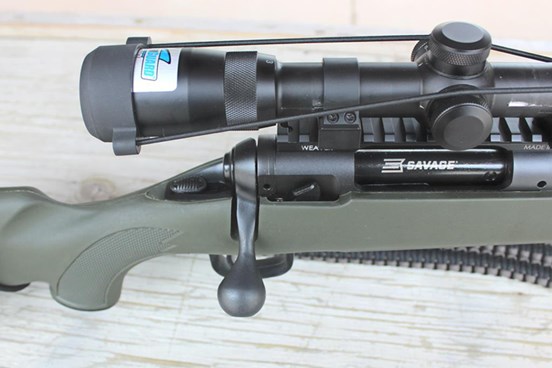 The Hog Hunter sports one of the company's best features, the adjustable AccuTrigger ignition system. Housed in a black polymer trigger guard, the trigger can be adjusted from a stiff 6 lb. trigger pull down to just 2.5 lbs. without the danger of the gun going off if it gets bumped or dropped. This rifle arrived from the factory set spot on at 4 lbs. and I saw no reason to adjust it.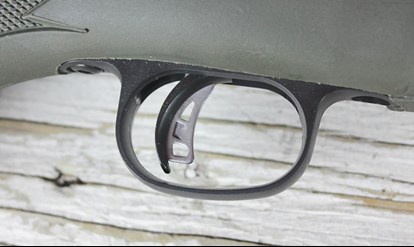 The matte finish olive drab synthetic stock features traditional diamond pattern checkering molded into the grip and fore-end. It supports a fixed, internal four-round magazine. This stock free-floats the barrel for improved accuracy and is fitted with a thick, soft recoil pad and sling swivel studs.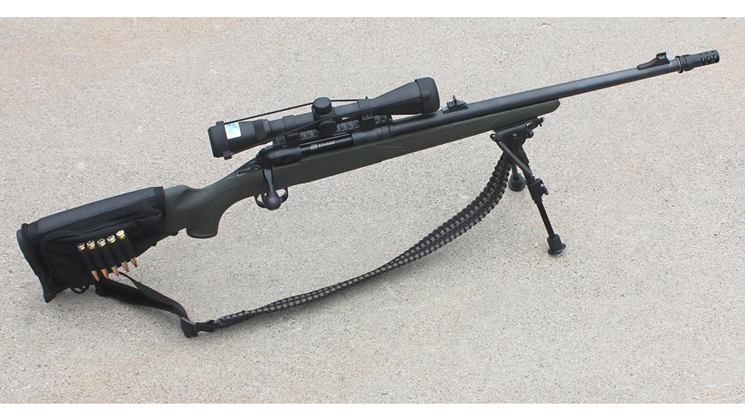 Accessorizing the Hog Hunter as a dual purpose outdoor and emergency rifle was a straightforward process because hunting rifle add-ons are easy to find and usually affordable to buy. I opted for a well-traveled Bushnell Legend Ultra HD 3-9x40mm scope with a Multi-X reticule. It was mounted to the rifle using a Weaver Tactical 99495 Extended Multi-Slot Savage ACCU SA scope base and Leupold QRW 1" Low-Mount quick release rings. A Caldwell XLA bipod was attached to the front sling swivel stud with a BLACKHAWK! Ammo Cheek Pad laced to the shoulder stock. An adjustable braided paracord Sandstorm Custom rifle sling was snapped into place and the rifle was almost ready to go.
I had to flip a coin when deciding what to do with the threaded muzzle. From an emergency/combat readiness standpoint, a flash hider would be the best way to go. But for hunting and training new shooters, a muzzle break would reduce the stiff kick of the .308 Win. ammunition to a much more manageable level. In the end, recoil reduction won out and the rifle was fitted with a Dead Air Armament 7.62 Keymount 3-chamber muzzle break.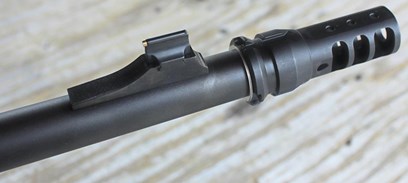 At the shooting range, the Hog Hunter was put through its paces on and off the shooting bench, with and without an optic. The rifle swings nicely thanks to the 20" barrel and light weight synthetic stock. The iron sights are quick to acquire and work well for up close and longer range shots out to 100-yards. The bolt cycled smoothly and the controls all worked properly. The AccuTrigger can easily go toe-to-toe with more expensive aftermarket trigger upgrades. The combination of the Dead Air muzzle break and the thick recoil pad brought the recoil down to a comfortable level that shooters of all ages and experience levels can manage.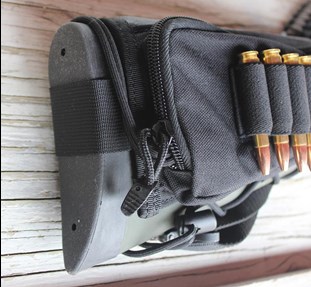 As one would expect of a well-made bolt-action, this rifle ran reliably without any malfunctions. Formal five-shot group accuracy was conducted with the Bushnell optic installed and the rifle placed in a Hyscore Track and Elevate Varmint Rest (#30276). Federal's new value priced American Eagle Varmint & Predator 130-gr. jacketed hollow points produced a best single group of 1.76" with a five group average of 2.02". Gorilla Ammunition's 175-gr. Sierra Match King open tip loads yielded a best group of 1.78" with an average of 1.93". Speer LE Duty 150-gr. Gold Dot soft points turned in a best group of 1.73" with an average of 1.81".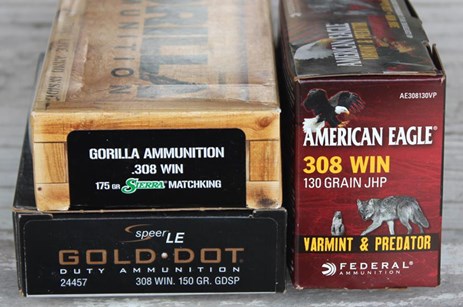 So, how did the Savage Model 11/111 Hog Hunter measure up as a brush gun? The short answer to the question is that I'm mailing a check to Savage Arms so that I can keep it. But what about using it in the role of an emergency defense platform outside the home? It certainly meets Eakin's requirements. It's light weight, reliable and demonstrates sufficient accuracy. However, the four-round fixed magazine doesn't provide much in the way of ammunition capacity or reloading speed. If that's what you've got, then learn how to work it. If you legally and financially can use a rifle with a removable box magazine, that would be the better option.
What do you think of the idea of using a bolt-action rifle as a beginner's emergency preparedness gun? Please share your thoughts in the comments section below.
Specifications
Book: "Showdown: The Looming Crisis Over Gun Control", written by by Lenden A. Eakin
Rifle Manufacturer: Savage Arms
Model: 11/111 Hog Hunter
Action: Bolt-Action Rifle, Right Handed
Caliber: .308 Win.
Finish: Matte Black Carbon Steel
Stock: Natural Green Synthetic with Recoil Pad
Front Sight: Brass Bead
Rear Sight: Adjustable V-Notch
Trigger: Savage Adjustable AccuTrigger, 1.5 to 6-lbs.
Trigger Pull: 4 lbs. (as tested)
Safeties: Tang Mounted 3-Postion Safety, Right Side Cocking Indicator
Barrel: Medium Contour
Muzzle: 5/8x24 TPI Threading with Knurled Thread Protector
Optics: Drilled and Tapped for Optics Mount
Sling Swivel Studs: Front & Rear
Barrel Length: 20"
Overall Length: 40.5"
Weight: 7.25 lbs
Magazine: Internal Box
Capacity: 4 Rounds
Twist: 1:10" RH
Rifle Grooves: 6
Accessories: Trigger Adjustment Tool, Lock, Owner's Manual
Suggested Retail: $595

Optic: Bushnell Legend Ultra HD 3-9x40mm Multi-X Reticle $349.95
Optics Rail: Weaver Tactical 99495 Extended Multi-Slot Savage ACCU SA (Short Action) $45.45
Scope Rings: Leupold QRW 1" Low-Mount Quick Release Rings (49853) $101
Muzzle Device: Dead Air Armament 7.62 Keymount Muzzle Brake $89
Bipod: Caldwell XLA Bipod, 6-9" Fixed $52.99
Sling: Sandstorm Custom Rifle Slings Adjustable Model, Starting at $40
Cheek Pad: BLACKHAWK! Ammo Cheek Pad $35.95