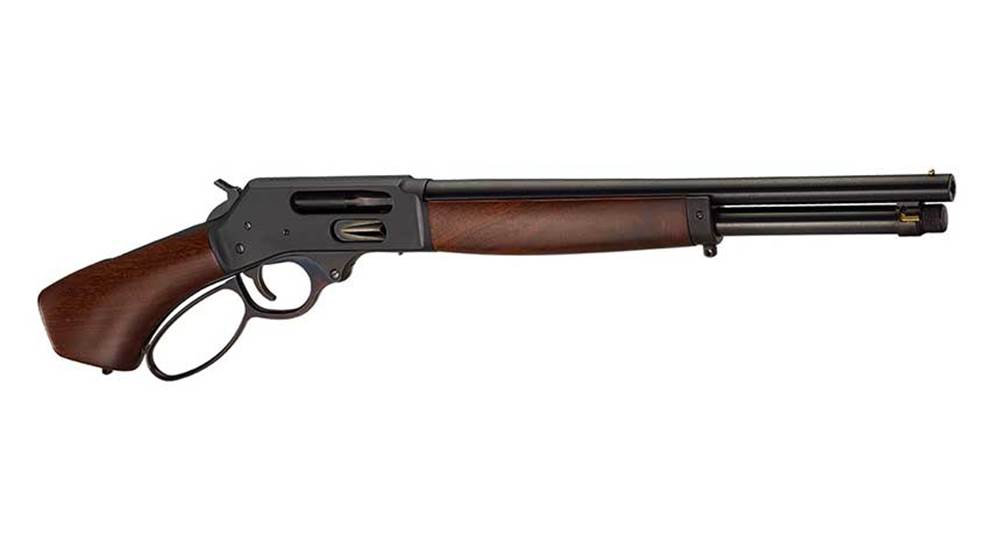 In 2017, we saw the rise of the commercially successful Mossberg 590 Shockwave, a non-NFA 12-ga. pump-action firearm that can be legally sold over the counter even though the barrel is only 14" long. Other companies had tried before, but the Shockwave had that just-right balance of appealing features at a reasonable price. As is often the case with any successful product, several other companies quickly jumped on the non-NFA firearm band wagon.

In the same year that the Shockwave was grabbing headlines, Henry Repeating Arms got into the shotgun business for the first time. The company started things off with a pair of handsome .410-Bore lever actions built around a long receiver borrowed from the company's popular .45-70 Gov't rifle. These two shotguns were soon followed by a series of break-action single shots chambered in .410 Bore, 20-ga. and 12-ga.


While working with the Henry .410 Bore carbine during the Shockwave feeding frenzy, I couldn't help but think how easy it would be for the folks at the factory to convert their new .410 into a non-NFA firearm. All they had to do was build it with a pistol grip instead of a shoulder stock and trim down barrel, just as they had done with their rifles to make the Mare's Leg series of lever-action pistols.

Obviously the idea for a .410 Mare's Leg-like firearm wasn't an original one. It takes all kinds of factors working together to get any gun from the drawing board to the production line. But I did send the idea along to my contacts within the company, so it is gratifying to think that my vote counted in favor of this firearm's eventual development.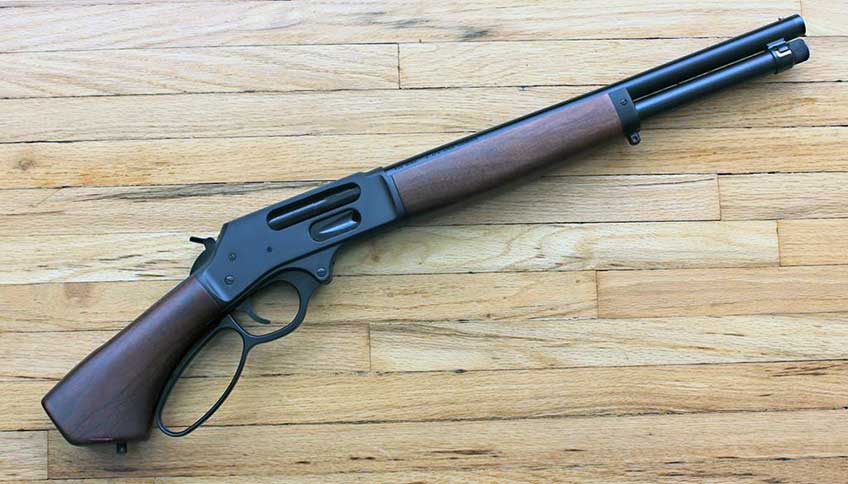 Time passed and I thought that the idea for a Henry non-NFA model had been tabled, maybe even forgotten. What I didn't know was that the company was quietly developing a set of new receivers with side-mounted loading gates. The first gated rifles arrived in 2019 bedecked with highly polished brass receivers and decorative engraving on the walnut stocks. Now the highly anticipated gate-fed steel receiver models have been ushered in with the launch of the Axe .410 Bore.

The Axe, which gets its name from the axe handle shape of the smooth walnut pistol grip, is based on the H018 series of lever-action .410 Bore shotguns chambered for 2.5" shotshell only. The brand-new loading gate and the ejection port are located on the right side of the matte-finished, blued-steel receiver. The top of the receiver is drilled and tapped to accept Weaver 63B type optic rails. The rest of the external appointments, including the barrel, tubular magazine, lever, hammer and trigger, are also constructed from blued steel.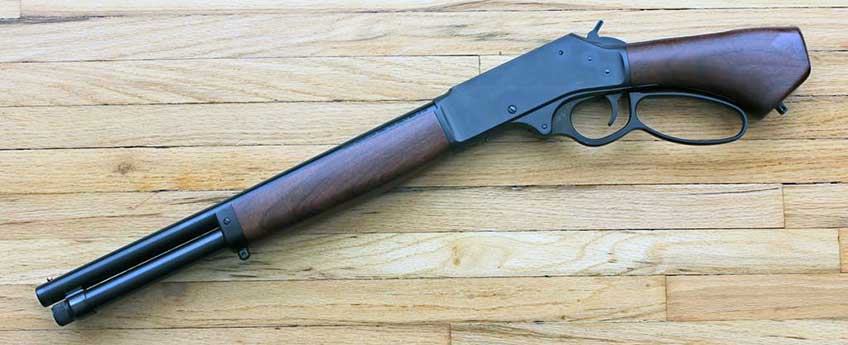 This firearm holds 5+1 rounds, just like the full-size shotguns. The tubular magazine does not have a loading port, but the brass liner can still be removed for easy unloading and cleaning. The smooth walnut fore-end's steel cap is fitted with a sling-swivel stud. A second stud is located on the pistol grip for two-point slings. The lever is curved and rounded to follow the shape of the grip. The exposed hammer contains a transfer bar safety and the smooth faced trigger exhibited a clean, short stroke that broke with 6-lbs. 10-oz. of trigger pull.

The round profile barrel is 15.14" long with a brass-bead front sight and no rear sight. That gives folks about 12.5" worth of smooth bore to shoot through, once you deduct the length of the chamber. Just how useful this short of a barrel can be depends on which firearm standards you apply. Compared to Henry's 19.75" and 24" barrel sporting .410s, the Axe is a snub gun, for sure.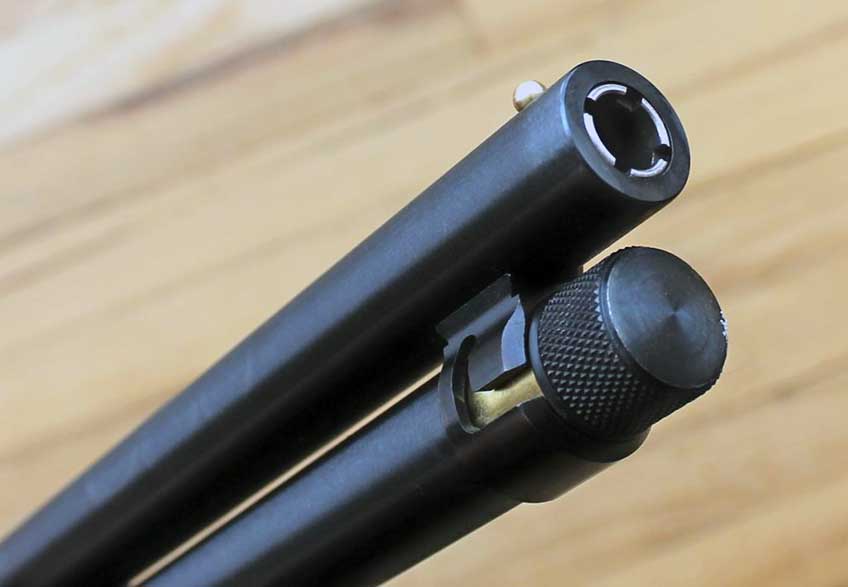 But if you compare the Axe's action and barrel to that of a .45 Colt/.410 handgun, then it's a whole different ball game. Dual-caliber handguns like the Taurus Judge, Smith & Wesson Governor and Bond Arms double-barrel pistol sport 3" to 6.5" rifled barrels that cause shotshell projectiles to spread rapidly at short distances. Handguns must have rifled barrels, otherwise they are legally considered Short-Barrel Shotguns and subject to NFA regulations.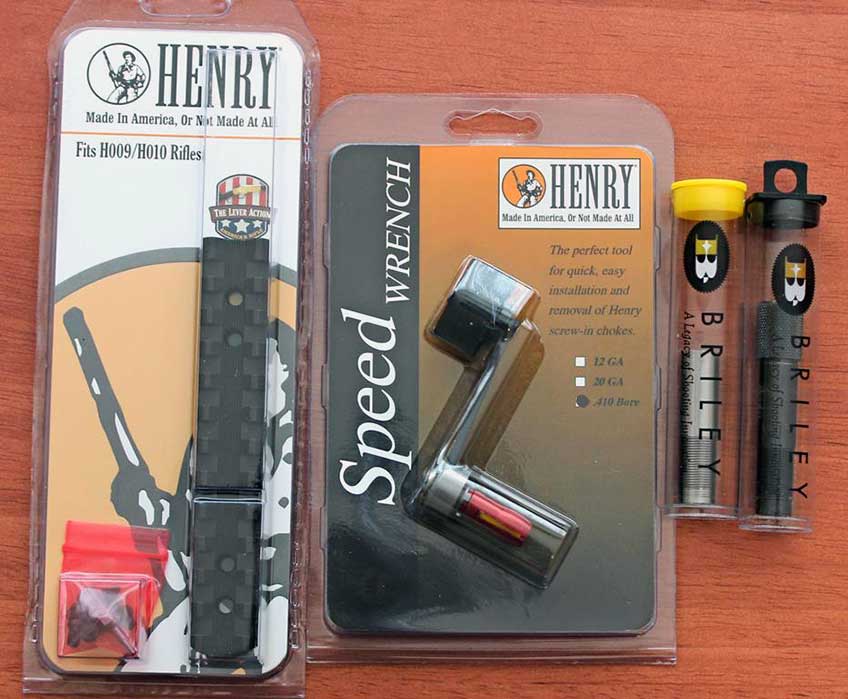 However, the Axe is a non-NFA firearm, not a handgun. This means the barrel doesn't have to be rifled. The smooth bore's better performance is enhanced further with the addition of a removable Invector style choke tube. The Axe ships with a full choke installed, but Henry also offers other choke sizes including Cylinder Bore ($19.99) and an Extra Full Turkey ($39.95) options. If you would prefer the more sophisticated Speed Wrench to the flat wrench shipped with the gun, they are available from Henry as well.

If you are looking for a way to carry the Axe in the field that provides more protection for the walnut stocks than a shoulder sling, take a look at U.S. Peacekeepers affordably priced shotgun scabbards. The Stubby scabbard ($26.49) is made specifically for compact firearms and leaves the grip exposed for easy access. The company's adjustable-length scabbard ($45.49) provides full coverage for this particular gun and fits shotguns with a variety of barrel lengths. These scabbards are available in black or OD green and each one ships with an adjustable shoulder sling and a set of MOLLE straps.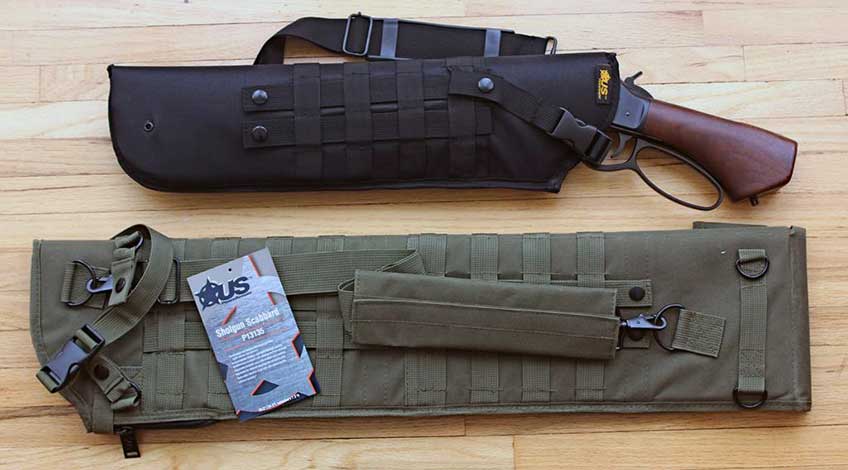 At the range, the Axe proved to be a smooth operator that was enjoyable to use. It fed, fired and ejected all of the test ammunition without any issues. The 590 Shockwave 12-ga. is a real handful due to the stout levels of felt recoil it produces with most loads. However, the Axe weighs in at 5 lbs. 14.6 oz., unloaded. The gun simply soaks up the kick of the 2½" .410 Bore shells, resulting in recoil levels ranging from mild to modest.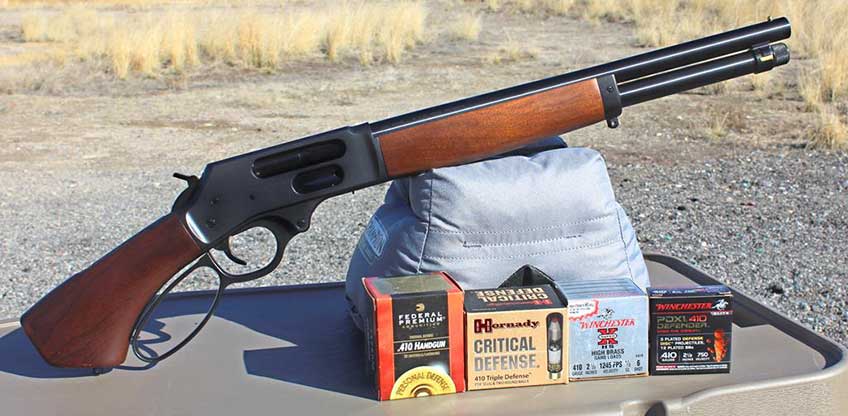 It was comfortable to shoot and cycle the lever at hip, chest and eye level so as to use the brass-bead sight. It's important to remember to hold the gun out and away from your face when holding it at eye level. Even though this is a relatively soft-shooting platform, you don't want to try and cheek the pistol grip. Allowing the recoil to drive that tough walnut axe handle grip into your cheek or teeth will not improve your quality of life.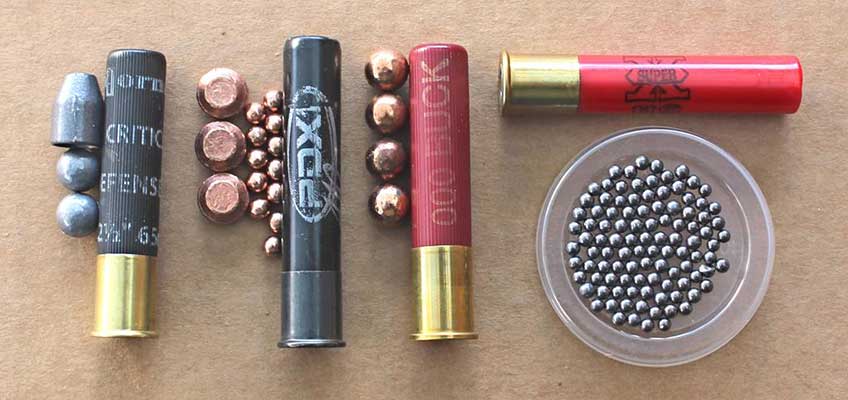 Shot shell pattern testing was conducted with the factory full-choke tube installed in the barrel using Birchwood Casey Shoot-N-C 12" x 18" targets at 10-yards. The bird shot category was covered by Winchester's Super X #6 lead bird shot load with a listed velocity of 1245-fps. Most of the pellets formed a 7.25" pattern with a couple of flyers opening it up to 10.5"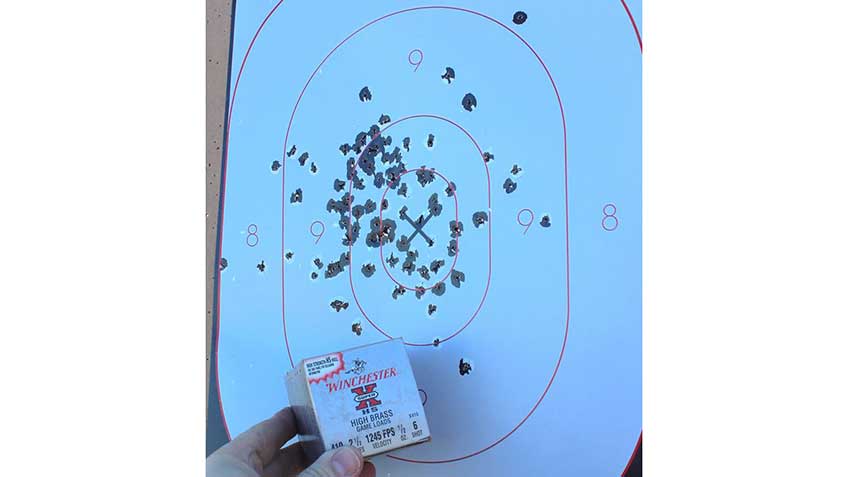 Winchester's PDX1 Defender shell is packed with three pre-flattened .40-cal. copper-plated lead discs followed by 12 pieces of BB size copper-plated lead shot. The total payload weighs 11/16 oz. (310 gr.) with a listed velocity of 750-fps. The three disks formed a 2" group with the BB shot opening up to 5".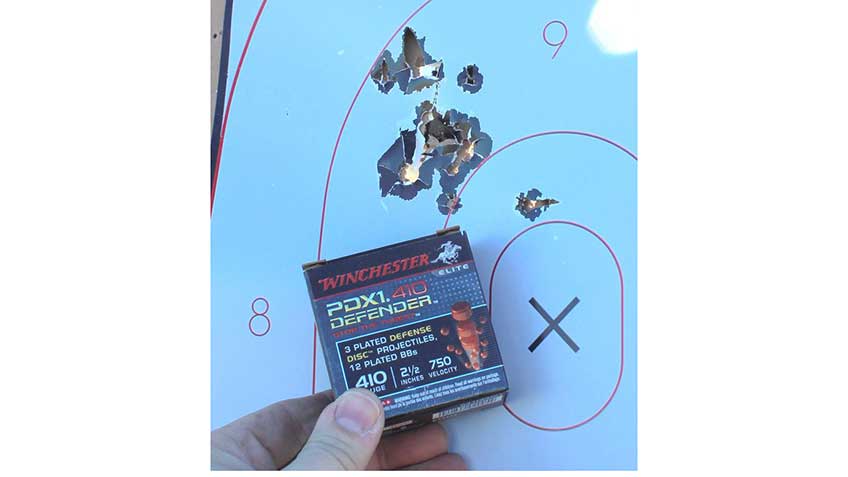 For all-around compatibility, reliability and tight groups, it's hard to beat Federal Premium's .410 Handgun shell. It fires four pieces of copper-plated 000 buckshot at a listed velocity of 850-fps. Each .36-caliber ball weighs in at 72.9 gr. The extended wad worked to keep the group to a tight 3".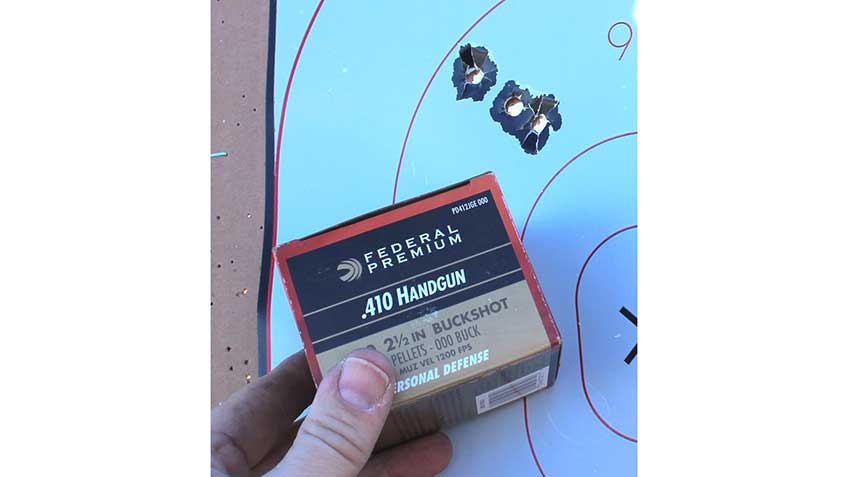 Hornady Critical Defense Triple Threat mixed-payload cartridge contains two .35-caliber, .65-gr. lead balls topped with a .41-caliber 115-gr. FTX hollow-point lead slug for a total of 245 gr. of lead with a listed velocity of 750-fps. These three projectiles formed a 2.5" group (the wad punched a fourth hole in the target just above the three projectiles).

The new Henry .410 Bore Axe is exceptionally fun to shoot. Its heft, balance and lever action makes it a unique pleasure to operate. Thanks to its all-steel construction, the felt recoil produced by even the hottest 2½" .410 Bore shells is modest and easy to control. The company's marketing frames the Axe as more of a novelty gun. But thanks to its 15" barrel with interchangeable chokes, compact size and a variety of high quality shot shells to feed it, this gun can definitely be more than just a range toy.

Even if the new .410 Bore Axe is not exactly your cup of tea, its arrival on the shooting scene portends great things for future Henry offerings. As is usually the case, Henry was already working two steps ahead of my thought process. While I've been testing the Axe, the company has released the new X-Model series of pistol-caliber carbines, along with a rifle and shotgun, which sport gated steel receivers along with several other noteworthy features.

By the way, I couldn't help thinking that Henry already makes all of the components needed to convert the .410 Bore Axe into a .45-70 Gov't pistol! A wild idea? Perhaps. But considering how interesting the Thunder Snub BFR turned out to be, a Henry .45-70 Gov't. pistol would be most interesting indeed...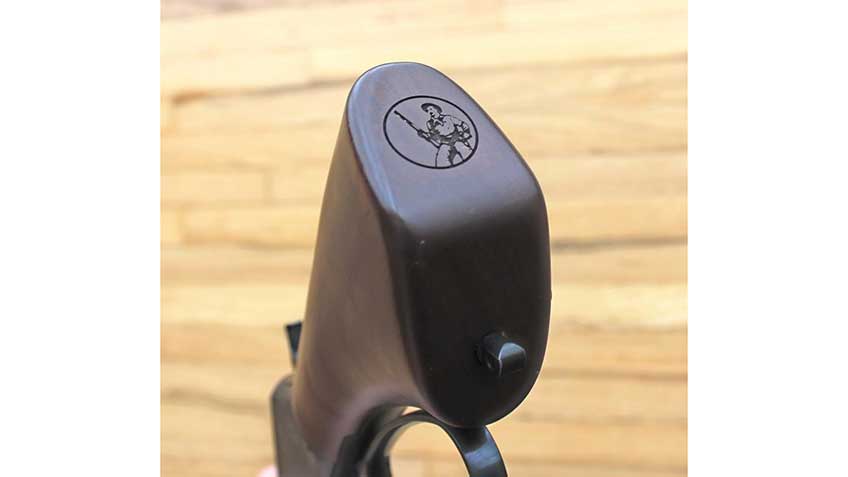 Specifications:
Manufacturer: Henry Repeating Arms
Model: The Axe (H018AH-410)
Action: Lever-Action Non-NFA Firearm
Caliber: .410 Bore, 2½" Shells Only
Finish: Blued Steel Barrel, Magazine and Receiver
Stocks: Smooth American Walnut
Sight: Shotgun Style Brass Bead Front
Optic Mount: Drilled and Tapped for Weaver 63B Mount (sold separately)
Barrel: 15.125" Smooth Bore, Round Profile
Choke: Removable Invector Type, Full Choke Provided
Trigger Pull: 6-lbs. 10-oz. (as tested)
Safety: Hammer-Mounted Transfer Bar
Overall Length: 26.5"
Weight: 5 lbs. 14.6 oz., Unloaded
Capacity: 5-Round Tubular Magazine
Accessories: Choke Tube Wrench, Owner's Manual
MSRP: $970