by
posted on September 20, 2018
Support NRA American Rifleman
DONATE
Although the American shooting enthusiast has access to an amazing array of firearms from which to choose, most of them fit comfortably into familiar rifle, shotgun and handgun slots. It's not all that often that I see one that causes me to stop in my tracks and do a double take like the Iver Johnson Arms 1911A1 Carbine did at the 2018 SHOT Show. That's why I submitted a news post for it during the show. It caused some raised eyebrows with some of the other members of the American Rifleman staff, but there were enough curious reader comments on the site to justify pursuing a review. Thank you readers, I really wanted to shoot this one!

Pistol-caliber carbines are nothing new, but handguns that have been converted into carbines are fairly rare. Perhaps the most famous and highly coveted example of the breed is the 16" barrel Colt "Buntline Special" based on the Single-Action Army revolver with a removable nickel-plated bronze stock (the properly preserved and well-documented example of the carbine shown above sold for a cool $546,250 from Rock Island Auctions in 2012).

Prior to and during World War II, some manufacturers decided to split the pistol-based carbine difference. They fit some semi-automatic handguns with handy, removable shoulder stocks without lengthening the pistol's barrel, such as the catalog listed Colt 1905 with its leather-wrapped holster stock, the military-contract Inglis shoulder-stocked Browning Hi-Power (this stock was attached to a few Colt 1911A1s too) and the M712 Schnellfeuer "Broomhandle" Mauser shown here. In some cases the shoulder stocks were hollowed out with a hinged lid that allowed them to double as field holsters, while others were just a simple, plank-of-wood extension with a connector at one end.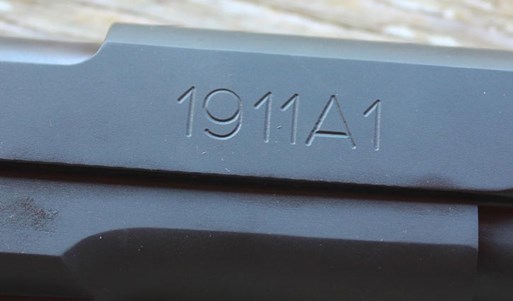 If attaching a shoulder stock to a semi-automatic pistol or a revolver is actually a useful feature (trust me, it is) then why don't we see them in use today? This is yet another handy gun accessory, like sound suppressors, that was quashed by the adoption of the National Firearms Act of 1934. Today the ATF classifies a handgun fitted with a buttstock and a barrel shorter than 16" as a Short Barrel Rifle (SBR), which requires the same $200 tax stamp and paper work as a machine gun.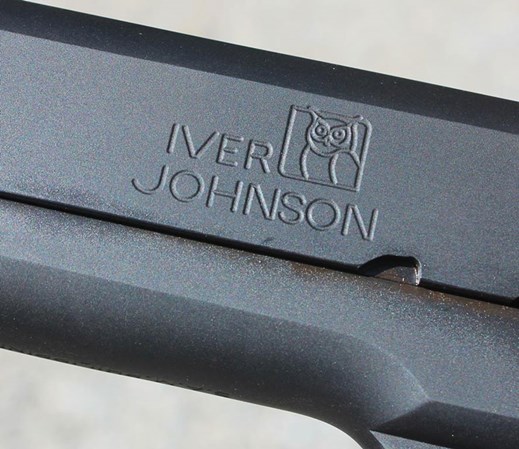 This means that it's the 16.125" extended barrel that allows the shoulder stocked Iver Johnson 1911A1 to qualify as a pistol-caliber carbine that can be sold over the counter without the added paperwork. Folks who buy this gun should avoid any creative tinkering with it. Swapping out the barrel for a shorter one changes its status to SBR, so keep it simple: remove the stock for transport like any other takedown rifle, and then re-install the stock for use in the field.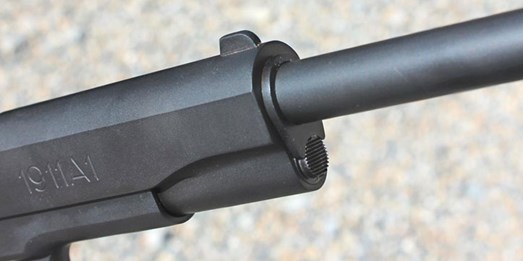 Like Iver Johnson's other 70 Series 1911 platforms, the 1911A1 Carbine was made to order for them by Shooters Arms Manufacturing Incorporated (S.A.M. Inc.) in the Philippines, which has a reputation for making reliable 1911s that stick close to the pistols' original designs. The slides are forged, the frames are cast and both are CNC machined before being hand fitted for a tight slide-to-frame fit.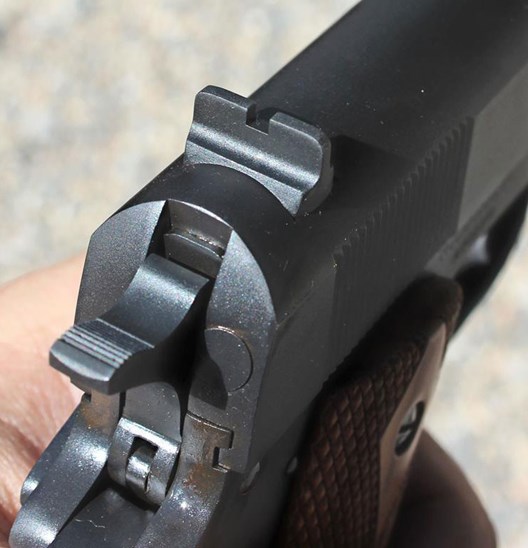 To the best of my knowledge, this carbine is not a historically accurate replica of an issued WWII firearm (if that's not the case, please share what you know in the comments section). However, this carbine's features were certainly in play at that time.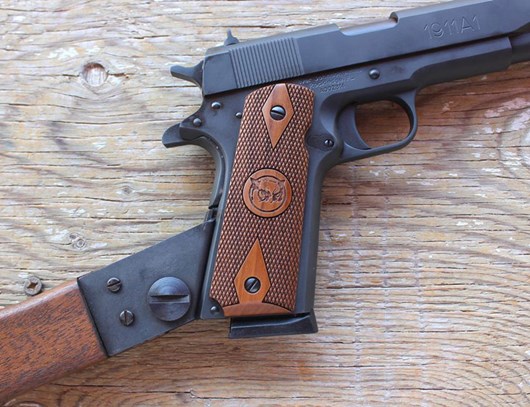 At its heart, this carbine is a 1911A1 with two key modifications: the Pinocchio-like extended barrel and the modified spring housing. Other than its extended length, the linked barrel has the same diameter and features as any other 1911A1 barrel. Disassembling and cleaning the carbine follows the same steps as any other classic 1911, but it does call for a longer cleaning rod. Most Iver Johnson 1911s ship with a flat, serrated, steel mainspring housing installed. This carbine's housing has been swapped out for an extended polymer model which accepts the sheet steel clamp attached to the shoulder stock.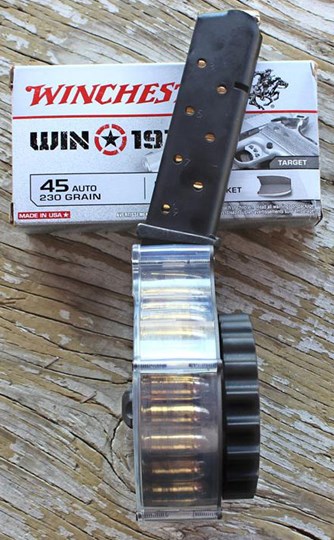 The carbine's slide, frame and appointments are all carbon steel with a matte-black-oxide finish throughout. The gun's features are lifted directly from the WWII-era 1911A1 pistol including the G.I. type sights, controls, recoil assembly and frame shape. Of course the pistol is better made than some G.I. models with precise machining and fitting throughout. The result is a set of smooth controls, a tight slide and a clean single-action trigger with a trigger pull of 5 lbs. 4 oz. The diamond-checkered walnut grip panels feature the distinctive Iver Johnson owl head logo.

The removable walnut shoulder stock is the simpler, non-holster variety with a sheet steel clamp that can be loosened or tightened using a thumbscrew mounted on the right side. The butt of the stock is curved and textured for improved purchase. It provides a 19" length-of-pull (LOP) if you measure from the top of the stock or 18" if measured from the center of the curve. Fully assembled with the empty blued steel eight-round magazine inserted in the grip, this carbine weighs in at 4 lbs. 2 oz.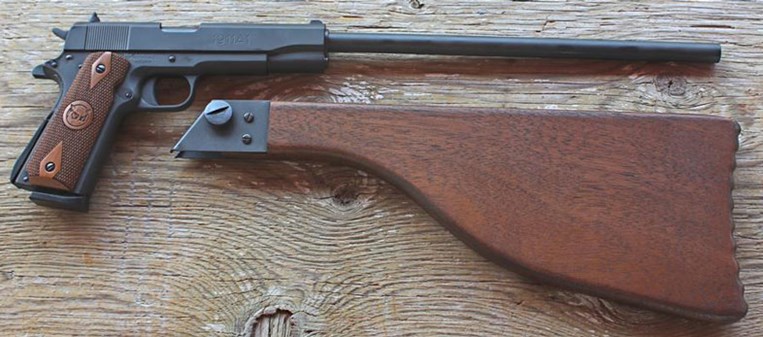 I enjoy working with outside-the-box gun designs so I was interested to see how this carbine would handle at the range. This is an exceptionally light carbine with most of the weight at or near the grip which made it easy to swing and maneuver off the bench when engaging steel plates during various drills. I thought the LOP seemed a bit too long until I went to engage the G.I. pistol sights. The length and height of the stock make it easier to form a good sight picture. Nevertheless, the sights in this context took some getting used to. I tended to keep bringing the front sight up too high (shooting over steel plates) until I got the hang of it.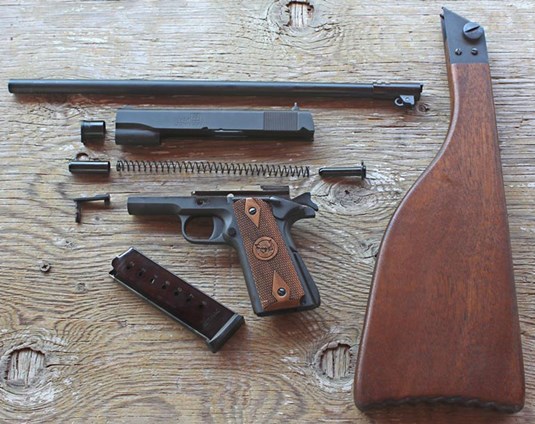 If you want to make the 1911A1 Carbine stand out from the crowd even more than it already does, Iver Johnson offers a 28-round drum magazine designed to fit most 1911 platforms. Because the weight of the loaded magazine is directly below the grip it doesn't spoil the carbine's handy balance. 
Because of the 1911A1's grip safety, it's important to form a proper shooting hand grip or the gun simply won't fire. The stock's 1.5" tall sheet steel clamp only leaves about 1.5" of space between it at the curve of the grip safety. It can be a tight fit, but it's workable with a bit of practice. If I owned this gun, I would be tempted to grind out about a half inch dip on the right side to provide a bit more wiggle room for the shooting hand. One thing the stock did exceptionally well is tame recoil. This carbine was as comfortable to shoot as any of the 9 mm models I've tried.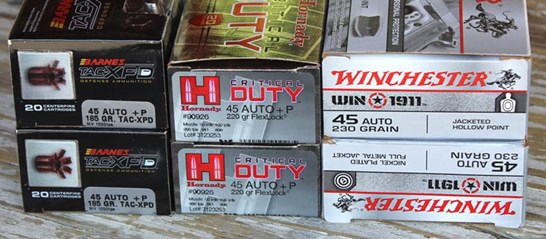 The extended barrel is an interesting compromise. It's lightweight and easy to work with for shooting and cleaning. However, it's wholly unsupported beyond the barrel bushing. Thus, the relatively thin barrel is going to flex more under recoil, which in turn affects downrange accuracy. Once again, the ever flexible Hyskore #30207 Rapid Fire Precision Shooting Rest saved my bacon on the bench. Designed to serve as either a handgun or a rifle rest, the settings were easily massaged to provide support of the carbine's frame and shoulder stock.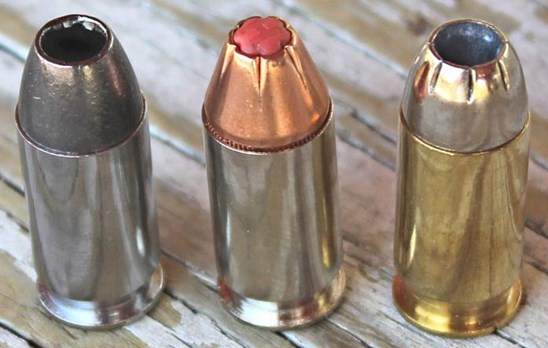 Quite frankly, I wasn't sure how to tackle the formal accuracy-testing process for this gun. It's too much of a carbine to automatically qualify for handgun parameters, but its handgun qualities are not an exact fit for carbine testing. So, I went with the 3" groups at a given distance, which is testing I've used with some other unusual guns in the past. The targets were first set at 7 yards, shot with a five-shot group and then moved out incrementally until group sizes expanded to around 3" to 3.5" in size. This is my own rule of thumb for acceptable combat accuracy at a given distance.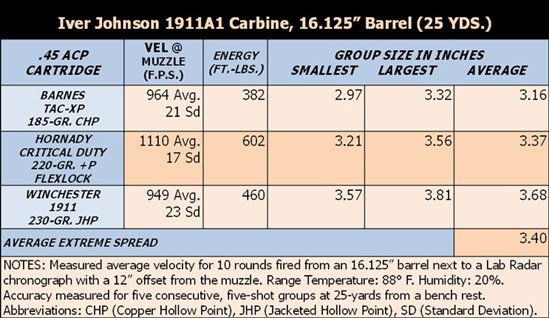 Due to the rudimentary sights and the unsupported barrel, the greatest distance at which I was able to meet the 3" rule was 25 yards from the bench. Overall accuracy was on par with production-grade 1911 pistols with 5" barrels. It's interesting to note that the Barnes Tac XP load, with a listed velocity of 1,000 f.p.s., did not gain any velocity from the carbine-length barrel. In fact, it flew along at speeds I would have expected from a typical 5" pistol. The Hornady Critical Duty +P picked up an average of 20 f.p.s. muzzle velocity increase with the Winchester 1911 load gaining 69 f.p.s.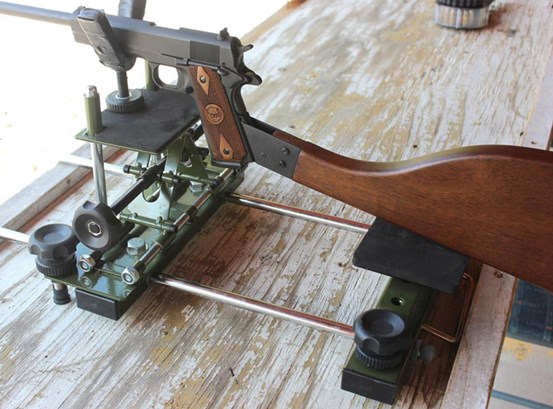 At the end of the day, I had an enjoyable range session with the Iver Johnson 1911A1 carbine. The controls were smooth, it ran flawlessly from start to finish and it was unlike any other gun I've run before. Is it an improvement over the typical 1911A1 Government-type 1911? From an accuracy and performance perspective, it does not offer much better groups or velocities than a pistol. However, for those 1911 fans with friends or family who are recoil sensitive, this model is much more comfortable to shoot. And you can't beat the "hey-look-at-this" factor this gun boasts. If you take it to the range folks will ask you about it for sure—especially if you add the drum magazine.

Specifications:
Importer: Iver Johnson Arms
Manufacturer: Shooters Arms Manufacturers (S.A.M.), Philippines
Model: 1911A1 Carbine (IJ01RIFLE)
Action: Single-Action Semi-Automatic
Caliber: .45 ACP
Frame: Carbon Steel
Finish: Matte Black Oxide
Front Sight: Fixed G.I.
Rear Sight: Dovetailed Square Notch G.I.
Slide Serrations: Straight, Rear Only
Ejection Port: Lowered & Flared
Barrel: 16.125" Extended, Linked
Recoil Assembly: Short Guide Rod with Single Round Spring
Slide Stop: Government (G.I.)
Thumb Safety: Government (G.I.)
Trigger: Grooved Matte Black Aluminum
Trigger Pull: 5 lbs. 4 oz. (As Tested)
Hammer: Government (G.I.)
Grip Safety: G.I. Beavertail
Mainspring Housing: Polymer, Grooved to Accept Shoulder Stock
Shoulder Stock: Walnut with Blued Steel Clamp and Thumbscrew
Grips: Logo Walnut, Double-Diamond Checkering
Grip Screws: Blued Steel, Standard
Overall Length: 35"
Height: 5.25"
Slide Width: 0.92"
Grip Width: 1.30"
Weight: 4 lbs. 2 oz. with Empty 8-Round Magazine
Capacity: 8+1 Rounds,
Twist: 1:16" RH
Rifle Grooves: 6
Accessories: 1 Mec-Gar Magazine, Owner's Manual
MSRP: $698 
Iver Johnson 1911 28-round Drum $75