by
posted on January 14, 2019
Support NRA American Rifleman
DONATE
Originally released in 2008, the peppy .327 Fed. Mag. revolver cartridge has been on the market for 10 years now. It was specifically designed to provide performance levels in the .38 Sp.l +P to light .357 Mag. range when fired from compact and standard size revolvers. At the same time, its smaller external dimensions allow addtional chambers to be bored into cylinders. Snub-nose revolvers that usually hold five rounds of .38-cal. ammunition can hold six rounds of .327 Fed. Mag., while typical six-shot wheel guns can be loaded with seven or eight rounds.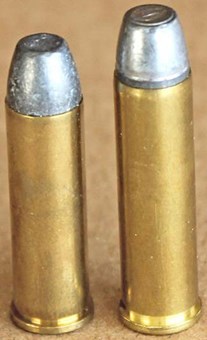 When it was launched a decade ago, this cartridge had all the early earmarks of a hit with both concealed-carry practitioners and sporting enthusiasts. But just because a new cartridge is a useful option doesn't mean it will become a popular load with the masses. While early reviewers gave this round high marks, it suffered marketing and product-release timing issues from the outset, which stymied its adoption by consumers. When guns were in production, ammunition was in short supply. Once the ammunition supply caught up to demand, the guns were out of production. Despite this see-sawing of ammunition and gun availability, the .327 Fed. Mag. is still available and remains a handy round for consideration. (.32 H&R Mag., left; .327 Fed. Mag., right.)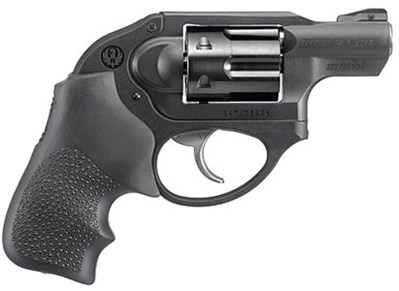 To mark its 10-year anniversary, I wanted to revisit this underappreciated cartridge and learn more about its performance potential. I've had opportunities to test fire it from a 4.2" barrel Ruger SP101 double-action revolver and to do more extensive testing with a 5.5" Ruger Single-Seven single-action revolver. This time I wanted to explore either end of the performance spectrum by firing one of the shortest barrels available, the 1.87" Ruger LCR, and one of the longest, a 16.5" round barrel firmly attached to a handsome Henry Repeating Arms Steel Big Boy lever-action carbine.

While organizing the ammunition for this review, it turned out that the number of manufacturers and variety of loads for firearms chambered in .327 Fed. Mag. are limited. However, the rounds that are available are suitable for the majority of shooting niches this cartridge can fill. With the exception of the occasional small run from boutique manufacturers, the ammunition tested here represents nearly all of the loads available as of this writing.
Short and Long Test Guns
Sturm, Ruger & Co. partnered with Federal Premium Ammunition to develop the .327 Fed. Mag. cartridge, so it continues to be the gun company with the greatest variety of revolvers chambered for it. The shortest of the barrels Ruger makes is 1.87" long, and is attached to a six-shot version of the LCR concealed-carry revolver.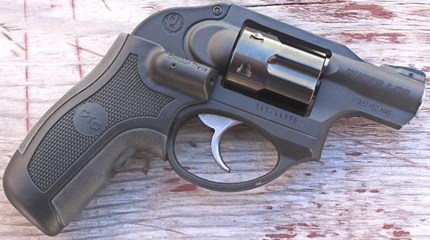 The upper portion of the frame is constructed of 7000 Series aluminum, while the lower frame is molded from reinforced polymer. The cylinder and the barrel insert are made of PVD-finished stainless steel. The hammer is fully enclosed with a double-action-only trigger featuring Ruger's low-friction cam design to lighten and smooth the trigger pull. The post-shaped grip extension is wrapped in a pebbled synthetic rubber grip.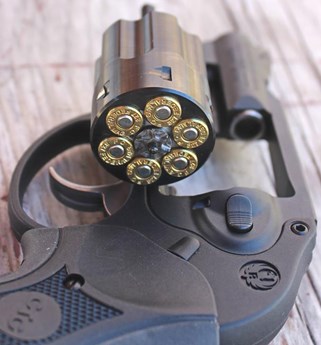 A fixed-notch rear sight is paired with a removable white-line front-sight blade that can be exchanged for a fiber-optic or night sight. The trigger had a smooth, consistent pull of  8 lbs. 9 oz. At 17 ozs. unloaded, this revolver can be quite snappy when firing hotter 100-gr. and heavier bullets that produce felt recoil on par to a similarly sized .357 Mag. revolver. Lighter loads were more manageable for follow-up shots.



Accessory options for this LCR include a variety of existing holster systems, the Crimson Trace LG-415G green-laser grip the gun was tested with, 5 Star Firearms aluminum R6-327 speed loaders and Tuff Products' Model 6327 ammunition Quick Strips. 

As far as I know, Henry Repeating Arms is the only rifle maker currently chambering models for the .327 Fed. Mag., but the company does offer four different models. The Big Boy Classic and Big Boy Carbine feature brass receivers with 20" or 16.5" octagonal barrels, respectively. The Big Boy Steel models feature blued steel receivers and round barrels. The rifle version has a 20" barrel, 10-round magazine and standard lever loop. The Big Boy Steel Carbine used for this test has a 16.5" barrel and an oversized lever loop. The capacity of this gun's magazine tube is listed at seven rounds. However, I was able to drop in eight rounds without any loading or feeding issues.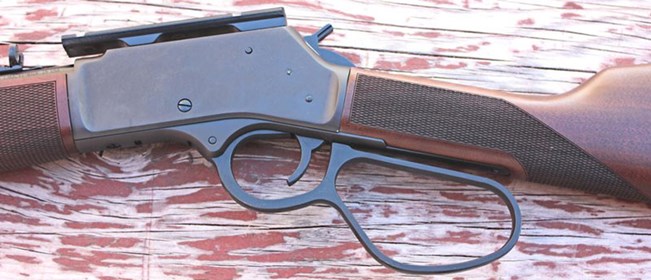 This lever gun was a real pleasure to shoot. It balanced nicely, it cycled smoothly and its 6.59-lbs. of blued steel and American walnut soaked up the recoil with all loads fired resulting in mild, all-day comfortable levels of felt recoil. The trigger broke cleanly with 4 lbs. 11 ozs. of trigger pull and, like the LCR, it ran flawlessly throughout the testing process. All formal accuracy and velocity testing was conducted using the now discontinued Alpen Optics Kodiak 3-9x 40 mm Wide Angle (#2045) rifle scope.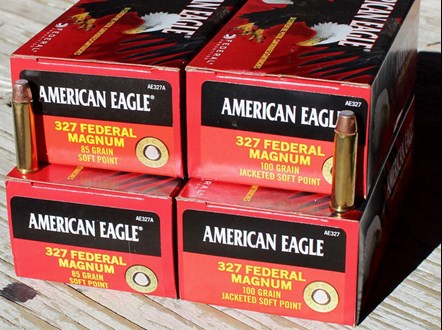 Factory Ammunition
Federal currently offers three loads in this caliber including two soft points and one defensive jacketed hollow point. The American Eagle 100-gr. jacketed soft point is an affordable, flexible and potent load with a listed muzzle velocity of 1500 f.p.s. for a muzzle energy of 500 ft.-lbs. The American Eagle 85-gr. jacketed soft point has a more tame level of felt recoil with a listed velocity of 1400 f.p.s. for 370 ft.-lbs. of energy. Designed specifically to be a controllable defensive round, the Federal Premium 85-gr. Hydra-Shok jacketed hollow point is also listed at 1400 f.p.s. for 370 ft.-lbs. of energy.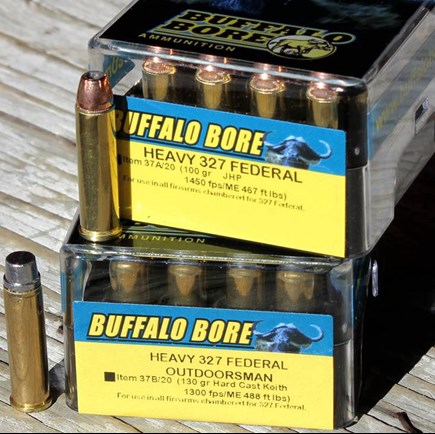 Buffalo Bore offers two hard hitting loads geared towards hunting and outdoor applications. The company's 37A Heavy load fires a 100-gr. jacketed hollow point at a listed muzzle velocity of 1450 f.p.s. for 467 ft.-lbs. of muzzle energy. The 37B Heavy Outdoorsman is the heaviest bulleted .327 Fed. Mag. load that I'm aware of with a 130-gr. hard cast Keith bullet launching at 1300 f.p.s. for 488 ft.-lbs. of muzzle energy.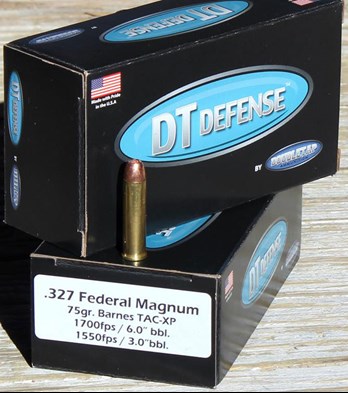 DoubleTap Ammunition offers the fastest factory load I could find, which is topped with a Barnes 75-gr. TAC-XP all-copper hollow point. It is listed as traveling at 1550 f.p.s. from three-inch barrels for 400 ft.-lbs. of energy and 1700 f.p.s. from six-inch barrels with 481 ft.-lbs. of ener gy. This company also offers a 120-gr. hardcast solid load with a listed muzzle velocity of 1250 f.p.s. (416 ft.-lbs.) from a three-inch barrel and 1450 f.p.s. (560 ft.-lbs.) from a six-inch barrel.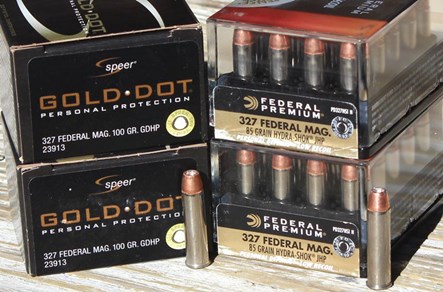 The last load of the test set, but certainly not the least, is the one defensive load offered by Speer. The Gold Dot 100-gr. jacketed hollow point is listed at a muzzle velocity of 1500 f.p.s. for 500 ft.-lbs. of muzzle energy.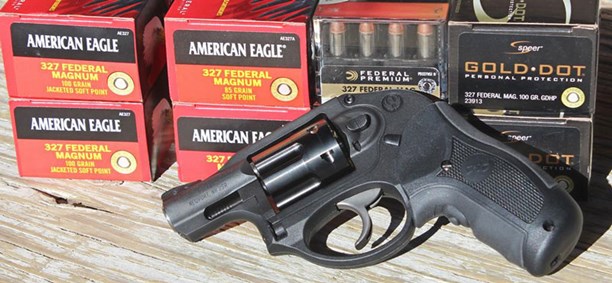 Range Results
With past ammunition tests, I've had folks say that they wished I would test all the loads in all the guns. Unfortunately, I don't have the time or resources to do that in most cases. However, going forward, I will strive to test at least one load in all the guns in order to generate a base line comparison. For this test, I planned to use the American Eagle 100-gr. soft point as the baseline cartridge. But at the end of the day, I had just enough time and ammunition to test the speedy DoubleTap load in both guns as well. Here are the results based on bench-rested five-shot groups for accuracy testing and 10-shot strings using a Labradar chronograph to check bullet velocity: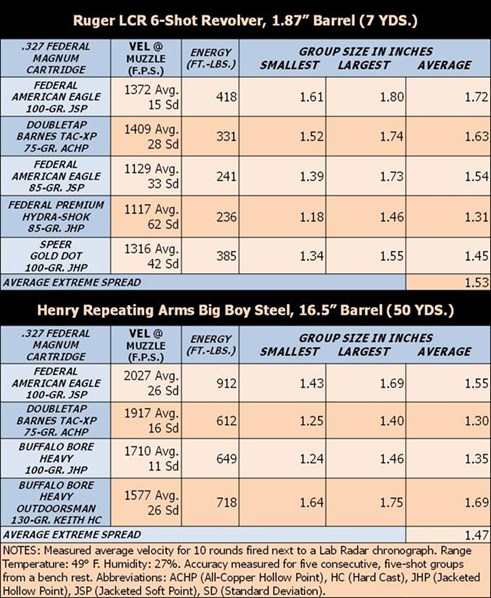 As expected, firing the .327 Fed. Mag. through the shortest of the snubby barrels currently in production resulted in a velocity drop. The five loads fired lost between 128 to 283 f.p.s. at the muzzle with a reduction in muzzle energy ranging from 69 to 134 ft.-lbs. when compared to the manufacturers' listed performance information. That being said, this gun and ammunition combination produced performance levels comparable to the 2.25" barrel Ruger SP101 chambered in .357 Mag./.38 Spl.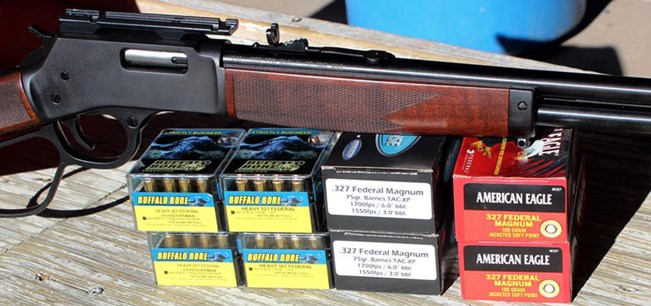 Loads fired through the longer 16.5" Henry barrel resulted in noteworthy muzzle velocity gains between 260 to 527 f.p.s. when compared to listed manufacturer handgun velocities, resulting in increased muzzle energy levels ranging from 182 to 412 ft.-lbs.
Wrapping Up
Predicting how a new cartridge is going to fair on the American market is a tricky business. Federal's still young .224 Valkyrie is in a similar position as the .327 Fed. Mag. was 10 years ago. Only a few loads are available but the data is promising and there are several early adopters among gun manufacturers. Hornady's  6.5 Creedmoor seemed to hibernate for the better part of a decade before suddenly leaping to prominence and becoming a standard caliber option with several rifle makers. The terrific 10 mm Auto languished on the sidelines for more than three decades before taking a big step toward becoming mainstream. After shooting the new Hornady 6.5 PRC for the first time, which came out just last year, I'm hoping it will catch on. But will it take hold among so many existing 6 mm options or simply fade out? Like other new offerings, there's no way to know for certain just yet.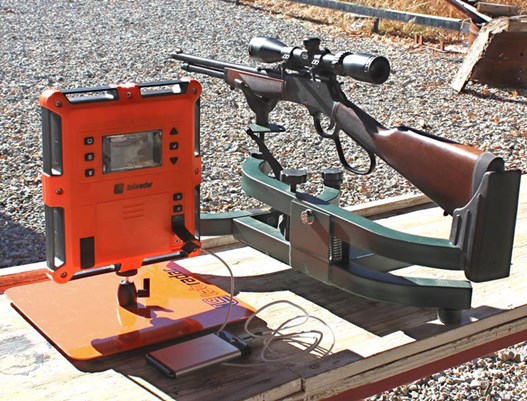 As for the .327 Fed. Mag., there's nothing stopping me or other adopters of this hot little magnum from enjoying the guns we have using the available factory loads. I'm keeping my fingers crossed that it will keep holding on until it gets the respect it deserves.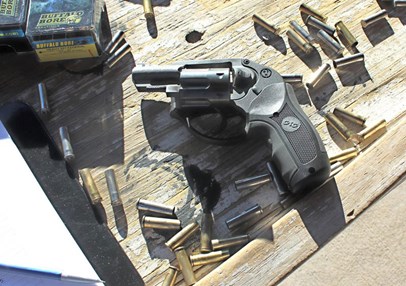 Ammunition Manufacturers:
Buffalo Bore
DoubleTap
Federal Premium
Speer 
Revolver Specifications:
Manufacturer: Sturm, Ruger & Co., Inc.
Model: LCR (#5452)
Action: Double-Action-Only
Caliber: .327 Fed. Mag.
Cylinder: PVD-Finished Stainless Steel
Barrel: Stainless-Steel
Upper Frame: 7000 Series Aluminum, Synergistic Hard-Coat Finish
Lower Frame: Glass-Filled Nylon
Grip: Hogue Tamer Monogrip
Front Sight: Removable Pinned Ramp with White Bar
Rear Sight: Fixed-Notch
Hammer: Enclosed
Barrel Length: 1.87"
Overall Length: 6.50""
Width: 1.28" (Cylinder)
Height: 4.50"
Weight: 17 oz. Unloaded
Capacity: Six Rounds
Twist: 1:16" RH
Rifle Grooves: Six
Accessories: Hard Case, Cable Lock, Owner's Manual
MSRP: $669 
Rifle Specifications:
Manufacturer: Henry Repeating Arms
Model: Big Boy Steel (H012MR327)
Action: Lever-Action Rifle
Caliber: .327 Fed. Mag./ .32 H&R Mag.
Stock: Straight-Grip Checkered American Walnut
Recoil Pad: Black Solid Rubber
Barrel: Blued Steel, Round
Receiver: Blued-Steel
Front Sight: Brass-Beaded
Rear Sight: Adjustable Marble Semi-Buckhorn Barrel
Safety: Hammer-Mounted Transfer Bar
Lever Loop: Oversize
Optic: Drilled and Tapped for Scope Mount
Sling Swivels Studs: Yes
Length: 16.50"
Overall Length: 34"
Length of Pull: 14"
Weight: 6.59 lbs.
Capacity: Seven Rounds
Twist: 1:16" RH
Rifle Grooves: Six
Accessories: Owner's Manual, Lock
MSRP: $850