by
posted on December 27, 2018
Support NRA American Rifleman
DONATE
If you've followed my work in NRA Publications over the years, you know I enjoy taking gun review risks from time to time. Sometimes it's a debated model, an unusual design or something wholly unconventional. This year, a friend in the industry introduced me to a bolt-action rifle company founded in 2017, offering a new action (launched in 2018) chambered for a cartridge that isn't yet a year old. That's three kinds of new all rolled into one. Some would say that's too risky to try, but based on what I learned about the company and the cartridge, it was a calculated risk I was willing to take— and I'm glad I did.  

Long-range target shooting and precision-rifle competitions continue to grow in popularity with U.S. enthusiasts. However, some of the features commonly associated with long-range bench guns, such as metallic-chassis systems, lengthy bull barrels and tank-tough steel receivers, often don't transition well to hunting applications. This is especially true in areas where regulations require hunters to chase big game over rugged and open terrain that often calls for long-range shots. While a precision rifle's tight accuracy and powerful punch is quite desirable for ethically and efficiently harvesting big game, 12 lbs. worth of tactical bolt-action to lug up and down the mountainside is not.

This year, Mesa Precision Arms launched a new reduced-weight custom hunting rifle configuration, the CRUX Ti, designed specifically for sportsmen who want precision rifle performance in a lightweight, easy-to-carry package. This two-man operation was founded in 2017 by Chad Drayer, former member of the U.S. Marine Corps and optics specialist, and John Hakes, a long-range hunter with a decade of experience under his belt.

It's interesting to note that the same year Mesa Precision was setting up shop, Hornady was busily launching the 6.5 PRC rifle cartridge. In essence, 6.5 PRC is designed to perform as a 6.5 Creedmoor "Magnum." In other words, it is intended to provide the desirable features of the company's 143-gr. and 147-gr. 6.5 Creedmoor loads with increased velocity and energy while still fitting into a short-action receiver.

According to the company's listed performance data, the Hornady 143-gr. ELD-X Precision Hunter bullet gains 260 f.p.s. of muzzle velocity and 467ft.-lbs. of muzzle energy while the 147-gr. ELD Match bullet gains 215 f.p.s. for an added 394 ft.-lbs. of energy when fired from the 6.5 PRC cartridge. With nominal bullet-energy levels of about 2700 ft.-lbs. at the muzzle, and around 1600 ft.-lbs. at 500 yds., Hornady's current 6.5 PRC loads are suitable for sacking big game such as elk and caribou at longer hunting distances. With this information in hand, I used this test of the Mesa Precision CRUX Ti as an opportunity to test drive the 6.5 PRC for the first time.



The CRUX Ti is a short-action bolt gun that takes its design cues from the Remington 700. The Ti in the name stands for the Grade 5 Ti-6AL-4V titanium receiver which was added to Mesa Precision 's CRUX line this year. Titanium has a variety of desirable physical characteristics which make it useful for building rifle receivers. It's about 40 percent lighter than steel and corrosion resistant. It can be hardened to around 36 Rockwell and handles the flexing and pressures produced by rifle cartridges without fatiguing.



However, titanium alloy is about double the expense of steels with similar qualities. And the cost of machining it into a receiver can be up to five times more costly than working with steel. As a result, bench-top and competition rifles tend to be assembled around less expensive steel receivers while the more costly titanium receivers are reserved for hunting and field rifles, where a 40 percent weight reduction and a high level of corrosion resistance will offset the added expense.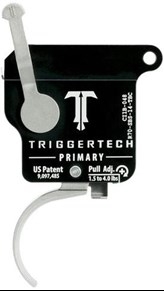 The CRUX Ti action is available as a standalone component in Standard (tested here), Magnum and Lapua sizes for those who are building a rifle from scratch. The action's Remington 700 footprint makes it compatible with a wide variety of aftermarket stocks, parts and upgrades. The bolt raceway is EDM wire cut in order to ensure it is straight and true. The action body's magazine well is cut to accommodate either Wyatt's extended fixed-magazine boxes, for maximum cartridge lengths, or a standard detachable magazine system. The recoil lug features PT&G pinhole spacing for a thicker recoil lug if desired.

The top of the receiver was outfitted at the factory with a 20 MOA cant, Type 2 hard-anodized aluminum Picatinny scope mount, CNC machined to fit the CRUX Ti. The bolt release, located on the left side of the receiver, was purposefully placed in a higher position so that there would be no need to alter stocks or chassis systems to accommodate it.



The free-float bolt assembly features a "diamond-like coating" (DLC), hexagonal fluting, 75-degree bolt throw, two locking lugs and an M16-style extractor. All of these features work together for quick and smooth bolt manipulations. A key design enhancement for hunters is a firing pin assembly that can be field stripped without tools in case it gets gummed up by ice, dirt or a faulty primer.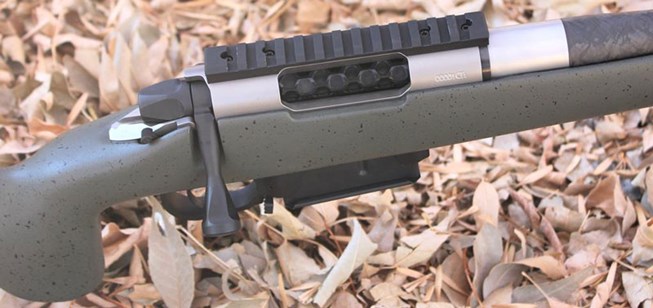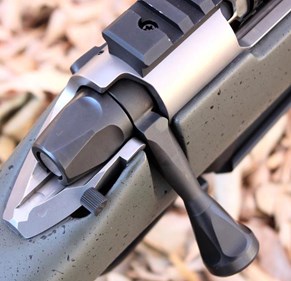 Manufactured by PROOF Research, the 24" long Sendero Light barrel weighs just 2 lbs. 15oz. The reduced contour 416R stainless-steel barrel is wrapped with high-strength, aerospace-grade carbon fiber that has been impregnated with a proprietary matrix resin. The fibers used are listed as having a specific strength up to 30 times greater, along with a specific stiffness up to 7 times greater than steel. In addition to being strong and lightweight, the carbon fiber works to dissipate heat rather than insulate the barrel. The result is an aerospace-grade composite barrel capable of cooling off quickly and maintaining accuracy during extended shooting sessions while being up to 64 percent lighter than traditional steel barrels with similar contours. The 3-chamber stainless-steel muzzle brake, made and installed by Mesa Precision, features three round ports across the top to reduce muzzle rise. 

Mesa Precision's Varmint Contour Altitude shoulder stock is constructed by layering carbon fiber (instead of heavier fiberglass) over a strong, light fill material for a full-figured stock that tips the scales at just 27 oz. A comfortable modified ambidextrous vertical grip is paired with an elevated ambidextrous comb designed for a better cheek weld when using long-distance optics. Two sling swivel studs are set into the fore-end with a third installed near the soft-rubber recoil pad. All three studs are tapped into aluminum blocks, which are installed during the molding process. Altitude stock color options include green with black speckling (shown) tan with black speckling, or black with grey speckling.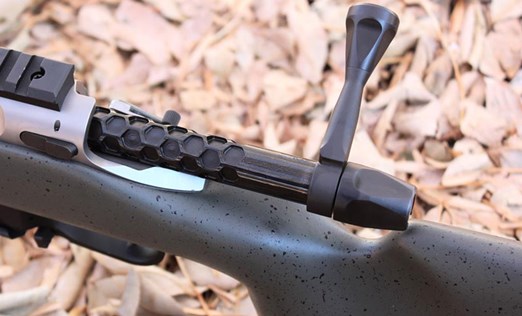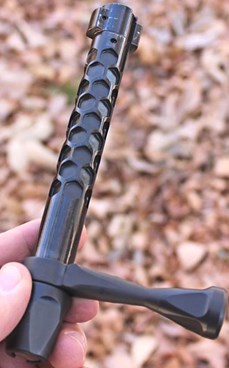 The CRUX Ti arrived with Triggertech's curved, single-stage Rem 700 Primary model trigger installed. Featuring the company's Frictionless Release and CLKR adjustment technology, this drop-in trigger is described as having a true zero-creep break and an extremely short over-travel, both of which I agree with completely based on the trigger group I worked with. This model features hardened, corrosion-resistant 440C stainless steel internal components for an extended service life. The CLKR adjustment allows for the trigger pull to be adjusted from 1.5 lbs. to 4.0 lbs. in 1 oz. increments for exceptionally precise tuning. When it arrived, the trigger in this rifle was set to exactly 1 lb. 8 oz., according to my Lyman's digital trigger gauge, but it felt just a bit lighter than that at the range.

Mesa Precision has designed its own M5-style bottom metal (floor plate) constructed from Type 2 hard-anodized aluminum with a traditional rounded trigger guard. It features a barricade stop at the front of the magazine well, an ambidextrous magazine release and a funnel-type magazine well designed to accept AICS-type magazines. The rifle arrived with one .300 WSM DSSF magazine from Accurate-Mag which held 3-rounds of 6.5 PRC ammunition.



Although the titanium receiver and DLC coating applied to the bolt are corrosion resistant, the action does require lubrication in order to cycle smoothly. I treated all of the lubrication points with Breakthrough Technologies' Battle Born synthetic high-purity oil, which offers a broad temperature tolerance with smooth operational results. For all informal and formal testing, the rifle was outfitted with Bushnell's top-quality Elite Tactical XRS II-i 4.5-30X 50 mm long-range scope using a set of Weaver Tactical 34 mm High 6-Hole rings.



In the course of bench testing and preparing the CRUX Ti for the range, it was easy to see and appreciate the high-quality components, proper fitting and fine craftsmanship throughout the entire rifle. All of the controls were clean and crisp in their operations with no mechanical issues. The rifle fed, fired and ejected all of the test ammunition flawlessly. True, I only had two loads from one manufacturer to work with, but faultless operation with the only rounds currently available is certainly a plus.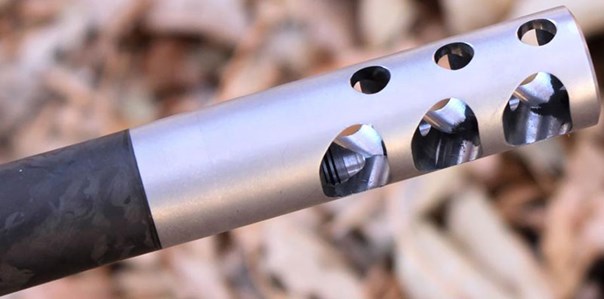 I'm 5' 6" tall, so it should come as no surprise that there are plenty of long guns out there that just don't swing well for me. The CRUX Ti, at 6 lbs. 15.5 oz. unloaded, is not only lightweight but well balanced. It was one of those rare bolt actions that just became an extension of my arms when shouldering it.


I was especially pleased with the surfacing of the Altitude shoulder stock. No matter where I placed my hands on the grip or fore-end of the stock, it provided a "just right" level of purchase for bare hands or gloves. All too often rifle stock checkering or "hold here" surfaces are not quite the right fit for me. In this case, I could hold the Altitude stock exactly where I wanted, the way I wanted, without feeling like I was wearing a pair of shoes that are half a size off. It did more to make the rifle feel like it was made just for me than I would have expected.



In regard to felt recoil, I wasn't sure what to expect. My brothers favor lightweight 7 mm Rem. Mag. bolt guns for harvesting the Rocky Mountain elk that flourish in our home state. The quality and accuracy of their guns are top notch, especially when stoked with their well-tuned hand-loaded ammunition. But the recoil generated by those guns will leave you looking for your dentures in the dirt if you pull the trigger with your jaw hanging loose.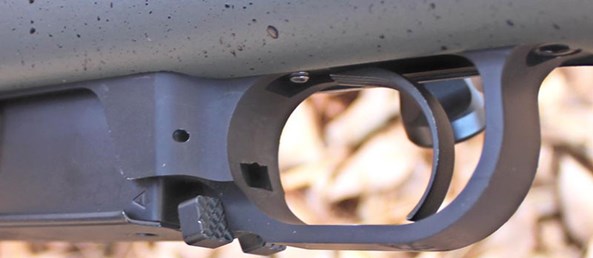 Rifle-hunting specialists that I trust are writing articles about the 6.5 PRC cartridge, stating that it is well suited to harvesting Class 3 game, such as elk and caribou, along with feral hogs, sheep and pronghorns. This being such a light rifle, one might expect to get knocked around a bit. However, the slightly slower 6.5 Creedmoor produces manageable levels of felt recoil, and the CRUX Ti is outfitted with a professional-grade muzzle brake and a soft-rubber recoil pad.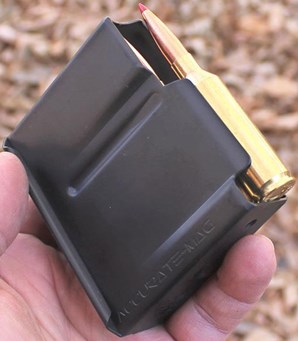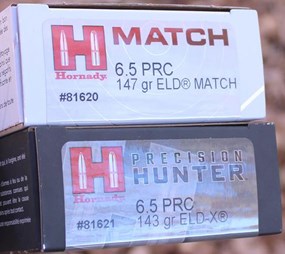 During formal bench-rested accuracy testing at 100 yards, the rifle was couched in a Champion Targets Varminter Shooting Rest (40204). This fully adjustable minimalist rest was used because it provides plenty of support underneath the rifle without any plates or straps to alter the rifle's movement under recoil.

Without any further ado, the felt recoil generated by the 6.5 PRC cartridge was moderate, verging on modest for a high-power rifle. It's certainly not operating at rimfire levels, but small-framed youth and folks who are sensitive to recoil will find this platform all-day comfortable to shoot and carry in the field.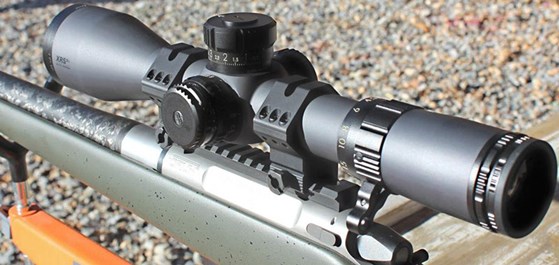 The test ammunition's velocity and accuracy results were better than I hoped they would be as well. According to a LabRadar chronograph, the Hornady Match 147-gr. ELD Match ballistic tip load left the rifle traveling 114 f.p.s. faster than the manufacturer's listed speed for a muzzle velocity of 3024 f.p.s. and a muzzle energy of 2985 ft.-lbs. Firing five 5-shot groups at 100 yards, the ELD Match load printed a best single group of 0.64" with a five-group average of 0.72". Hornady's Precision Hunter 143-gr. ELD-X ballistic tip gained 13 f.p.s. for a muzzle velocity of 2973 f.p.s. and a muzzle energy of 2807. This load knocked out a best group of 0.68" with an average of 0.79".

In regard to the new 6.5 PRC cartridge, there's no way to predict if this 6 mm offering, in a field crowded with similar cartridge offerings, is going to flounder or flourish. But based on this first experience of working with it, it's a potent, flexible and accurate round capable of filling a variety of sporting rolls without the punishing recoil that some cartridges produce. I'll be on the lookout for more platforms chambered to fire it.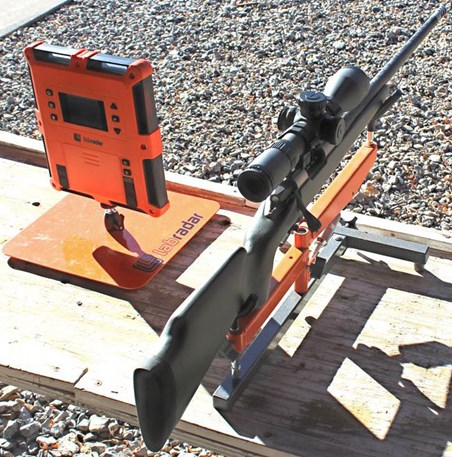 While Mesa Precision Arms may be a recently launched gun manufacturing venture, the team's decades of previous experience is clearly evident in the high quality and performance of their custom rifle components and complete rifles. The 3rd party component providers, including PROOF Research and Triggertech, are at the top of their game as well. Some enthusiasts may question a hunter's choice to invest in a bolt-action rifle at this price point, especially from a new company. But after spending some quality time with the CRUX Ti at the range, I found myself wishing I had a big-game hunt lined up just to have an excuse to keep shooting it. Based on results, working with this company isn't so much a risk as an opportunity to work with an excellent rifle.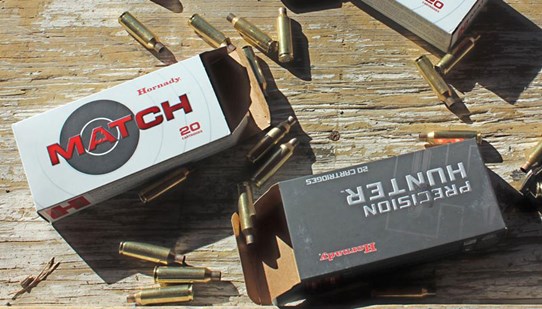 Specifications:
Manufacturer: Mesa Precision Arms
Model: Mesa Precision Crux TI Custom
Action: Bolt Action
Caliber: Hornady 6.5 PRC
Receiver: Mesa Precision CRUX TI Titanium Short-Action Magnum, Remington 700 Footprint
Bolt Assembly: Hex Fluted, DCL Coating
Optics Mount: 5.75" Removable Picatinny Rail
Barrel: 24" PROOF Research Sendero Light
Barrel Finish: Carbon Fiber Wrapped 416R Stainless Steel
Muzzle Device: Mesa Precision 3-Chamber, 3-Port Stainless Steel
Stock: Mesa Precision Altitude Series Layered Carbon Fiber with Soft Synthetic Recoil Pad
Stock Finish: Green with Raised Texture Black Flecks
Stock Comb: Elevated, Ambidextrous
Length of Pull: 13.75"
Sling Swivel Studs: Dual Forend, Single Buttstock
Trigger Guard/Mag Well: Mesa Precision M5, CNC Machined Aluminum with Type II Anodized Finish
Compatible Magazines: All AICS Types
Provided Magazine: Accurate-Mag 3-Round Removable Box
Trigger Group: Triggertech Rem 700 Primary, Single-Stage Adjustable
Trigger Pull Weight Range: 1 lbs. 8 oz. to 4 lbs.
Trigger Pull: 1 lbs. 8 oz. (As Tested)
Sights: None
Overall Length: 47.75"
Weight:  6 lbs. 15.5 oz. with Empty Magazine
Capacity:  3+1 Rounds
Twist: 1:8" RH
Rifle Grooves: 6
Accessories: One Magazine, Hard Case
Suggested Retail: $4,800 
Optic: Bushnell Elite Tactcial XRS II-i 4.5-30X 50 mm (ET46305GI) $3,289.95
Scope Mount: Weaver Tactical 34 mm High 6-Hole Picatinny Rings (99684) $109.95