Support NRA American Rifleman
DONATE
This year, as an end-of-year release, Ruger fans who have waited for a blued version of the SP101 are finally getting their wish with a classic 2.25" barrel, 5-shot .357 Mag. Chris Killoy, Ruger President & CEO explained, "We have had several customer requests for this new model and we are pleased to add it to the lineup."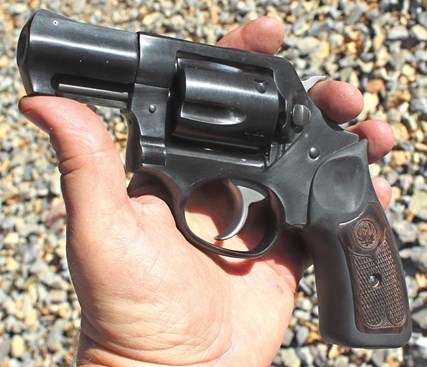 Some folks feel nostalgic about blued steel. Others are fans of the SP101 design. As for myself, I have a special place in the gun safe for this tough little snub gun because it was the first defensive handgun I owned. Although I started out with a hammerless DAO model chambered in .38 Spl., I eventually traded up to a factory fresh 2.25" .357 Mag. with an exposed hammer. Other carry guns have come and gone but that SP101 is still here more than 20-years later. So, when the opportunity came along to test a classic SP101 configuration in a long anticipated finish option, I jumped at the chance.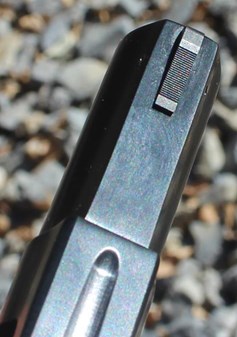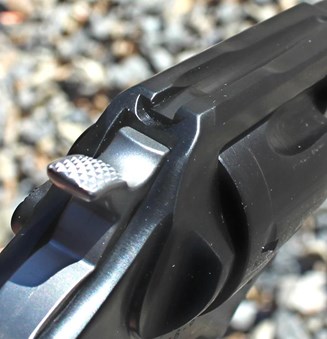 Like the stainless steel models, the blued SP101 has a single-piece frame which is strong enough for a full-time diet of magnum ammunition. All of the major components are blued alloy steel with the exception of the exposed hammer and smooth-faced trigger, which are both stainless steel. The 2.25" smooth-top barrel completely shrouds the ejector rod and is fitted with a black ramp front sight. The topstrap has a groove which extends from the front to the hammer forming a fixed, square notch rear sight. Although this sighting system is simple and low profile, it's still useful at defensive distances.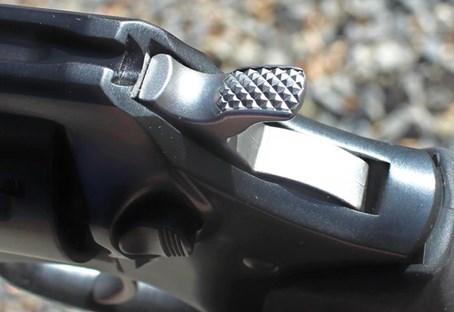 A noteworthy difference between the blued version and older models is the chamfered 5-shot cylinder, which is narrower at the front end in order to make it easier to holster. The cylinder locks into the frame at three points (front, rear and bottom) to ensure proper alignment with the barrel. The push-button type cylinder release is located on the left side of the frame. With the cylinder open, it spun freely and the ejector cycled smoothly. The hammer spur is checkered to provide purchase for cocking.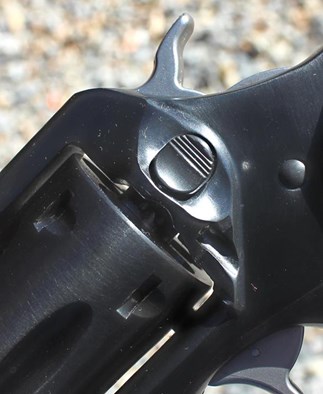 The grip frame is post shaped instead of having a hollow outline like Colt and Smith & Wesson revolvers. This allows the factory rubber grip to be compact while completely encasing the post in soft, synthetic material. Replacing the black polymer side panels, which used to be standard fare for the SP101, with engraved hardwood panels is a real improvement for this model's aesthetics. The compact factory grip is a good fit for my somewhat smaller hands but larger grips are available for those who prefer them.
Because the SP101 has been around so long there are plenty of accessories and holsters from which to choose. The Crimson Trace LG-303 rubber-overmold laser grip provides a longer, more hand filling grip shape than the factory grip with an adjustable red laser diode for quick target acquisition. If you want to stick with a smaller grip profile, the company also offers the more compact hard polymer LG-111 laser grip.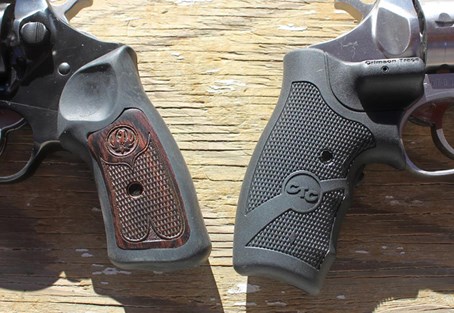 For carrying additional ammunition, 5 Star Firearms' milled aluminum twist-knob speed loaders are light, durable and affordably priced. The loaders can be anodized in different colors and the company offers various sizes of loading blocks for use at the shooting range or to store the loaders with a staged defensive handgun.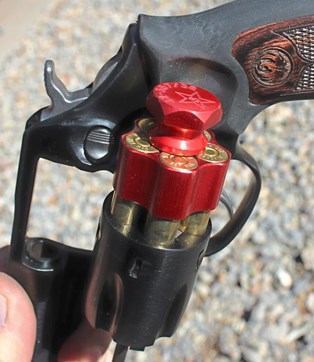 If you need your ammunition to have a flat profile for carry in a pants, pack or purse pocket, then take a look at Tuff Products QuickStrips. The model 7002 strips for .38 Special and .357 Mag. cartridges are sold as pairs in 5-round and 6-round configurations with color options that include black, orange and pink.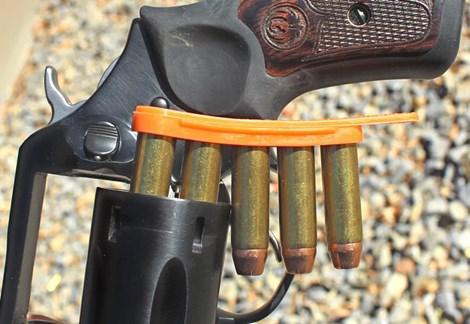 Packing the 2.25" barrel SP101 is fairly easy due to its small footprint. But with an unloaded weight of just over 25 oz., this all-steel gun benefits from a sturdy leather belt holster like those provided by Galco Gunleather. The open-top Combat Master (left) is cut from premium steer hide with a traditional pancake type molded design which contours to the hip. It provides full barrel and front sight coverage, a butt-forward cant and slots cut to fit belts up to 1.75" in width. Note that there is a molded in slot that allows the holster to be used with (or without) a Crimson Trace laser grip. The FLETCH High Ride holster, which is short for Federal Law Enforcement Training Center Holster (right), features a retention strap with a reinforced thumb break. Both holsters are available in tan or black
.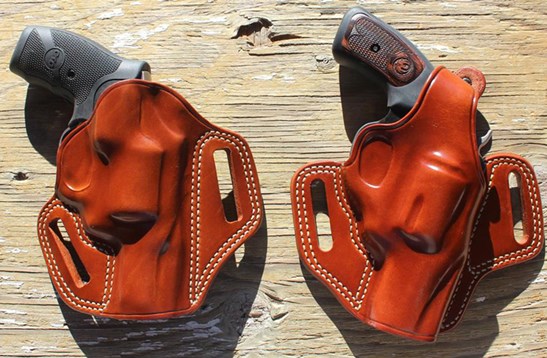 Both shooting enthusiasts who are new to the scene, and old salts, are likely to agree that mastering snubby revolvers, especially when chambered in more potent calibers like the .357 Mag., can be more challenging than other models. Although the SP101's trigger is smooth it's still relatively heavy if you're used to a lighter semi-auto pistol trigger pull. The blued SP101 exhibited an 11 lbs. 4 oz. double-action trigger pull. Cocking the hammer for single-action fire resulted in the trigger breaking cleanly with 5 lbs. 9 oz. of pressure.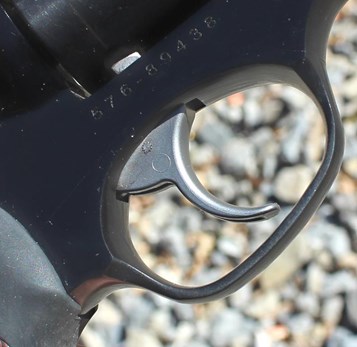 There is a long standing debate in regards to shooting .357 Mag. cartridges from snubby barrels. Is the added recoil and muzzle flash generated by the magnum cartridge worth it if bullet velocity is going to drop because of the shorter barrel? Wouldn't it be better to use softer shooting .38 Special or .38 Special +P loads instead? Rather than tackling the topic here, I would invite you to take a look at contributor Andrew Butts' testing of the .357 Mag. cartridge, including performance results for a 1.87" barrel Ruger LCR revolver.
Suffice it to say, I see a place for a full range of power levels, from standard pressure .38s to full-throttle .357 Mag., depending on your needs and circumstances. Speaking of ammunition options, when I first started packing the .357 Mag. version of the SP101 back in the late 1990s, it was usually stoked with Winchester U.S.A. white box 110-gr. semi-jacketed hollow points. I didn't have the benefit of the Internet, extensive personal experience or a chronograph to help guide my decision making process back then. However, this was a load that I could afford to practice with regularly, it had a manageable level of felt recoil for my skill level, it produced acceptable defensive accuracy and a buddy behind the counter at the indoor range where I practiced said, "Yup, that'll work!" 

It's been a long time since I shot an SP101 with that particular Winchester load because I moved on to heavier bullets designed specifically for defensive applications. Since this review is something of a trip down memory lane for me, I did a bit of digging around the old ammo boxes and found the last box of  Winchester 110-gr. rounds I bought to shoot in the SP101. With a Lab Radar chronograph in hand, I could conduct formal range testing and a velocity check to find out just how much performance I had at hand in those days.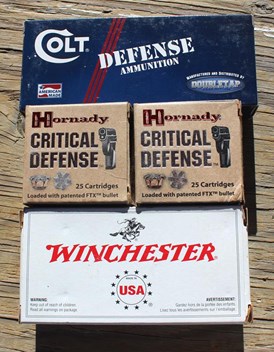 Formal accuracy testing was conducted from a bench rest at 7 yards. The ammunition test set was rounded out with two additional loads. The soft-shooting, standard velocity .38 Spl. category was filled with DoubleTap's .38 Spl. Colt Defense 110-gr. jacketed hollow points which produced a best single group of 2.23" with a five-group average of 2.36". The full-throttle slot went to Hornady's .357 Mag. Critical Defense 125-gr. FTX, which tapped out a best group of 2.10" with an average of 2.32". The Winchester USA .357 Mag. 110-gr. semi-jacketed hollow point printed out a best group of 1.99" with an average of 2.11".
As expected, the .357 Hornady load produced a stiff (stout to less experienced shooters) degree of felt recoil while the .38 Spl. Colt Defense load generated a moderate, easy to control kick. What I didn't expect was the 110-gr. Winchester load to feel so much more like the Colt load than the Hornady. The chronograph results tell the story. Manufacturers' listed velocities are included for comparison: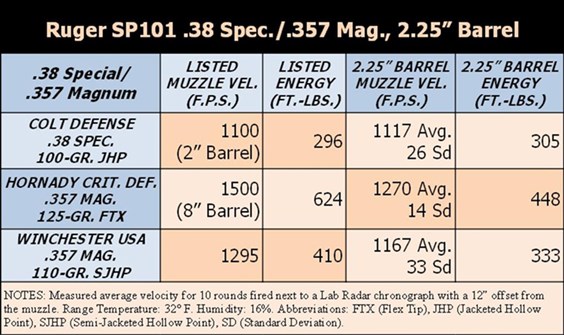 The Colt Defense load performed better than listed by gaining 17 f.p.s. of muzzle velocity for an added 9 ft.-lbs. of muzzle energy. Hornady clearly states in its literature that this round was clocked using an 8" test barrel (which usually means a closed chamber similar to a bolt action rifle), so the velocity shown on the box is faster than what you'll get from a 4" or 6" revolver, let alone a 2.25" long barrel. Although it lost 230 f.p.s. of velocity and 176 ft.-lbs. of muzzle energy, it still hits with 143 ft.-lbs. more than the .38 Spl. load. So, the short answer to the great debate is that yes, .357 Mag. loses energy when fired from a snub gun but it maintains enough energy to pack more punch than .38 Spl. In the end, it's up to the consumer to decide if the added recoil and muzzle blast is worth the added energy.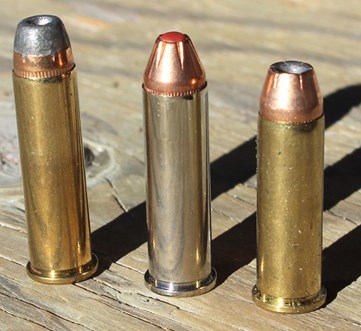 The old time favorite Winchester load dropped from a listed velocity of 1295 f.p.s. to 1167 f.p.s. of muzzle velocity for 333 ft.-lbs. of energy. In other words, it's only 50 f.p.s. faster than the Colt .38 with just 13 ft.-lbs. of added energy at the muzzle. That explains why it was the most comfortable to shoot .357 Mag. load I could find at the time.
As those of us who have adopted wheelguns for recreational, hunting and defensive endeavors have said in the past, the rumors of the revolver's demise have been greatly exaggerated. I don't believe Ruger would continue to grow its SP101 line if there wasn't a market for it. This tough little .357 Mag. has the advantages of being easy to operate, utterly reliable and it can be loaded to a wide variety of power levels. Whether you choose to pack a blued SP101 or a stainless steel one, don't forget those timeless words uttered by my friend at the range so many years ago, "Yup, that'll work!"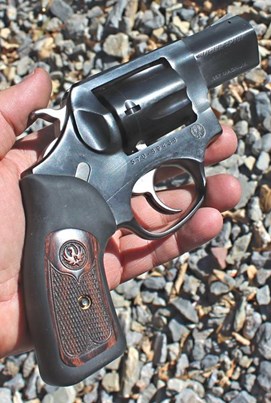 Specifications:
Manufacturer: Sturm, Ruger & Co.
Model: SP101 (Model Number: 15702)
Action: Double Action Revolver
Caliber: .357 Mag.
Finish: Blued Alloy Steel
Grips: Rubber, Engraved Wood Inserts
Front Sight: Black Ramp
Rear Sight: Square Notch
Barrel Length: 2.25"
Overall Length: 7.20"
Cylinder Width: 1.35"
Weight: 25.2 oz.
Capacity: 5 Rounds
Twist: 1:16" RH
Rifle Grooves: 5
Accessories: Hard Case, Lock, Owner's Manual
MSRP: $719
Crimson Trace LG-303 Rubber Overmold Lasergrip,  $319
Glaco Gunleather Combat Master Belt Holster (CM118) $92, Fletch High Ride Belt Holster (FL118) $112
5 Star Firearms Milled Aluminum Speed Loaders starting at $19.95, Loading Blocks starting at $30
Tuff Products QuickStrips 7002 5-Round .357 Mag./.38 Spec. $9.45 Per Pair