Support NRA American Rifleman
DONATE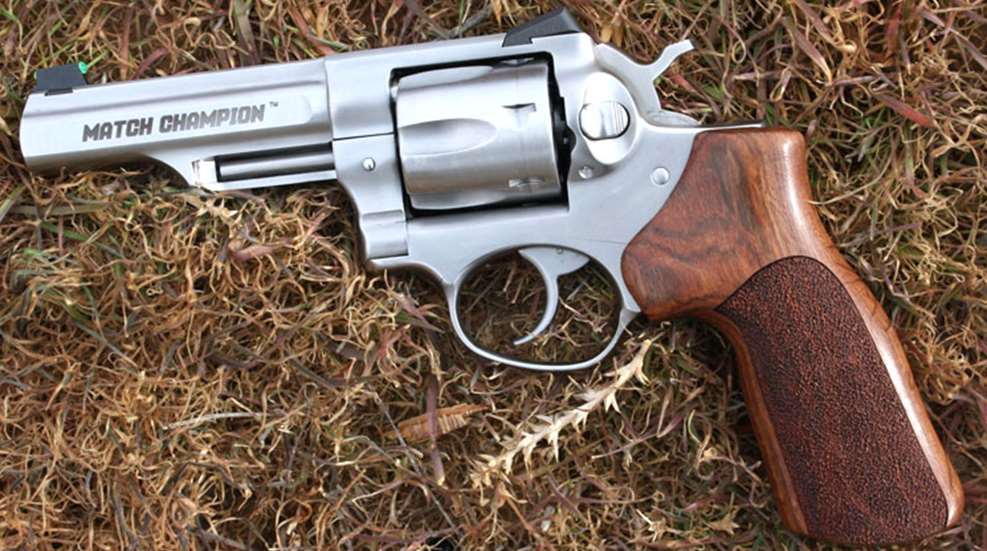 I'm a fan of Ruger's GP100 revolvers. This rugged, full-size .357 Mag. has been in production since 1986, and it was among the very first wheelguns I purchased. In the intervening years, I've always had at least one, if not more, of these reliable Ruger revolvers on hand. A 4-inch barrel stainless-steel model, inherited from my father-in-law, is now over 22 years old and still ticking away like a Timex.
When folks talk about the GP100, descriptions such as built like a tank, tough and workhorse are often employed. These accolades are well deserved since this is one of the strongest revolvers in its class. The heavy top strap, thick forcing cone walls, off-set bolt notches, triple-locking cylinder and the single-piece frame all work together to successfully mitigate the high levels of pressure produced by .357 Mag. cartridges.
But one arena where the Ruger revolvers have often been pushed aside by other manufacturers' products has been organized target competitions. While other companies have dressed up their wheelguns to capture the attention of the race-gun crowd, the GP100 has, for the most part, only been available in standard configurations. This year Ruger decided it was time to give the GP100 a chance to compete in the revolver division in International Defensive Pistol Association (IDPA) events with the new factory-custom Match Champion. In the process of tricking out the GP100 for target shooting, Ruger also made it an ideal option for self-defense.
The Match Champion's barrel, cylinder, frame and appointments are all constructed of stainless steel. It features a slab-side 4.2-inch barrel with an 11-degree target crown for improved accuracy. By flattening the sides of the barrel, replacing the full-length barrel lug with just a half-lug to shroud the ejector rod, and making a few other nips and tucks here and there, the revolver's weight has been reduced from 40 to 38 ounces. A two-ounce reduction may not sound like much, but with most of that weight coming out of the barrel, it makes for a marked improvement in the revolver's handling and balance.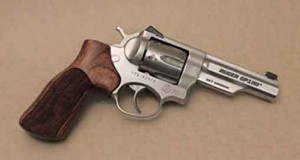 This version of the GP100 enjoys more in-house rounding and smoothing, internally and externally, than the stock models. The match-tuned action has been polished, enhanced with a centering boss for the trigger, and shims on the hammer for a smooth double-action trigger pull and a crisp single-action trigger break. The top strap is beveled and the squared-off portion of the frame in front of the trigger guard has been rounded. The front of the 6-shot cylinder has been radiused to allow the revolver to slip into a holster more gracefully. The ejector star and chamber mouths have been lightly chamfered for easier loading.
The revolver is topped with a fixed Novak Lo-Mount Carry rear sight and a bright fiber optic front sight. It's the same set of sights found on the TALO exclusive Wiley Clapp Ruger GP100 released a couple of years ago. The exposed hammer is checkered for easy cocking. The single external control—the press-button cylinder release—is located on the left side of the frame, and the smooth-faced trigger is protected by a rounded trigger guard. Other versions of the GP100 ship with Ruger's proprietary wooden side panel rubber grips or, more recently, with one of Hogue's rubber Monogrips. The Match Champion arrives with a custom single-piece competition-style Hogue hardwood grip with stippled side panels.
Although the Match Champion is marketed as an IDPA-style race gun, it's also an ideal self-defense and field revolver. The 4-inch barrel .357 Mag. is already one of the most flexible handguns available, because tricking out a GP100 just makes it that much more desirable to carry.
A do-it-all revolver greatly deserves a high-quality leather holster system, and Rob Leahy of Simply Rugged Holsters makes some of the best. His Sourdough Pancake holster, constructed using steer shoulder leather, arrives with three pre-cut belt slots. This allows the holster to ride on either the strong-side or cross-draw positions on a belt. The Sourdough can be ordered with pre-punched holes, and added straps for inside-the-waistband carry, or converted into a tanker-style chest rig with the addition of the Chesty Puller straps. In other words, this one holster can be comfortably employed in just about every situation that calls for a full-size wheel gun. Simply Rugged also provides high quality belts, speedloader holders, and pouches designed for Quick Strips or loose cartridges.
Taking the Match Champion to the shooting range was a refreshing reminder of why full-size .357 Mag. revolvers are so much fun to shoot. In little snub-nosed pocket revolvers, .357 Mag. ammunition can produce uncomfortable, if not painful, levels of felt recoil. But in a well-balanced full-size revolver with a comfortable grip, like this one, it can be perfectly manageable and enjoyable to shoot. The revolver's action proved to have one of the best factory triggers I've ever worked with. It was smooth in double-action mode with a short, crisp, creep-free break in single-action mode.
This GP100 was loaded with ammunition ranging from soft-shooting practice grade .38 Special to full-throttle defense grade .357 Mag. loads. As expected, the revolver loaded, fired, and ejected each brand of ammunition with aplomb. Shooters looking to load the Match King more swiftly will find the HKS model 586 and the 5 Star Firearms model L6-357/38 speed loaders slip past the wooden grip without a hitch. For those who prefer flat reloading devices for pocket carry, the 6-round Tuff Products 6357 Quick Strips and Bianchi's 580 Speed Strips are spaced to feed two round into the GP100 cylinder at a time.
Formal accuracy testing was conducted from a bench rest using targets set at 25 yards with the Match Champion fired in single-action mode. The highly visible sights and trigger job contributed to satisfying 5-shot groups at this distance. The best single group of 2.39-inches was produced using Federal Premium's Law Enforcement Tactical 158-gr. Hydra-Shok jacketed hollow points, which also produced the best group average of 2.73-inches. Hornady's Critical Defense 125-gr. FTX averaged 2.86-inches, followed by Remington's practice-grade UMC125-gr. jacketed soft point at 3.28-inches.
The new Ruger GP100 Match Champion .357 Mag. revolver successfully blends the superior toughness of the GP100 design with the slicked-up features many IDPA competitors have in mind. But where I think the Match Champion will make its most important impact is for those Ruger customers who are looking for a high-quality defensive handgun at a price they can afford. The revolver arrives ready to go without the time or expense of sending it out to be customized. The suggested retail price for the Match Champion is $140 more than the standard stainless steel model. Compared to paying upwards of $500 for the same set of upgrades from a reputable custom shop, it's a real bargain. This new take on the GP100 is a welcome, if overdue, addition to Ruger's double-action revolver lineup.
Technical Specifications
Manufacturer: Sturm, Ruger & Co., Inc.; Ruger.com
Model: GP100 Match Champion
Action: Double-Action
Caliber: .357 Magnum / .38 Special
Finish: Satin Stainless Steel
Grips: Hogue Hardwood Monogrip
Front Sight: Fiber Optic
Rear Sight: Fixed
Barrel Length: 4.20 Inches
Overall Length: 9.50 Inches
Weight: 38 Ounces
Capacity: 6 Rounds
Twist: 1:18.75 RH
Rifle Grooves: 6
Accessories: Hard Case, Lock, Owner's Manual
Suggested Retail: $899