Support NRA American Rifleman
DONATE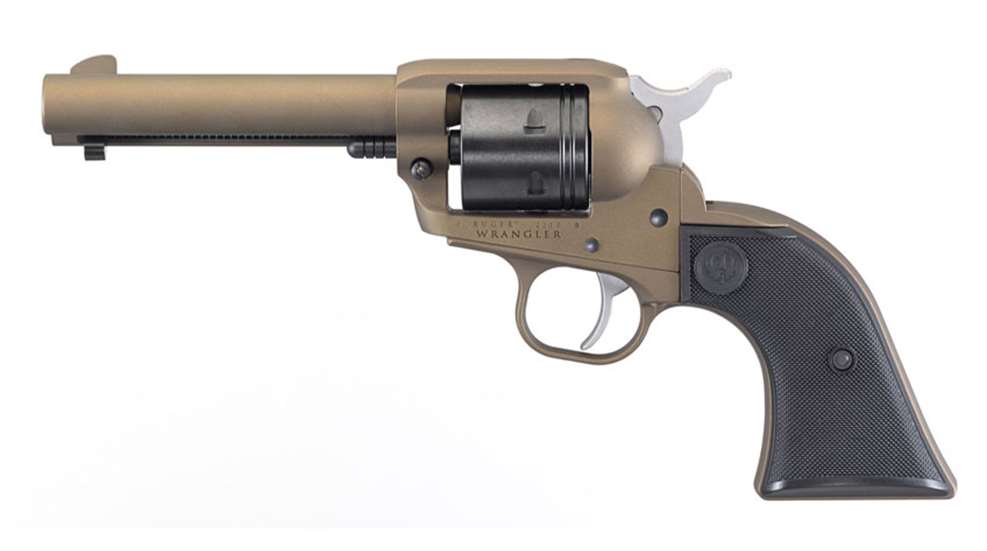 Mr. William B. Ruger has been credited by some shooting industry experts with saving the single-action revolver from slipping into obscurity back in the 1950s. At the time, cowboy action TV shows and movies were popular, but there weren't too many cowboy-style wheel guns in production. In 1955, Sturm, Ruger & Co. released the center-fire Blackhawk chambered in .357 Mag. The Blackhawk was successful at scratching the urban gunslinger itch and has remained in production ever since.
But two years before the launch of the Blackhawk, Ruger released the more compact Single-Six chambered in .22 LR. This rimfire single-action has been a success story as well, with dozens of configurations released over the years. In 1973 the Standard Model was replaced with the New Model, which features the transfer-bar-safety system that is still in use today.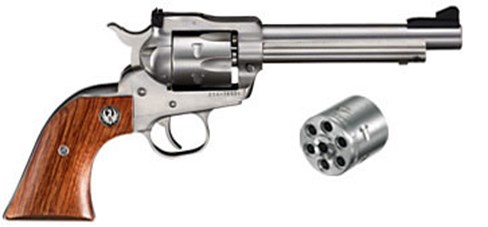 I took my first spin around the range with a Single-Six .22 rimfire back in the late 1990s when I picked up a used 6.5" barrel stainless steel convertible model. It was in great condition and I fell in love with the revolver's clean trigger pull, its comfortable balance in the hand and the low recoil it produced. In 2011, when I had the opportunity to work up the then-new stainless steel Single-10, I couldn't write the check to Ruger fast enough. It has since become one of my all-time favorite range guns, pop can perforation platforms and dirt clod slayers. It's safe to say I'm a fan of the Ruger Single-Six and what it has to offer.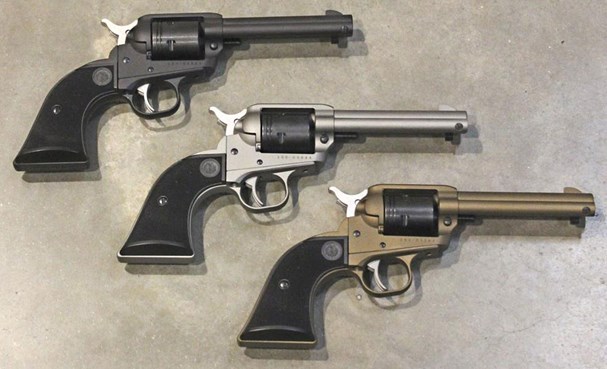 One of the ongoing challenges for .22 platform manufacturers is that consumers want their rimfire platforms to have diminutive price tags similar in size to the ammunition the guns shoot. This perception that .22s should be cheap is nurtured by the fact that a variety of solid semi-automatic rifles and pistols are available with real world prices hovering between $200 to $350. Then why does the least expensive blued steel Single-Six convertible have an MSRP of $629?


If you set an all-steel Single-Six side-by-side with a Blackhawk, it's easy to see that even though the dimensions are different, the materials, processes and manufacturing steps needed to complete them are the same. All-steel wheel guns are not as easy to make as polymer-framed semi-automaticss. Therefore, they just cost more, plain and simple.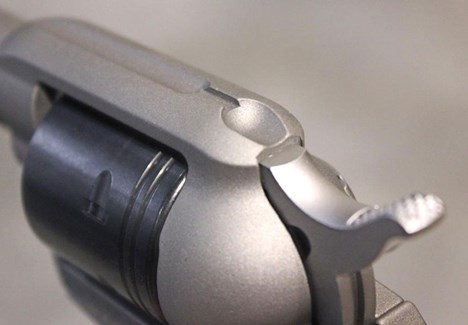 Recognizing that the company was missing out on the under $300 rimfire marketing opportunity, Ruger's engineers took the Single-Six back to the drawing board to see how they could reduce manufacturing costs and pass the savings on to the consumer. The result of their efforts is the new Wrangler six-shot .22 LR revolver with a suggested retail price of $249.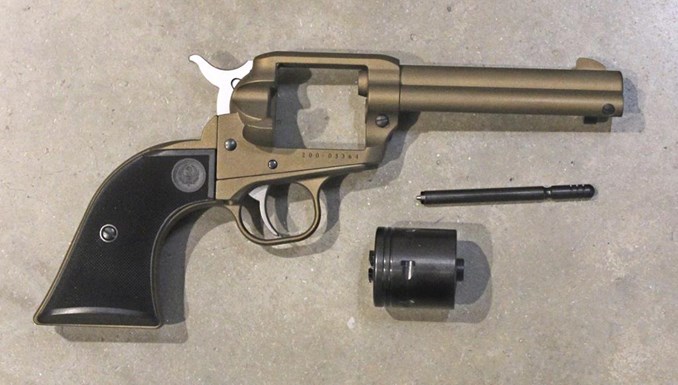 Is it really possible to cut the price by 60 percent without trimming away what makes the revolver so likable in the first place? As a fan of the Single-Six, I'm glad to report that after working with three samples of the new Wrangler, the answer is yes, it is. Here's how Ruger pulled it off.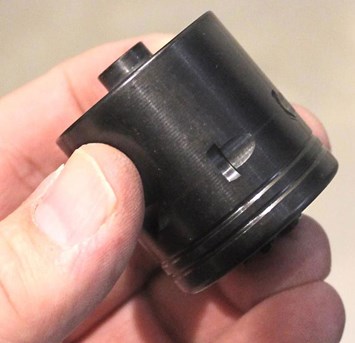 First, let's talk about what didn't change. The Wrangler's external dimensions and grip size are the same as the New Model Single-Six. This means the Wrangler can comfortably ride in the same holsters and be outfitted with New Model grip panels. The cylinder and 4.62" long cold-hammer forged barrel are still constructed of carbon steel alloy. This is important because these two components play key roles in the revolver's accuracy and durability. The ejector rod, base pin (or cylinder pin), frame pins, screws and various internal bits have also been transplanted from the Single-Six. Last, but not least, the grip frame is fitted with the same checkered black polymer grip panels with molded in Ruger Eagle medallions. In addition to the transfer bar safety, this revolver has a loading gate interlock safety. In other words, the hammer can't be cocked when the gate is open.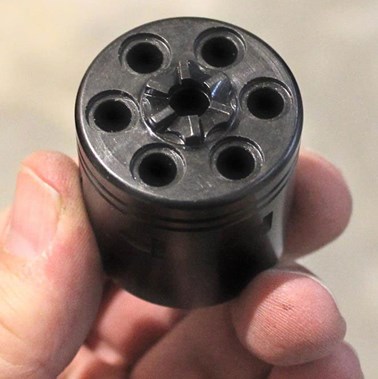 Now, let's delve into the cost-cutting modifications. The Wrangler is a dedicated .22 LR platform, so farewell to the .22 Mag. conversion cylinders. The six-shot cylinder has a black oxide, or blued, finish. The cylinder is unfluted, which reduces machining costs, but two decorative grooves can be found behind the cylinder latch notches. The cylinder no longer clicks into place when reloading. Instead, this gun has what's called a free-wheeling cylinder that turns freely to the left or right when the loading gate is open.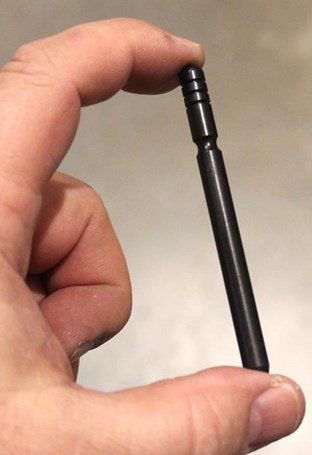 The adjustable sight system has been replaced with a simple, but rugged, fixed sight system. This classic blade front sight and fixed notch rear sight can also be found on Ruger's Vaquero and Bearcat models. The ejector housing is made from aluminum instead of steel. The cylinder frame and loading gate are die cast from A380 aluminum alloy. Aluminum has been in use as a revolver frame material since the 1950s and has a proven track record for reliability and longevity. In this case, it's easier to mass produce than the steel frames and weighs less to boot.



The steel grip frame and an integral trigger guard extension have been replaced with die cast zinc alloy which is less expensive to produce than aluminum while still being tough enough for thousands of rounds of .22 ammunition. The diamond checkered hammer and smooth-faced bow trigger are both MIM (Metal Injected Molding) stainless steel components.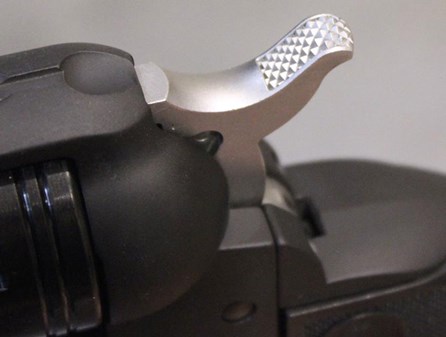 Now, I can already hear some readers saying, "Die casting, zinc alloys and MIM parts, oh my!" I'll agree up front that there are some very poorly executed examples of these materials and manufacturing techniques floating around the gun market. Nevertheless, when these processes are performed properly by experienced technicians using high-grade materials, then quality components will come off the assembly line. A zinc alloy grip frame is not as strong as a steel one. But in this case, it's strong enough to get the job done at 40 percent of the price of steel.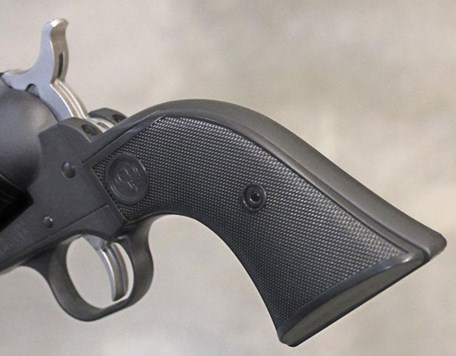 To unify the appearance of a platform with carbon steel, aluminum and zinc alloy components, Ruger opted to give the Wranglers a Cerakote finish. Developed by NIC Industries as a firearm coating in the 1980s, Cerakote is a ceramic and polymer compound capable of bonding to a variety of materials including ferrous metals, non-ferrous metals, wood and polymer. Applied as a liquid (usually sprayed on with an air brush), the coated components are placed into an industrial kiln for a few hours to cure. The result is a smooth, consistent matte finish that is durable and chip resistant. The Wrangler is launching with three color options including Black (#2002), Silver (#2003), and Burnt Bronze (#2004).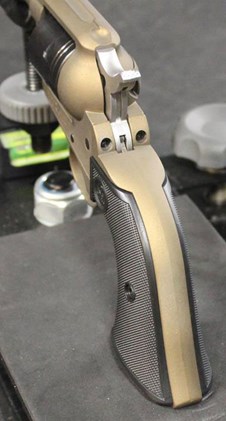 Before taking them to the range, each of the Wranglers I received for evaluation was closely examined and bench checked. The fitting throughout is Ruger quality, which is to say, tight and precise. The metal treatments are correctly applied and the components properly fitted. The controls were clean and smooth on all three revolvers. The Wranglers weighed in at 30 oz., making them 2 oz. lighter than the blued-steel Single-Six. At that weight, with the shorter 4.62" barrel, these revolvers balance nicely with good purchase provided by the textured polymer grips.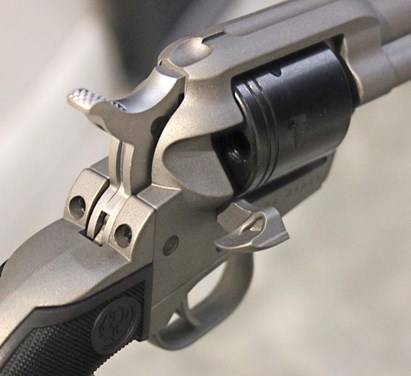 For budget priced models, I had to work hard to find anything to complain about. But if I were to nit-pick a bit, here's what would go on the list. There is a visible seam mark that runs through the centerline of the grip frame. However, it's been sanded down to the point that you can't feel it when shooting. There is a 0.06" gap at the top front edge of the polymer grip panels where they meet the trigger guard. But I've seen tiny gaps like this on much more expensive single-actions.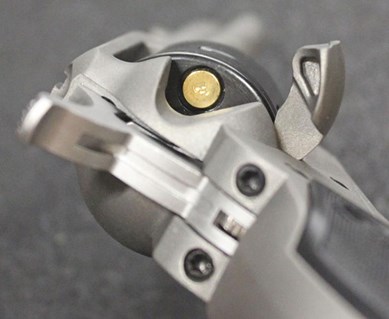 The hammer and the loading gate are both a bit stiff to start with, but smooth. Given a choice between tight and loose, a tightly fit moving part is the better option. The only other thing I could think of is that the hardcore traditionalists may not care for the Burnt Bronze or Silver Cerakote finishes. Luckily, the Black version looks the part if that's important to you. Even though this model is not as pretty as a polished stainless steel Vaquero, overall, it's a good-looking revolver.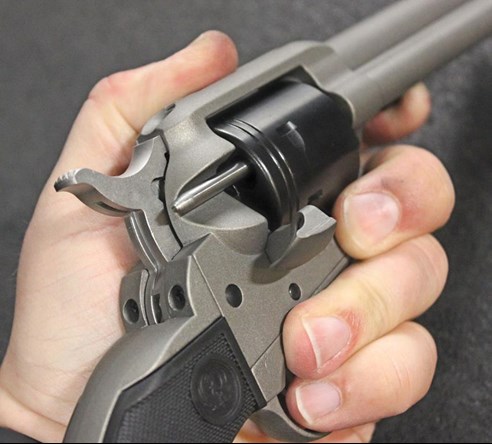 Here's a Single-Action Revolver 101 tip for folks who are new to shooting this platform. Revolvers like this are very reliable but there are two user-induced malfunctions owners should be aware of. When semi-auto pistols jam up due to an ammunition or magazine malfunction, a "tap and rack" drill is used to get it running again. With a free-wheeling revolver like this one, you may need to perform what I call a "tug and twist" check if you find that the hammer won't lock into the fully cocked position. First, give the base pin a little tug to verify that it's fully locked into the frame (no need to go all gorilla on this one). Sometimes when folks replace the base pin after cleaning the revolver it doesn't get pressed in all the way. If it's properly locked, it will stay in place unless you depress the base pin latch.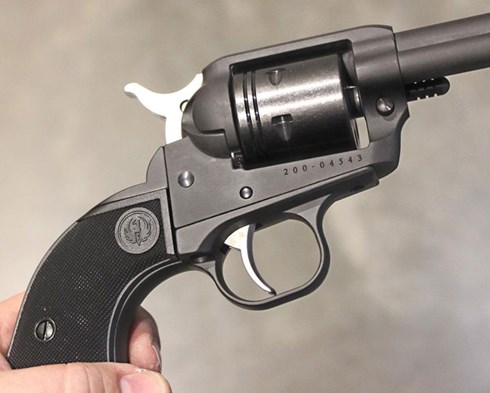 The twist is for the cylinder. A free-wheeling cylinder may not automatically reengage the cylinder latch if it's rotated a little too far to the left or right after the loading gate is closed. If you go to cock the hammer and it feels stuck, and the cylinder doesn't rotate, just give the cylinder a gentle clockwise twist until you feel the cylinder latch catch and stop the cylinder from turning. Now the cylinder is in proper alignment and ready to fire.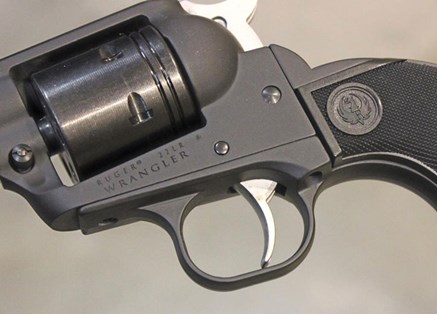 One of the best features of .22 LR rimfire revolvers, which doesn't get nearly enough press, is their lack of ammunition sensitivity. While semi-automatic pistols will turn up their noses at this load or that load, revolvers will fire them all. You can even shoot .22 Shorts or other low-power loads in the Wrangler without have to worry about it failing to cycle.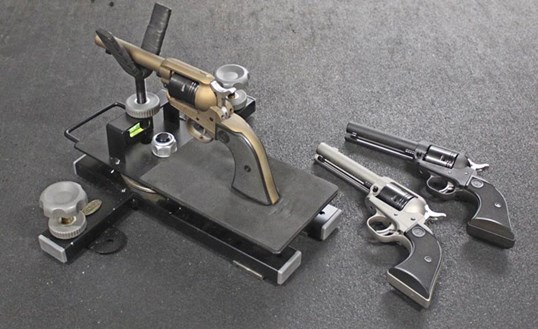 I checked the Wranglers' trigger pull weights using a Lyman digital trigger gauge. The Black trigger was the lightest at 4 lbs.8 oz. The Silver was the middle weight at 4 lbs.10 oz., followed by the Burnt Bronze at 4 lbs.14 oz. Although I test fired all three revolvers, the Bronze version was used for formal benchrested five-shot group accuracy testing at 25 yards. If I had been able to tap out 3.5" group averages with this revolver, I would have given it a clean bill of health (due to the rudimentary sights). However, loaded mostly with bulk-box plinking fodder, the Wrangler kept the groups at or below 3".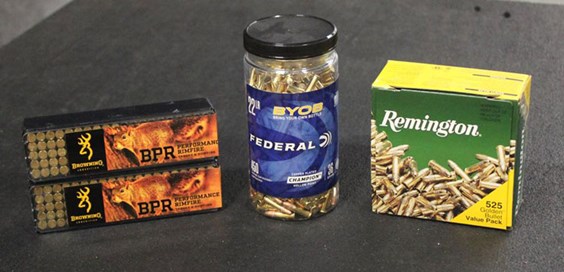 Remington Golden Bullet 36-gr. brass-plated hollow points printed a best single five-shot group of 2.71" with a five-group average of 3.27". Browning's BPR 40-gr. copper-plated hollow point yielded a best group of 2.77" with an average of 2.94". Federal Premium's new BYOB bottled Champion 36-gr. copper-plated hollow point shot the tightest group of 2.64" with the best average of 2.80"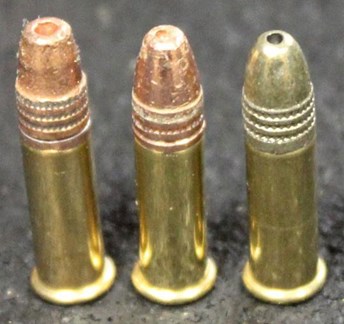 The release of the budget-friendly Wrangler in the same year that Ruger is celebrating its 70th anniversary is most likely not a coincidence. The company continues to expand its new (and more expensive) custom shop offerings. However, the Wrangler sends a clear message to Ruger fans of the company's continuing commitment to produce reliable, affordable firearms that regular folks can enjoy.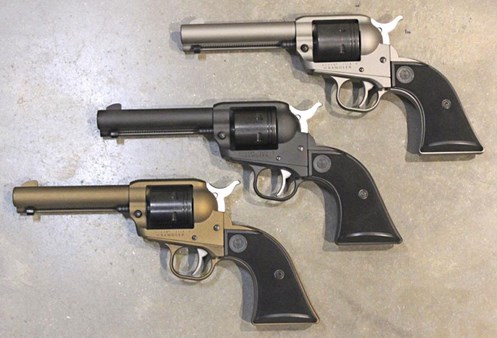 In a rimfire handgun market dominated by budget priced semi-automatics, the Wrangler may very well keep the single-action revolver from slipping into obscurity once more. Now .22 LR enthusiasts who have little or no experience with single-action revolvers can give them a try without having to spend two or three times more than they would for a pistol. Best yet, they don't have to sacrifice the product quality and customer service that Ruger provides.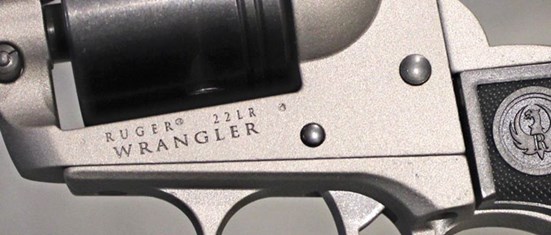 Specifications:
Manufacturer: Sturm, Ruger & Co.
Models: Wrangler
Action: Single-Action Revolver
Caliber: .22 LR
Finishes: Matte Black Cerakote (#2002), Silver Cerakote (#2003), Burnt Bronze Cerakote (#2004)
Barrel: Cold-Hammer Forged Carbon Steel
Cylinder: Carbon Steel, Unfluted, Black Oxide Finish
Cylinder Frame: Die Cast A380 Aluminum Alloy
Grip Frame with Trigger Guard: Die Cast Zinc Alloy
Ejector Housing: Aluminum
Hammer: MIM Stainless Steel
Trigger: MIM Stainless Steel
Grip Panels: Single-Six, Checkered Black Polymer
Front Sight: Fixed Blade
Rear Sight: Fixed Notch
Safeties: Transfer Bar, Loading Gate Interlock
Barrel Length: 4.62"
Overall Length: 10.25"
Height: 4.85"
Cylinder Width: 1.40"
Weight: 30 oz.
Capacity: 6 Rounds
Twist: 1:14" RH
Rifle Grooves: 6
Accessories: Lock, Owner's Manual
MSRP: $249

Additional Reading:
Video—First Look: Ruger Wrangler .22 LR Single-Action Revolver