Support NRA American Rifleman
DONATE
It's been two years since we posted an editorial titled 5 Ruger Revolvers We're Ready For. My enthusiasm for the topic could have resulted in a much longer list. But in this case, I stuck to five model ideas that seemed plausible based on the models already in production.
My number one choice on the list was a .22 Mag./.22 Long Rifle convertible rimfire version of the 3" barrel LCRx double-action revolver with adjustable sights. I predicted that if any of the suggested models actually made it to market, the LCRx would be the first. As it turned out, the first wheelgun rolled out to the marketplace just last year was the second option on the list: a 5-shot GP100 chambered in .44 Spl. Trust me when I say that having my second pick land first doesn't hurt my feelings at all. It was just as cool to shoot as I hoped it would be. It was a two-year wait for the longer barreled .22 LCRx, which wasn't quite what I had in mind but it was close.
The mixed-material LCR double-action revolver lineup has been steadily expanding since the debut of the concealed-hammer, 1.87" barrel .38 Spl. +P model in 2009. The design represents a successful evolution of the lightweight concealed-carry revolver concept. While other companies have used a combination of two materials to keep weight down, such as steel and aluminum or steel and polymer, Ruger incorporated three materials into the primary makeup of the LCR. The cylinder, barrel liner, trigger and hammer are made of stainless steel. The cylinder is treated with a PVD finish while the other components are left with a natural silver finish.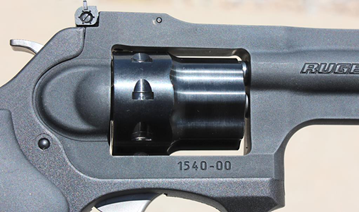 The single-piece upper frame, which supports the sight system, barrel liner and cylinder is constructed of 7000 series aluminum with what the company calls a Synergistic Hard-Coat finish. The lower frame is molded from a durable glass-filled nylon like that found in the polymer frames of Ruger's semi-automatic pocket pistols. The revolvers are fitted with soft synthetic rubber grips provided by Hogue Inc.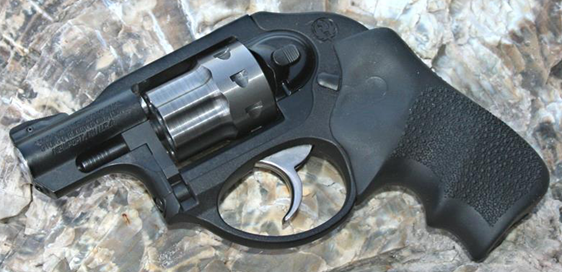 In 2012, I had an opportunity to work with one of the first rimfire versions of the LCR, an eight-shot .22 Long Rifle with the same short barrel, fixed sights and concealed hammer as the .38 model. It was a solid little wheelgun that worked as advertised. Although there was nothing wrong with the gun, it left me wanting more.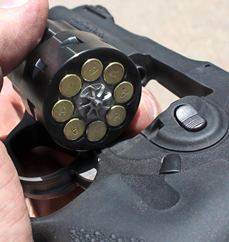 What I saw in the .22 LCR was the potential for a slick lightweight trail gun that would be handy and enjoyable to shoot. With a longer barrel, exposed hammer, a larger grip and adjustable sights, it would be an ideal bumming-around-the-woods and just-for-fun gun like the Ruger's single-action New Bearcat or Single-Six but with the advantages of a double-action revolver.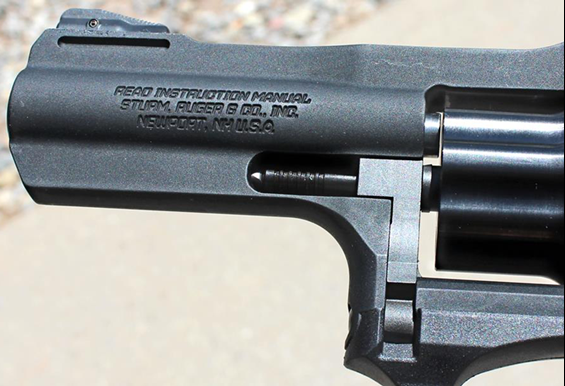 Time passed and the LCR continued to evolve toward the model I had in mind. December of 2013 marked the arrival of the LCRx with an exposed hammer that can be cocked for single-action fire, followed by the 3" barrel, adjustable sight .38 Spl. announced in November of 2014. By the middle of 2015, everything was in place for an LCRx kit gun, so I publicly pitched the idea. Alas, it would be another two years before it arrived, but it was worth the wait.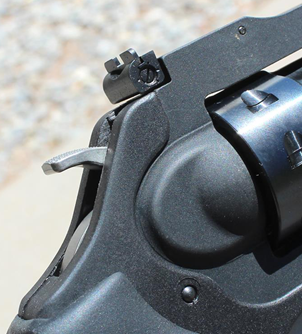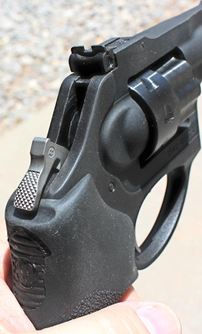 The new LCRx eight-shot .22 has the feature set I was hoping for. The 3" barrel is topped with an adjustable rear sight and a removable pinned white-bar front sight. The checkered hammer extension is just the right size—small enough to be comfortable to carry but large enough to cock easily. The eight-shot stainless-steel cylinder is the heaviest single component, so it's been trimmed down as much as possible to reduce the weight. The ejector assembly is just the right length to completely kick out spent .22 Long Rifle cases.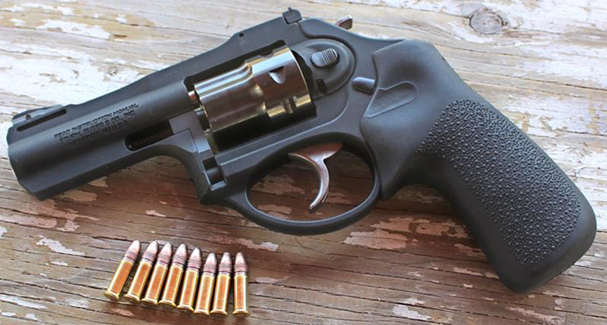 Because double-action revolver triggers are among the heaviest to pull in the industry, they have to be smooth if customers are going to buy them. The LCR triggers are surprisingly smooth, including the rimfire models. A trusty Lyman's digital trigger gauge says the double-action trigger pull of the gun reviewed is somewhere over 12 lbs. (which is as high as the gauge goes). But based on how the trigger feels, I would have guessed it was more like 10 lbs. The single-action trigger is great to work with too. With the hammer cocked, the trigger breaks cleanly at 5 lbs. 4 oz. with a short stroke that's free of any mushiness or over travel after the break. The rounded polymer trigger guard is generous with plenty of room for gloved fingers. 
The Hogue Tamer Monogrip is a more important component for balancing out this feathery light 17.3 oz. rimfire revolver than some folks might think. An exceptionally light handgun with a slim or short grip is going to be difficult to hold on target. The weight of heavier handguns provides some degree of resistance against the minute muscle twitches involved in pulling the trigger that can affect downrange accuracy. This version of the Hogue grip is just the right size to fill up the shooting hand and support all three fingers while remaining compact enough for comfortable carry. The textured soft rubber allows for a firm, steadying grip while taking aim and following through.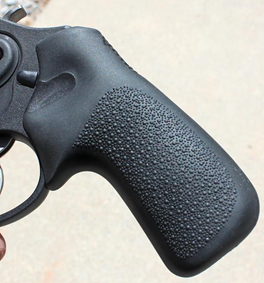 At the shooting range, I got down to the business of having an enjoyable session with the LCRx—I mean, of seriously testing this new revolver for function and accuracy. The felt recoil was mild, the revolver functioned flawlessly and there were no ammunition related issues. Semi-automatic .22 pistols are notoriously finicky about which kinds of ammunition they'll cycle reliably and no two pistols are alike. Revolvers like this one will digest just about anything you choose to feed them including low power and specialty loads like pest-control shotshells.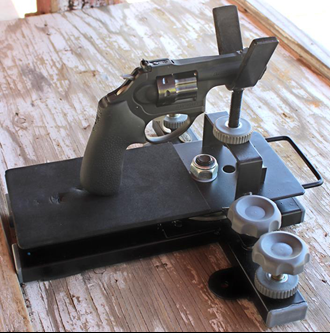 With the informal testing thoroughly enjoyed, the LCRx was set into a handgun rest for five, five-shot groups fired at 15 yards. Aguila Interceptor 40-gr. copper-plated flat points produced a single best group of 1.96" with a five-group average of 2.07". Browning Ammunition's new BPR copper-plated hollow points yielded a best group 1.91" with an average of 2.01". Federal Premium Hunter Match 40-gr. lead hollow points turned in the best single group of 1.85" with an average of 1.95".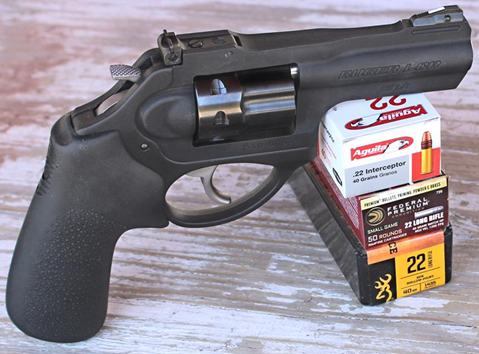 The Rolling Stones famously stated that you can't always get what you want, but if you try, you get what you need. The latest version of the rimfire 3" barrel adjustable sight LCRx is not the dual-caliber convertible model I wanted. However, this eight-shot dedicated .22 Long Rifle is definitely what we needed for use as a handy little trail and kit gun. Because this revolver is built on a frame designed to handle up to .357 Mag. pressure levels, it will easily handle a lifetime of enjoyable rimfire shooting.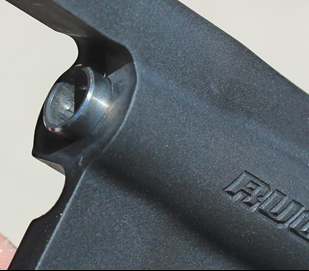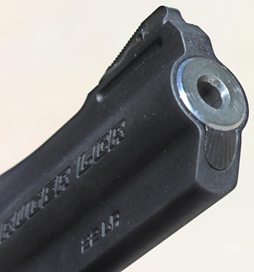 The arrival of this LCRx means two of the five wheelguns I wished for (along with lots of other folks) have been produced in two years. Not bad, not bad at all. Now Ruger, about those 10 mm models I mentioned....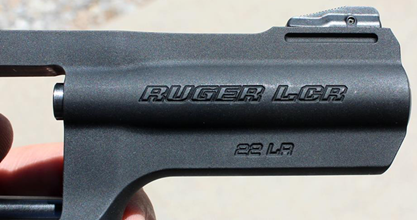 Specifications
Manufacturer: Sturm, Ruger & Co., Inc.
Model: LCRx (#5435)
Action: Double-Action
Caliber: .22 LR
Cylinder: PVD-Finished Stainless Steel
Barrel: Stainless Steel
Upper Frame: 7000 Series Aluminum, Synergistic Hard-Coat Finish
Lower Frame: Glass-Filled Nylon
Grip: Hogue Tamer Monogrip
Front Sight: Removable Pinned Ramp with White Bar
Rear Sight: Adjustable Black Blade
Hammer: Exposed
Barrel Length: 3"
Overall Length: 7.50"
Width: 1.28" (Cylinder)
Height: 5.80"
Weight: 17.3 oz. Unloaded
Capacity: 8 Rounds
Twist: 1:16" RH
Rifle Grooves: 6
Accessories: Cable Lock, Owner's Manual
MSRP: $579

Additional Reading:
5 Ruger Revolvers We're Ready For