by
posted on June 20, 2018
Support NRA American Rifleman
DONATE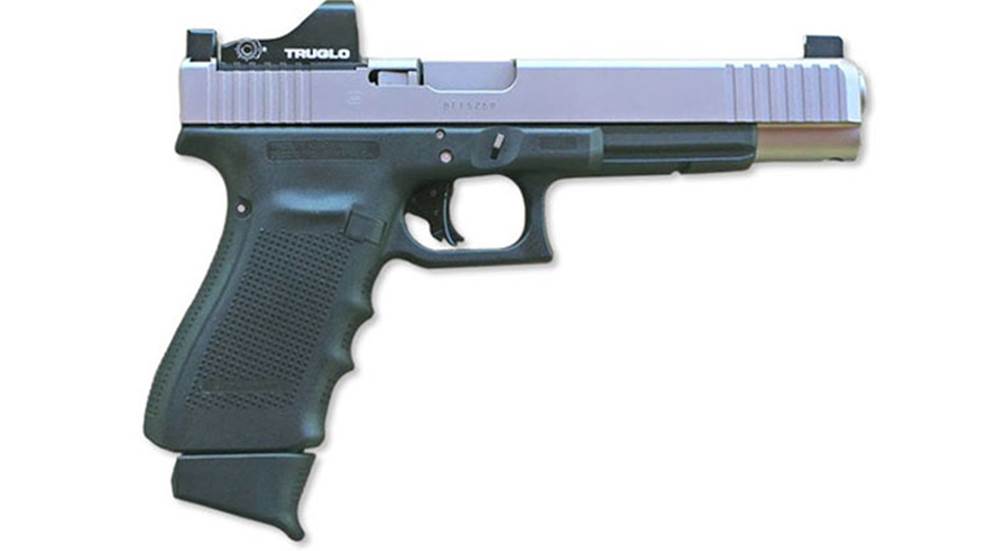 In 2015, I got to wrap my hands around a Glock model I had secretly wished for as a factory-production option for quite some time, the Glock G40 Gen4 MOS pistol. Before its release, shooting a long-slide 10 mm Glock required the installation of a relatively expensive aftermarket slide assembly. The G40 eliminated the need for the slide swap and it had the MOS optics mounting system to boot. I enjoy shooting a variety of platforms, but this one was a real keeper.
Unfortunately, I was not in a position to purchase the G40 sample gun once the review was posted. I debated and considered, but back to the company it went. Time passed and new projects came my way, including an opportunity to write about building a custom Glock pistol at home. When I approached Chris Miller, the Glockmeister's Manager of Operations, with the idea of teaming up for this build, Chris asked which model of pistol I had in mind.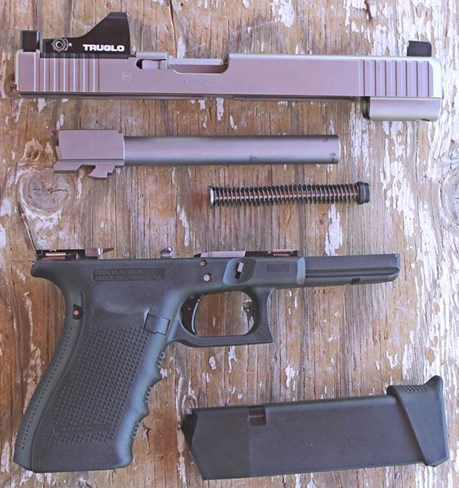 Remember little Ralphie Parker from the 1983 holiday classic "A Christmas Story"? His undying mantra was, "I want an official Red Ryder, carbine-action, 200 shot-range-model air rifle!" I'm pretty sure I sounded just like him when I told Mr. Miller that even though just about any model would do the trick, what I really wanted to build was a long-slide G40 10 mm with a custom feature package and extended magazines! He was immediately on board with it, so we worked our way through Glockmeister's extensive catalog of in-house components, services and 3rd party gun parts.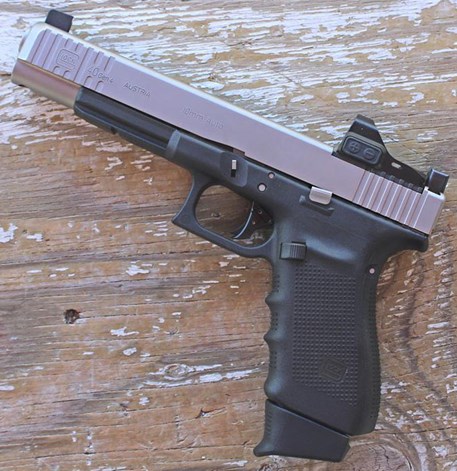 The result was a custom Glock that left me with a big Christmas morning smile on my face. I originally planned to talk about the features of this pistol in the course of the how-to, but there was simply too much information to fit comfortably in one article. Instead, I've included the tech specs, range results and some top-notch holster options here.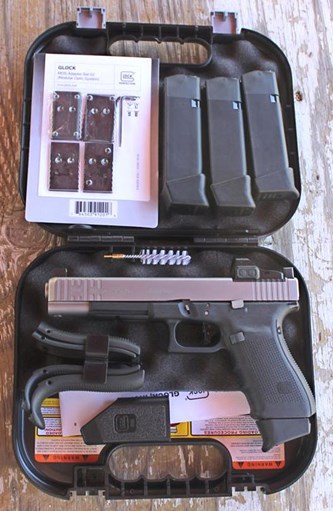 This custom long-slide 10 mm pistol began life as a factory fresh Glock G40 Gen4 MOS Safe-Action semi-automatic pistol with a complete set of Glock accessories including a hard case, three magazines, bore brush, the interchangeable backstrap system and so on.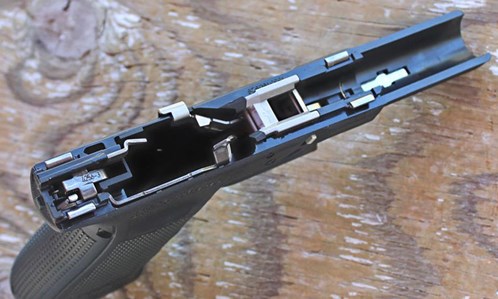 Glockmeister has partnered with Robar to provide customers with the option of treating their pistol's components with Robar's electroless nickel-based NP3 firearm finish for steel, stainless steel and aluminum alloys. The NP3 application process co-deposits sub-micron particles of PTFE (polytetrafluoroethylene), more commonly known as Teflon, along with the nickel. This coating provides a handsome satin gray finish which is corrosion resistant, has a low friction co-efficient, high lubricity and is easier to keep clean.

This particular pistol received Glockmeister's Norton Package, which includes the NP3 coating process for a dozen different parts, the slide, the barrel and most of the small metallic components including the locking block, pins and slide catch to name a few. Choosing to add this treatment to the custom package increased the delivery time by a couple of weeks, but it was well worth the wait. The NP3 finish is expertly applied throughout and gives the silver slide assembly and appointments just the slightest hint of bronze coloring, which makes the pistol stand out from the matte black Glock crowd without being ostentatious.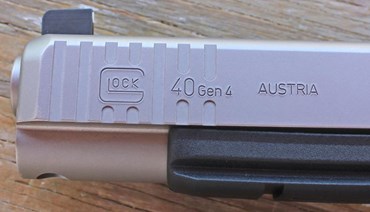 In addition to the NP3 coating, the extended heavy-weight slide was milled with a set of front cocking serrations which come in handy once an optic is installed. The right-side serrations consist of seven straight grooves while the left-side serrations are tastefully cut in and around the slide stamps.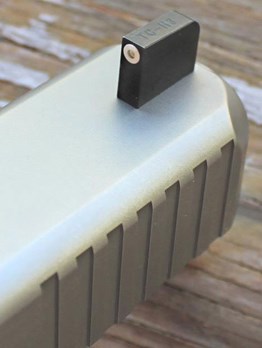 Both sighting systems were made by TruGlo. The Tritium Pro Night Sights, which are based on the TFX PRO system, have added height for use with sound suppressors and micro red-dot sights but still fit comfortably into standard holsters. Assembled in the United States with high quality Swiss Tritium lamps, the sights are treated with the company's protective Fortress finish. The U-notch of the rear sight and bright white outline of the front sight make the sight picture quick and easy to acquire.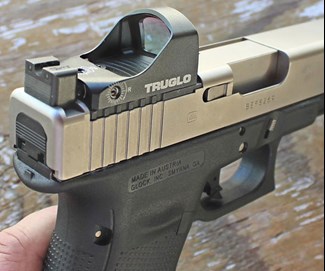 TruGlo's Tru Tec Micro sub-compact open red-dot sight was mounted to the G40 using the #5 plate of the Glock MOS Adapter Set 02 shipped with the pistol. The 23 mm x 17 mm multi-coated objective lens is secured within a CNC-machined aircraft-grade aluminum housing. The 3-MOA red-dot reticle has 10 brightness settings and is adjustable for height and windage. This sight arrives with an ABS hardshell cover, one 3V-CR203 battery and a Picatinny rail mount.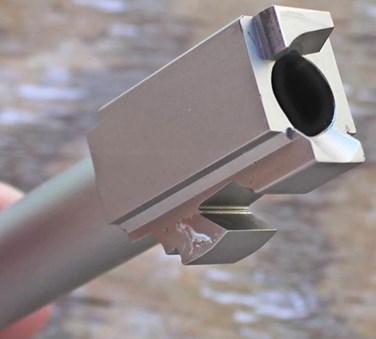 The stock Glock barrel was replaced with a precision stainless steel 6.02" StormLake model with traditional land and groove rifling. The factory-installed 17-lb. dual recoil spring assembly was replaced with Glockmeister's captured single-spring Tungsten guide rod fitted with an ISMI flat-wire recoil spring. A removable capture screw makes changing spring weights a snap, so I also ordered three springs tuned for 20 lbs., 22 lbs. and 24 lbs. of resistance.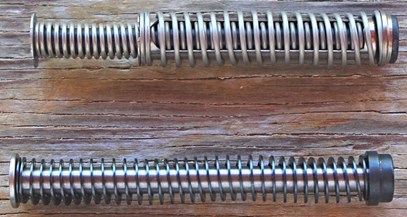 The large Gen4 polymer frame is, in my opinion, a marked improvement over the Gen3 version. It's smaller, making it a much better fit for my hands, and the wrap around Rough Texture provides better purchase. Glockmeister's extended slide lock takes the frustration out of removing the slide from the frame. The company also provides a set of precision cut stainless steel pins for Gen4 models, including a second slightly longer trigger housing pin for use with the interchangeable backstraps. Vickers Tactical chipped in a comfortable-to-work-with extended slide stop lever and a rounded magazine release button.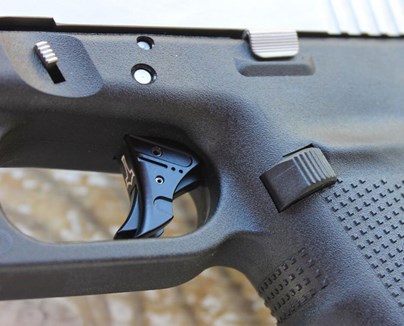 The trigger group was reworked from stem to stern for a smooth, clean feel while remaining utterly safe and reliable for use in the field or for personal protection. The factory trigger mechanism housing sports an NP3-treated 4.5-lb. connector and a Glockmeister competition trigger spring. The stock polymer trigger shoe and bar were swapped out for the SSVI TYR Trigger assembly for large Glock frames with a smooth-faced anodized aluminum trigger shoe. This combination of components eliminated the mushiness of the factory trigger and provided a just right 4-lbs. 10-oz. trigger pull.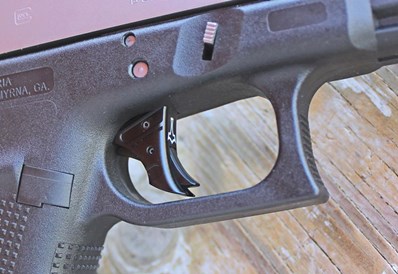 Replacing flush fit magazine baseplates with +2 magazine extensions is an easy and inexpensive way to increase ammunition capacity, and they provide something to grab on to in case the magazine has to be manually pulled out of the grip for an emergency reload. Along with a fourth 15-round Glock magazine, I requested two types of magazine extensions for testing. The Pearce Grip extensions are textured to match the grip (just in case you're the 6-fingered man Inigo Montoya is looking for) while the Glockmeister extensions are smooth faced. The final enhancement to the grip was the installation of a Glockmeister G4 backstrap channel insert to aid in smooth magazine insertions.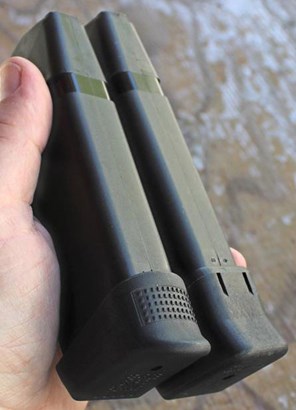 Finding a quality holster for a long-slide pistol can be something of a challenge. Luckily, I found two terrific systems to test along with the G40. If you're a high-speed, low-drag thermoplastic belt holster type of shooting enthusiast, then the BladeTech Classic OWB belt holster is the way to go. The adjustable retention system is paired with the company's positive lock for the trigger guard that produces an audible click when the pistol is fully holstered. There's plenty of room at the top of the holster for an installed optic and an IDPA legal speed cut along the front for a faster draw.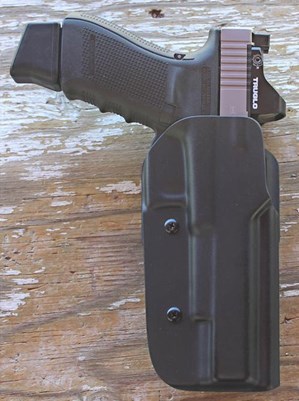 For stomping around in the woods, horseback riding or driving ATVs, El Paso Saddlery's Tanker holsters for large handguns are hard to beat. This all-leather system holds the handgun up off of the belt line on the left or right side of the torso just below the pectoral muscle. Set in this position, the gun is out of the way but easily accessible. It's also comfortable to wear with a backpack. The Tanker rig is available for semi-automatics with barrels ranging from 5.50" to 8.75" in length.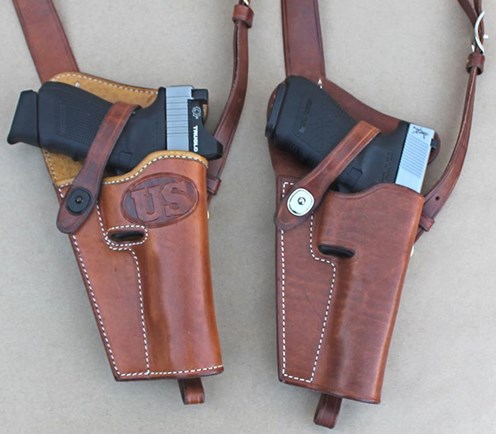 I called the company to verify if this particular holster could be modified to work with the Glock MOS optic system. They asked me to take some measurements and a couple of snap shots with the optic installed next to a ruler. Their craftsmen then used this information to custom cut the Tanker to precisely fit this pistol and optic combination. The leather looks great and is all-day comfortable to wear.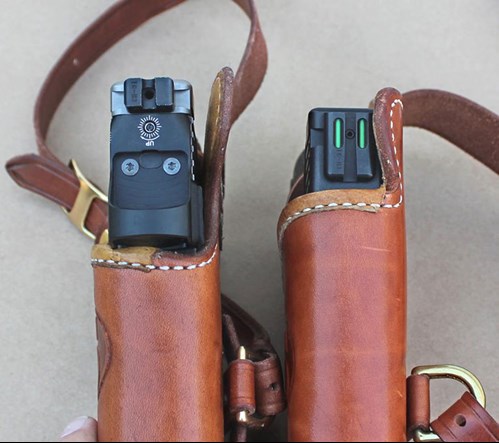 It should come as no surprise that the custom G40 pistol ran flawlessly throughout the testing process with all of the controls and features living up to my expectations. It's a Glock, and that's what Glocks do. The added weight of the longer slide and the Tungsten guide rod, in conjunction with a heavier recoil spring, kept the felt recoil manageable. With a fully loaded magazine, the pistol's balance is terrific, making it easy to swing and handle. The +2 magazine extensions push this gun's 10 mm ammunition capacity up to 17+1 rounds, which is an impressive amount of fire power for a big-bore handgun as portable as this one.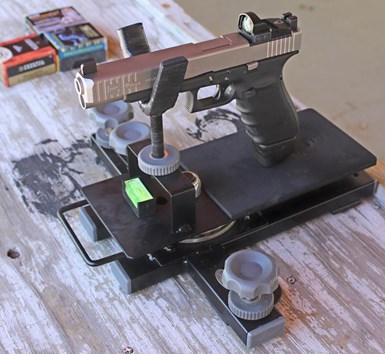 The Glock G40's barrel is 1.6" longer than the standard G20 for an increased sight radius, additional rifling to stabilize bullets and to provide a bit more burn time for the powder in order to boost velocity. In this case, the loads used for formal accuracy testing only gained between 14 f.p.s. to 42 f.p.s. when compared to listed velocities. But I have no complaints about the energy levels they achieved from this pistol. All three loads were topped with 180-gr. bullets, so it's interesting to note the shift in energy levels with the changes in velocity.
Sig Sauer's Elite Performance V-Crown jacketed hollow points averaged 1,264 f.p.s. of muzzle velocity, with a 12" offset from a Lab Radar chronograph, for a muzzle energy of 639 ft.-lbs. It was the most accurate load with a best single five-shot group of 2.91" at 25 yards from a bench rest with a five-group average of 3.07". Federal Premium's Trophy Bonded jacketed soft point gained the largest velocity increase from the longer barrel with an average speed of 1,317 f.p.s. and a muzzle energy of 693 ft.-lbs. It printed a best group of 3.11" with an average of 3.20". The hardest hitting load was Buffalo Bore's Heavy jacketed hollow point with an impressive 1,374 fps. of velocity for 754 ft.-lbs. of energy. It posted a best group of 3.08" with an average of 3.28".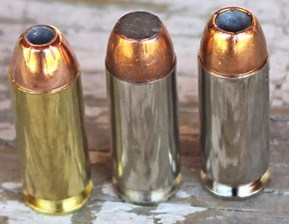 Working with Glockmeister to assemble a dream G40 has been one of the most satisfiying professional interactions in the course of my career. This two-tone long-slide 10 mm isn't just close to what I hoped for, it's exactly what I wanted in a multi-purpose 10 mm semi-automatic. A customized big-bore pistol like this one can provide years of enjoyable trigger time. Have you got a custom Glock you've been dreaming about? If so, I would suggest giving Glockmeister a call. Because when you work with the right companies, it can be just like Christmas—any time of the year.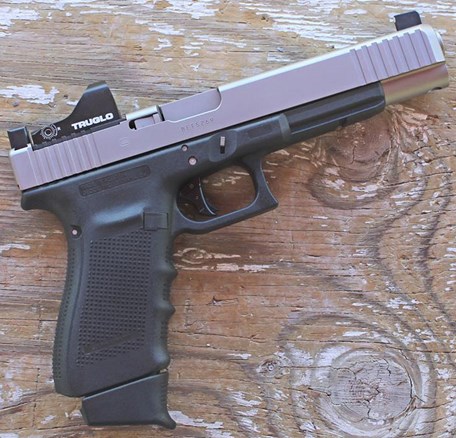 Learn more about how this pistol was assembled. 
Specifications:
Component Provider: Glockmeister
Base Pistol: Factory Assembled Glock G40 Gen4 MOS
Action: Safe Action
Caliber: 10 mm Auto
Finish Upgrade: Robar NP3 Norton 12 Component Package
Slide: Glock G40 Gen4 MOS
Custom Front Cocking Serrations: Glockmeister (GMCSFCS)
Sight Upgrade: TruGlo Tritium Pro Night Sights (TG231G2MW)
Red-Dot Optic: TruGlo Tru Tec Micro (TG8100B)
Firing Pin Spring Cup Upgrade: Glock Maritime (G3073)
Firing Pin Channel Liner: OEM (G1148)
Barrel Upgrade: 6.02" StormLake, Stainless Steel (34015)
Guide Rod Upgrade: Glockmeister Tungsten Recoil Assembly with 20 lb. ISMI Spring (G4TG20CS)
Recoil Springs: ISMI Extra Power, 22 lbs. and 24 lbs.
Grip: Factory Gen4 Rough Texture, Multiple Backstrap System
Trigger: SSVI TYR Trigger, Large (TYRGLOCKL)
Trigger Spring: Glockmeister Competition (G349)
Trigger Pull: 4 lbs. 10 oz. (as tested)
Slide Stop Lever: Vickers Tactical Extended (VTSS-001)
Slide Lock: Glockmeister Extended (GMEXTSL)
Magazine Release: Vickers Extended (GMR-004 BLACK)
Gen4 Pin Set: Glockmeister Stainless Steel (GMPINSS4)
Backstrap Channel Insert: Glockmeister G4 (BCIG4LG)
Magazine Extension: Pearce Grip Plus (PG-1045PLUS)
Magazine Extension: Glockmeister Plus 2 (GM1045PLUS2)
Additional Magazine: Glock Factory G20, 15 Rounds
Overall Length: 9.49"
Sight Radius: 8.19"
Trigger Travel: ~0.49"
Factory Height: 5.47"
Slide Width: 1.13"
Frame Width: 1.28"
Accessory Rail: 2"
Weight: 37.4 oz. with empty magazine and optic
Capacity: 17+1 Rounds with magazine extensions
Twist: 1:9.84" RH
Rifle Grooves: 6
Factory Accessories: Glock Hard Case, 3 Magazines, Magazine Loader, MOS Adapter Set 02, 4 Removable Backstraps, Backstrap Tool, Rear Sight Adjustment Tool, Cleaning Brush, Lock, Owner's Manual
Glock Armorers Disassembly Tool
TruGlo Glock Magazine Wrench (TG970GM)
Base Gun MSRP: $699
TruGlo Optic MSRP: $246
Glockmeister Upgrades and Services: $951.52
Total Package MSRP: $1,896.52 (Sales tax and shipping not included) 
Blade-Tech Classic OWB Holster (G40): $79.99
El Paso Saddlery Tanker Holsters: Starting at $127