by
posted on September 24, 2013
Support NRA American Rifleman
DONATE
Glock has garnered plenty of accolades over the years for its polymer-framed, striker-fired pistols. Glock pistols have been called reliable, durable, accurate and easy to use. What about original, unique or one-of-a-kind? Well, not so much. When the various models are compared to each other, their features become as monochromatic as their matte-black color scheme. But one model in particular, when evaluated against pistols from other manufacturers, provides gun owners with an unusual self-defense option that's hard to find anywhere else. It's the G29 10 mm subcompact, and for 2013, Glock has released the Gen4 variant of this platform.
The G29 is distinct in a market filled with subcompact semi-autos due to the less common cartridge it's chambered to fire. The 10 mm is a rimless semi-auto round that is loaded to higher pressure levels than many of the popular defensive calibers, including 9 mm, .40 S&W and .45 ACP. This means it provides increased levels of bullet energy downrange, therefore, a pistol has to be strong enough to handle it.
This is why the G29's dimensions are different from most of the other double-stack subcompacts in the Glock catalog (the exception being the G30 .45 ACP, which is built on the same frame as the G29). It's a tenth of an of an inch wider, a third of an inch longer and taller, and it weighs about 4.5 ounces more due to a beefed-up slide and barrel. Most of the calibers offered by Glock are chambered in three pistol sizes-full-size, compact and subcompact. But the 10 mm is only available in a full-size model (G20) and the subcompact. The seeming lack of a middle-sized option becomes clear upon further examination of the G29. Thinking of the G29 as a short-gripped compact provides a better idea of what handling and carrying this pistol is like.
Most of the features of the G29 should sound familiar to Glock fans. The slide has a black-nitride finish with fixed sights. The 3.77-inch barrel has hexagonal rifling, and twin captive recoil springs on the guide rod assembly help to tame recoil. The Gen4 upgrades to the frame include an enlarged, reversible magazine release button, a rough-textured grip surface for better traction and two interchangeable grip backstraps. Without either of the removable backstraps installed, the Gen4 G29's grip is about the same size as the Short-Frame version, making it more comfortable to work with compared to the Gen3 version.
But how does the relatively short barrel of the G29 affect the 10 mm cartridge performance? As a rule of thumb, bullet velocity and energy drops as the length of a handgun's barrel is reduced. For example, .357 Mag. and .44 Mag. snub-nosed revolvers, with 2-inch barrels, generate less bullet energy than 4-inch and 6-inch versions of the same gun.
A good place to start researching 10 mm performance in Glock pistols is DoubleTap Ammunition. Not only does the company offer a variety of 10 mm loads, but many of them are listed with factory test results for both the G29's 3.77-inch barrel and the full-size G20 with a 4.61-inch barrel. Comparing the listed results, the 10 mm loads lost about 40 to 100 feet-per-second (fps) of velocity, and 40 to 85 ft.-lbs. of energy when fired from the shorter G29. So the next question is, with the G29's level of performance loss, how does it stack up to other defensive handgun cartridges when fired out of similar barrel lengths? Here are how some of DoubleTap's offerings performed in comparison to the G29: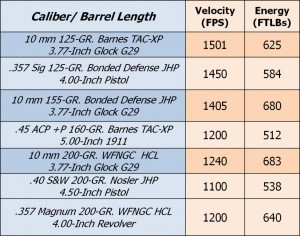 So the G29 does provide at least a modest boost to performance in some bullet weights, with a significant increase in others. However, the increased bullet performance does come at a price, namely more felt recoil. There's no way to describe the recoil of the G29 as anything less than stout. It's manageable to be sure, but stout nonetheless. For those who shoot short-barrel, big-bore revolvers, the G29 will feel familiar. It's not unlike touching off a Ruger SP101 loaded with defense-grade .357 Mag. cartridges, a Charter Arms Bulldog in .44 Spl. or a Smith & Wesson 4-inch 629 .44 Mag. loaded with moderate velocity loads. The G29's wider grip and flexing polymer frame reduce somewhat the biting sensation to the shooting hand that can attend hot rod revolvers, but the intensity remains.
Glock pistols have a reputation for reliability, and the G29 did not disappoint. It functioned flawlessly at the shooting range by chambering, igniting and ejecting loads ranging from full-metal-jacket target loads to full-power defensive rounds without any malfunctions. The trigger pull of this particular G29 gauged at 5 pounds, 7 ounces, which is an ounce under the advertized weight. Just like other stock Glock triggers, this one had a decent pull and a reset accompanied by an audible "click." This allows the shooter to take advantage of the short trigger reset for quick follow-up shots.
The accuracy testing for the G29 started at 15 yards to get a feel for what the pistol could do. It produced five-shot groups averaging around 2 inches. The targets were then pushed out to 25 yards, where bench-rested, five-shot groups ranged from 2.75 to 3.5 inches in size. So the G29 certainly has the right level of accuracy potential for self-defense applications.
The Gen4 Glock G29 10 mm offers a substantial level of stopping power for a subcompact semi-auto pistol. Much like the magnum snub-nose revolvers favored by some outdoorsmen, the G29 can be filled with potent cartridges topped with heavy bullets for defense against dangerous animals. But it also has the flexibility to be "loaded down" with lightweight bullets for personal protection against two-legged threats. Either way, in town or in the wilderness, this pistol is reliable, accurate and comfortable to carry. The Gen4 updates work nicely for this pistol, especially the reduced size and added texture of the grip. This pistol can be a handful to shoot, but if you want plenty of power in a small, sleek-shooting platform, the G29 is hard to beat.
Manufacturer: Glock; us.glock.com
Model: Gen4 G29
Action: Safe action
Caliber: 10 mm
Finish: Gas nitrate
Grips: Multiple backstrap system
Sights: Fixed
Barrel Length: 3.78"
Overall Length: 6.77"
Height: 4.45"
Width: 1.28"
Weight: 24.34 ozs., unloaded
Capacity: 10+1 Rounds
Twist: 1:9.84" RH
Rifle Grooves: Hexagonal
Accessories: 3 magazines, 2 grip backstraps with exchange tool & pin, magazine loader, cleaning brush, hard case, lock, owner's manual
Suggested Retail Price: $687