Support NRA American Rifleman
DONATE
I've been enjoying the revival of the 10 mm semi-automatic pistol cartridge this year just as much as the longtime fans who have been saying, "See, I told you so!" since 1983. Despite its up and down ride on the outdoor media's popularity rollercoaster, this potent rimless .41-cal. round has maintained a loyal following. I've always liked magnum-power pistols, so even though I am a relatively new convert to the 10 mm it fits right in with the other hard-hitting handguns that often follow me out to the range.
I've worked with various 10 mm pistols, including models that have been slimmed down (
STI Nitro
) or trimmed (
Glock G29
) for more comfortable carry. But is it possible to build a truly pocket-sized pistol for this potent .41-cal. cartridge? Thanks to
Bond Arms
, it is. The company currently provides all of the components for a tough little 3" barrel 10 mm pocket rocket, just a little assembly is required.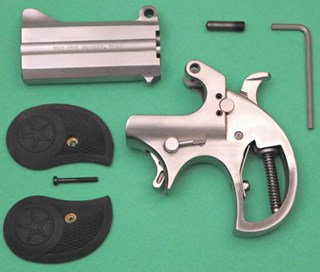 My quick and easy at-home conversion used a factory configured Cowboy Defender as the base gun. It ships with a 3" long .45 Colt/.410 barrel, an updated trigger and hammer, wood grips, and no removable trigger guard (which shaves off a bit of weight). The barrel's hinge pin twists out of the frame using a hex key while the grip screw can be loosened and removed with a small standard screwdriver. The frame was stripped and ready to become a mini 10 mm in under a minute.
Bond Arms provides polished and matte finish stainless steel accessory barrels ranging from 2.50" to 4.25" in length chambered in a variety of revolver, pistol, and rimfire calibers. Tucked in amongst this host of options is a polished 3" Defender barrel chambered for 10 mm. This is also the shortest 10 mm option the company offers. The accessory barrel fit the Cowboy frame perfectly and operated smoothly. Like the other Bond Arms semi-auto barrels, the 3" 10 mm version does not have an extractor. Instead, a slot is cut into the right side of the dual chambers so that fired rounds can be lifted out of the barrel with a thumbnail or the rim of an empty cartridge case.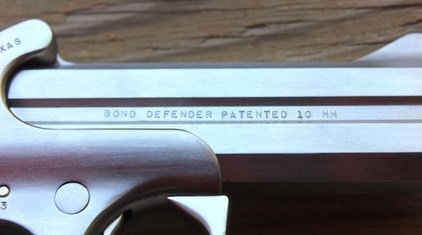 Standard size grip panels provide the smallest grip profile for this platform. But which type of grip material to choose? The old-school smooth hardwood grip panels that came with the Cowboy allow the bird's head grip frame to roll back in the hand to reduce felt recoil. But modern soft rubber grips provide improved purchase for keeping a hold of the gun as it kicks. Both grip types do the job nicely, so it's mostly a matter of preference. For this hot potato 10 mm configuration a set of soft rubber grip panels were installed.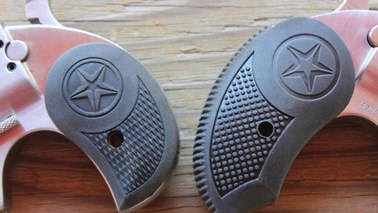 When completed, the home-assembled Cowboy Defender 10 mm was 5.5" long, 1" wide (across the frame) and 3.7" tall. The all-stainless steel gun tipped the scale at 19.7 ozs. unloaded. To the best of my knowledge, this is as small as a 10 mm handgun gets.
Because the 10 mm case length is just shy of being 1" long (0.992), the 3" barrels provide about 2" of rifling to stabilize the bullets as they leave the gun, which is not a whole lot to work with. However, the pistol's chambers are closed with no pressure loss due to the lack of a cylinder gap (revolvers) or moving action (semi-auto). As a result, the pistols produce more bullet velocity than one might expect.
But the whole point of shooting 10 mm is to squeeze as much velocity out of the round as possible. So, I contacted Gordon Bond with a proposal (we've been friends for several years now, so he was willing to put up with some gentle, but firm, arm twisting from me). Since the 10 mm is a hot topic this year, why not give fans of the cartridge a new barrel for 2015? In addition to the 3" version, work up a 4.25" version as well. That way customers (like me) would be able to choose between compact size or maximized performance.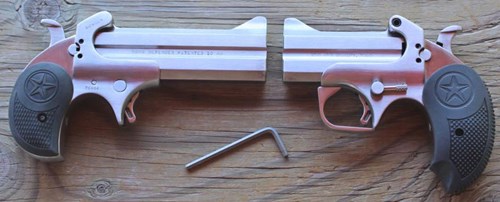 Gordon was amenable to the idea, so a few weeks later the very first production Bond Arms Defender 4.25" 10 mm barrel arrived at my door. With this new 10 mm barrel in hand it was time for another mash up. The longer barrel was paired with a Texas Defender frame (with trigger guard) and a textured extended rubber grip. This full-size (by Bond Arms Standards) configuration was 6.5" long, 4.45" high and weighed in at 24.6 ozs.
Although the smallest and largest Bond Arms 10 mm pistol configurations each have their merits, the interchangeable barrels allow for two intermediate options that both weigh in at a fraction over 21 ozs. Installing the short barrel on the Texas frame with an extended grip makes for a hand filling pistol which is easier to manage with stout recoil. Affixing the long barrel to the Cowboy frame with a standard grip maximizes ammunition performance while presenting the smallest grip footprint for concealed carry.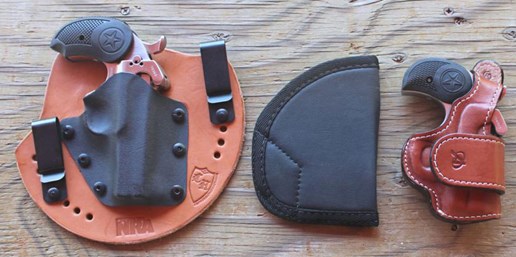 If you choose to carry a Bond Arms pistol, a wide variety of holsters are readily available. For in-the-waistband carry, it's hard to beat the
Cleveland's Holsters
hybrid (far left). The system employs a set of six adjustable screws fitted with leather grommets (instead of rivets) to hold the leather, steel, and Kydex components together. This allows the user to tighten or relax the holster's retention level to meet their individual needs. If you spend much of your day sitting down, the
Bond Arms Driving (BAD) holsters
 (far right) place the pistol in a cross draw position that is comfortable and easy to reach when wearing a seatbelt.
Sticky Holsters
offers a self securing pocket holster (center) that can also be worn in-the-waistband. All three of these carry systems are available in sizes that fit 3" and 4.25" barrel Bond pistols.
Taking these two double-barrel 10 mm handguns to the range was a blast, literally. Both of the frames used to build the guns are well broken in and have run reliably fo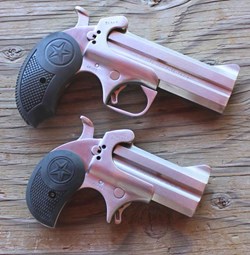 r some time now. The barrels fit and functioned flawlessly as did the rubber grips. As expected, they were loud, the muzzle flash was bright, and the recoil was stout, but not painfully so thanks to wide rounded grips. In other words, they produced just the right amount of
va-voom
that big-boom handgun fans enjoy for spicing things up at the range.
Accuracy was on par with other Bond barrels I've worked with. Firing 10-rounds at 7-yards from both barrels using a bench rest with a fixed sight point produces two groups of five shots each. The upper and lower barrel groups hovered around 3" in size and were about 4 to 5" part from each other vertically. This kind of accuracy won't win any competitions but with practice it's enough for the up close and personal defensive situations the pistols are designed for.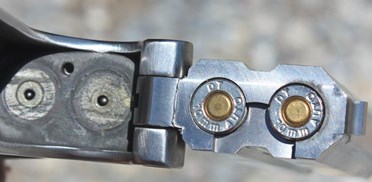 But how did the 10 mm cartridge perform in these abbreviated barrels? I rounded up three distinctly different loads to checkwith a new
Lab Radar
chronograph. The first was the
Armscor USA
180-gr. full-metal jacket. This is reliable practice grade ammunition with a listed velocity of 1150 feet-per-second (fps), which is a moderate speed for the 10 mm. Next up was the nice and hot
Double Tap
Tactical 125-gr. Barnes TAC-XP round with a listed velocity of 1600 fps for 5" barrel pistols. To round out the set was the new and unusual light bullet
Liberty Ammunition
Civil Defense 60-gr. all-copper fragmenting hollow point ramped up to a smoking list velocity of 2400 fps.
Here are the results from the 10-shot strings fired from both barrels: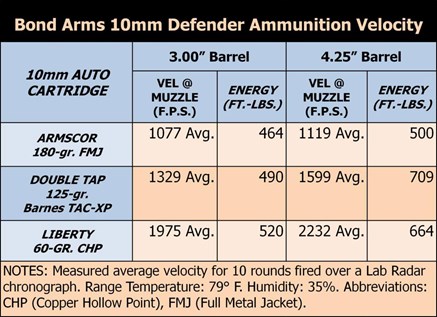 The numbers were better than I had hoped for. The 3" barrel showed an average velocity loss of about 14 percent, which isn't bad considering that most loads are designed for use in 5" barrels. The real surprise was how much energy the 4.25" barrel preserves with average velocities on par with full-size semi-automatic pistols.
Bond Arms advertises its guns as "the world's smallest most powerful personal protection you can carry." It's hard to argue this claim when it comes to the 10 mm conversions. The new 4.25" 10 mm barrel looks to be yet another promising addition to the company's line of accessories. It's available to order as of this writing. Take a look at the Bond Arms online catalog and find out if one of your preferred handgun cartridges can be fired from this rugged and reliable American made double-barrel pistol. 
Accessory Price List:
Bond Defender 3.00" Barrels (10 mm):
$147
Bond Defender 4.25" Barrels (10 mm):
$199
Standard Rubber Grip:
$30
Extended Rubber Grip:
$59
BAD Driving Holsters:
$92–$103
Sticky Holster:
$35
Cleveland Holster
Comfort Fit 4.25" with Trigger Guard:
$79