by
Mark A. Keefe, IV, Editorial Director
posted on July 8, 2014
Support NRA American Rifleman
DONATE
Congratulations to our winner for "Snap Shots Week 7: When Taxidermy Attacks II: ... and a Cool Bipod." Ed Hosey, who responded to this post on our website takes this week's laurels for the following: "[T]old my husband we were getting a cat ... he seemed reluctant at first ... but I think they finally have bonded ... ." Ed, your bipod will be sent when we find someone who knows how to operate the postage machine.
When you have magazines dating back to 1885, you end up flipping through pages and chuckling at times over what you find. Although American Rifleman is the world's oldest and largest firearms authority, it doesn't mean we can't have a little fun. And we're willing to share that fun with our readers. Thus continues the American Rifleman's weekly photo caption contest.
Now, on to Week 8 and another historical gem. "Don't move. He can't see us if we don't move" or "You didn't come out here for the hunting, did you?" Yes, back before there were cartridge guns, hunters had to do it the old-fashioned way with the muzzleloading longrifle. Why he is reloading and why the buffalo are not roaming, we have no idea. It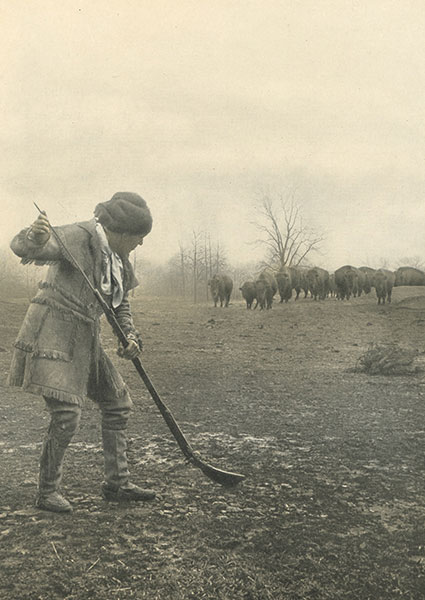 might be Pennsylvania, as everyone knows Pennsylvania is flintlock only. Okay, it's probably not Pennsylvania. You might want to pick up a flint though, buddy. They work better that way.
This week's prize is back by popular demand. Or rather unpopular demand. It's a can of CMMG Tactical Bacon that remains unclaimed-and unopened. It is the Susan Lucci of our prize packs. For a full description of our dissed prize offering, read below.
Keep it clean. Bloomberg probably pays an intern minimum wage to read this blog. Entries will be subjectively judged by staff editors between takes of the TV show, testing guns and making authors seem literate. The winner we deem worthy will be printed here. All judgments final. No returns. Winner will receive a random item from a box under Mark Keefe's desk the manufacturer did not want back, yet was marginally valuable enough to
not throw away. This week's reprised special guest judge is American Hunter's own Shawn Skipper, who contributed the most satisfying prize to date. As if just being bacon were not enough-Mmm, bacon-we have an actual can of CMMG's Tactical Bacon. That's right, 9 ozs. of bacon, perhaps combat-ready bacon, delivered to your door if you have the best caption for this week's photo. The instruction on the can are very clear "Open can" followed by step two, which is "receive bacon." Actually we have no idea what is actually in this can. It is probably bacon, but it could be cling peaches from the Eisenhower Administration. We don't really know.