by
posted on April 9, 2020
Support NRA American Rifleman
DONATE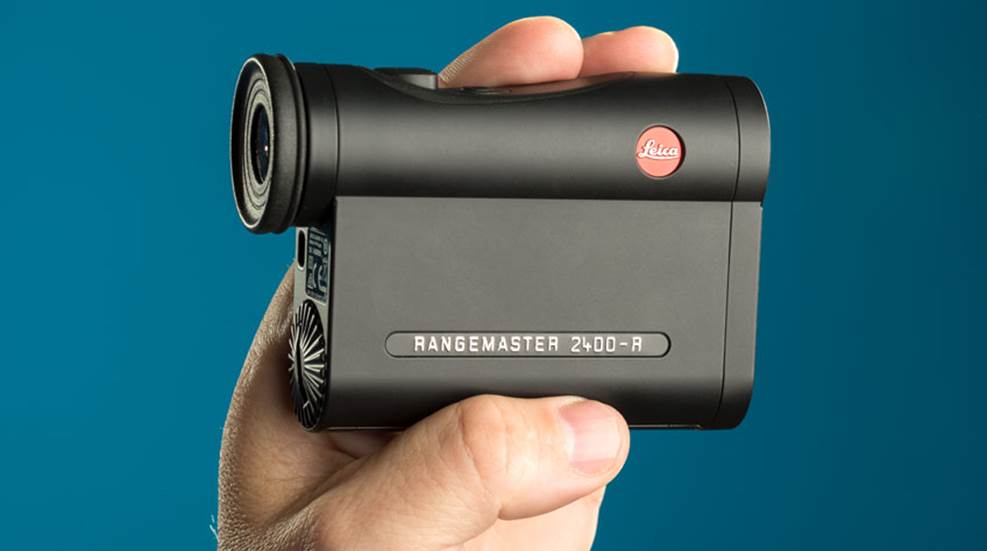 German-based optics maker Leica, whose name is a fusion of founder Ernst Leitz's surname with the word camera, has offered a wide range of high-end sporting and industrial instruments for more than 100 years. For nearly the past 20, that has included handheld rangefinders for the shooting sports market.

Model designations since that first unit, the Rangemaster LRF 800, referenced ranging capability in yards, and that naming convention continues today through the top-of-the-line CRF 2800. But that unit's advanced technical capabilities, including Bluetooth compatibility, may not be necessary for some users. Fortunately for them, the quality and cache of the Leica brand also reside in the CRF 2400-R, reviewed here, at half the price.
The CRF 2400-R follows the familiar trend of a vertical format designed to be cradled between the thumb and fingers of one hand. Its carbon-fiber-reinforced housing, clad in a rubberized surface treatment, incorporates a rounded 7X roof-prism monocular section at the top and a rectangular electronics section at the bottom that contains a battery compartment at its rear for one lithium CR2.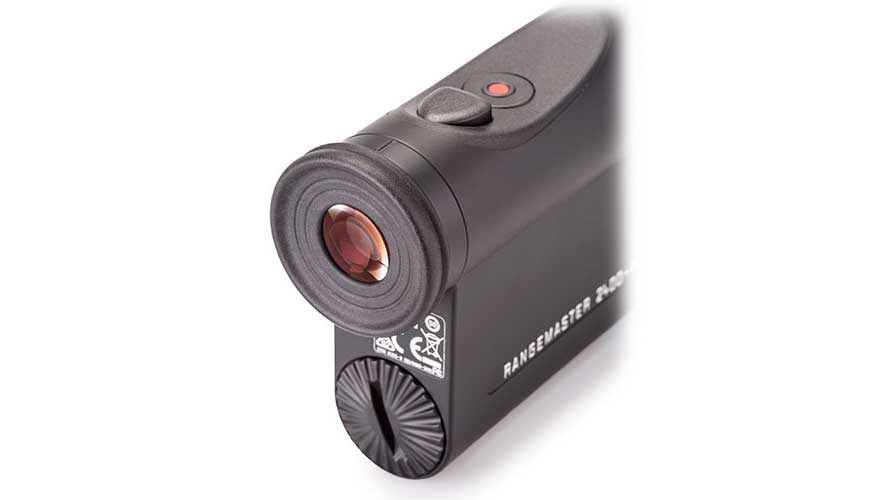 A recessed area immediately in front of the eyepiece—which can be adjusted to +/- 3.5 diopters and features a rubber eyecup that can be turned down for use with eyeglasses—contains the main and secondary activation buttons. Viewing through the lenses reveals the LED display, which features a red circular aiming point above a numeric readout that can be set to render distances in yards or meters up to a value of 2,400.
Pressing the cone-shaped main button electronically activates the aiming point, and pressing it again while superimposing the aiming point on an object prompts the unit to determine the distance to that object and then display the reading below the aiming point. Continuous or scan measurements can be made by holding down the main button. A round, secondary button allows the user to display and confirm settings and to determine Equivalent Horizontal Range, although that function applies only between 10 and 1,100 meters.
We found that the size, shape and simple controls of the CRF 2400-R made carry in a pocket or around the neck and use in the field easy. The optic offered clear, crisp images—even in the critical early and late portions of legal hunting light. Our test unit provided near-instantaneous readings, even in scan mode, and seemed particularly adept at penetrating shadowy areas in foliage to register on animals that were otherwise quite difficult to see with the naked eye. It is rated for watertightness to a depth of 3.2 ft.
The Leica Rangemaster CRF 2400-R offers world-class optics and performance at a price in keeping with other brands. For those users who do not require more advanced (and costly) features, it is likely to prove fully capable and faithful through many years of service.