by
posted on December 28, 2015
Support NRA American Rifleman
DONATE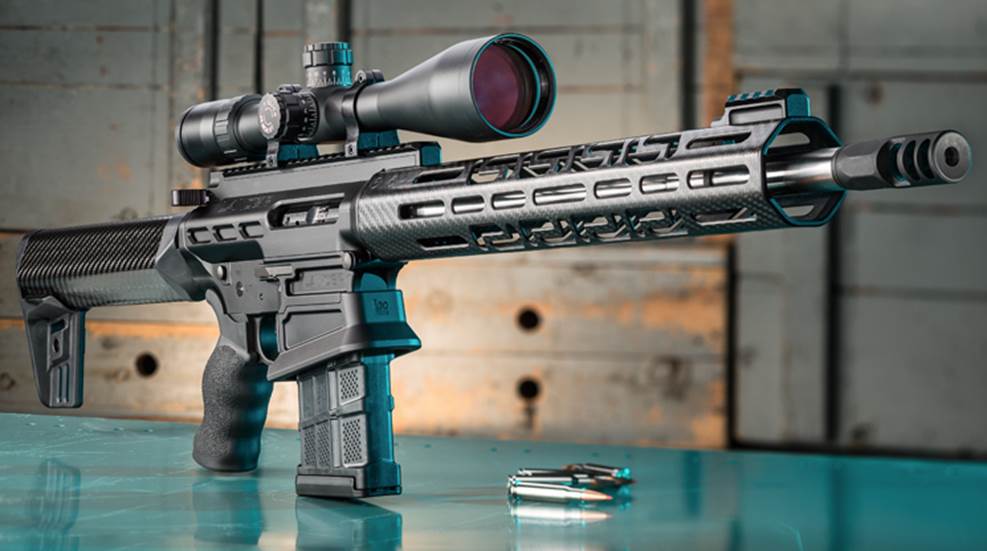 A lesser-known name in the crowded field of semi-automatic, AR-style rifle manufacturers, Lancer Systems of Quakertown, Pa., is no newcomer. In fact, the company began engineering its first such gun, the 5.56x45 mm NATO-chambered L15, in 2011, and it was unveiled at the Shooting, Hunting, Outdoor Trade (SHOT) show the following year. The L15 laid the foundation for Lancer's next firearm development, the L30 series of AR-10-style rifles, which were first displayed at SHOT Show 2014. One of three L30 variants, the Heavy Metal, is reviewed here.
The L30's mission/task-adaptable nature is especially apparent in its lower receiver. Machined from a billet of 7075-T6 aluminum, the magazine well extension is changeable; the simplistic, yet ingenious, system employs a captured rail and standard takedown pin, which passes through the trigger guard, to secure the extension. Magazine wells of different sizes, and with large left- or right-side access cutouts, are available, and changeover takes only seconds. Accompanying the test rifle was the tactical extension, which flared greatly near its bottom to create a large, 3 7⁄8"x11 3⁄16" opening that guides even the most haphazardly inserted magazines home. 
Shooters familiar with the AR platform will recognize the fire controls, such as the two-position safety, oversize magazine release and bolt release. Only the latter is bilateral. Lancer's L30 Heavy Metal utilizes the Geissele Super Dynamic 3-Gun (SD-3G) trigger, which features a vertical, steel shoe, minimal travel and suitable pull weight—our sample averaged 4 lbs., 14 ozs. Befitting a "3-Gun" trigger, the SD-3G's reset is extremely short, thereby allowing rapid follow-up shots. But, as we learned during testing, and as is outlined in the Geissele installation manual, "SD-3G triggers are very prone to bump firing." Contributing to this phenomenon is the recoil produced by the Heavy Metal's 7.62x51 mm NATO chambering. 
Strong yet lightweight, the fixed, carbon-fiber Lancer buttstock has a straight comb typical of the A1-/A2-style stock and utilizes a rifle-length buffer tube. On the test rifle, the stock measured 10¼", which Lancer describes as "A1 length." The "A2 length" is 0.55" longer. The stock's front collar and buttplate are made from impact-resistant, injection-molded polymer, and the latter has a metal quick-disconnect (QD) insert. Completing the lower receiver is an Ergo Tactical Deluxe grip, an overmolded model with heavy texturing, finger grooves and a bilateral palm swell for enhanced purchase.
The L30-series rifles are fed by Lancer's own AR-10-style L7AWM hybrid magazines, which are made from translucent, unfilled polymers in clear, smoke, black and flat dark earth colors paired with stainless steel. Opaque colors are available, too. Whereas impact-resistant polymer is utilized in the magazine body, stainless steel is employed in the top portion in high-wear and -stress areas (i.e. feed lips and magazine catch cutout). Additionally, the L7AWM has straight-line internal geometry with a controlled-tilt polymer follower, stainless steel spring and slide with switchable drain for optimal function in wet or dusty environments. The combination of recesses and raised panels in the polymer body improve purchase. Five-, 10-, 20- and 25-round-capacity versions are available, and the Lancer L7AWM magazines also function in other AR-10/SR25-pattern rifles, such as the SIG716, DPMS LR-308 and LMT LM308. 
As with the lower receiver, the upper receiver is machined from 7075-T6 aluminum and finished with a MIL-A-8625, Type III Class 2 coating. Continuing the "adaptability" theme, the receiver's top has an integral section to which a 0- or 20-m.o.a. Picatinny (Weaver-compatible) rail can be attached, and at the front of the 153⁄8"-long, free-floating carbon-fiber handguard is a 2" rail for the attachment of a front sight post. In addition to being aesthetically pleasing, the lightening/cooling cuts accept 2", 4" and 5" accessory rails, and at the six-o'clock position there are holes for the attachment of a sling swivel stud or QD sling mount.
Unlike some AR-10-pattern rifles (and AR-15s for that matter), the L30 Heavy Metal doesn't have a brass deflector or a forward assist. In fact, except for two sets of look-improving cutouts (one per side), a recess for the bolt release and the loading/ejection port, the receiver is bare. 

Lancer uses a Rubber City Armory (RCA) high-pressure bolt carrier group in the L30 Heavy Metal. The components are treated with the company's black nitride finishing process, which makes the surface metal harder than the substrate itself. The process is claimed to reduce friction, and thus the need for lubrication, as well as increase wear-resistance and fatigue strength. It's also said to help dissipate heat efficiently so that the gun runs cooler and cleaner. The bilateral, mil-spec-anodized 7075 aluminum Raptor charging handle is made by AXTS Weapons Systems.
The L30 Heavy Metal's 18", 0.850"-wide (at the compensator) stainless steel barrel is made by White Oak Armament and has a 1:10" RH twist rifling. Although the rifle is in caliber "7.62x51 mm," the chamber is actually cut in .308 Obermeyer, which was originally developed for use with the M118 cartridge. It is slightly tighter in the web, shoulder, neck and throat to improve accuracy across a wide range of .308 Win. ammunition. Both 7.62x51 mm NATO and .308 Win. ammunition can safely be used in L30 Heavy Metal. Lancer reports that, after a proper break-in, the L30 Heavy Metal is capable of achieving 1/2-m.o.a. accuracy. Powering the firearm is a rifle-length gas system that has an adjustable gas block with 15 usable positions; however, the owner's manual states that it's factory adjusted for optimum performance and no adjustment is necessary.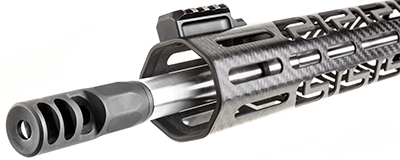 The Heavy Metal's 2.88"x 0.99" Nitrous compensator, which is available in either 416 stainless steel or 4142 steel that's been black nitride treated and threaded (5/8x24), has an engineered blast chamber and two each of solid set screws and orifice jets that permit tuning to reduce muzzle flip for faster follow-up shots. Fast recovery is important both in competition, such as 3-Gun, and hunting. The Nitrous compensator is also beneficial in that its angled baffles reduce recoil and help stabilize the rifle; however, it also increases the rifle's report. 
For testing, we topped the test rifle with a Weaver Tactical 6-30X 56 mm scope in Weaver rings, assembled a collection of .308 Win. and 7.62x51 mm ammunition, and headed to the range. It would be the first of two trips. After chronographing, we began the accuracy-testing phase, shooting five consecutive, five-shot groups at 100 yds. from a Caldwell 7-Rest. Shortly thereafter we began experiencing bump firing due to "feathering" the trigger and holding the rifle too loosely, so testing was halted. We returned the rifle to Lancer for a safety inspection. No issues were discovered, though the sensitivity of the trigger was revealed.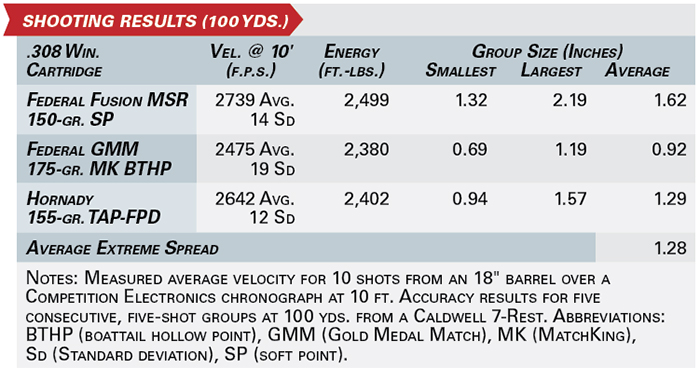 Beyond the trigger's learning curve, the only issue we encountered during function testing with a variety of 7.62x51 mm NATO and .308 Win. loads was several blown primers with ICC's Green Elite 150-gr. TTSX. Lancer's engineers diagnosed that problem as the propellant gases being incompatible with the gas system. Perhaps adjusting the gas block could have alleviated the problem but, with it being unique to that load, we opted to simply move on. There were no other malfunctions encountered and, given the rifle's mild recoil and minimal muzzle flip, the testing phase was enjoyable.
Of the three .308 Win. loads used for accuracy testing, the most accurate proved to be Federal Gold Medal Match 175-gr. MK BTHP, which averaged an amazing 0.92" for 25 shots. The single tightest group was 0.69". This was consistent with a 0.77" factory group shot with Federal's Gold Medal Match 168-gr. MK BTHP. Hornady's 155-gr. TAP-FPD loads also performed respectably, averaging 1.29".
An assemblage of some of the best AR components available, the L30 Heavy Metal is built to excel on the range and in the field. Its performance is also sure to bolster the company's status as a premier manufacturer of accurate, .308-size AR-style rifles.