by
Evan Brune, Executive Editor
posted on June 2, 2020
Support NRA American Rifleman
DONATE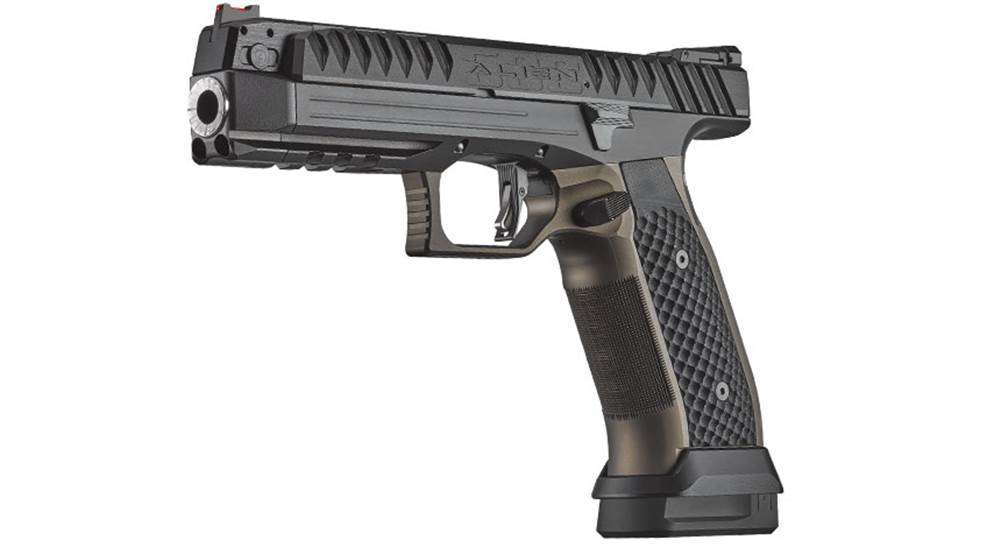 LAUGO ARMS' Alien pistol proves that innovation doesn't come cheaply ($5,000), but the gun being imported by Lancer Systems is certainly turning heads with its unique design.

What's evident externally is the lowered bore axis of the Alien, which is made possible by the gun's innovative gas-delayed-blowback operating system. This system is placed above the barrel and slide, allowing the barrel to sit low inside the frame and giving the gun its distinctive look.

Because of this proprietary gas-system arrangement, the barrel is fixed to the frame, and the slide actually reciprocates over the top of the barrel. The topstrap of the gun doesn't move, providing a solid mounting point for an optic, and Laugo Arms offers both iron-sighted and optics-ready topstraps for the gun that can be changed out in seconds.

The first batch of pistols sold by Lancer Systems are part of the Signature Series, which ship in a special hard case complete with both interchangeable top straps, one with iron sights and one optic-ready.

These Signature Series guns will also feature a competition-ready holster and an optic. Afterward, the standard model will retail for about $4,000 and will ship with only a single top strap and a hard-sided case.

For more details on the Laugo Arms Alien, visit lancer-systems.com.