by
posted on January 23, 2020
Support NRA American Rifleman
DONATE
It's uncommon in the shooting industry to see new handguns that are actually innovative. Most simply borrow their form and features from existing designs. However,
Lancer Systems
(U.S.A) teamed up with
Laugo Arms
(Czechoslovakia) to introduce one of the most intriguing pistols on display at SHOT Show this year. The Laugo Arms Alien 9 mm semi-auto pistol is built to reduce muzzle flip and felt recoil for quick competition shooting.
The 4.8″ barrel has been dropped down and fixed into place within the aluminum frame's dust cover, which is where the recoil assembly is usually located in typical semi-autos. This gives the Alien a low bore axis which drives the pistol straight back into the shooting hand with less muzzle rise. The gas piston delayed blowback action further reduces felt recoil and employs an asymmetrical, dual-rod recoil assembly block rests on top of the barrel.
Most semi-auto pistols employ a one-piece, reciprocating slide assembly with sights that move back and forth with the slide. The Alien's slide has been divided into two sections. The sights are attached to a fixed, non-reciprocating rail mounted directly to the frame.
This configuration reduces sight picture shift and works to keep optics zeroed. The sight rail is a removable, modular unit. This allows for multiple rails to be configured and zeroed for one pistol and then traded out as needed. The reciprocating section of the slide fits around the sight rail and features front and rear cocking serrations.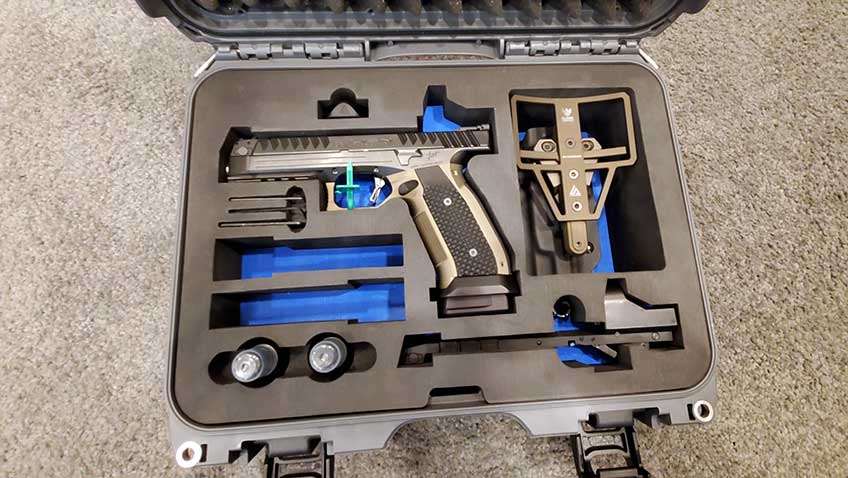 Lancer Systems is currently accepting pre-orders, with a 50-percent down payment, for the $5000 Alien Signature Edition kit - only 500 will be made. Each kit includes a pistol engraved with the signature of firearms designer Jan Lucansky, two sight rails, a competition holster and additional accessories. Standard edition pistols will be available later in the year. To learn more, visit
laugo.us
.
Laugo Arms Alien Features 
Interchangeable top rails, non-reciprocating
Slide front and rear serrations
Fixed barrel is set low into the frame, about where the recoil assemble is located in typical designs
Low bore axis
Dual guide rods set into a block that rides on top of the barrel
The first group of pistols will be part of the Signature Series, which ships in a special hard case complete with both interchangeable top straps, one with iron sights and one optic-ready. The Signature Series will also feature a competition-ready holster and an optic. Afterward, the standard model will retail for about $4,000 and will ship with only a single top strap and a hard-sided case.

Laugo Arms Alien Technical Data

LENGTH 8.2″
WIDTH 1.1″
HEIGHT 5.8″
BARREL LENGTH 4.8″
WEIGHT (EMPTY) 2.2 lbs
WEIGHT (W/ MAG) 2.47 lbs
TRIGGER WEIGHT 2.25 lbs – 5.5 lbs
MAG CAPACITY 17
BORE AXIS HEIGHT -0.1″
UPPER RAIL OPTIONS Infinite
RECOIL ANGLE 5° (vs. 13° avg.)
SIGHT RADIUS 7.3″