by
Kelly Young, Senior Executive Editor
posted on October 19, 2015
Support NRA American Rifleman
DONATE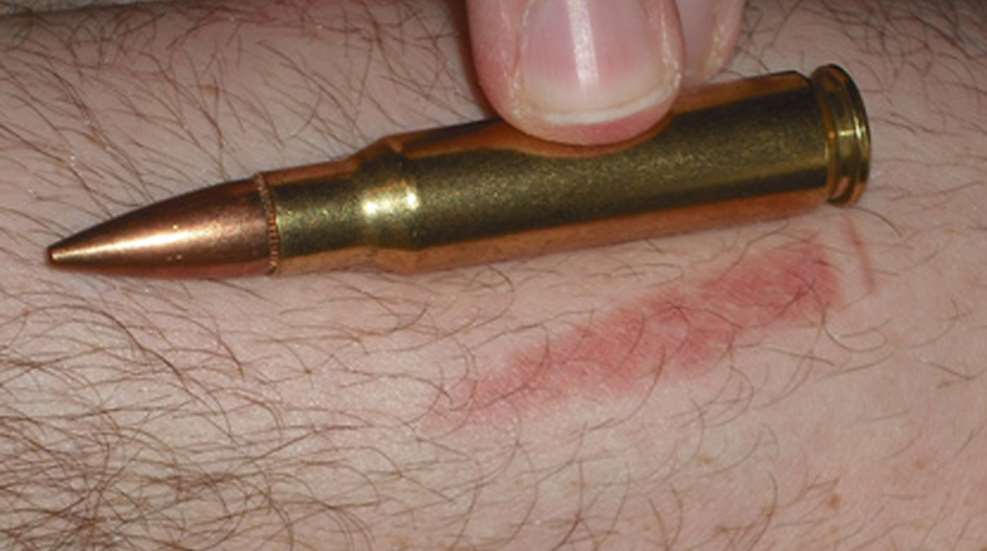 For true sportsmen, like artists, it is sometimes necessary to suffer for our craft. My most recent example of this truth occurred two weeks ago during a media event hosted by Lancer Systems. As part of the festivities, Lancer had set up a number of stations where the attending gun writers were pitted against each other in various competitions using one or more of the company's products.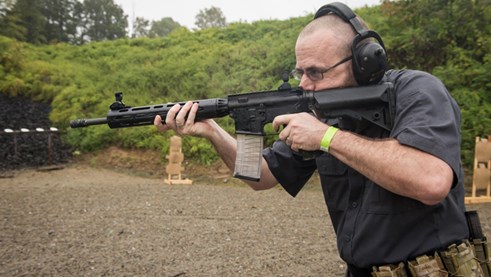 One was a short run-and-gun course to demonstrate advanced rapid magazine changes using Lancer's Adaptive Magwell compared to using the same rifle without a modified magazine well. And yes, there is an appreciable difference in the ease of on-the-go reloading with the Lancer product. 
Another exercise was a particularly sadistic malfunction clearance drill where we would eventually come to find that many of the magazines we were provided were filled entirely with dummy rounds. Lancer officials insist that the reason was to point out the utility of the company's translucent magazines, but I maintain that they just wanted to see if they could get rage blood to pour out of our ears. At times it was very close.
Final among these stages was a timed contest to see who could make the fastest work of connecting with a small steel target at 1,000 yards with Lancer's L30 Heavy Metal rifle chambered in .308 Win. Adding considerably to this task's degree of difficulty was the fact that on this particular day strong winds could be observed changing direction at least three times in the half mile between the shooters and our target.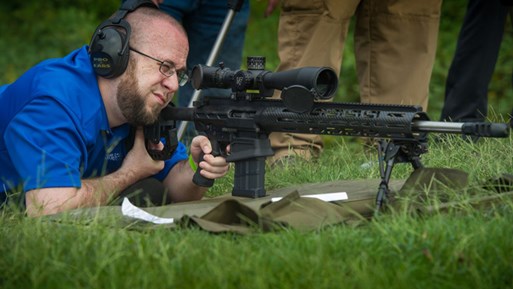 By the time my turn behind the rifle had come around, most of the field of 13 gun writers had already shot, so I was aware of the score to beat and I knew it wouldn't leave much room for error. So I descended into the prone position behind the semi-automatic rifle, checked my dope, adjusted magnification and parallax to their optimal settings, located my target down range, made the gun ready to fire and signaled my readiness to my spotter. The starting beep occurred at just the right point in my breathing cycle, and as soon as I heard the sound I was ready to send my inaugural shot towards the target.
But this anecdote is less about where that first bullet went—just right of the target by the most tragically miniscule of margins—than it is about where that first spent bullet case went, which was to somehow wedge itself firmly and resolutely beneath my bare support arm. The sensation of sharp pain registered in my brain simultaneously with the realization that my first shot had sailed slightly wide.
Now, as the scorching metal seared its way into the sensitive flesh of my forearm, I had two options: either waste precious seconds and fractions of seconds to locate and dig out the sweltering brass before resuming, or bear down on it, let it burn and focus on giving that target hell. With a competition on the line, and a cluster of my colleagues in the industry huddled over me intently watching, the choice was made before I even had time to consciously realize it; I hunkered down on top of that blistering casing and I lined up my next shot. Pride and self-respect are powerful things—things worthy of a few first-degree burns.
Only afterward did I get a chance to inspect my arm, where I found a bright red burn in the perfect size and shape of a spent .308 Win. case. Now two weeks later, it's even more apparent. Ultimately, I didn't achieve the fastest time, seemingly rendering all my pain in vain, but I did at least manage to make the podium, finishing up with the third best result in a field of professionals—yet I'm willing to bet that the majority of the die-hard shooters out there would agree that I made the right decision. If only I could get my wife to understand…