by
posted on October 30, 2013
Support NRA American Rifleman
DONATE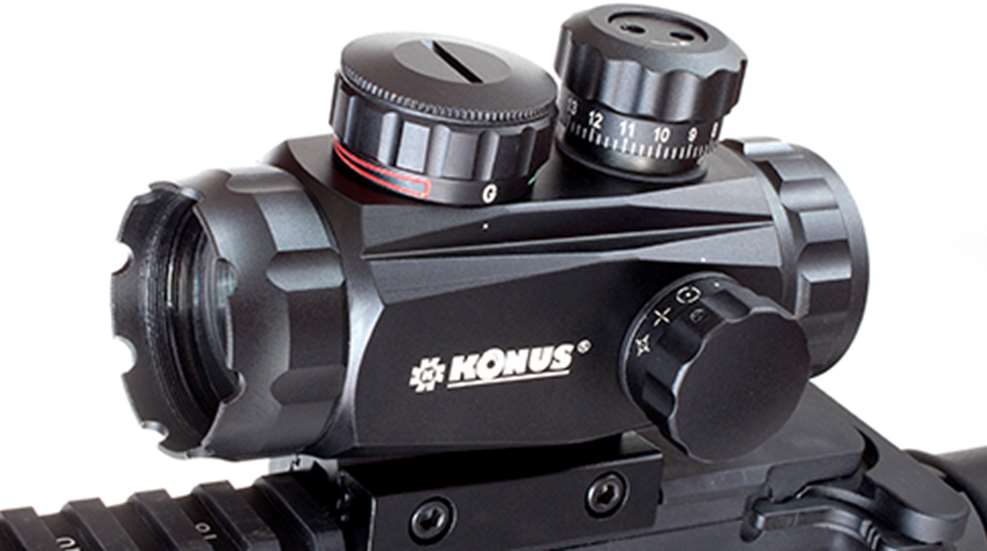 Konus has been familiar to European outdoorsmen since 1979, but it wasn't until 2006 that the Italian firm brought its optics line to U.S. shores. In a relatively short time the company has established a solid foothold in the market, thanks to the performance of products like the new Sight-Pro TR, a non-magnified reflex sight.
What sets this scope apart is its ability to emit any of four lighted reticles-with no tools required-as well as vary the intensity and color (green or red) for enhanced performance in a variety of lighting conditions. Reticle configurations include a dot that subtends 4 m.o.a., a circle surrounding the same dot, and a small crosshair and a circle with small stadia extending outward at the 3, 6, 9 and 12 o'clock positions.
To change the reticle, simply rotate the knob on the left side of the scope. Adjustment is positive with an audible click, and during what turned out to be some rigorous testing there were no inadvertent changes. Selections are clearly marked on the 0.94"-diameter knob, which is big enough for gloved operation.
The forward-most knob atop the scope powers on the unit, and rotating it changes the color and intensity of the reticle. There are two off positions, marked "G" and "R" for the respective color activated with clockwise rotation of the rheostat. As the knob is turned (clockwise) brightness increases until the reticle disappears with a tactile click after 180 degrees of travel, at the next color position. The knob can turn in both directions, so its color-coded base is a nice touch.
Windage and elevation knobs are where you'd expect them, and both are large enough to facilitate gloved use. Both turrets are nearly 3/4" tall, though, which could be an invitation for unintentional adjustment on a scope with a mission that probably doesn't include field-expedient dialing for elevation. Setting zero on the tactical turrets was fast and simple, though, so once that's done a quick glance takes care of the concern. Clicks were positive, tactile and audible, and in "walking the box" on the target, each click resulted in a repeatable 1 m.o.a. shift in point of impact.
The scope's main body is 35 mm, and it ships with a mount billed as being compatible with small bore or Weaver bases. It fit snugly on a Ruger 10/22 Takedown and held well during range sessions. Despite lacking a lug to lock it into a Picatinny's grooves, it also clamped right on a SIG Sauer M400 and stayed anchored.
A single CR2032 battery, housed in the rheostat, powers the unit. Reticles were bright, with some ghosting when power output was set at the highest levels. The crosshair seemed to provide the most consistently crisp image. The final test was 30 minutes in the freezer and a trip outside. On a hot, 60-percent-humidity day it should come as no surprise that it fogged. Most scopes do.
No, the Konus Sight-Pro TR probably isn't ideal if your duty station is in Antarctica, but its rugged, all-metal construction, lifetime replacement warranty, innovative features and budget-friendly price make it a great choice for recreational shooters and even for self-defense.
Importer: Konus U.S.A. Corp. (Dept. AR), 7530 N.W. 79th St., Miami,
FL 33166; (305) 884-7618
Magnification and Objective: 1X 35 mm
Finish: matte black
Eye Relief: infinite
Click Value: 1 m.o.a. @100 yds.
Reticle: 4-m.o.a. red or green
Height: 3"
Length: 43/4"
Weight: 13 ozs.
Features: four different reticle choices in two colors
Accessories: hex wrench, owner's manual
Suggested Retail Price: $220