by
posted on June 24, 2015
Support NRA American Rifleman
DONATE
If you regularly put a lot of rounds through your pistol and don't have an ammo sponsor, you're probably loading your own ammo. And there's a good chance you are doing your loading on one of Dillon Precision's excellent progressive loading machines—the XL 650 or Super 1050 are king of the hill. But there are a couple of things that prevent users of these fine machines from getting all there is from one: keeping the hoppers and tubes fed with components, and having to manually place each bullet atop the charged case. The cure for the first ailment is an assistant; the cure for the second just may be GSI's automated bullet feeding accessory.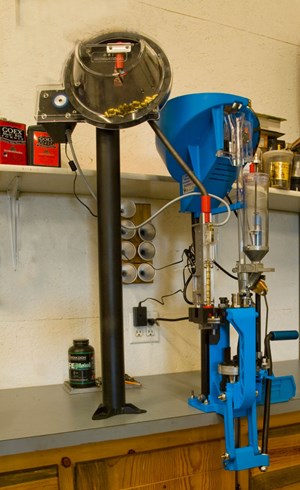 The operation principle of this bullet feeder is similar to the Dillon automated case feeder. A hopper with a slowly rotating bullet plate with indentations mimicking the bullet profile is mounted on a pedestal to the left of the machine. Bullets are dumped into the hopper's opening and the DC-powered motor rotates the bullet plate. The bullets can only be carried on the plate in one direction, ensuring that they will enter the magazine bottom down and ready for loading. This system requires the use of GSI's toolhead and seating die.
Assembly is pretty simple, provided that you read the instructions carefully and follow them to the letter. After I finished putting this on my XL 650 and performed the necessary adjustments, it worked flawlessly with the jacketed hollow-point bullets I was loading in .45 ACP. This product handles jacketed bullets well and the company claims it will also accommodate cast bullets, provided they are very hard and have either a hard-wax or dry lube. My experience—and that of others I have talked to who have one of these—is that it's too much trouble for cast bullet loading because even with the hard-cast, dry lube bullets, you will need to disassemble the unit and clean it every 500 rounds or so. With these Dillon machines, that could mean cleaning every 20 to 30 minutes. I'll reserve mine for jacketed bullets.
At $499 for the feeder and $299 for a caliber change kit, this isn't for the casual reloader. However, if you are loading 10,000 rounds at a time with jacketed bullets, the GSI Bullet Feeder is a real time saver. It also minimizes the chance of catching the fingers of your left hand in the loader and crushing them if you get in too much of a hurry.
For more, visit GSI.