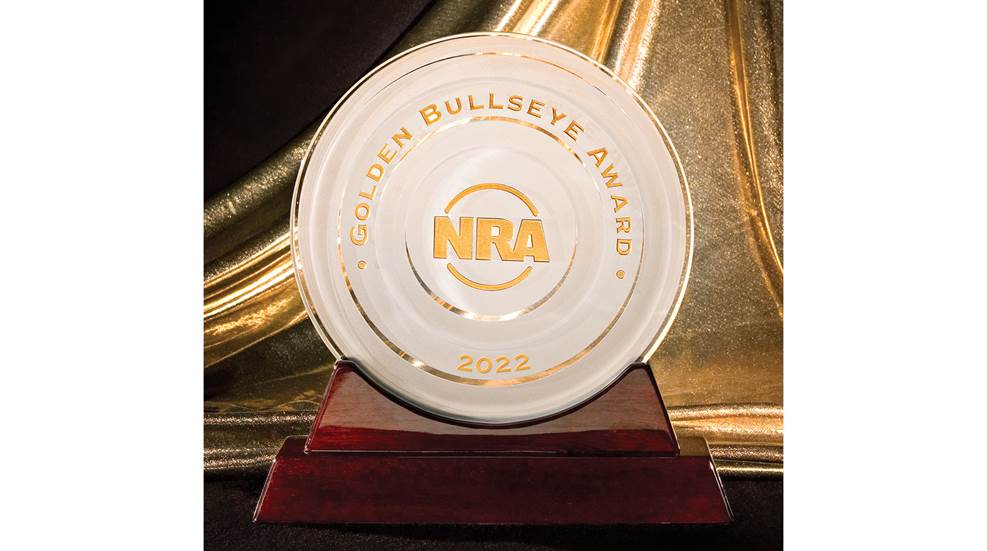 NRA Publications has announced the winners of the 2022 Golden Bullseye Awards naming the top products voted on by the staff of four of NRA Publications' award-winning brands in up to seven different categories.
"We are pleased to announce the winners of the 20th Anniversary Golden Bullseye Awards," said Doug Hamlin, executive director of NRA Publications. "These awards, started 20 years ago, are individually selected by the veteran and respected editors of the NRA Publications Division and confirmed by our management team through rigorous a selection process," said Hamlin "When it comes to the NRA Golden Bullseye Awards bestowed by American Rifleman, American Hunter, Shooting Illustrated and NRAWomen.com, they epitomize what NRA members seek in their shooting and hunting equipment—outstanding performance, innovation and value," Hamlin continued. "These are the industry's best new products, representative of the top products introduced by the firearm industry for NRA members—in a time of COVID as well as when demand has surpassed record levels—and I extend my heartfelt congratulations to the winners."
To qualify for consideration for a Golden Bullseye Award, the product must have been:
Recently introduced and available to consumers prior to the selection of the Golden Bullseye Awards
Used/tested by a staff member or regular contributor to the magazine and/or affiliated media
Reliable in the field, meeting or exceeding the evaluator's expectations
Innovative in design and function
Readily perceived as a value to the purchaser
Styled in a manner befitting the shooting and hunting industry and, perhaps more importantly, its enthusiasts.
Whereas the Golden Bullseye Award acknowledges the finest products available in the shooting sports, the Golden Bullseye Pioneer Award specifically honors outstanding personal achievement. The Pioneer Award spotlights the exemplary achievement and cumulative body of work of an individual, or members of a family, team or partnership, responsible for the development and introduction of shooting equipment that has made a profound, positive and enduring impact on the way Americans shoot and hunt.
The 2022 Golden Bullseye Awards will be presented in person at an invitation-only event during the 2022 NRA Annual Meetings & Exhibits in Houston, Texas, and will include recognition of Dennis Reese, CEO-owner of Springfield Armory. Reese was named the Golden Bullseye Awards Pioneer recipient in 2021, but has not been able to receive the honor in person in the wake of the cancellation of the NRA Annual Meetings and Exhibits.
2022 NRA Golden Bullseye Award Winners
American Rifleman
Rifle Of The Year
Ruger Left Hand 10/22 Competition
Shotgun Of The Year
Handgun Of The Year
Tactical Gun Of The Year
Optic Of The Year
Crimson Trace Brushline Pro 4-16X
Ammunition Product Of The Year
Accessory Of The Year
American Hunter
Rifle of the Year
Shotgun of the Year
Handgun of the Year
Muzzleloader of the Year
Ammunition Product of the Year
Winchester Ammunition 6.8 Western
Optic of the Year
Gear
FORLOH AllClima Softshell clothing w/RECCO
Shooting Illustrated
Handgun Of The Year
Rifle of the Year
Shotgun of the Year
Optic of the Year
Ammunition Product of the Year
Accessory of the Year
NRA Women
Handgun of the Year
Gear of the Year
Industry Woman of the Year
NRA Pioneer Award Winner