by
John Zent, Editor Emeritus
posted on January 5, 2021
Support NRA American Rifleman
DONATE
With the unveiling of the Savage Arms Impulse, the legacy gunmaker well-known for accurate barrels, trend-setting innovation and great value has set its sights on an elusive goal: changing America's inclinations toward the straight-pull rifle.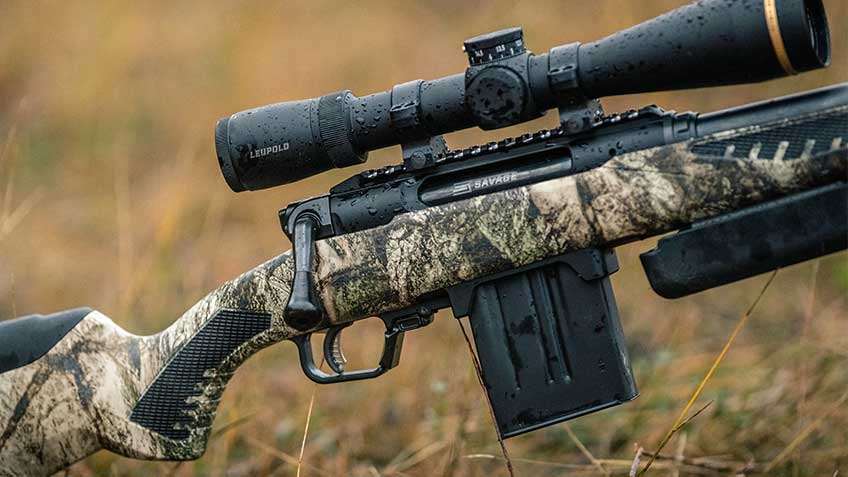 Related to the bolt-action, this operating system has been around since the late 1800s, and for a short time the Lee Rifle, Model of 1895 was the official service arm of the U.S. Navy and Marine Corps before it was gradually replaced by the .30-40 Krag and M1903 Springfield. European armies of that time also adopted straight-pulls like Switzerland's Schmidt-Rubin. Since then, the best-known, but still relatively rare, examples have been rimfires and deluxe imports from Europe.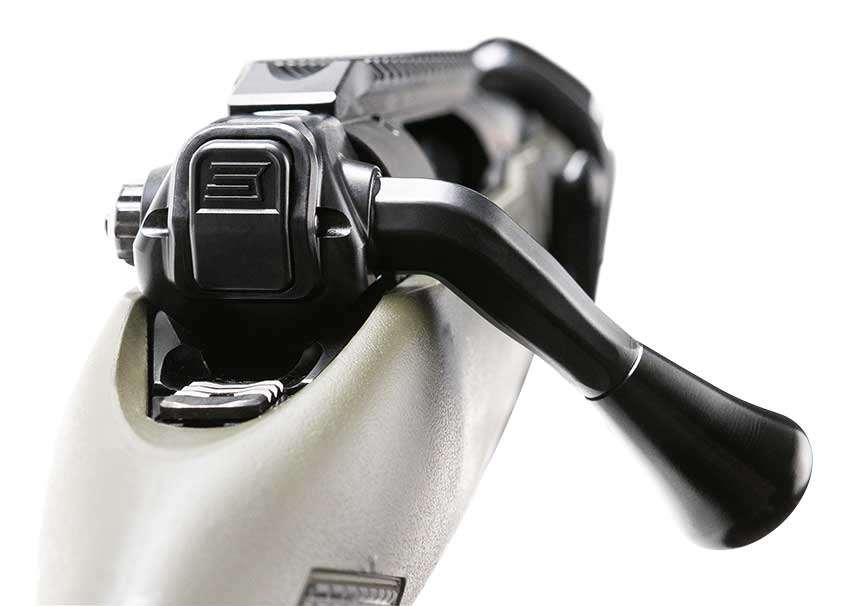 Modern straight-pulls, in fact, are much-improved over the Lee Rifle, which required an awkward up-stroke on the bolt. The Impulse's calling card is a super-slick in-line operation that enables a rapid rate of fire while aiding one's ability to maintain a solid cheekweld. But Savage insists that's only part of what the Impulse can do.

"We've studied more than a century's worth of straight-pull actions and kept running up against the same conundrum," says Savage CEO Al Kasper. "Straight-pull actions are fast, but they don't inspire confidence. Speed means nothing if you can't hit what you're aiming at. Impulse changes that. We've brought our tradition of accuracy into the mix to make the fastest, most accurate straight-pull rifles ever built."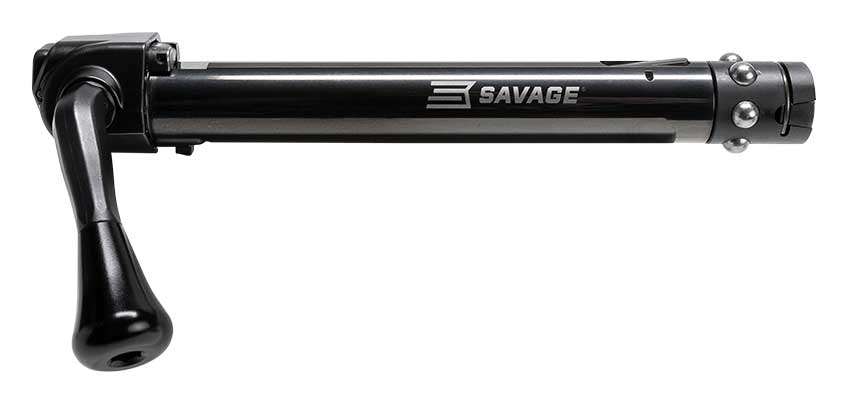 Star components include Savage's Accu-Trigger and button-rifle barrels, but the key to the Impulse is its proprietary Hexlock front-locking mechanism, consisting of a ring of six hardened steel bearings seated around the bolt head. When pressed by a plunger located inside the bolt body, the bearings protrude and lock securely into the barrel extension, thus putting the gun into battery.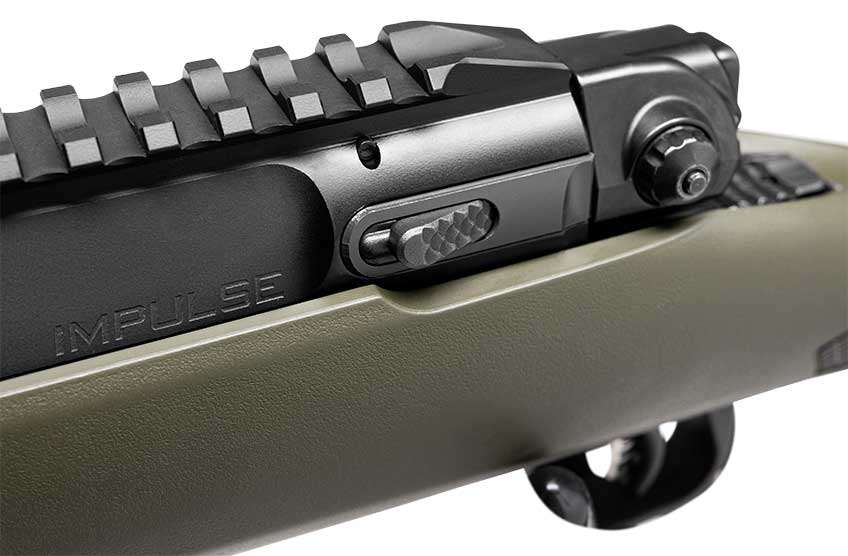 Savage says that increasing pressures upon firing causes the bearings to hold even tighter. Releasing pressure on the bearings by retracting the bolt handle allows the action to cycle. Unlike familiar bolt-actions, cycling the Impulse doesn't require turning the bolt up and then down as part of a four-step sequence. Instead, a simple, rearward tug on the handle opens the action and clears the spent shell, then it is flicked forward to pick up and chamber a new round.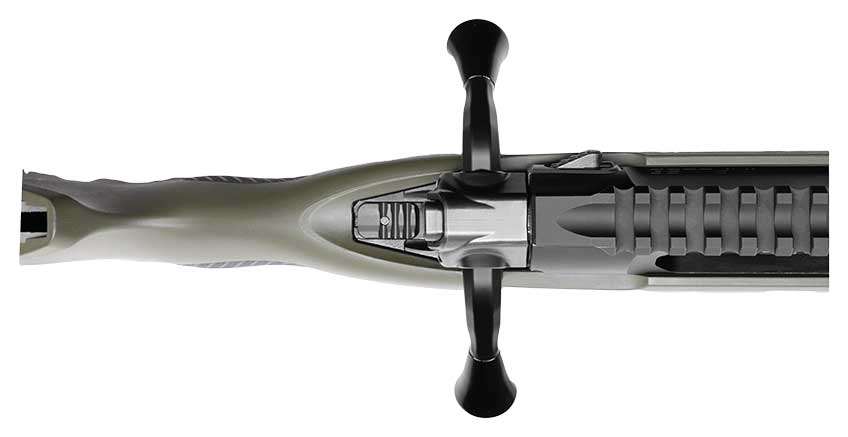 From the first shots at our initial hands-on range session, the Impulse proved extremely quick and smooth. And though our try-out didn't include formal accuracy testing, groups delivered by our Impulse Hog Hunter in .308 Win. were very promising indeed.

Given the intuitive feel and short learning curve of shooting a straight-pull rifle, it's somewhat surprising they haven't gained more traction in the U.S. Perhaps that's because we don't have the strong tradition of driven big game that makes the operating system popular in European hunting, though deer and elk hunters worldwide can likewise appreciate lightning-quick follow-ups and a head-down shooting technique.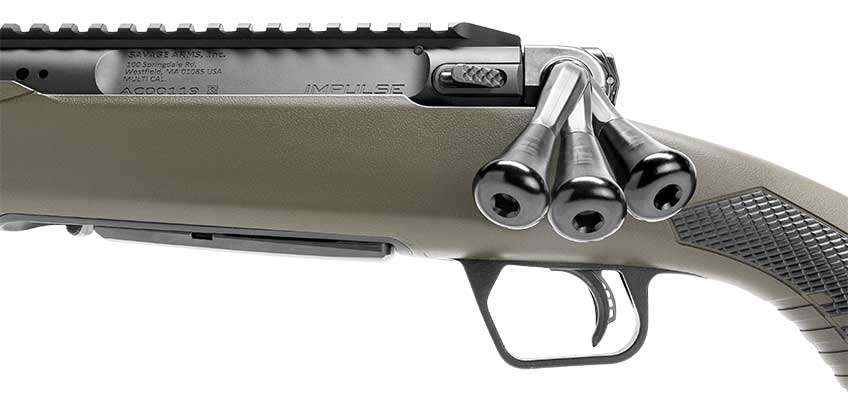 Or perhaps the styling and technology of European models just never clicked with Americans, and undoubtedly their high pricing must also factor in. All of that has opened the door for a development like the Impulse, and it shines in presenting three model variants purpose-designed for different hunting scenarios, all at less than half what you'd pay for the leading imports. 

All variants come with Savage's award-winning Accu-Stock and Accu-Fit features that allow shooters to adjust their rifle for personal fit and preferences. Also standard issue are detachable box magazines and a factory-mounted 20-m.o.a. accessory rail. Each one, however, boasts its own distinctive looks and varying specs.


Impulse Big Game— Kuiu Verde camo stock with green Cerakote metalwork; 22" or 24" barrel; .243 Win., 6.5 Creedmoor, .308 Win., .30-06 Sprg., .300 WSM, .300 Win. Mag.; two-to four round magazine capacity; MSRP $1,449.


Impulse Predator—Mossy Oak Terra Gila camo stock with matte black metalwork; 20" barrel; .22-250 Rem., .243 Win., 6.5 Creedmoor, .308 Win.; 10-round magazine capacity; MSRP $1,379.


Impulse Hog Hunter—OD Green stock with matte black metalwork; 18", 20" or 24" barrel; 6.5 Creedmoor, .308 Win., .30-06 Sprg., .300 Win. Mag.; three- or four-round magazine capacity; MSRP $1,379.
Savage's Al Kasper states,"Impulse will redefine the way you think about straight-pull rifle."

In the past that's been a tall hill to climb, but based on our initial look, this is a rifle worthy of serious consideration.