by
posted on February 20, 2019
Support NRA American Rifleman
DONATE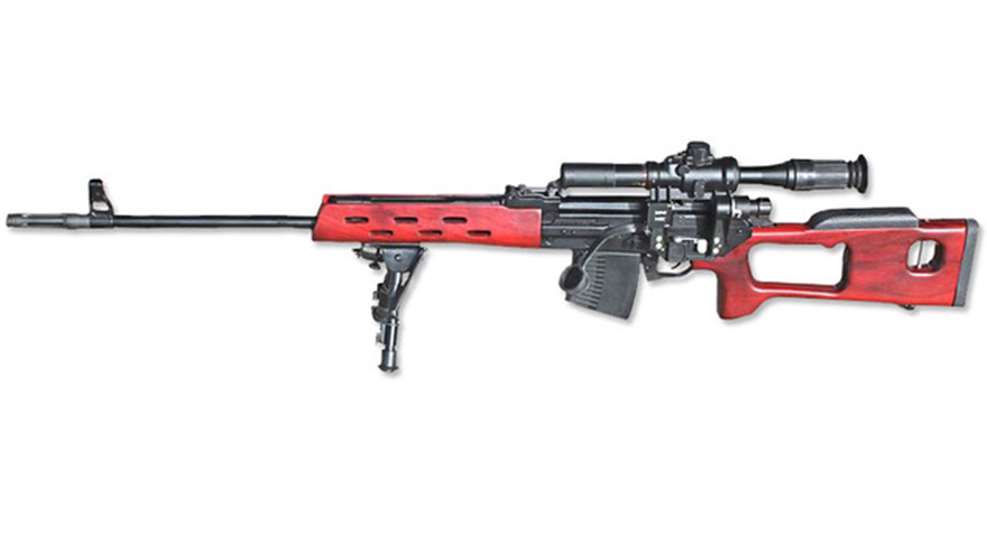 It was about two years ago when I wrote the heartbreaking story of how the rugged, reliable Molot Vepr 7.62x54R semi-automatic rifle I had been eagerly awaiting a chance to test fire suddenly turned into a collector's item. With an overnight change in import regulations (which are still in place) the uncommon Vepr configuration I had on hand went from being a gun to be enjoyed at the range to a factory fresh, unfired piece of gun safe tinsel that should be tucked away for a financial rainy day.
My Vepr adventure began years before with a smitten-at-first-sight glimpse of a Norinco NDM-86 7.62 mm x 51 mm NATO rifle in a TV show. At the time, I mistakenly believed it to be a Cold War-era Russian SVD NDM-86 Dragunov chambered in 7.62x54r. It instantly joined my gotta-shoot-it bucket list.

SVD Dragunov Sniper Rifle Chambered in 7.62x54R (imfdb.org image)
Unfortunately, authentic Russian Dragunov rifles are rare and expensive here in the United States. So, you can imagine I was quite pleased when I came across the sporting version of the Vepr with a 23.5" barrel. While it did not have the sleek combat stocks, the cool scope or the extended flashhider of the Dragunov, the core rifle was about as close as I was going to get without having to sell the family silver to obtain one. But then the project came to a screeching halt when folks I trust said not to modify or even shoot the rifle because now it would be valuable someday.



Time passed and I've regretted, more than once, that the Vepr was relegated to gold brick status instead of earning its keep at the shooting range. Knowing whether or not a particular gun will gain, lose or hold value over time is a tricky business with no guaranties. I might be missing out on the enjoyable shooting experience I was after for nothing. When I asked readers what they thought I should do with this unexpected collectible the overwhelming response was Carpe Diem Aere Et Fratrem Flinghot! (Seize the Day and Fling Hot Brass, Brother!). Thus the Vepr was moved from museum piece status to active duty.

However, rather than just shoot the Vepr in its somewhat ordinary sporting configuration, I decided that this rifle should take its maiden voyage to the range in style. I did some deeper digging on the Internet to see what accessories might be available to bring the Vepr more in line with the Russian sniper rifle I wanted to shoot in the first place. Sure enough, it turned out that there were some slick options and upgrades out there that would do the trick. My rifle wouldn't be a Dragunov SVD per se, but it would be a Vepr "Closeunov 4ME."


The first item on my list of desired accessories was a 3.939" long 5-slot MFI Dragunov SVD/NDM-86 style muzzle brake. It is CNC machined from billet steel and heat treated to a hardness of about 30 Rockwell. It features a Mil-Spec deep gray phosphate Parkerized semi-matte finish and the uncommon left-handed 14mm X 1.0 thread pitch required to match the muzzle threading of the Vepr. While it does effectively reduce felt recoil, this device does not reduce muzzle flash. Because this muzzle brake is made here in the United States it's 922r compliant.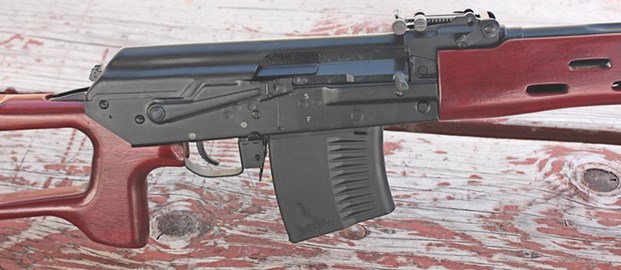 In order to meet importation regulations, the sporting Vepr was shipped with a pinned and welded thread protector attached to the muzzle. Rather than risk damaging the threads by grinding it off myself, I called in the professionals at Joe Firearms, the same company that did a fantastic job of customizing a Bulgarian SAM7SF-84G for me. While they were installing the MFI muzzle brake, they went ahead and gave the rifle the company's signature AK Performance Tune-Up. Their work lightened the trigger from the fairly smooth factory 6 lbs. to a clean 4-lbs. 6-oz.trigger pull. This was a welcomed improvement for a rifle intended for long-range work.


One of my favorite finds for this project is Atlantic Firearms' handsome SVD style stock set. Specially made to meet customer requests, the vented fore-end and thumbhole shoulder stock are both crafted from walnut, treated with a red-brown stain and topped off with a glossy finish. The textured, height-adjustable rubber cheek riser is paired with a matching recoil pad for a 14.5" length-of-pull (LOP) for this particular rifle. Although the stocks are not an exact replica of those found on the Dragunov, they are well made and elevate the overall appearance of the rifle quite nicely.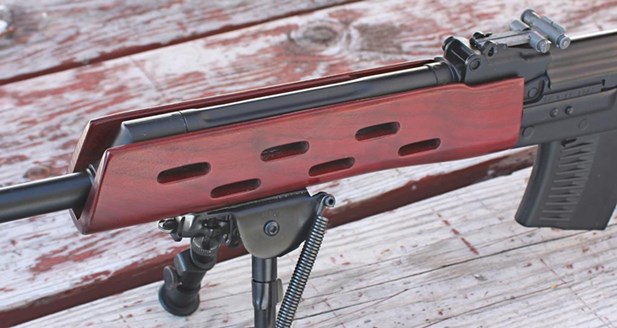 While the fore-end is a drop-in component, the stock requires some fitting work. This includes sanding down the edges of the head of a stock screw and dremeling (sanding) out some of the wood where the shoulder stock meets the trigger guard. You can, of course, have a gunsmith do this work for you but I was able to accomplish it myself in about half an hour thanks to the instructional video provided on the Atlantic Firearms website. The result was a nice, tight stock-to-receiver fit.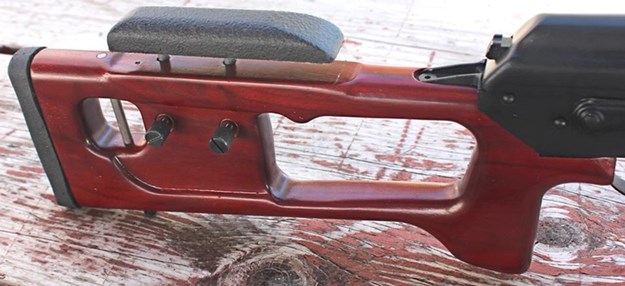 The Vepr shipped with one five-round polymer magazine suitable for hunting and sporting applications. To enhance the rifle's ammunition capacity, I contacted SGM Tactical to request the company's Model SGMT76254r single-stack 10-round magazines to work with. Engineered using CAD technology and constructed of a Dupont glass-filled polymer, these magazines are durable, internally smooth and fitted with slightly longer springs for more uniform feeding. The company was kind enough to send several of these magazines, all of which have worked flawlessly with this rifle. SGM's polymer magazines do not look like the waffle-pattern steel magazines of the Dragunov. But in this case, I'm perfectly happy to sacrifice a bit of aesthetics for this magazine's quality, capacity and reliable operation.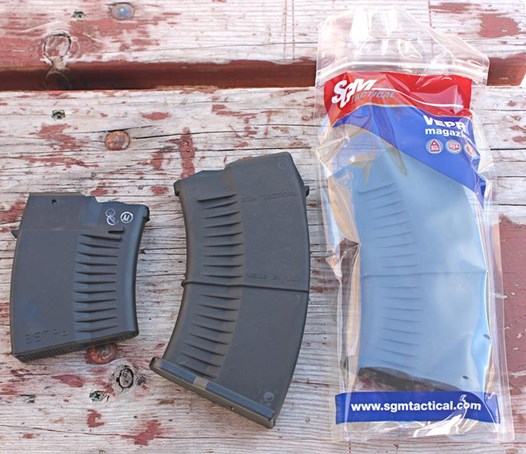 The last accessory this rifle needed in order to complete its transformation was an optic that shared the distinctive look and features of the Soviet-designed PSO-1 telescopic sight commonly mounted on the military issue Dragunov. Apparently I'm not the only one interested in reliving this facet of shooting history because Wolf Performance Optics offers the military classic PO 4x24, an updated replica of that famous sighting system.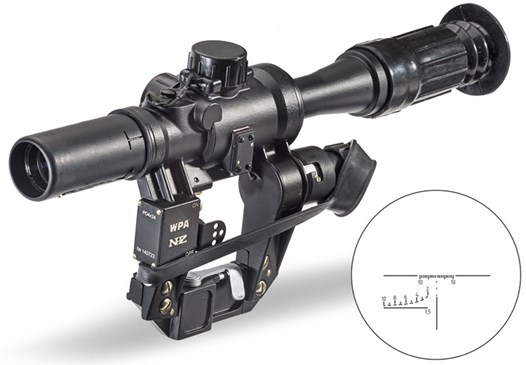 Redesigned specifically for Saiga and Vepr rifles (the PO 4x24-1 fits SVD and Tigr models), this fixed 4X scope features a no-math 200 to 1000 meter telemetric range finder to the left of the illuminated aiming reticle. The rangefinder can be used to quickly calculate distance using a 1.5 meter tall target as a reference point. The farther away the target is, the smaller it will appear to be in the scope. If the target fits under the number 4 in the range finder then it's 400 meters away and the operator can adjust their aim accordingly.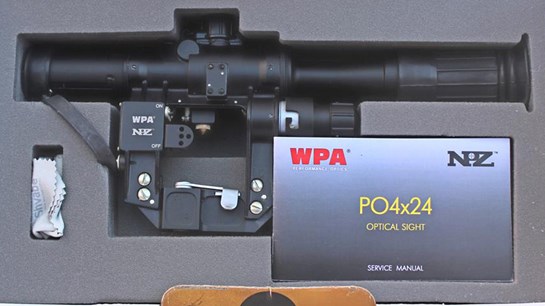 The PO 4x24's rugged aluminum housing features an integral mounting arm with a battery housing and power switch for the red illumination lamp. It should be noted that, when properly installed, the optic rests just to the left of the rifle's center line. There is a telescoping sun shade and protective rubber cap at the front, polymer caps protecting the adjustment knobs and a removable rubber eye cup at the rear. This cup acts as a quick eye alignment guide and shades the illuminated reticle. The adjustable quick-release mounting system allows the optic to be easily removed from the rifle without having to re-zero.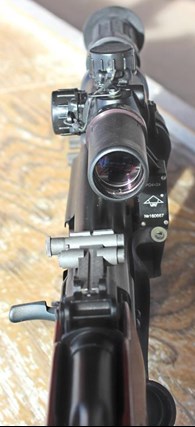 With all of the accessories installed and the empty five-round factory magazine in place, this sleek classic lead launcher has an overall length of 46.5" with an unloaded weight of 11 lbs. 3 oz. While I wouldn't want to hike through the mountains with it strapped to my back it was impressively comfortable to work with at a bench rest.
It seemed appropriate that the rifle test was conducted in the cold of winter with snow crunching underfoot. For informal and formal accuracy testing I decided to go full-on old school and forgo any adjustable rests or fancy support gear. Instead I just hunkered down at the bench with a Harris-type bipod attached to the forend and used my fisted left hand in place of a sandbag to support the shoulder stock. The Vepr's level of felt recoil, unlike the shoulder bruising Mosin-Nagant bolt actions, is manageable to work (on par with a .308 Win) thanks to the semi-auto action, muzzle brake and rubber recoil pad.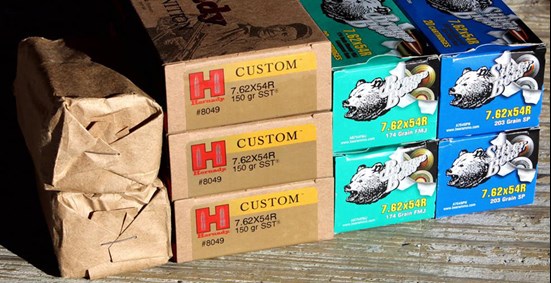 In the course of testing, I ran into one failure to feed and one failure to fire some Spam-can surplus ammunition I had on hand. Besides those two hiccups there were no malfunctions or issues of any kind with the ammunition, rifle or magazines. Three imports and one American-made 7.62x54R load were checked for velocity by firing 10 rounds next to a LabRadar chronograph with a 12" offset from the muzzle. Accuracy was measured for five, 5-shot groups at 100 yards.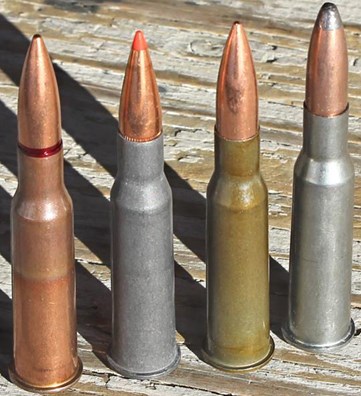 Century Arms sent out a surplus Russian Spam can filled with 150-gr. bi-metal full-metal jacketed rounds with copper washed steel cases and corrosive primers. This round had an average muzzle velocity of 2717 f.p.s. for a muzzle energy of 2459-ft.-lbs. It printed a best single group of 2.01" with a five-group average of 2.20".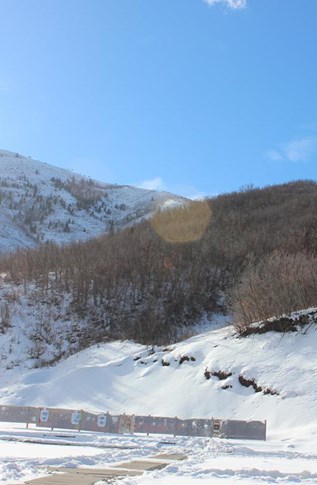 Zander's provided two Russian Bear loads for this test. The Silver Bear 203-gr. bi-metal jacketed soft point with zinc-coated steel cases launched at 2235 f.p.s. for 2252 ft.-lbs. of muzzle energy. It yielded a best group of 2.03" with an average of 2.24". The Brown Bear 174-gr. full-metal jacket with lacquered steel cases flew at 2510 f.p.s. for a muzzle energy of 2435 ft.-lbs. This load produced a best group of 1.97" and an average of 2.07".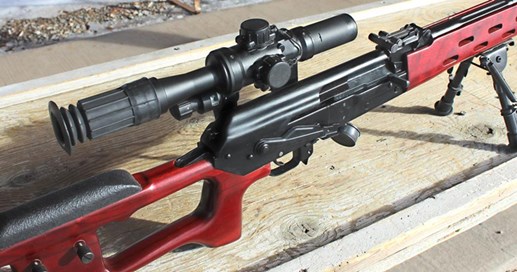 Hornady's 150-gr. SST jacketed ballistic tip with polymer-coated steel case proved to be both the fastest and the most accurate of the test set. Bullet speed averaged 2797 f.p.s. for 2606 ft.-lbs. of energy. This load's best single group was 1.86" with an average of 2.02".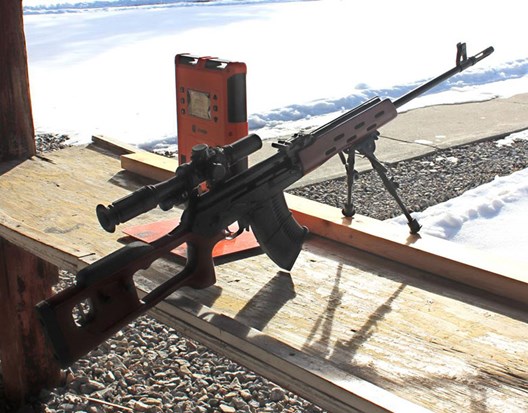 Nearly 17 years in the making, my goal of firing a long-barreled semi-automatic rifle chambered in 7.62x54R can finally be scratched off my bucket list. And I'm happy to report that it was worth the wait. While the accuracy is not quite as tight as I hoped it would be, the potential for the enjoyable long-range lobbing of lead is still there. The ammunition for this gun is not as inexpensive as it used to be but it's still more affordable than many center-fire rifle cartridges.
I was lucky to snap up what would be among the last of the Vepr rifles just weeks before the surprise change in import regulations that has caused them to disappear from dealers' shelves. Even though the physical appearance of the Closeunov 4ME configuration may not be an exact replica of the original SVD Dragunov, the high quality of the rifle, accessories and services have all come together to form a reliable and appealing platform that I intend to enjoy for a long time to come.



Specifications:
Base Rifle Model: Vepr VPR-76254-03, Molot Firearms LLC (See Specifications Here)
U.S. Distributor: FIME Group
Muzzle Brake: MFI Dragunov SVD / NDM-86 Style Muzzle Brake $75
Gunsmith Services: Joe Firearms
AK Performance Tune-Up: $165
Muzzle Device Installation: $75
Stock Upgrade: Atlantic Firearms Walnut Vepr SVD Style Stock Set $269
Magazines: SGM Tactical Polymer 10 Round (SGMT76254r) $50
Optic: Wolf Performance Optics WPA PO 4x24 Scope $339.99