by
posted on August 29, 2017
Support NRA American Rifleman
DONATE
Introduced to the U.S. market in 2016 by the FIME Group, the ReX Zero 1 series of semi-automatic pistols manufactured by Arex of Slovenia has quickly garnered a following among American shooters because of the pistol's high level of quality at a fair price. The line-up of duty-size and compact models has grown to include the new ReX Zero 1T Tactical version with a host of bells and whistles designed to satisfy the needs of both the tactical and competition shooter.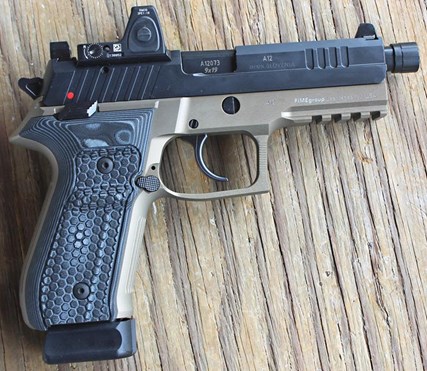 Like its compatriots, the ReX Zero 1T is a semi-automatic 9 mm inspired by the classic SIG Sauer design. It operates using a modified Browning linkless locking system with the barrel locking into the ejection port. The beveled full-size milled chrome-moly steel slide is Nitrocarburized for a matte black finish with straight cocking serrations in the front and angled serrations at the back.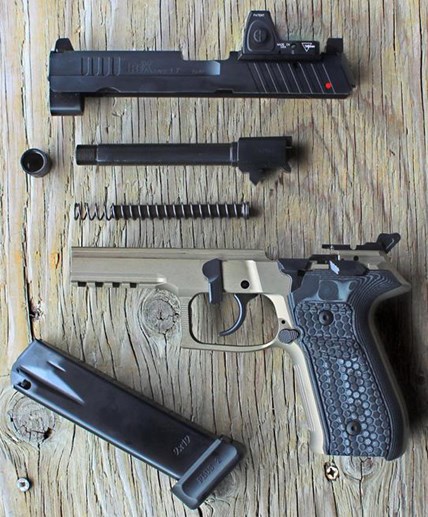 Between the ejection port and rear sight the slide has been milled, drilled and tapped for the Rex Optics Ready (ROR) mounting system. The pistol arrives with a filler plate installed that matches the rest of the slide. This plate can be removed and replaced with one of four plates provided with the gun. These plates support a variety of handgun optic options including models produced by Burris, C-More, Docter, EoTech, Insight, Jpoint, Meopta, Shield, Trijicon and Vortex.

The front and rear metallic 3-dot sights are dovetailed into the slide and significantly taller than standard sights. This facilitates co-witnessing with a red dot sight and sighting around a sound suppressor. The sight system is also available in a night sight configuration.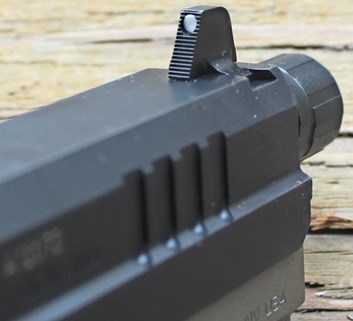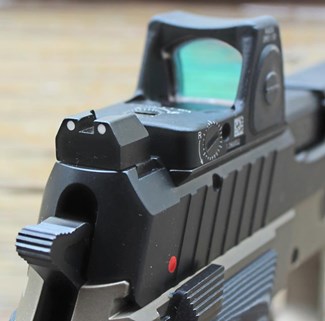 The 4.9" long one-piece cold-hammer-forged barrel is manufactured from solid bar stock and Nitrocarburized. The muzzle is threaded at ½ x 28 TPI to support sound suppressors along with a variety of other muzzle devices. A thread protector is provided. The recoil assembly consists of a full-length steel guide rod and a single round wire recoil spring.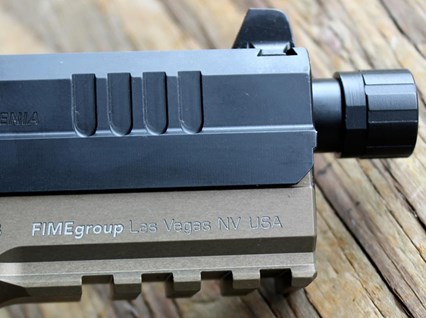 Removing the slide reveals some interesting features of the hard anodized T7075 aluminum frame. The integral slide rails run the full length of the dust cover. The frame is CNC machined from solid bar stock and fitted with a steel locking block insert. You won't find any machine marks or rough spots on the frame, inside or out. The exterior of the frame has several nice touches that make it more enjoyable to shoot. A 2" accessory rail for lights and lasers is milled into the frame in front of an oversized trigger guard sized for gloved hands with a finger rest along the front edge. The trigger guard is undercut where it meets the grip frame. The grip heel features a military-type lanyard attachment point. Frame color options include Flat Dark Earth (shown) or Black.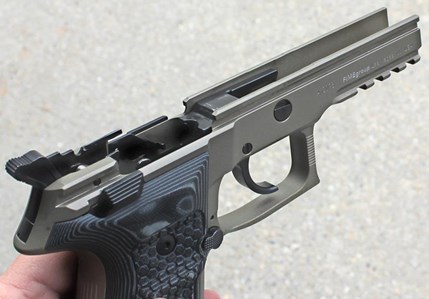 The front and back straps of the grip are grooved for improved purchase and the magazine well has been beveled to aid reloading. The factory polymer grip panels provide a slim profile and a lightly textured gripping surface. If you prefer a slightly thicker grip with more aggressive texturing, Hogue offers G-10 grip panels with hexagonal texture in three different color patterns including the Mascus Black version shown here. I found these grips provided a just right level of texturing, providing positive purchase without being so aggressive as to irritate bare hands.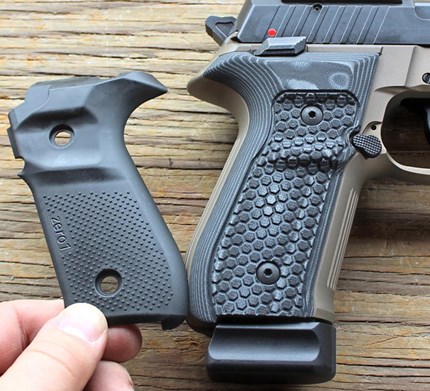 The controls include a takedown lever and combination slide stop/de-cocker on the left side and an ambidextrous thumb safety and magazine release. Because this is a traditional Double Action/Single Action hammer-fired pistol, it can be carried with the hammer cocked and the safety engaged (cocked and locked) for a single-action trigger pull or with the hammer decocked for a heavier double-action trigger pull.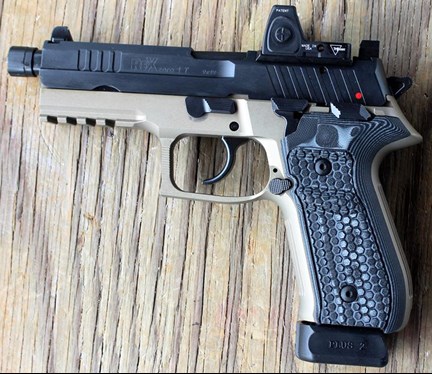 The smooth faced, steel bow trigger is best described as refined. It arrives ready to work for either competition or personal protection applications. The double-action trigger gauged in at 11 lbs. 14 oz. making it over a pound lighter than the listed pull weight. My trigger finger thought it was more like 10 lbs. because it's so smooth. The single-action trigger stroke is half that of the double-action mode and can best be described as having a two-stage feel. There's a short take up that requires about 3 lbs. of pressure before reaching a point of increased resistance. The trigger then breaks cleanly at 5 lbs. 5 oz. of trigger pull. The trigger reset is short with a distinctive, tangible "click" that even beginners will be able to quickly master for faster follow-up shots.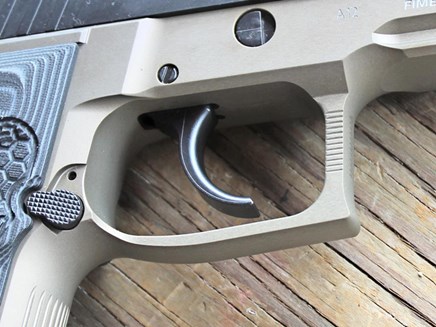 The two steel double-stack magazines shipped with the ReX Zero 1T have been fitted with +2 base extensions for a total capacity of 20 rounds each. I took advantage of the ROR mounting system by installing an excellent Trijicon RMR 1.0 MOE Red Dot sight (RM09-700304). It only took a few minutes to install the sight using the hardware and tools provided with the pistol. The sight and ROR components all came together to form a sleek, streamlined appearance that remained zeroed in throughout the testing process.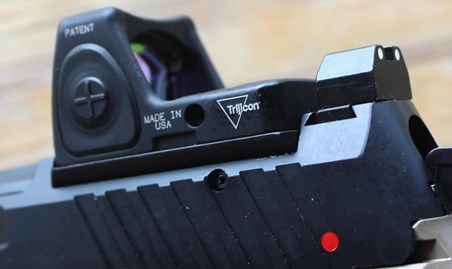 A fully tricked out tactical pistol like this is well worth the investment once you experience the pleasure of taking it out to the range. The ReX Zero 1T's slide was buttery smooth right out of the box. Recoil ranged from mild to moderate depending on the loads fired. The grip was comfortable to hold and the trigger a treat to work with. I requested two extra magazines and found that all four functioned flawlessly. The sights aligned perfectly with the Trijicon RMR sight's red dot. It's good to know that if an electronic optic's battery were to give out in the middle of an event, the iron sights could be used without removing the optic.
Like the other ReX Zero 1 pistol models I've tested, the Tactical model fed, fired and ejected every single round of ammunition stuffed into it from practice grade loads to premium hollow points. Because this pistol is set up for a sound suppressor, I opted to use two sub-sonic loads in addition to one practice-grade load for bench-rested formal accuracy testing at 25 yards (I hope to run this pistol with a suppressor in the future).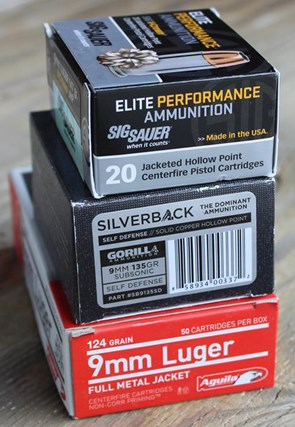 Aguila Ammunition's 124-gr. full-metal jacket load posted a best single group of 2.94" with an average of 3.11". Gorilla Ammunition's defensive sub-sonic Silverback load is topped with a 135-gr. segmented solid copper hollow point. It yielded a best group of 2.78 " with an average of 2.94". The SIG Sauer Elite Performance V-Crown jacketed hollow point once again moved to the head of the class with a best group of 2.67 " and an average of 2.82".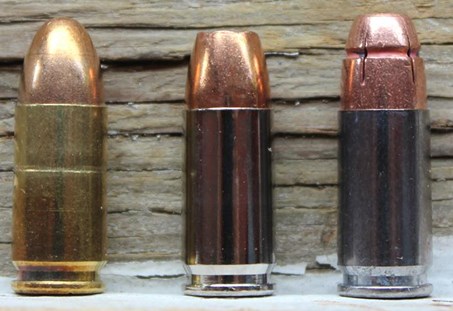 Competition grade 9 mm pistols are a hot ticket item these days as 3-Gun and similar shooting events continue to garner more regular participants. The new ReX Zero 1T Tactical offers the features and functionality of a high quality configuration with a price tag much closer to that of an entry-level pistol. This pistol sports a suggested retail price of $869.99 which, as of this writing, is translating into real world prices right around $800. For a pistol with all milled components and this level of quality, that's an exceptionally fair price. Thanks to its reliability, accuracy and excellent trigger, the ReX Zero 1T Tactical can comfortably transition from a competition rig directly into a night stand strong box and, if you prefer to carry a full-sized pistol, daily concealed carry.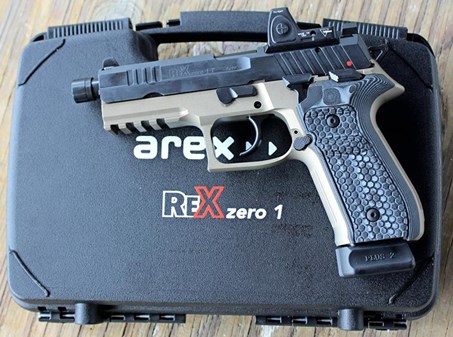 Specifications:
U.S. Importer: FIME Group
Manufacturer: Arex
Model: ReX Zero 1 Tactical (REXZERO1T-03)
Action: Semi-Automatic, Modified Browning Linkless Locking System
Caliber: 9 mm Luger (9x19 mm), Approved for SAAMI Specification +P Loads
Trigger System: Single- and Double-action, Hammer Fired
Slide: Rex Optics Ready (ROR), Nitrocarburized Milled Steel Barstock
Optical Mounts: 1-Trijicon; 2-C-More; 3-Shield/Jpoint; 4-Eotech/Vortex/Burris/Docter/Insight/Meopta
Barrel: Single-Piece Cold-Hammer-Forged Barstock, Nitrocarburized Finish
Muzzle: Threaded with Thread Protector, ½ x 28 TPI
Frame: Milled T7075 Aluminum, Hard Anodized with Steel Locking Block
Frame Color: Flat Dark Earth (FDE)
Dust Cover: Full Length with Integral 2" Accessory Rail
Grip Panels: Slim Profile Textured Black Polymer
Sights: Dovetailed Metallic 3-Dot, Tall Profile
Thumb Safety: Ambidextrous
Barrel Length: 4.90"
Overall Length: 8.10"
Height: 5.90"
Slide Width: 1.00"
Weight: 34.5 oz. with empty magazine
Single-Action Trigger Pull: Over 12 lbs. (as tested)
Double-Action Trigger Pull: 5 lbs. 5 oz. (as tested)
Capacity: 20+1 Rounds
Twist: 1:9.8" RH
Rifle Grooves: 6
Accessories: Two Magazines, Four ROR Optical Mount Plates, Hard Case, Lock, Owner's Manual
MSRP: $869.99 
Optic: Trijicon RMR Red Dot, 1 MOA (RM09-C-700304) $708
Grip Upgrade: Hogue HOG-92709 Textured G-10, Mascus Black $67.96