by
posted on June 8, 2016
Support NRA American Rifleman
DONATE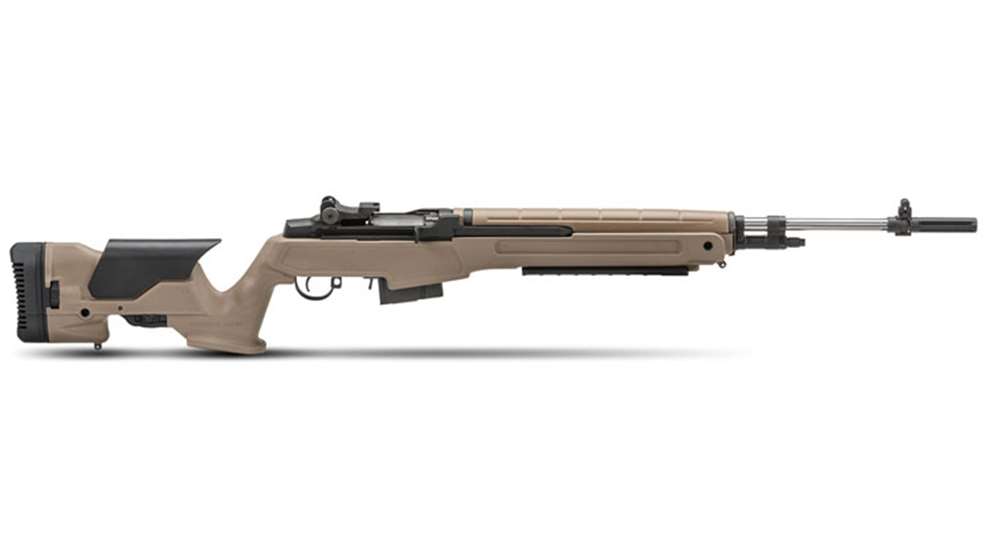 In regard to the illustrious history of the M1A rifle, the semi-automatic version of the military M14, there's a good deal that's already been said. You can find several articles about the "the best battle implement ever devised" right here on this website, including write-ups about the platform's development, its continued use by the American military post World War II , the M1A's role in civilian life, and even how to clean and care for it. 
Rather than delving into the historical aspects of this highly esteemed rifle, I wanted to find out more about new production models and the features they're sporting today. If you want a cutting-edge interpretation of the M1A, then Springfield Armory is the company to talk with. Recently, Editor-In-Chief Mark Keefe gave us a look at the new M1A SOCOM 16 CQB, designed specifically for close-range combat. For this review, I spent some quality time at the range with the new Flat Dark Earth variant of the MP9820 Loaded M1A configured for long-range shooting.



Chambered in 7.62 NATO/.308 Win., Springfield's M1A is a gas-piston driven semi-automatic rifle that employs a rotating bolt. This action and ammunition combination has proved to be utterly reliable in the harshest combat conditions. A high level of dependability is certainly a plus in such a competition gun. The receiver is constructed of investment cast AISI 8620 alloy steel and treated with a matte-black Parkerized finish.



The premium medium-weight match-grade, air-gauged stainless steel barrel is 22" long with a 6-groove rifling cut at a 1:11" right-hand twist. The muzzle is fitted with a traditional 3" long M14- style birdcage flash suppressor. The factory iron sights consist of a National Match .062" blade in front and an adjustable match grade .052" aperture in the back. The rear sight features manual adjustment knobs with a 1 MOA per click shift for elevation and 1/2 MOA per click for windage.
The Loaded M1A does not arrive with a scope mount but factory options are available. For this review, the rifle was fitted with the steel Springfield Armory 4th Generation Weaver-Style Scope Mount (Model MA5028, $299). Of all the optical mounting systems I've worked with, this is one of the strongest. It's not terribly difficult to install. However, it takes a bit more work than just driving a few screws. Once in place it's important to make sure the base is tightened down properly or down-range accuracy will suffer quite a bit. A groove down the center of the rail allows the operator to see the iron sights when the optic is removed.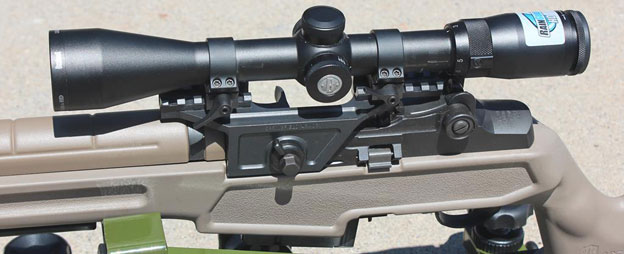 The smooth-faced steel-bow trigger is housed in a rounded-sheet steel-trigger guard. The ambidextrous safety lever is located in the front of the trigger guard where it can be pressed forward into the Fire position using the trigger finger. The two-stage trigger was very smooth with a clean break but a bit heavier than expected with a trigger pull of 6 lbs.


The swing lever magazine release rests just in front of the safety lever. The 10-round Parkerized steel magazine rocks n' locks into place (from front to back) much like an AK-pattern rifle or the Ruger Mini-14. But I found this M1A's magazine well to be a little less forgiving than some other systems. You've got to hit the sweet spot just right when inserting the magazine or it can turn into a wrestling match to get it into place.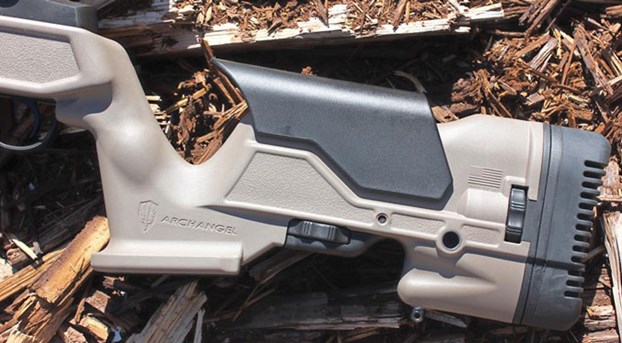 For this model, the traditional hardwood stock has been replaced with a modern adjustable AAM1A synthetic model made in the United States by Archangel. Molded from high-strength carbon-fiber filled polymer, this stock arrives with a thumb-wheel click-adjustable cheek piece and a thick adjustable recoil pad that allows the length-of-pull (LOP) to shift between 13.63" to 14.81". The gooseneck-style grip is ambidextrous with palm swells for added comfort and a storage compartment. The underside of the fore-end sports an 8" molded-in accessory rail for attaching lights, lasers and bi-pods. This rail is protected by a hand-friendly removable cover. QD (flush cup) sling mount ports are located on both sides of the stock on the forend and near the recoil pad along with forward and aft sling swivel studs.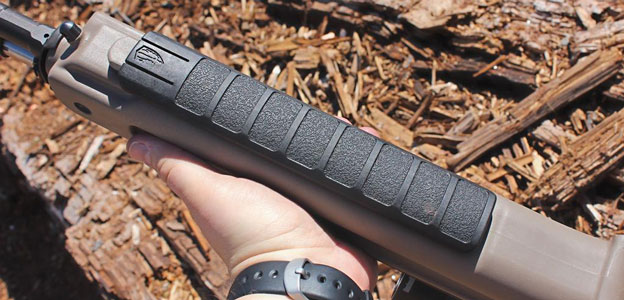 This rifle demonstrates an excellent level of fit and finish from stem to stern. All of the controls and adjustments operated as advertised without any malfunctions or hang-ups. All of the test ammunition, from all-purpose soft points to premium match grade, ran reliably and turned in respectable levels of accuracy. The extra weight, pistol grip, and 1.25" thick vented recoil pad tamed the recoil of the .308 Win. cartridges to a comfortably moderate level. 
Like many target shooters, I often turn to full support bench rest systems that do just about everything for you except pull the trigger. They make it easy to produce tight groups down range and help to mitigate felt recoil. But considering the weight and adjustment points of the Loaded M1A, a full support rest seemed like it would just get in the way. In order to make the most of the target stock's features from the bench, I used Hyscore's minimalist Track and Elevate Varmint Rest (#30276). 


Designed to handle the quick elevation changes required for prairie dog and varmint hunting, a lever and clutch mechanism on the left side allows for quick, fluid adjustments when needed or small, incremental adjustments for precision long-range shots. The shooting range where this test was conducted is on the side of a mountain with marked increases in elevation the further out the targets are set, so the elevation adjustments were quite important (I've had some rests that could not be adjusted enough to do the job). This compact rest system provides just the right amount of support when recoil is not an issue. I could really settle in and hold the rifle naturally while keeping it very steady. I'm looking forward to using it again.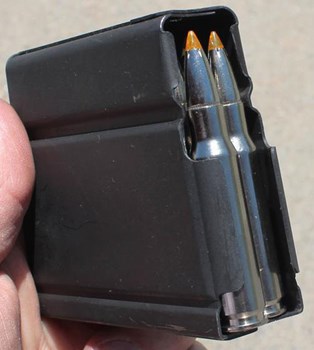 Formal accuracy testing consisted of the prescribed benchrested five, five-shot groups fired at 100 yards with a Bushnell Legend Ultra HD 3-9x40 hunting scope mounted to the rifle. The load to turn in the best single group of 0.98" and best average of 1.21" was Federal Premium's 180-gr. Trophy Bonded Tip hunting load. Black Hills Gold Match topped with 155-gr. Hornady A-Max bullets yielded a best group of 1.28" and an average of 1.46". HPR Hyperclean 150-gr. soft points turned in a best group of 1.54" with an average of 1.72".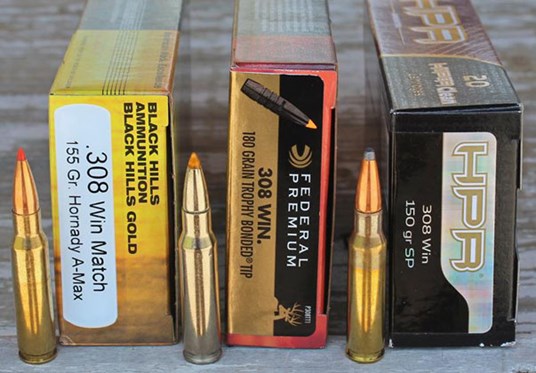 Calling the Springfield Armory's Loaded M1A a rugged gun just doesn't do the platform justice. It's overbuilt in all the right ways. I just have to smile to myself when I hear under-informed commentators refer to AR-15s or thin-barrel hunting rifles as "big guns." With an overall length of 45" and a decked out weight of about 14 lbs., the M1A Loaded model is a big rifle. Although I wouldn't look forward to lugging this beast through rough terrain like our courageous U.S. military personnel do around the world, I did enjoy target shooting with it. With its modern features and adjustable stock, the M1A Loaded model is a top-notch modern take on a classic. 



Specifications:
Manufacturer: Springfield Armory
Model: MP9820FDE Loaded M1A
Action: Gas-Piston Operated Semi-Automatic with Rotating Bolt
Caliber: 7.62 NATO/.308 Win.
Action: Parkerized Steel
Stock: Archangel Adjustable Synthetic, Flat Dark Earth
Barrel: Medium Weight National Match, Stainless Steel
Muzzle: 3" M14 Birdcage Flash Suppressor
Front Sight: National Match .062" Blade
Rear Sight: National Match Adjustable .052" Aperture
Barrel Length: 22"
Overall Length: 45"- 46.25"
Weight: 11.25 lbs. with Empty Magazine
Capacity: 10-Round Parkerized Steel Removable Box Magazine
Twist: 1:11" RH
Rifle Grooves: 6
Accessories: One Magazine, Soft Carry Case, Owner's Manual
MSRP: $2,083
Optional Scope Base: 4th Generation Steel Weaver-Style $299
Bench Rest: Hyscore Track and Elevate Varmint Rest (#30276) $74.59