by
posted on December 5, 2017
Support NRA American Rifleman
DONATE
If you talk to creative writers, such as novelists and screen writers, they'll tell you that their projects tend to fall into two categories: immediate and long term. Some ideas just pop up in the middle of the night ready to write. Others need to simmer on a mental back burner for months or even years before they're ready. 
Gun writers are not all that different. We hop to it when a press release for a brand-new firearm lands in our laps. We start working the phones and e-mail machine right away in hopes of being the first to publish a review. But other, less urgent, write-ups sometimes make their way onto the "Bucket List of Someday." It's not so much an issue of creative inspiration as having all the necessary elements (gun, ammunition, optic) all line up in just such a way that the review can be completed. 
This year, I nearly finished a review I've been looking forward to for more than 15 years. However, thanks to a blip on the United State's international policy radar, it was stopped dead in its tracks. This is because the rifle I was ready to shoot, suddenly and unexpectedly, became a collector's item. 
This story begins back in 2002. My wife and I were catching up on Season 1 of the TV series "24" via Netflix mail order DVDs. There came a point when actor Michael Massee's character starts chasing Jack Bauer, played by Kiefer Sutherland, through the wilderness with what I would later learn was a Norinco NDM-86 rifle. It's an all but identical Chinese variant of the Russian SVD NDM-86 Dragunov. Because I wasn't familiar with the Chinese version, I assumed it was the Russian platform. I was captivated by the rifle because it was the first time I had seen an AK configured specifically for long-range work and I wanted to learn more about it.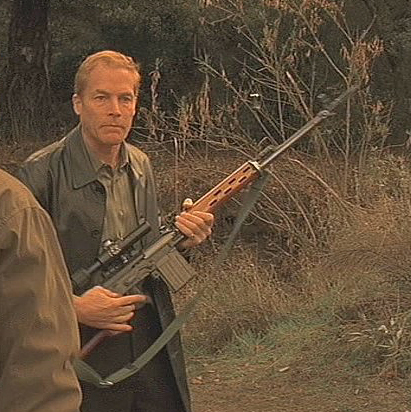 Michael Massee holding Norinco NDM-86, "24" Season 1
Image courtesy imfdb.org 
As my online research sessions then and now have shown, Cold War-era Dragunov sniper rifles continue to be highly prized collector's items amongst American enthusiasts because so few are available. While writing this article, I found an NDM-86 Dragunov available online for a paltry sum of $7,500. So, over the years, I've enjoyed taking the occasional peek over the internet hedge row at the Dragunov (and the "broom handle" Mauser C96 too) hoping that someday I might get to pull the trigger on one, but not with much faith that it will ever happen.


Norinco NDM-86 7.62 mm x 51 mm NATO
Image courtesy imfdb.org
About 14 years later, I was introduced to the FIME Group at the Las Vegas SHOT Show. There I met the company's sales manager, Walker English, and we discussed the various models they offered including a variety of Russian-made Vepr rifles. By March of 2017, I had my first chance to run a VEPR, the Model VPR 308-22 chambered in .308 Win. Having heard from several sources that the Veprs were among the very best imports available, my expectations were high. I've participated in a from-scratch AK build with a top-notch custom gunsmithing team and shot a few AKs along the way, so it was easy to see that the VEPR deserved the kudos it's received.



After working with the folding stock .308 version of the VEPR, I went back to the FIME Group's online catalog to nose around a bit. There I found a new-production rifle that could scratch that old, lingering Dragunov itch without breaking the bank.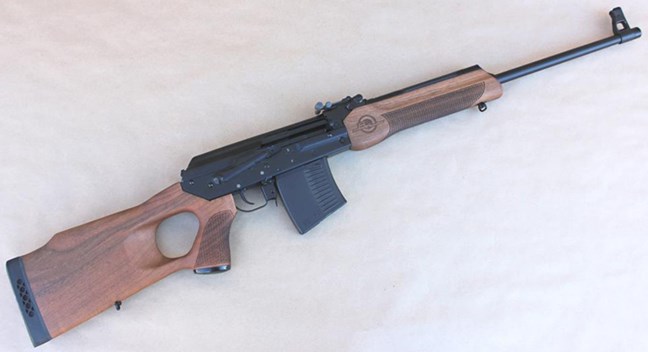 The VEPR Model VPR-76254-03 semi-automatic rifle is configured as a sporting gun. The rifle cycles using a long-stroke gas system with a 3-lug rotating bolt. This particular version has a 23.5" barrel instead of the more typical 20.5" or 16.5" barrel lengths.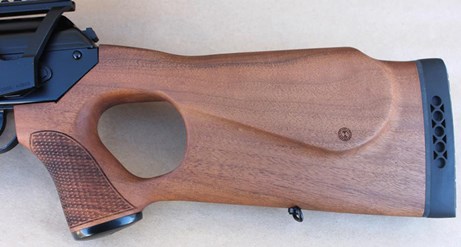 The tactical stocks have been replaced with an oil-finished checkered Russian walnut fore-end and a thumb-hole shoulder stock. To meet certain importation regulations, the stamped receiver is cut at an angle and the muzzle's thread protector is pinned and welded in place. Otherwise, the gun is just the same as the military-grade configurations.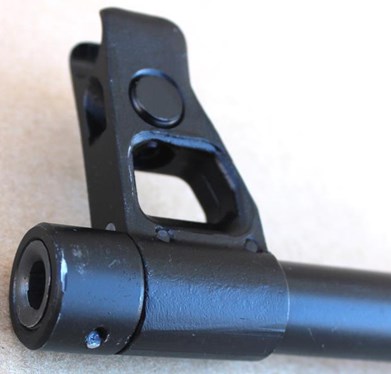 The sporting VEPRs were available in a variety of caliber options, including 6.5 Grendel, .308 Win. and 7.62x54 mm R. Although the Dragunov sniper rifles have been manufactured in .308 chamberings, the 7.62x54 mm R is what they were built for. So, I went with the 7.62x54 mm R for a more authentic shooting experience. The rifle shipped with one single-stack five-round polymer magazine.

I had a two-phase testing process in mind. Phase 1 would be conducted with the VEPR in its factory sporting configuration. An Arsenal Inc. SM-13 optic base was ordered to support a Bushnell 30 mm AK Optics 1-4x24 mm illuminated rifle scope mounted with Weaver Tactical 30 mm Extra High Picatinny 4-Hole scope rings.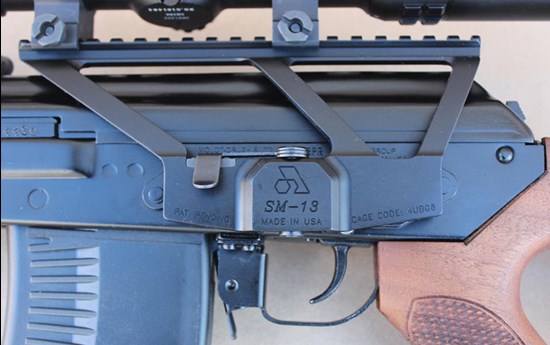 A request was placed with Zander's Sporting Goods for Russian Bear 7.62x54 mm R ammunition, including lacquered-case 174-gr. full-metal-jacketed Brown Bear and zinc-plated case 203-gr. soft-point Silver Bear loads. SGM Tactical kindly provided a stack of their polymer 10-round magazines as well.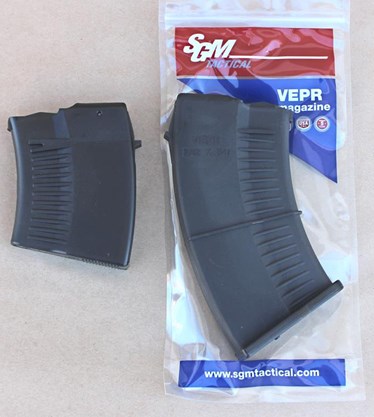 After the sporting configuration rifle had been put through its paces, it would be time for Phase 2. The Vepr would go to a classy little custom shop called Joe Firearms, which specializes in custom AKs. The gun was going to receive the full treatment including a complete tune up with trigger job, custom controls, a new tactical furniture set and camouflage finish. The rifle would then be taken for another spin to see what it could do at extended distances.
By early June of this year, the plan was coming together nicely. The VEPR rifle had been delivered and passed the bench check. The rest of the gear was in transit when, on June 20, 2017 the U.S. Treasury Department stuck a pin in my balloon with an update to the OFAC's SDN (sanction) list in connection to the Russian – Ukrainian conflict: 
MOLOT-ORUZHIE, OOO (a.k.a. OBSHCHESTVO S OGRANICHENNOI OTVETSTVENNOSTYU 'MOLOT-ORUZHIE'; f.k.a. OBSHCHESTVO S OGRANICHENNOI OTVETSTVENNOSTYU PROIZVODSTVENNO INSTRUMENT KACHESTVO), 135 ul. Lenina, Vyatskie Polyany, Kirov Obl. 612960, Russia; Registration ID 1094307000633 (Russia); Tax ID No. 4307012765 (Russia); Government Gazette Number 60615883 (Russia) [UKRAINE-EO13661] (Linked To: KALASHNIKOV CONCERN). 
To better understand the murky workings of these regulations, I caught up with Walker English at a trade show where he graciously gave an interview on this topic. The key to understanding how the Vepr, after several years on the market, was suddenly banned from importation is most likely found in the last phrase of the listing, "Linked To: KALASHNIKOV CONCERN."

During the Obama administration, U.S. policy makers sided with the Ukrainians in the conflict over the Crimean Peninsula with Russia. The U.S. began enacting various sanctions against the Russians, including its defense industry and related exports. Thus, the AK rifles made by Kalashnikov Concern, Russia's largest arms manufacturer, were blocked from importation. However, these sanctions did not impact the Molot factory in Vyatskiye Polyany, which managed to fly under the radar and keep importing VEPR rifles to the United States (Kalashnikov Concern now has a plant here in the states, but that's a story for another day).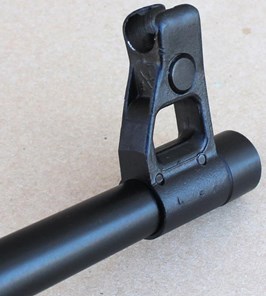 The VEPR rifles would not have become entangled in America's bureaucratic red tape if the company had not gone into bankruptcy. Around March of 2017, the Russian news announced that the Molot factory had gone belly up and was going to be auctioned off. The most likely candidate, both capable and willing to buy up Molot assets, seems to be none other than Kalashnikov Concern. Any conversations or transactions between the two companies would provide the impetus for the U.S. Treasury Department to add Molot VEPR rifles to the sanction list. That said, no one outside the department seems to know for sure at this point.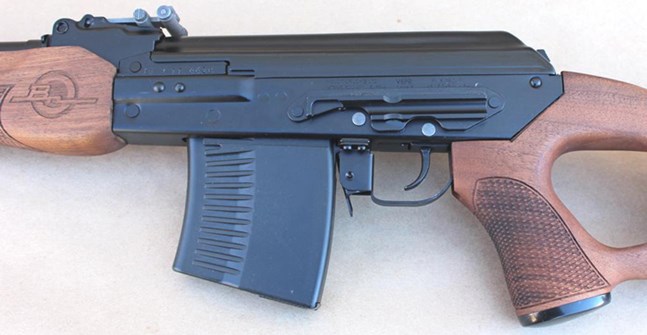 With that one new paragraph, VEPRs would be limited to just those guns that had already made it through the transition process. The folks at the FIME Group and Joe's Firearms both said the same thing to me. Do not modify that VEPR rifle. In fact, you may not even want to shoot it because it's a collector's item now. Needless to say, that put the kibosh on the Phase 2 testing and convinced me, reluctantly, to say das va donya to Phase 1 as well.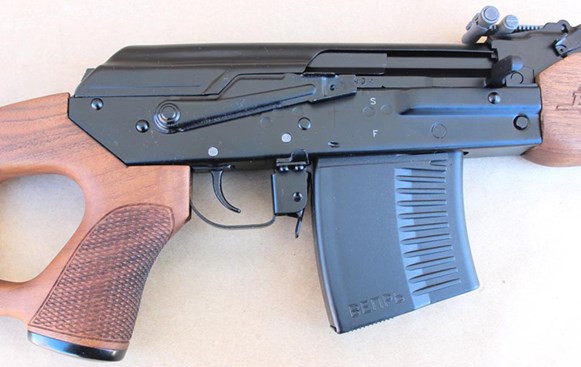 But just how rare have VEPR rifles suddenly become? Selling prices for guns in dealers' inventory spiked 20 percent (in some cases) overnight. Mr. English pulled a few of the FIME Group's inventory records to give me an idea of how few of the VEPRs passed through their doors:

Less Than 300: VPR-54539-02; VPR-65G-01; VPR-76239-02 and VPRS-308-01. 
Less Than 200: VPR-12-12; VPR-223-01; VPR-223-02; VPR-223-03; VPR-243-02; VPR-3006-02; VPR-3006-03; VPR-76254-01; VPRP-223-01; VPRP-76239-01; VPRS-223-01 and VPRS-308-02.
Less Than 50: VPR-223-02 and VPR-223-03         
If you happen to own one of the models listed above, then congratulations, you're the proud owner of a collector's item. Note that the Model VPR-76254-01 (16.5" barrel) falls into the Less Than 200 slot. The VPR-76254-03 version, one with the 23.5" barrel that I have, isn't even listed. I remember having to wait for the 23.5" barrel in 7.62x54 mm R because it was an unusual request. This means there's a distinct possibility that the long-barrel VEPR is among the rare of the rare.
However, the VEPR becoming an unexpected collectible is not some sort of blessing in disguise as far as I'm concerned. You see, I'm not a collector in the typical sense. If I buy a gun, it's because I want to shoot it, not store it. But what can I do with the rifle now? Should I dip it in Cosmoline, wrap it in a moisture-proof bag and anxiously look forward to the day when selling it will pay for my kids' college books? Or should I throw caution to the wind by using and enjoying this rifle right now knowing that it's going to knock a zero or two off its potential value in the future?
What would you do with an unexpected collectible in a factory-fresh, unfired condition? Please share your thoughts in the comments section below.

Specifications:
U.S. Distributor: FIME Group
Manufacturer: Molot Firearms LLC
Model: VEPR VPR-76254-03
Action: Semi-Automatic, Long-Stroke Gas System
Breech Type: 3-Lug Rotating Bolt
Caliber: 7.62x54 mm R
Finish: Matte Black
Receiver: Stamped, Angle Cut
Trigger Group: 2-Stage
Trigger Pull: 6 lbs. (As Tested)
Sights: RPK Fully Adjustable
Optics: Receiver-Mounted Sight Rail
Hand Guard: Checkered Russian Walnut, Oiled Finish
Shoulder Stock: Checkered Russian Walnut Thumbhole with Checkered Grip, Oiled Finish
Rubber Recoil Pad: Yes
Muzzle: 14x1 mm LH Threading, Thread Protector Pinned and Welded
Barrel Length: 23.5"
Overall Length: 42.75"
Length of Pull (LOP): 14.25"
Weight: 9 lbs. Unloaded, With 5-Round Magazine
Capacity: 5+1 or 10+1 Removable Single-Stack Box Magazines
Twist: 1:9.4" RH
Rifle Grooves: 4
Accessories: One 5-Round Magazine, Owner's Manual
MSRP: $879.99 (As of April, 2017)
Optics Base: Arsenal Inc. SM-13
Scope: Bushnell AK Optics 1-4x24 mm Illuminated, 30 mm Tube (AK912424)
Rings: Weaver Tactical 30 mm Extra High Picatinny 4-Hole (#99518)
Magazines: SGM Tactical Polymer 10 Round